Team USA Scores An Upset Win To Claim First Mixed Team Aerials Gold Medal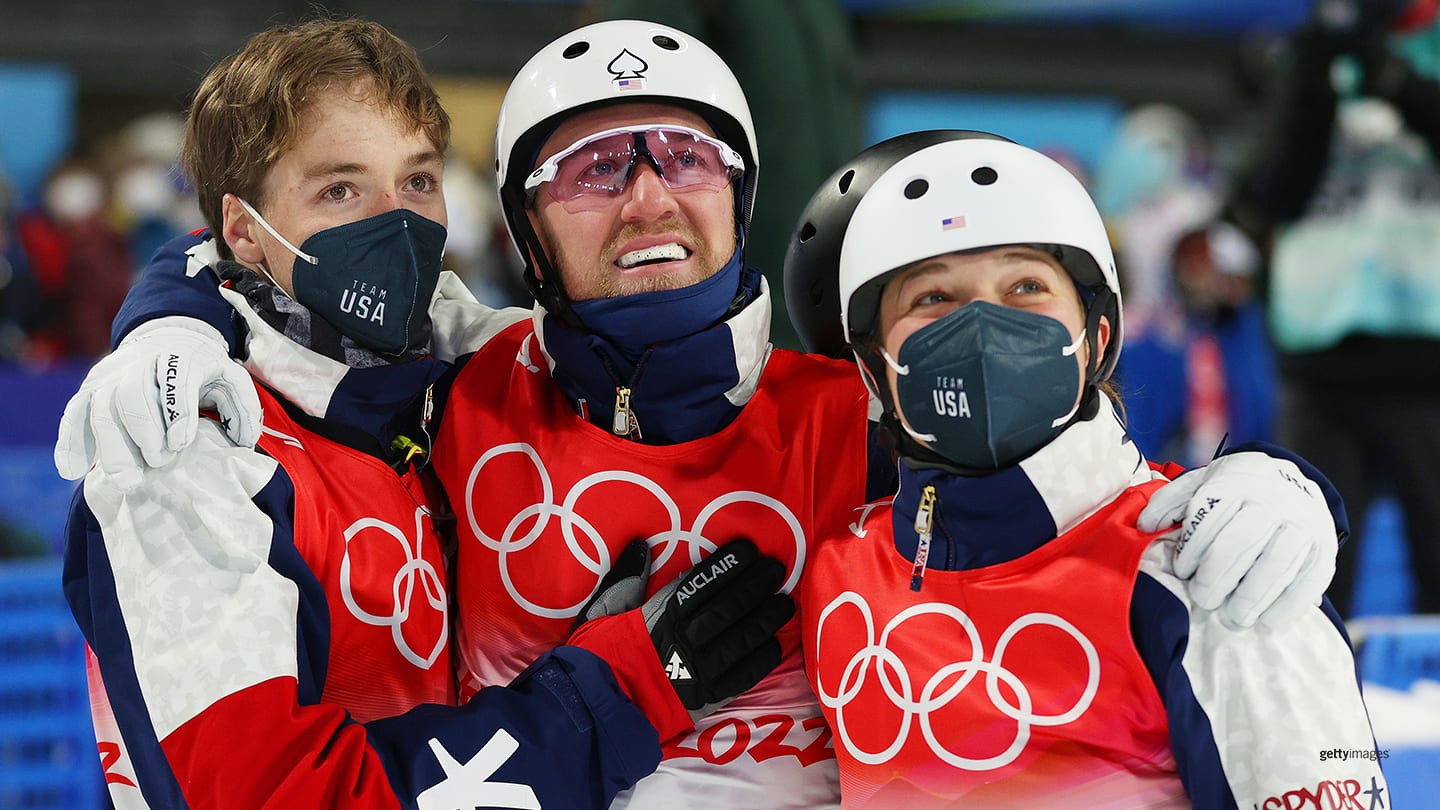 Chris Lillis, Justin Schoenefeld and Ashley Caldwell look on for their score during the Freestyle Skiing Mixed Team Aerials at the Olympic Winter Games Beijing 2022 on Feb. 10, 2022 in Zhangjiakou, China.
The first two gold medals Team USA won Thursday at the Olympic Winter Games in Beijing were expected.

Chloe Kim was the heavy favorite to defend her Olympic title in women's halfpipe snowboarding, just as three-time world champ Nathan Chen was favored to win his first Olympic gold in men's figure skating.

Ashley Caldwell, Christopher Lillis and Justin Schoenefeld were certainly medal contenders going into the inaugural mixed team aerials freestyle skiing event, but to win it all? Against host country China, the gold-medal favorites?

Absolutely.
Coming in clutch. 😤@AshleySkis, Chris Lillis and @j_schoenefeld are golden.
pic.twitter.com/IWetueusgw


— Team USA (@TeamUSA) February 10, 2022
Not only did the trio win Team USA's third and final gold medal of the day and the first ever in the new event, but they also captured the first Olympic gold medal in aerials freestyle skiing for the U.S. since Nagano in 1998.
"This has been a three-year process for us, for me getting ready for this Olympic Games and being able to throw those quintuple twisting triples," Lillis said. "I was just happy to get the opportunity to throw one and to put it down."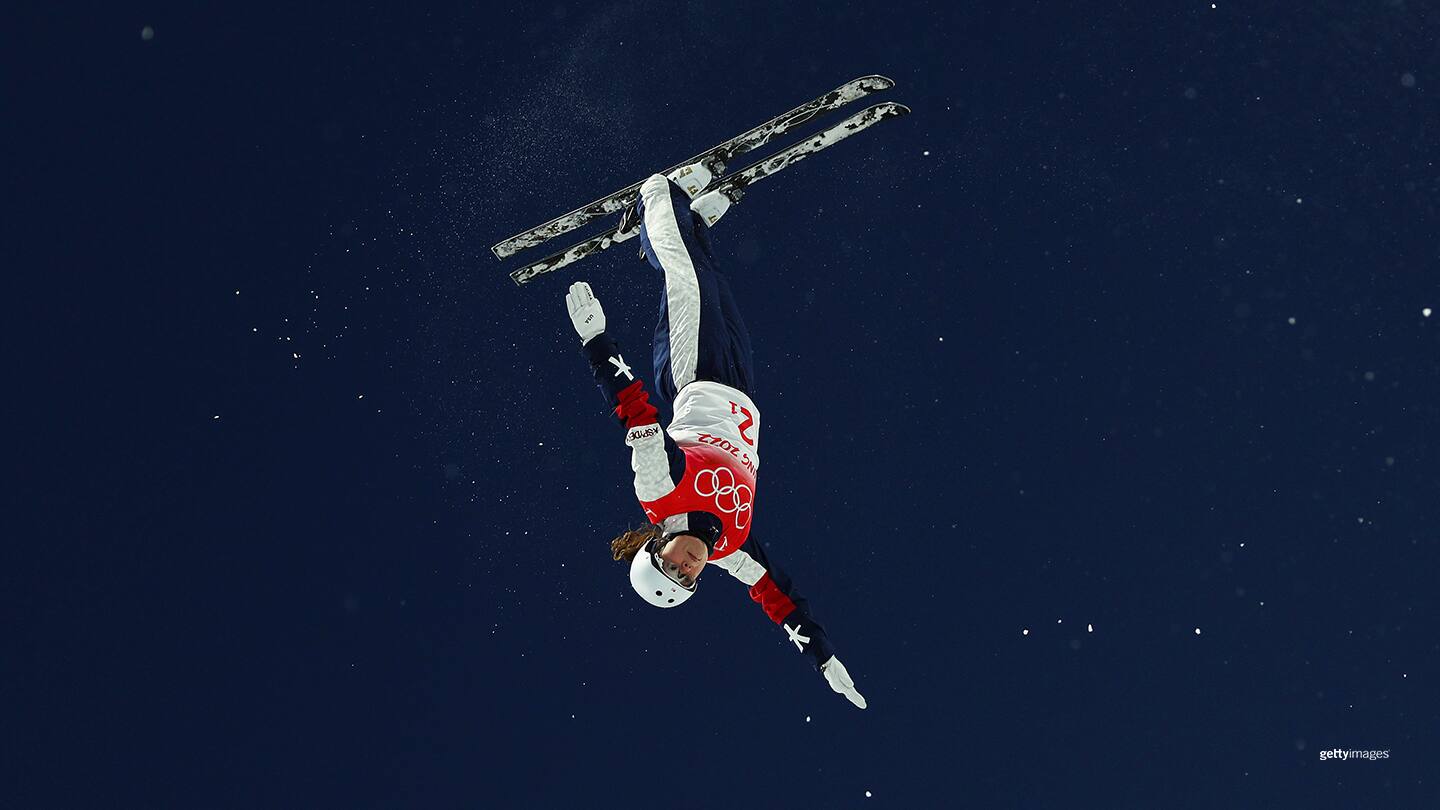 Ashley Caldwell of Team United States performs a trick the Freestyle Skiing Mixed Team Aerials at the Olympic Winter Games Beijing 2022 on Feb. 10, 2022 in Zhangjiakou, China.
In mixed team aerials, each team features three jumpers with at least one man and woman. Each skier performs two jumps, and their scores are added up to determine the winner.

The U.S. finished behind China after the first run, and the skiers had to wait anxiously at the bottom of the hill for China to receive its final score after a strong jump from Qi Guangpu. When it came, the U.S. celebration at Genting Snow Park northwest of Beijing began. The Americans scored a total of 338.34 to beat China with 324.22 and Canada, which won bronze with a total score of 290.98.

Lillis, who had the lowest score of the three in the first run, notched the highest score of the second with a highly difficult back double full full double full jump, and it earned him a score of 135.00. The 23-year-old from Pittsford, New York, is making his Olympic debut this year after winning silver in the individual event at the 2021 world championships.
This is the fourth Olympics for 28-year-old Caldwell, the 2017 world champion from Ashburn, Virginia, and her first medal. Schoenefeld, 23, from Lawrenceburg, Indiana, got the first world cup win in aerials by a U.S. man in four years back in 2020, and this is also his Olympic debut. Caldwell and Schoenefeld are dating.

"I couldn't be more excited," Caldwell said. "This is my fourth Games, and I've been in the hunt for a gold medal my entire career. To do it with these guys is incredible. Chris has been like a brother to me forever, and Justin is the love of my life, so that really helps."
It's a bird... it's a plane... it's @AshleySkis. @usskiteam x #WinterOlympics pic.twitter.com/jTPM08VyWL


— Team USA (@TeamUSA) February 10, 2022
There were only two mixed team aerials world cup events this season leading up to the Olympics, and China won both. The U.S. team of Lillis, Schoenefeld and Winter Vinecki finished second in one of the events. In 2021, Caldwell and Lillis joined Eric Loughran to win the bronze medal at the world championships.
"It's unreal," Schoenefeld said. "I was at the top and I knew I had to land to get down here (on the podium). I'm just glad everything happened perfectly. I don't know what to say right now. I am so excited."
Karen Price is a reporter from Pittsburgh who has covered Olympic and Paralympic sports for various publications. She is a freelance contributor to TeamUSA.org on behalf of Red Line Editorial, Inc.