News
Nick Goepper
Alex Hall
Alex Hall And Nick Goepper Grab Gold And Silver In Olympic Slopestyle Skiing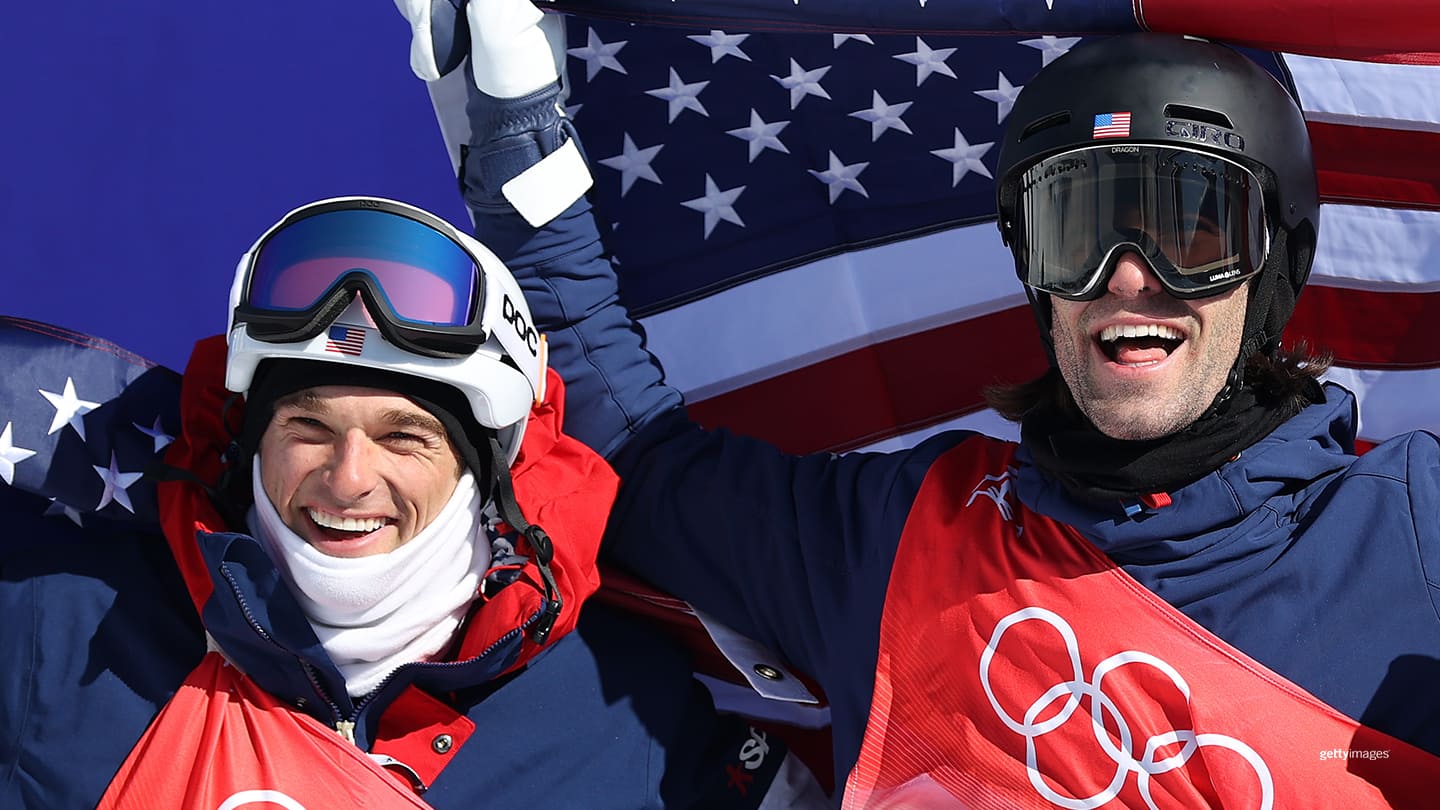 Nick Goepper and Alex Hall celebrate during the Men's Freestyle Skiing Freeski Slopestyle Final oat the Olympic Winter Games Beijing 2022 on Feb. 16, 2022 in Zhangjiakou, China.
BEIJING — Slopestyle skiers get three tries at the course. On Thursday morning at Genting Snow Park in Zhangjiakou, China, Alex Hall only needed one.

Competing in his second Olympic Winter Games, the 23-year-old from Park City, Utah, laid down a spectacular first run, including stylish and progressive work on the rails followed by a double cork 1620, to grab the lead.
90.01 😳#TeamUSA's Alex Hall is your leader after the first run. #WinterOlympics pic.twitter.com/YHN1bu2gWb


— Team USA (@TeamUSA) February 16, 2022
Two runs later, none of the other 11 skiers had approached Hall's 90.01 points. The gold medal was his.
"Yes!" Hall shouted, pumping his fist after he had smoothly landed the final jump on his first run.
Meanwhile, Nick Goepper added a third Olympic medal to his collection, winning silver with his 86.48-point second run. The Lawrenceburg, Indiana, native won bronze in Sochi and silver in PyeongChang.
"It feels amazing," said Goepper, 27, after his medal-winning run, which included a double backflip in its final jump.
WELCOME TO STOMP CITY 💥@NickGoepper x #WinterOlympics pic.twitter.com/KmjeRyXxoU


— Team USA (@TeamUSA) February 16, 2022
Jesper Tjader of Sweden won bronze with 85.35 on his first run. The third American in the final, Colby Stevenson, the silver medalist in big air skiing last week, placed seventh with a best run of 77.41.
In the post-event press conference, Hall reflected on his approach to the sport. An outspoken advocate of blending style and creativity with what he calls "insanely" difficult tricks, the three-time winner on the world cup circuit felt he was able to accomplish his goal on Thursday.
"It definitely was the best slopestyle run I've ever done, mainly because it embodied everything I love about skiing and how I approach skiing," Hall, who placed 16th in slopestyle in PyeongChang, said. "I didn't fade away from that to try and maybe get bigger scores or something."
"I just kept it true to myself," he added. "I think that's the most important part about our sport, just doing it for the love and doing it how you want to do it and not changing that."
Hall's first run surprised even him. The skier admitted he had never put down the elements in a single run, not even in practice.
"That last jump was definitely maybe my hardest trick," he said. "It's called right side double 1080 pretzel one, it's a dub nine actually. I learned that this fall, and I've been doing it a little bit but it's still a really, really hard trick for me, just because it's hard to judge the rotation and really tough when I don't know my speed exactly, and it's been a little tough with wind this week."
Goepper, one of the sport's veterans, grappled to explain his longevity in the daredevil event.
He made his Olympic debut in Sochi, the same year that slopestyle did, and was part of a U.S. podium sweep in the men's event. With his medal on Wednesday, he became just the third freestyle skier to claim a third Olympic medal, joining Norway's Kari Traa and Canada's Mikael Kingsbury, both moguls skiers.
"I wish I had a magic answer, but first of all, you've got to love it," Goepper said. "And in times that you don't love it, you've got to know that you're eventually going to love it. Because that's how you keep putting the work in, but it's just continually grinding."
Still, the three-time Olympian admitted he was nervous, and a bit surprised by his silver.
"On the second run, I nailed most of the run, there were a couple of bobbles," he said. "It wasn't perfect, so I was surprised that it got that high of a score, but everyone was experiencing the Olympic jitters today and it was just a matter of putting one down, top to bottom."
Stevenson, who came back from a traumatic brain injury to win the X Games slopestyle title in 2020 and make his first Olympic team in 2022, didn't hold back, but technical errors on the rails portion of the course limited his score.
"I am so happy to show my stuff on the world stage and ski the way that I did," the 24-year-old from Park City said. "It wasn't exactly what I wanted today, but that's how it goes, man, when you're laying it all on the line. Give it your best and make sure to have fun. You don't want to get to upset if you don't do well. We're living it."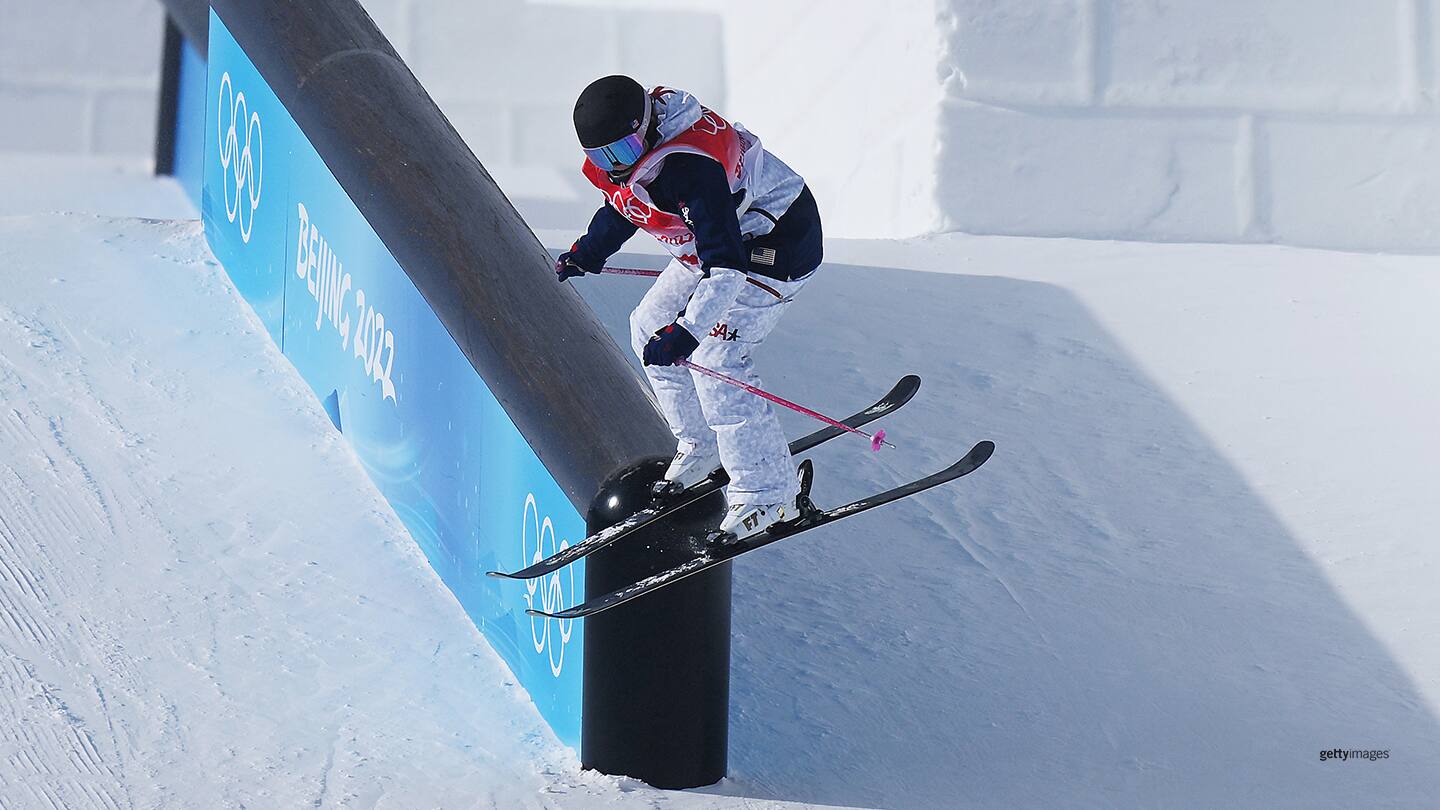 Maggie Voisin performs a trick during the Women's Freestyle Skiing Freeski Slopestyle Final at the Olympic Winter Games Beijing 2022 on Feb. 15, 2022 in Zhangjiakou, China.
Voisin Places Fifth In Women's
Slopestyle
Heavy snowfall on Sunday forced the slopestyle competitions to reschedule, with the women's final held one day after originally scheduled on Tuesday. Team USA's Maggie Voisin finished fifth with 74.28 points on her second run.
The 23-year-old, who placed fourth in PyeongChang and withdrew in Sochi after breaking an ankle during a training run, admitted that veterans felt pressure to up their games.
"You have to put it all on the line; I mean, it's the Olympics," the Whitefish, Montana, native said. "None of us are coming in and putting down a safe run. We all want to put it out there. The progression of women's free skiing is at a whole new level."
"We were all young girls at one point, pushing the sport," Voisin added. "It's always exciting when the next wave and the next generation is pushing us, that's what freestyle skiing is all about."
Mathilde Gremaud of Switzerland, the silver medalist in PyeongChang, won gold with 86.56. Competing for China, Eileen Gu took silver with 86.23. It is Gu's second medal of the Games; last week, she won gold in big air. Estonia's Kelly Sildaru claimed bronze with 82.06.
Want to follow Team USA athletes during the Olympic Games Beijing 2022? Visit TeamUSA.org/Beijing-2022-Olympic-Games to view the competition schedule, medal table and results.
Lynn Rutherford is a sportswriter based out of New York. She is a freelance contributor to TeamUSA.org on behalf of Red Line Editorial, Inc.