Alex Hall Pulls Off Dramatic Win at Mammoth Mountain to Earn Winter Olympics Trip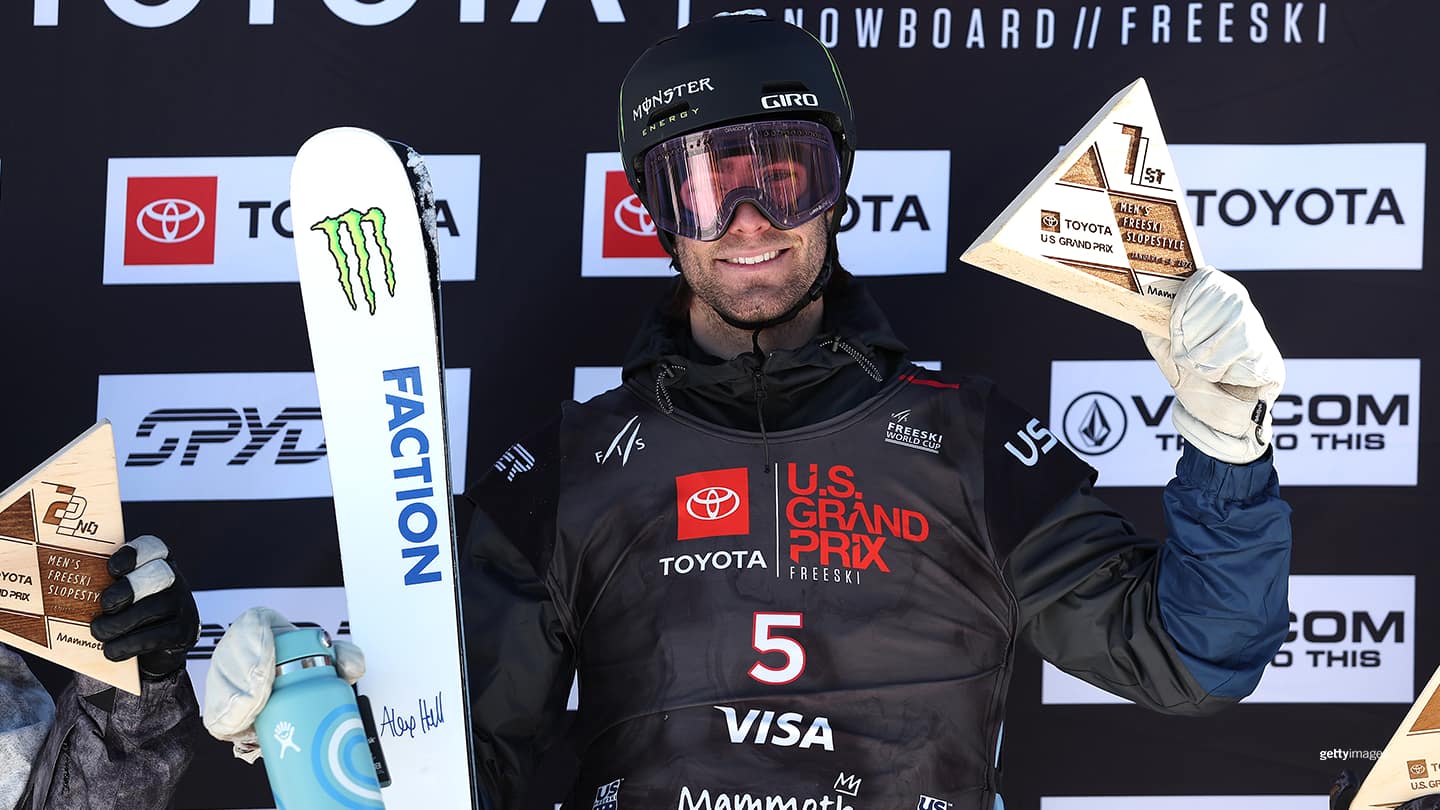 Alex Hall on the podium after finishing first place in the Men's Freeski Slopestyle Final for the Toyota U.S. Grand Prix at Mammoth Mountain on Jan. 9, 2022 in Mammoth, California.
Slopestyle skiers may have had to wait longer than expected to compete at the Grand Prix event thanks to weather at Mammoth Mountain in California, but U.S. athletes turned up in a big way Sunday.

Alex Hall and Nick Goepper went 1-2 in the men's competition, with Mac Forehand falling just out of podium position in fourth place, while Maggie Voisin took third in the women's event to earn her third Olympic qualification.

Hall's massive winning run also earned him a trip to Beijing, where he'll compete at the Olympics for the second time.

Voisin had the second-worst score on the first run of the competition, coming up with just a 64.25. But she redeemed herself on her second, scoring a 90 to land in third place.

"I really don't have words," Voisin said. "To say I'm going to my third Olympic Games is a dream come true. It took a lot to get here. The past couple years, I've been through a lot personally with my body and injuries. To come back and put down a good run and know that I'm going to these Olympics is a dream come true."

Voisin knows of injuries. In 2014, she qualified as the youngest member of the U.S. Olympic Team at just 15 years old, but she was unable to compete in Sochi after breaking her ankle during a training run. She returned in 2018 and just missed the podium, finishing fourth in the slopestyle competition. The Whitefish, Montana, native was named U.S. Ski & Snowboard's Freeski Athlete of the Year in 2020 after coming back from knee surgery and winning three X Games medals plus five consecutive podium finishes.

Kelly Sildaru of Estonia won the women's event with a score of 93.75 and Eileen Gu of China was second with a score of 91.

Hall had to win Sunday to lock in his Olympic spot — and that he did. For most of the competition, the gold seemed to belong to Goepper, the two-time Olympian who had himself a dominant competition. His score of 92.75 was by far the best first run, and he bettered it on his second with a score of 94.75. That held as the top score almost until the very end, but just when it seemed he couldn't be beat, Hall came up with a monster of a run to score 95.50.
Karen Price is a reporter from Pittsburgh who has covered Olympic and Paralympic sports for various publications. She is a freelance contributor to TeamUSA.org on behalf of Red Line Editorial, Inc.