Ice Dancers Madison Hubbell Zachary Donohue Capture Silver At Worlds In Final Event As Team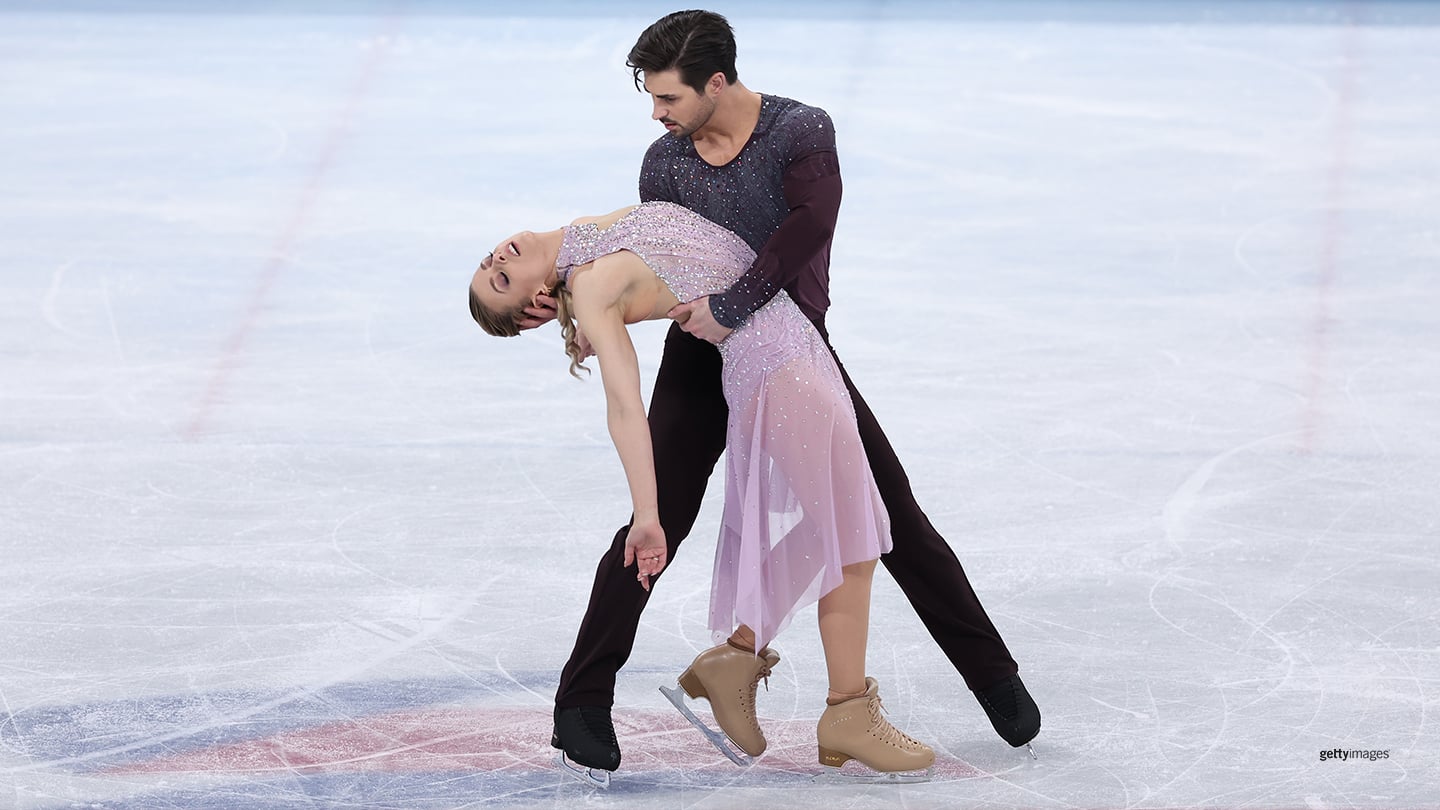 Madison Hubbell and Zachary Donohue perform in the ice dance free dance at the 2021 World Figure Skating Championships at Ericsson Globe on March 27, 2021 in Stockholm, Sweden.
After a nearly two-decade career, including her 11-year partnership with Zachary Donohue, Madison Hubbell took competition ice for the final time Saturday at the 2022 World Figure Skating Championships in Montpellier, France.
"Anyone who was with us this morning in practice knew I wasn't handling it super well," said Hubbell, 31. "It was a happy cry, but I was crying, full sobs. ... My amazing coaching staff reminded me of the job we had to do. We have many years of experience competing together, and I know what it feels like to go out with the best intentions and get totally wrapped up in the emotion of the moment, make small mistakes and leave the ice disappointed."
Not this time. Hubbell and Donohue capped their career as an ice dancing team with exquisite free dance to Anne Sila's "Drowning," packed with emotion and superb musical phrasing, yet technically sharp. The 132.67 points the pair earned is a personal best, as is their 222.39 total. The Olympic bronze medalists ended their career with a silver medal, their fourth overall medal at worlds. Olympic champions Gabriella Papadakis and Guillaume Cizeron of France won their fifth world title with 229.82 points.
"I was searching this afternoon for what I was going to do," Hubbell said. "I thought about my whole career and realized something I admired about myself was the ability to attack a performance, to be strong, hold someone's gaze and be confident in how excellent I could be."
Donohue, too, reflected on the couple's long career, which also included three U.S. titles and an Olympic team silver medal.
"It really sinks in, just the things you are going to miss, not being in the competitive aspect," the 31-year-old said. "I'm very grateful for all the people in my life who have shaped me as a man, a person, an athlete and a dancer. ... I would encourage young athletes coming up to really live in the moment and to take everything in."
Madison Chock and Evan Bates, the reigning U.S. champions who placed fourth at the Games, had an excellent outing of their "Outer Space" program, set to music from Daft Punk. The captivating free dance, which tells the story of an astronaut (Bates) and an alien (Chock) who meet and fall in love, was highlighted by creative lifts and strong twizzles. It earned 129.32 points and their 216.83 total, a new high, gave them the bronze medal with 216.83.
"It took a lot of faith from our coaching staff to push us in the direction that this would be the right vehicle," Bates, 33, said of the innovative program. "(Our coaches) helped us to realize our true strengths as a team ... that we have a lot of contrast in our appearance. Madi as a designer is very creative and we put a lot of thought and effort into the lifts we create and the music selections we make."
Although Chock and Bates have often been in the conversation for the podium, it was their first world medal since a bronze in 2016. They also won silver in 2015.
"It certainly hasn't been an easy path getting back on the world podium," said Chock, 29. "I feel like we were meant to take this journey and learn these lessons. ... It's incredible to be back on the world podium and to have undergone such incredible change since the last time we were on the podium."
The press conference doubled as a valedictory to the athletes, with tributes flowing to the Ice Academy of Montreal (I.AM) and its primary coaches Marie-France Dubreuil, Patrice Lauzon and Romain Haguenauer. All three medal-winning teams — plus 10 other ice dance couples competing in Montpellier — train at I.AM.
"What (our coaches) have created is a true family and a oneness," Hubbell said. "It shows, because every one of our other (I.AM) teams stayed for an hour and a half taking photos with us, no matter their placement. I have to say, this is unique and I'm not sure it will ever be repeated again."
Another I.AM team, three-time U.S. bronze medalists Kaitlin Hawayek and Jean-Luc Baker, performed a seamless, flowing free dance set to Chopin's Nocturne in C Minor that earned 115.05 points. They placed eighth with a 191.61 total, their best finish in four trips to worlds.
"We had a bumpy season, starting much later than anticipated and coming back from injury," said the 25-year-old Hawayek, who suffered a concussion in training early last fall. "It took a lot of resilience to compete at our first Olympics and fourth worlds. We love our programs and feel so deeply connected to them, so to feel like we've performed them to the fullest is very gratifying and satisfying."
"There are phenomenal skaters in this event, and we (came) eighth," added Baker, 28. "We're just really excited we put out the performance that we're really proud of today."
Ten days ago, Vincent Zhou couldn't get through a full program.
Emotionally depleted after withdrawing from the individual men's event at last month's Games due to testing positive for COVID-19, then barred from marching in the closing ceremony, the skater considered not boarding the plane for France.
"I woke up in this bottomless pit," Zhou said. "I called my agent and my coaches and some important people I'm close to and told them I thought my whole career has been a failure, and has been for nothing, and I thought I couldn't do it."
Instead, the 21-year-old from Palo Alto, California, found the strength to win a second world bronze medal.
"The one thing that got me here to France was the feeling inside me that I didn't want to live the rest of my life with the regret that I didn't even try," Zhou said. "That was the only thing that kept me somewhat invested with my step-by-step journey to get here, getting on the plane first and then getting on the ice here and taking it day-by-day."
Skating to music from the "Crouching Tiger, Hidden Dragon" soundtrack, Zhou opened with a superb quad lutz and quad salchow, before turning out of the landing of a triple axel. Three other jumps received small technical deductions, but he closed strong with a triple-triple combination and exciting steps.
Zhou's 181.54 points lifted him from sixth after the short program to the podium with 277.38 points. The three-time U.S. silver medalist also won world bronze in 2019.
"This medal was definitely very, very difficult for me to come by, and is definitely one of the most meaningful and significant moments of my career," Zhou said.
Two-time Olympic medalist Shoma Uno of Japan won his first world title with 312.48 points. His compatriot Yuma Kagiyama, the reigning Olympic silver medalist, took silver with 297.60.
Tom Zakrajsek, who along with Drew Meekins coaches Zhou in Colorado Springs, Colorado, credited the Zhou's consistency throughout the season — which included a win at Skate America and qualification for the Grand Prix Final, later canceled due to COVID — with supplying the resilience he needed in Montpellier.
"Everything about Vincent's training since he returned from the Games has been under his control, understandably," Zakrajsek said via text. "His free skate today was a reflection of his courage, character and determination."
"Vincent was dealing with grieving," Meekins said. "His emotions would vary from moment to moment. When we could get him on the ice, we did our best to train him. When he didn't come to the ice, we did our best to support him."
Zhou, who completed a semester of studies at Brown University in the fall of 2019, plans to return to the Providence, Rhode Island, school in August. He called his competitive future "up in the air."
"Now that we have the new Boston Skating Club (in Norwood, Massachusetts), it's probably an hour, hour and a half away from Providence, that will be a great option for me to skate at," he said. "My plan for next season, I don't know yet. I haven't thought that far ahead, I only planned for this season and then going back to Brown."
Camden Pulkinen, fifth at the 2022 U.S. Championships, delivered the biggest surprise of the event. As Team USA's second alternate, the Scottsdale, Arizona, native was pressed into service when Olympic champion Nathan Chen withdrew with injury and first alternate Jason Brown was unavailable.
After a solid short program, Pulkinen was 12th entering Saturday's free skate. There, he delivered a clean performance to "Besame Mucho" loaded with poise and panache, including two quads and two triple axels as well as stylish spins and steps. His 182.19 points shattered his previous personal best by an extraordinary 26 points, and he placed fifth with 271.69.
"It feels, still, surreal," said Pulkinen, 22. "I'm still processing the fact I'm at worlds. When I skated that program, I knew I was well-trained for it."
Pulkinen, who trains in Colorado Springs under Tammy Gambill and Damon Allen, plans to attend Columbia University in New York City this fall to study financial economics. He hopes to balance school with competition.
"Tentatively, the plan is to get a really strong training base and get really fit (this summer), and then return to Colorado Springs during breaks," he said. "I still want to progress more, technically and artistically. I want to train more quads, and hopefully make a run at the (Olympic) team in four years."
Sitting fourth after Thursday's short program, Ilia Malinin, at 17 the youngest skater in the field, looked to be on the cusp of a world medal. But nerves may have gotten the best of him Saturday.
Malinin opened with a spectacular quad lutz — the highest-scoring of the event — followed by a strong quad toe loop and triple axel, but fell hard on a downgraded quad salchow, then turned out of a downgraded quad toe. His 163.63 points put him 11th in the free skate and ninth overall with 263.79.
"It was just a mess," Malinin said. "It's hard to explain what happened."
Asked whether he had felt pressure, the skater replied, "Well, not exactly. (It was) pressure (I put) more on myself, wanting to skate (well) so badly, and it kind of didn't work out."
The young skater, who placed second to Chen at the U.S. Championships in January, now returns to Reston, Virginia, to train for the World Junior Figure Skating Championships in Tallinn, Estonia, on April 13-17. There, he is favored for gold.
"A whole pile of things happened (in Montpellier)," Malinin said. "(I'm happy) mostly for the short program. ... Junior worlds is the last competition (of the season) and we're hoping I can skate good there. When I get home, I'm just going to start training."