Curling Teammates, Sisters Tabitha And Tara Peterson Back For Another Run At Worlds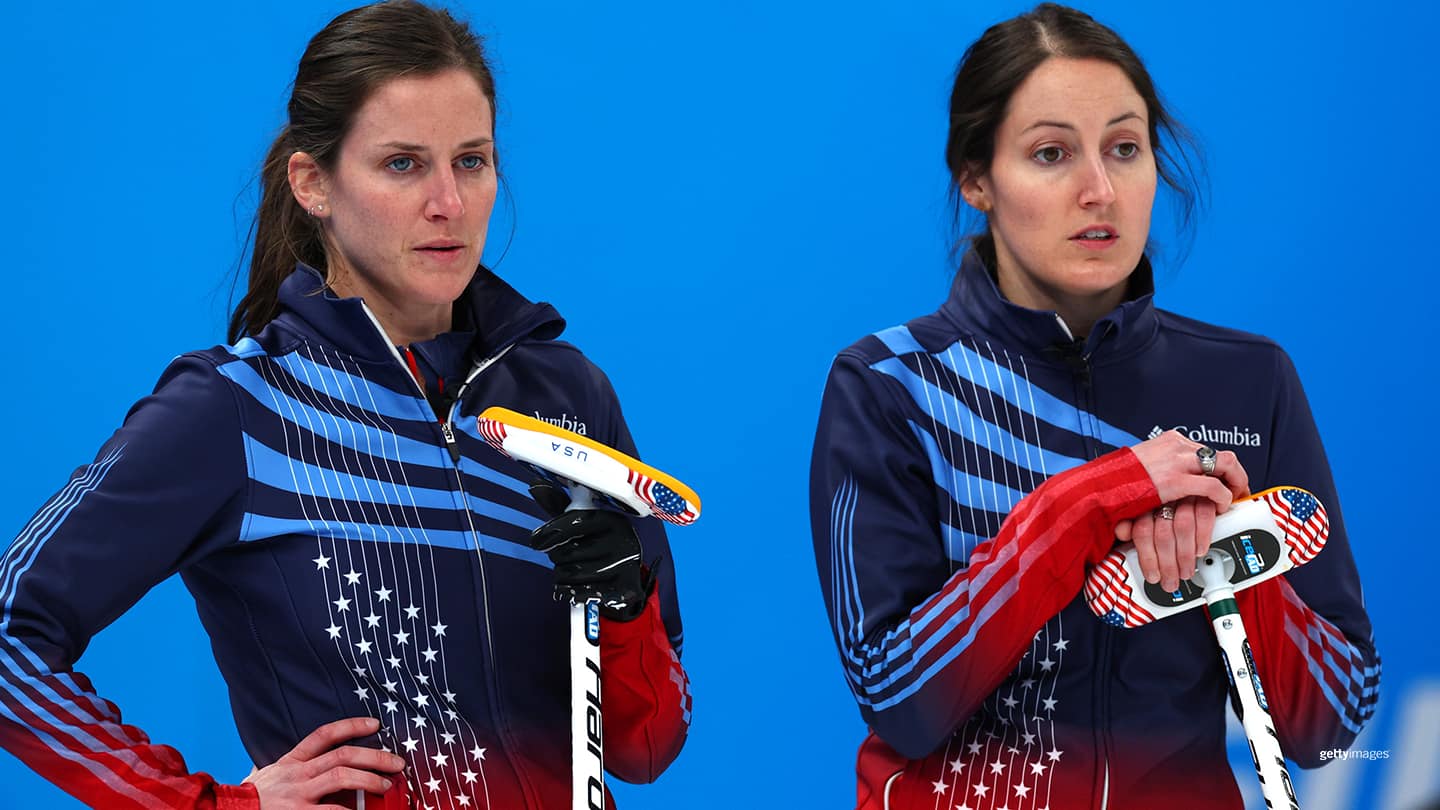 (L-R) Tara Peterson and Tabitha Peterson look on during the round robin match against Team South Korea at the Olympic Winter Games Beijing 2022 on Feb. 14, 2022 in Beijing.
Curlers Tabitha and Tara Peterson are Olympians, world championship bronze medalists and fresh off their second national title together as teammates.

But they are also sisters. And being sisters sometimes means you get to say things to each other that you might not get away with saying to any other teammate.

"If we get sick of each other, we can literally say, 'I'm sick of you,'" says younger sister Tara.

"I said it to you today," interjects Tabitha.

"She did, she did say it to me today! 'I don't want to be around you,'" remembers Tara with a laugh.

The Peterson sisters had just come from practice in Sandviken, Sweden, where come Saturday lead Tara will deliver the first rocks in Team Peterson's campaign at the 2023 World Women's Curling Championship. As skip, Tabitha's name lends itself to the team name by curling custom, not because the team is half Petersons. Second Becca Hamilton and new third Cory Thiesse — nee Christensen, in for the retired Nina Roth — fill out the rest of the rink.

Tabitha, 34, and Tara, 31, were curling teammates from the moment they started the sport, when Tabitha was 10 and Tara was 8. The Minnesota natives were introduced to curling at the St. Paul Curling Club, where friends of their parents convinced them to join a league. The sisters were encouraged to try it for themselves and were soon in a Saturday junior league.

"We didn't really love it at first because we were more into other sports," Tabitha said. "But as we started to make friends, and we got a little team and started traveling around the state and then to Wisconsin to little junior bonspiels, we started liking it and kind of just went from there."

It certainly helped to have each other as they made their way into the sport. But that wasn't always the case as Tabitha aged out of junior curling at 21, forcing them to separate. Once Tara graduated to senior curling they played on rival teams for five or six years — during which time Tabitha made her Olympic debut in 2018 — before rejoining again for the 2018-19 season.

Being teammates just comes naturally. They still live in the Twin Cities, able to easily practice together. And their chemistry on the ice is hard to beat.

"Communication is easy," Tara said. "A lot of times, we're just very in sync and a lot of non-verbal communication. Because you just know each other. You just know what's going to happen. So, makes for an easy teammate."
(L-R) Tara Peterson, Becca Hamilton, Tabitha Peterson and Nina Roth look on during the round robin session against Team Switzerland at the Olympic Winter Games Beijing 2022 on Feb. 15, 2022 in Beijing.
It's also great for the Peterson family, which has been able to travel the world watching the sisters compete. That's the case again in Sweden where their parents, brother, Tara's husband and some in-laws will be offering support. But back when the sisters were on different teams, it made for a few awkward moments in the cheering section.

"There were a few times where we played against each other, in like a final, and I think that was hard," Tabitha said. "They always just said, 'Well, we just cheer for good shots.'"

The Peterson family has seen their fair share of success, particularly in the time since Tabitha became skip. Her team's bronze medal at the 2021 world championship ended a 15-year medal drought for U.S. women's curling at worlds. They've won two out of the last three national championships, including just last month in Denver. That's an encouraging sign that the team is coming together quickly with new member Thiesse, whose rink Team Peterson pipped for the 2022 Olympic berth at the 2021 U.S. Olympic Team Trials for Curling.

"It has been a little bit of a learning year for us," Tabitha said. "But that's to be expected with the first year in a new quad. But we get along with (Thiesse) great, and we've had a lot of good success too with her."

While the team was no doubt disappointed to not advance to the medal round at the Olympic Winter Games Beijing 2022, their sixth-place finish represented the best finish for a U.S. women's team since 2002. The team played well, narrowly missing the playoffs by a single game. That, coupled with the historic world championship medal, indicates the standards have been raised in American women's curling.

"Looking back to (past) women's worlds that I went to … we were just happy to be there," Tara said. "And we're just like, all right, we don't know what's going to happen. But yes, now when we're here, we're not just happy to be here. We are expecting to do well."

"We're expecting to be on the medal stand," Tabitha said.

Safe to say it's worked out well for the sisters since that first go at the St. Paul Curling Club. And there is no end in sight as they work toward the Olympic Winter Games Milano Cortina 2026 and try and secure a first-ever medal for the U.S. in women's curling. It's worked out as the sisters hoped but maybe not how they expected.

"If you'd asked 8-year-old Tara when we started curling, 'Are you going to Olympics?' Like, 'I don't even like curling!'" Tara said. "Then you get into it you're like, yeah. And that's kind of the cool thing about curling is that even at a young age, once you start kind of competing, you're around Olympians. You're around world champions and it's like, oh, yeah, it seems more realistic when you're around people that have done it."
Todd Kortemeier is a sportswriter, editor and children's book author from Minneapolis. He is a contributor to TeamUSA.org on behalf of
Red Line Editorial, Inc.