Wins Over ROC, Denmark Have U.S. Women's Curling Team Perfect After Day 1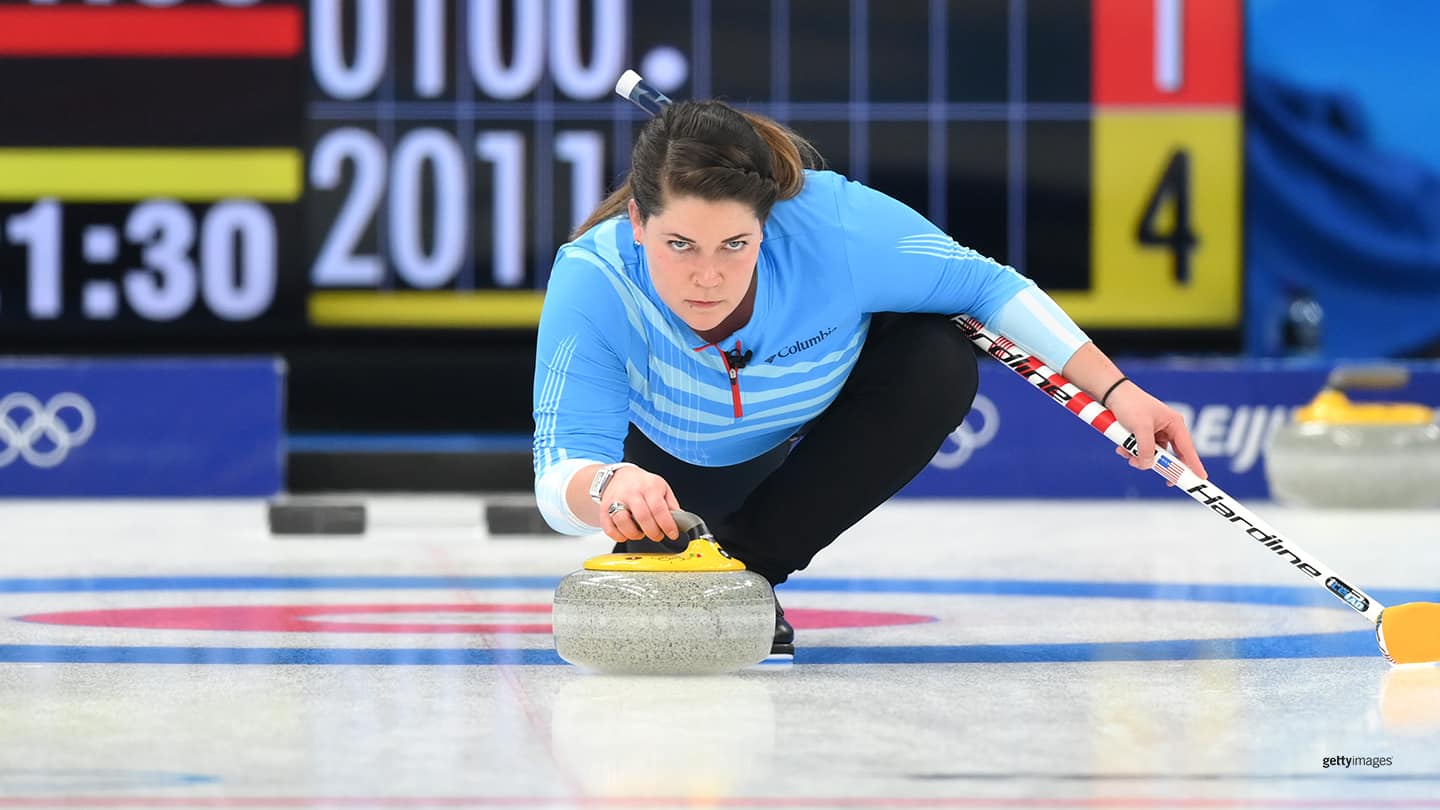 Becca Hamilton competes against Team ROC during the women's round robin during the Olympic Winter Games Beijing 2022 on Feb. 10, 2022 in Beijing.
BEIJING — The road to reversing history is paved with small milestones that may or may not be predictive of what's to come but show things are moving in the right direction.

Take the U.S. women's curling team, 0-6 in program history when it comes to medals at the Olympic Winter Games, but now 2-0 at these Games after opening with wins over the Russian Olympic Committee (ROC) and Denmark Thursday at Beijing's Ice Cube. It's the first time a U.S. women's curling team is 2-0 at the Games since 2002, which happens to be the only time in history a U.S. women's team played for medal, losing the bronze-medal game that year against Canada.

Skip Tabitha Peterson isn't looking ahead to possible medals yet, but she said 2-0 felt "amazing."

"We're excited, we can't complain after Day 1," Peterson said following the evening 7-5 win over Denmark. "We're really in a good spot, but lots of games ahead, so we've got to kind of keep our heads down and keep grinding."

The day began with a morning tilt with the ROC, a much-anticipated match for the players as they waited to get on the ice. The U.S. team of Peterson, Nina Roth, Becca Hamilton and Tara Peterson arrived in Beijing Feb. 4, and with the mixed doubles tournament occupying the ice until the 8th, they didn't get any practice time until the day before the first draw. But there didn't appear to be any rust to shake off as Team USA put up two points in the opening end and raced out to a 6-1 lead.

"I feel like we kind of came out firing," Peterson said afterward. "We put some pressure on them early, and we did get a few misses out of them, and we capitalized on all their misses. Once we got up in the scoreboard, we just tried to lob our rocks into the rings."

A Peterson takeout in the 7th end scored three to make it 9-3 and that was handshakes from the ROC.

"It felt really good," Peterson continued. "After our practice last night, we kind of came together and talked about what we were seeing and how we were feeling. It just felt really good today. Everyone threw really well, I knew exactly where they were throwing, and it makes it easier for me to read the line. A lot of good things were happening. Hopefully we can keep it up. It's only Game 1."
Want to follow Team USA athletes during the Olympic Games Beijing 2022? Visit TeamUSA.org/Beijing-2022-Olympic-Games to view the competition schedule, medal table and results.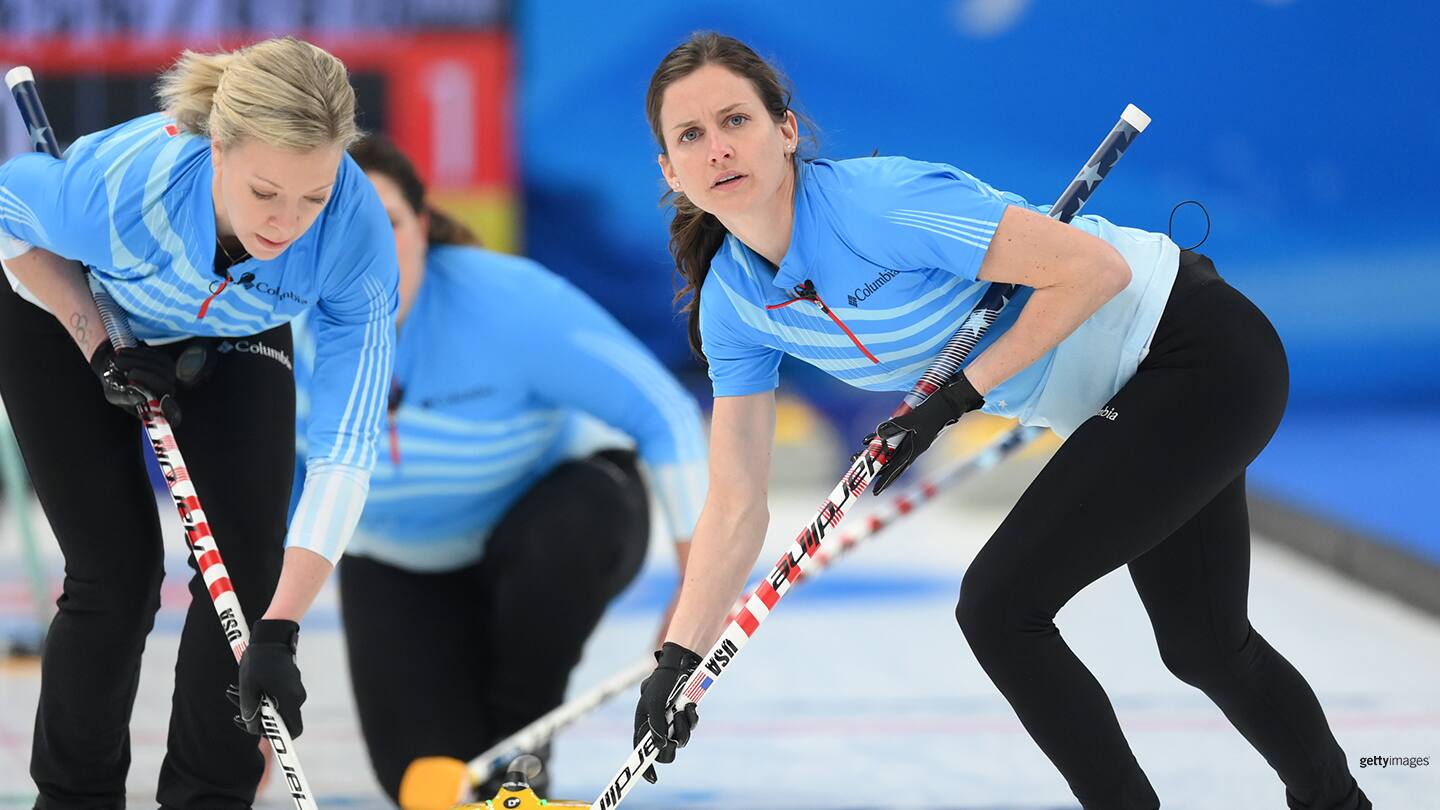 (L-R) Nina Roth and Tara Peterson compete against Team ROC during the women's round robin session one during the Olympic Winter Games Beijing 2022 on Feb. 10, 2022 in Beijing.
Game 2 would be a much tighter affair, though Team Peterson got on the board first again, this time with a steal in the first end. The teams would alternate scores the rest of the way, but two huge Peterson draws in the third and eighth ends both went for two crucial points. Both draws did not have much margin for error, but Peterson was able to use just the right weight to grab some of the four-foot circle. Without much practice, it was a sign that the ice was starting to come their way.

"We're enjoying the ice for sure," said Peterson. "It's got really good curl; you can make a lot of good shots. Even if something's fully buried you can potentially dig it out, which is super fun, that's what we want to see."

That second Peterson draw in the eighth put the U.S. up two with two ends left. And once the U.S. forced Denmark to take one in the ninth, it was simply a matter of avoiding a steal in the 10th. Peterson nailed one more draw for good measure to cap a 7-5 win. In addition to getting a read on the ice, Peterson said, these early games are also crucial for regrouping as a team, even a team that's played together as much as Team Peterson has over the last several years.
The finesse! 🥌@TeamPetersonUSA x #WinterOlympics2022 pic.twitter.com/0HbG5Ulb4Q


— Team USA (@TeamUSA) February 10, 2022
"I think each game we're learning what the ice is doing and getting back in the groove of getting the team communications in sync and everything like that," she said. "It's hard to mimic games, and we've had a lot of cancellations in events and so we haven't had some of those opportunities. So we're trying to kind of jump back on the horse right away with our quick communication and make sure we're all on the same page because that helps us clip along playing fast and making good decisions."
There's one player on the team where communication with the skip probably isn't an issue. All the members of Team Peterson are returning for a second consecutive Olympics with one exception, Tabitha's sister Tara, who is in at lead as Aileen Geving moved to alternate. The sisters have played together for most of their careers, but playing at the Games together is a dream come true.
"We love playing together, and I can't draw it up any better," said Tabitha.
Todd Kortemeier is a sportswriter, editor, and children's book author from Minneapolis. He is a freelance contributor to TeamUSA.org on behalf of
Red Line Editorial, Inc.