Final Matchups Set In Men's And Women's Curling Trials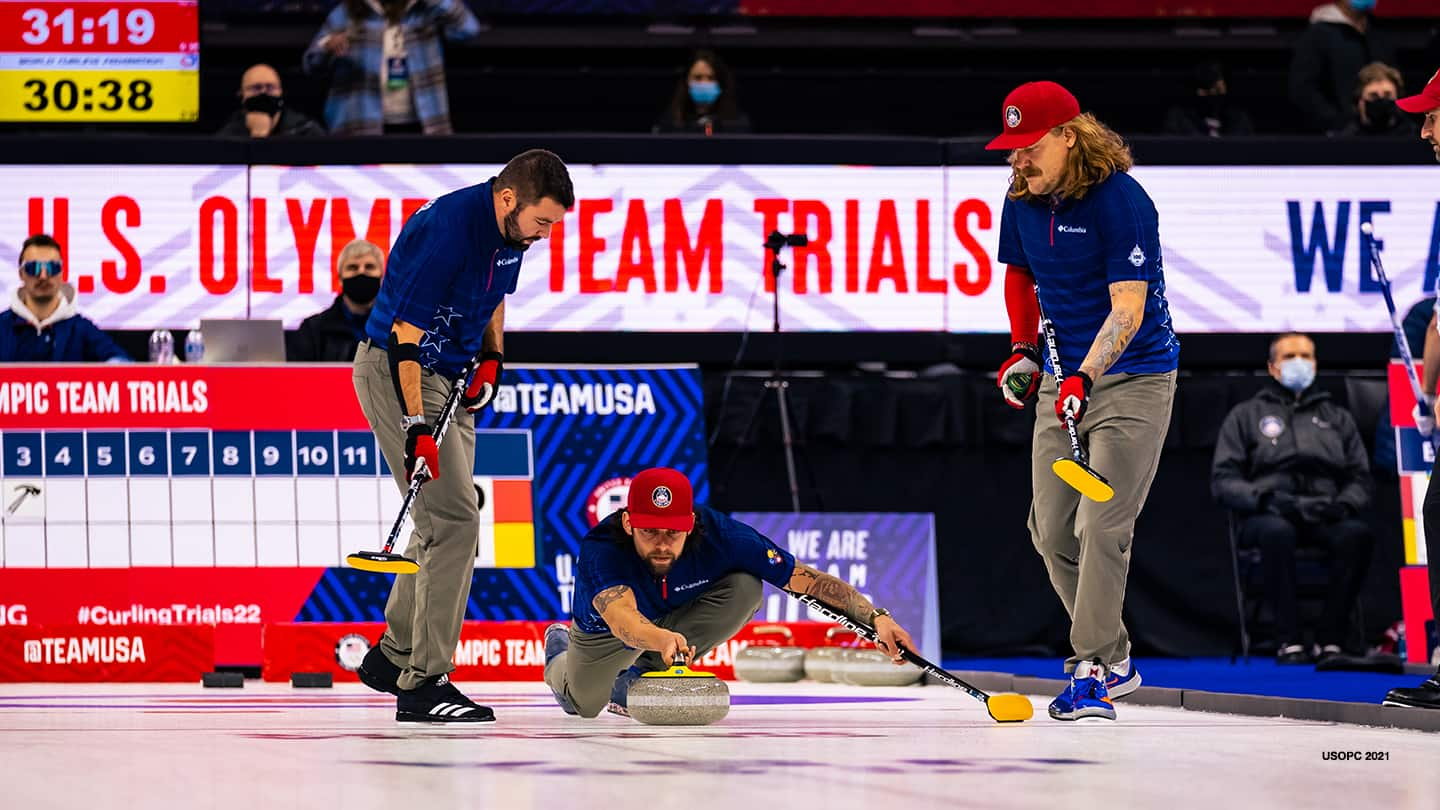 Team Shuster competes at the U.S. Olympic Team Trials for Curling on Nov. 17, 2021 in Omaha, Nebraska.
OMAHA, Neb. — It's pure coincidence that John Shuster's final shot of double round robin play at the U.S. Olympic Team Trials for Curling resulted in a score of five, the same score that boosted his team to the gold medal at the Olympic Winter Games PyeongChang 2018.

But it's certainly an indicator of how well Shuster and company are playing, as is their 9-1 record and No. 1 seed heading into the finals. But all four finalists go into the weekend with some momentum as each team capped the round robin with a win on Thursday at Baxter Arena.

Team Shuster — also including Chris Plys, Matt Hamilton and John Landsteiner — had already locked up the top seed going into the final day of double round robin play and finished in style by beating Team Brundidge 11-4. They'll face Team Dropkin, who could have faced a tiebreaker with Team Ruohonen had they lost their final round robin match, but instead prevailed 6-3 over Team Dunnam. The women's bracket also locked into place Thursday morning when Cory Christensen clinched the second seed behind Team Peterson. Team Christensen went on to beat Rhyme 10-6 in the final draw of the day while Team Peterson beat Team Strouse 14-5.

For Shuster, who has won nearly everything there is to win in this sport, it was satisfying for his team to play its best when the lights are brightest.

"Obviously we had a great round robin," he said afterward. "To come here and go 9-1 against this field in the round robin gives us lots of confidence going into the final series."

Team Shuster's opponent is a familiar one. Like Shuster, Plys and Landsteiner, Korey Dropkin and third Joe Polo also hail from Duluth, Minnesota, and the teams know each other well. The teams split their round robin matchups with Shuster winning 8-7 in an extra end on Monday and Dropkin winning 6-1 on Wednesday.

"It's fun, we practice next to those guys almost every day," Shuster said. "The other part about it is even last year, as our team was prepping for worlds, they came and did what they could do to scrimmage against us to also get us into a place where we could go and qualify for that Olympic (quota) spot. It's obviously a pretty big rivalry."

Team Dropkin had a win-and-in scenario facing them on Thursday as they held a one-game lead over the team skipped by Rich Ruohonen. Team Dropkin lost its first match of the tournament to Team Dunnam, but Thursday was a different story as Dropkin — and teammates Polo, Mark Fenner and Thomas Howell — never trailed in winning 6-3. For Dropkin, it was a symbol of how his team has rebounded from an up-and-down round robin to be playing their best going into the finals.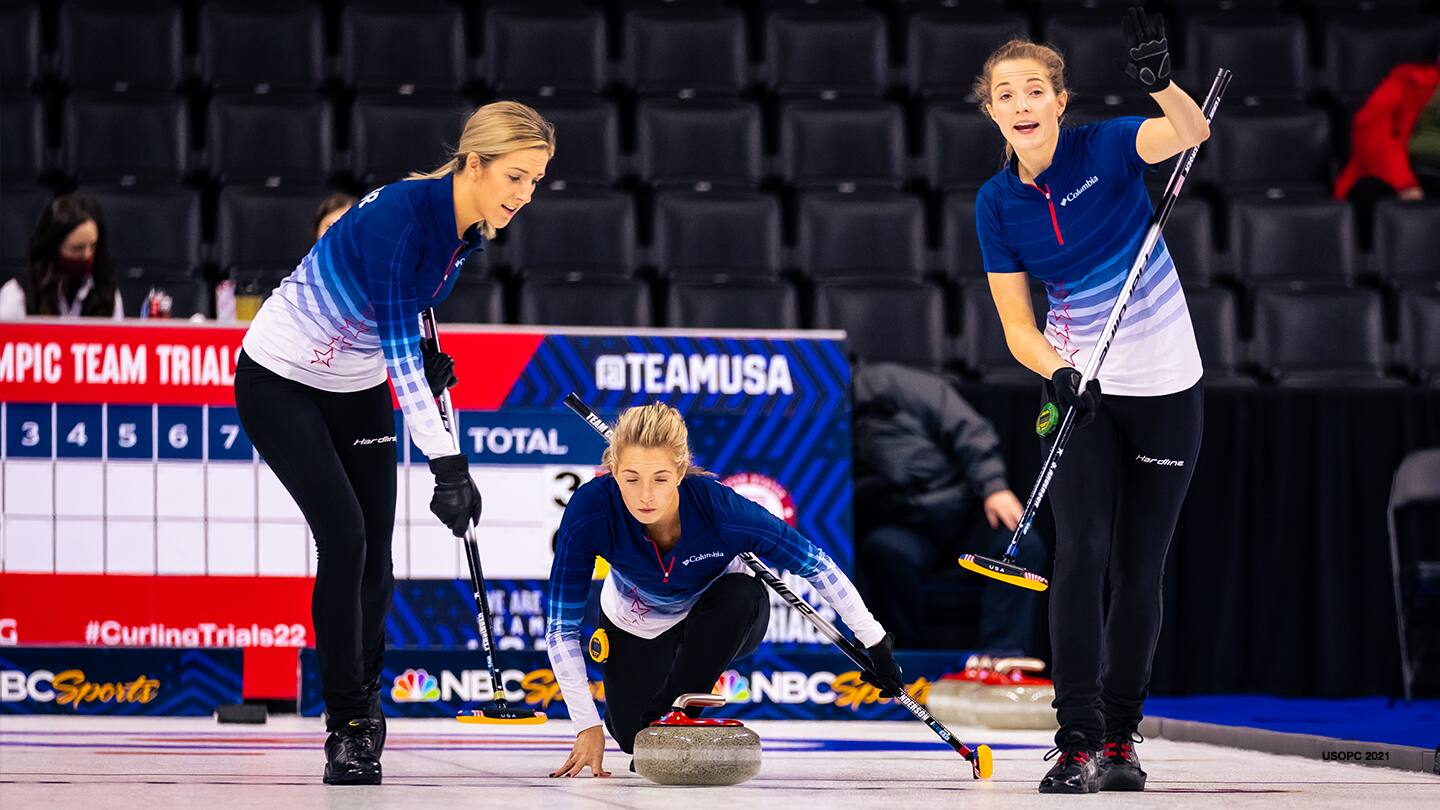 Team Christensen competes at the U.S. Olympic Team Trials for Curling on Nov. 18, 2021 in Omaha, Nebraska.
"I think we were just starting to figure out the ice more, just adjust when it comes to draw weight and making more precise shots like the hit and rolls and the runbacks," Dropkin said. "We just kind of got our mojo going. We're feeling good out there."

While Team Shuster brings the gold-medal cred — minus Plys, the lone newbie from the team's PyeongChang lineup — Team Dropkin is the reigning national champion and the first American men's team to win an event in the Grand Slam of Curling. Dropkin is also eager for another chance at Shuster.

"We always have really good battles," Dropkin said. "I always enjoy playing Landsteiner, Chris, Hamilton, Johnny. It's always fun battles out there, sometimes there's some bickering. Chris likes to talk some smack, I just like to let him talk the smack and see how it all results. We're going to the finals confident, we're feeling good, and we're looking forward to some good curling."

Like Team Shuster, the team skipped by Tabitha Peterson — with teammates Nina Roth, Becca Hamilton and Tara Peterson, Tabitha's sister — had locked up their top seed in the women's final early and were just awaiting their opponent. That will be Team Christensen, which won a hard-fought battle with Team Strouse in the first draw on Thursday to clinch their spot in the finals. It's a matchup of the most recent two national champions, and Team Peterson won both of the round robin matchups between the teams.

Being in the final is familiar ground for most of Team Peterson. With Roth as skip in 2017, the team including Tabitha Peterson, Hamilton and Aileen Geving won the trials and the Olympic berth that came with it. On the other side, Vicky Persinger of Team Christensen was on Jamie Sinclair's team that was defeated by Roth's.

"Every little experience and pressure games like that help. You're going to feel more nerves and everything so just knowing how to take care of those in a productive way (helps)," Peterson said. "Experiences can definitely be helpful for us."

Team Christensen has nearly the same composition as four years ago, with Persinger joining skip Cory Christensen, third Sarah Anderson and lead Taylor Anderson. But the result was quite different as Team Christensen in 2017 won just a single game at the trials. After back-to-back losses in the middle of the round robin, Team Christensen rebounded to win its last three. Christensen feels the team is getting better at exactly the right time.

"We've kind of been building all week, we feel good about how we're playing but we certainly know that we need to bring our 'A' game to beat (Team Peterson) because they're a great team. But we're feeling really good going into it."
Todd Kortemeier is a sportswriter, editor and children's book author from Minneapolis. He is a contributor to TeamUSA.org on behalf of
Red Line Editorial, Inc.