Teen Levito, Veteran Tennell Are Neck-And-Neck Going Into U.S. Figure Skating Championships Free Skate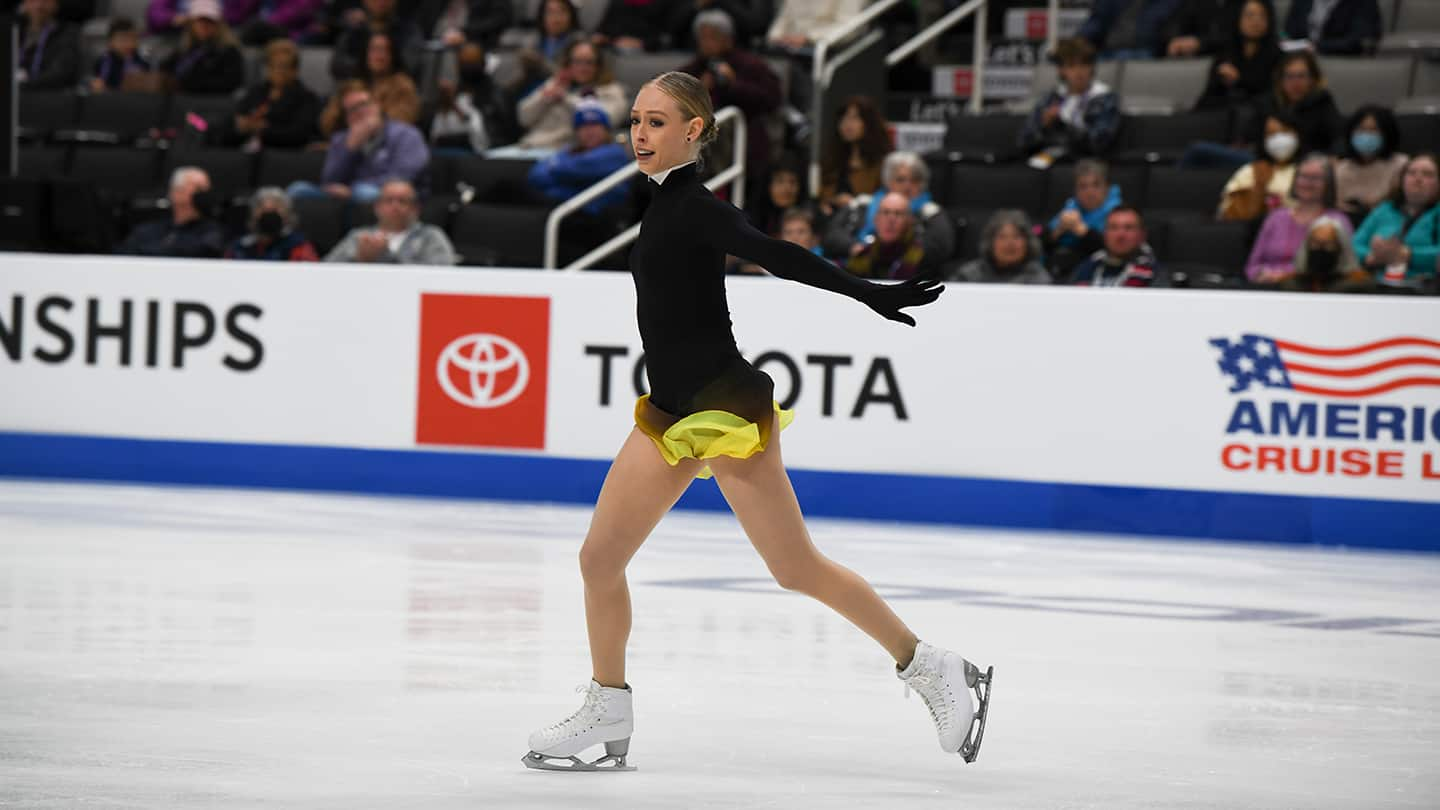 Bradie Tennell competes in the women's short program at the 2023 Toyota U.S. Figure Skating Championships on Jan. 26, 2023 in San Jose, Calif.
SAN JOSE, Calif. – In a wide-open women's field at the 2023 Toyota U.S. Figure Skating Championships, teenager Isabeau Levito won the short program Thursday night in San Jose. But, it was the veteran Bradie Tennell who stole the show.
"I'm back, baby," a triumphant Tennell said after nailing her routine to the tune of 73.76 points, putting her in a virtual tie with Levito, who earned 73.78 for her clean program.
The two-time U.S. champion has a right to celebrate. She'll enter tonight's free skate as a bona fide contender for a third national title, and it comes after a chronic right foot injury took her out of competition last season, robbing her of the chance to make a second Olympic team. Several times treatments would deliver hope, only to have the symptoms recur. She could not resume full training until last summer.
"You work your entire life, you make so many sacrifices, your family makes so many sacrifices — it takes a village to get one athlete to the Olympics," Tennell, 24, said. "And then all of a sudden, through no choice of your own, no specific action, everything you've held in your hands and have worked for crumbles to sand."
Tennell, 24, is sporting a new, sophisticated look, more engaging movements and a deep commitment to her choreography, changes she credits to her move to Nice, France, in August to train full-time with longtime choreographer Benoit Richaud and technical coach Cedric Tour.
"I'm really paying more attention to every single small detail," she said. "I'm not trying to just get back to the Bradie everyone knew. I'm a new and improved Bradie. I don't put a limit on myself. So I'm excited to see where it takes me."
The joie de vivre was a long time coming. Tennell placed 12th at her first Grand Prix event in England in mid-November, improving to seventh at the Grand Prix Finland a few weeks later. Her progression continued at Golden Spin, a Challenger Series event in Croatia last month, where she won silver.
"My team, we don't work in private lessons, we work in a group, so (Bradie) works a lot with Adam Siao Him Fa (of France), who right now is number one at the European Championships," Benoit said. "They worked a lot this summer on skating skills, they do dance, they do off-ice, they have technique (jumping) sessions, program sessions, with a very strict structure and plan. Right now, I would say Bradie is much more artistic."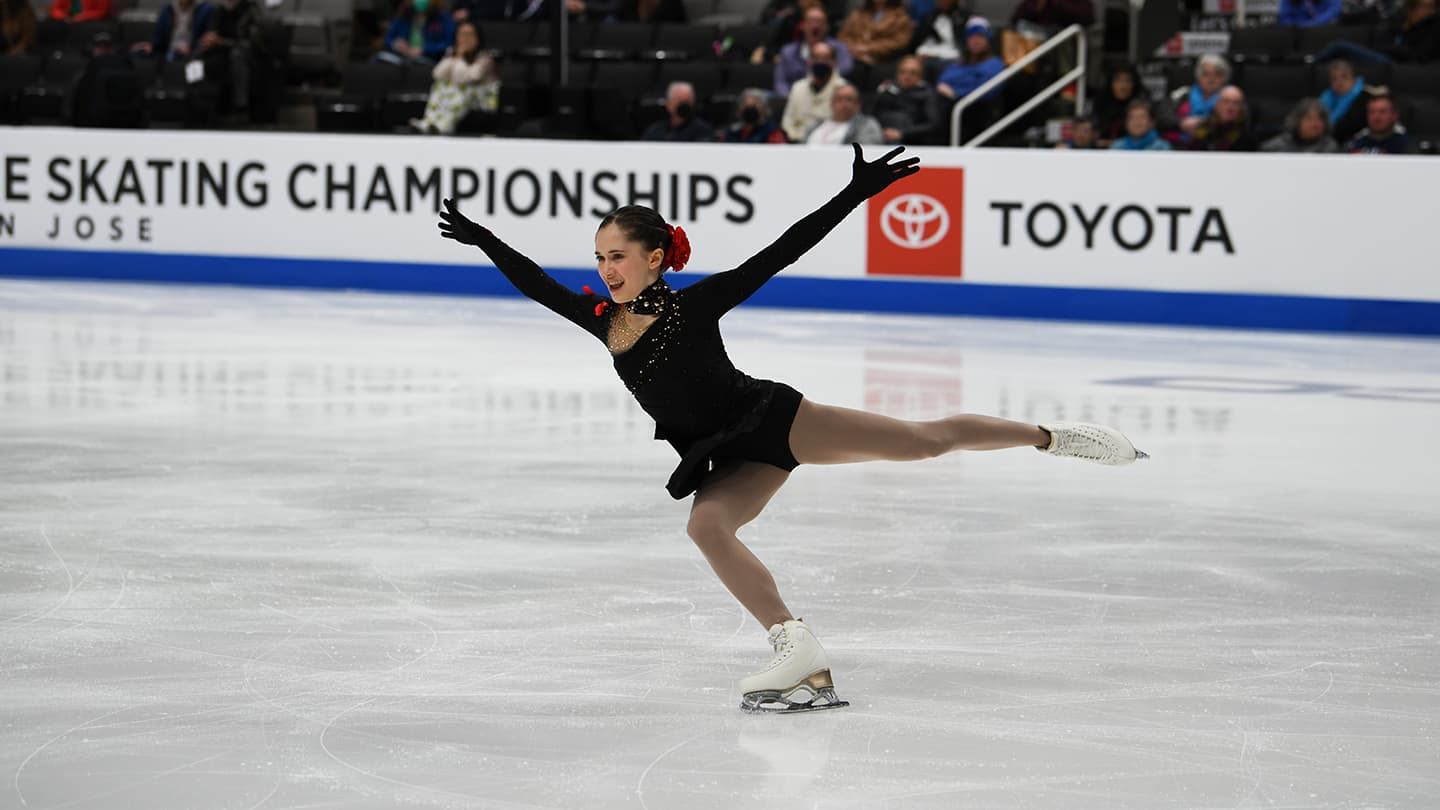 Isabeau Levito competes in the women's short program at the 2023 Toyota U.S. Figure Skating Championships on Jan. 26, 2023 in San Jose, Calif.
Working Through The
Pressure
For Levito, the 15-year-old junior world champion who has taken the senior ranks by storm this season, competing in San Jose was like coming full circle: the New Jersey native won the U.S. juvenile title here five years ago.
"I'm trying to channel that 10-year-old feisty me right now, and make this a really good experience as well," Levito said.
Like Tennell, Levito hit a triple lutz-triple toe loop combination and triple flip in her elegant, Spanish-themed short. The young skater looked calm and confident, a vibe she has carried all season, from her two Grand Prix silver medals and silver medal at the Grand Prix Final last month.
"I'm very grateful for being able to have kind of found my ways for (handling pressure)," Levito said. "I feel like I've gotten very good at, like, suppressing nerves. I mean, of course, you can't do it entirely. I still feel the effect of the competition in general, but I find my own ways mentally to handle it."
Yulia Kuznetsova, who has coached Levito since she was a small child, credits her pupil's fast rise to three factors: practice, practice, practice.
"Our team, we are all focused, we make a plan for her and she follows it," Kuznetsova said. "Of course, we have ups and downs, we have bad moments. She is a human being, a teenager. But sometimes bad moments are good for learning."
Inspired By Rainbow
Flags
Third and fourth positions, are even closer than first and second. A scant 0.01 separates Starr Andrews, who won silver at Skate Canada earlier this season, and Amber Glenn, the 2021 U.S. silver medalist.
Like Levito, Andrews has history with San Jose. She made her senior debut here in 2016, captivating the crowd with her sixth-place finish.
"It was really amazing to be out there," Andrews, who earned 68.97 points, said. "I felt really comfortable and confident, and I have been training really well, so I didn't have any doubts in my mind. I'm really excited to go out there tomorrow and also do that."
Glenn, who tested positive for Covid at the U.S. Championships last season and was forced to withdraw, will take 68.96 points into Friday's free skate.
"Being back at nationals was strange and little scary, but I had a great time out there," the skater, who is openly bisexual and pansexual, said. "I performed, I saw those rainbow (LGTBQ) flags, I felt at home, I felt supported. I was able to just have a good time skating, not just trying to grab up points and win, just enjoying it for what it is."
Two-time U.S. champion Gracie Gold, a member of the 2014 Olympic team, sits fifth with 67.44 points. World junior bronze medalist Lindsay Thorngren rounds out the top six with 62.64.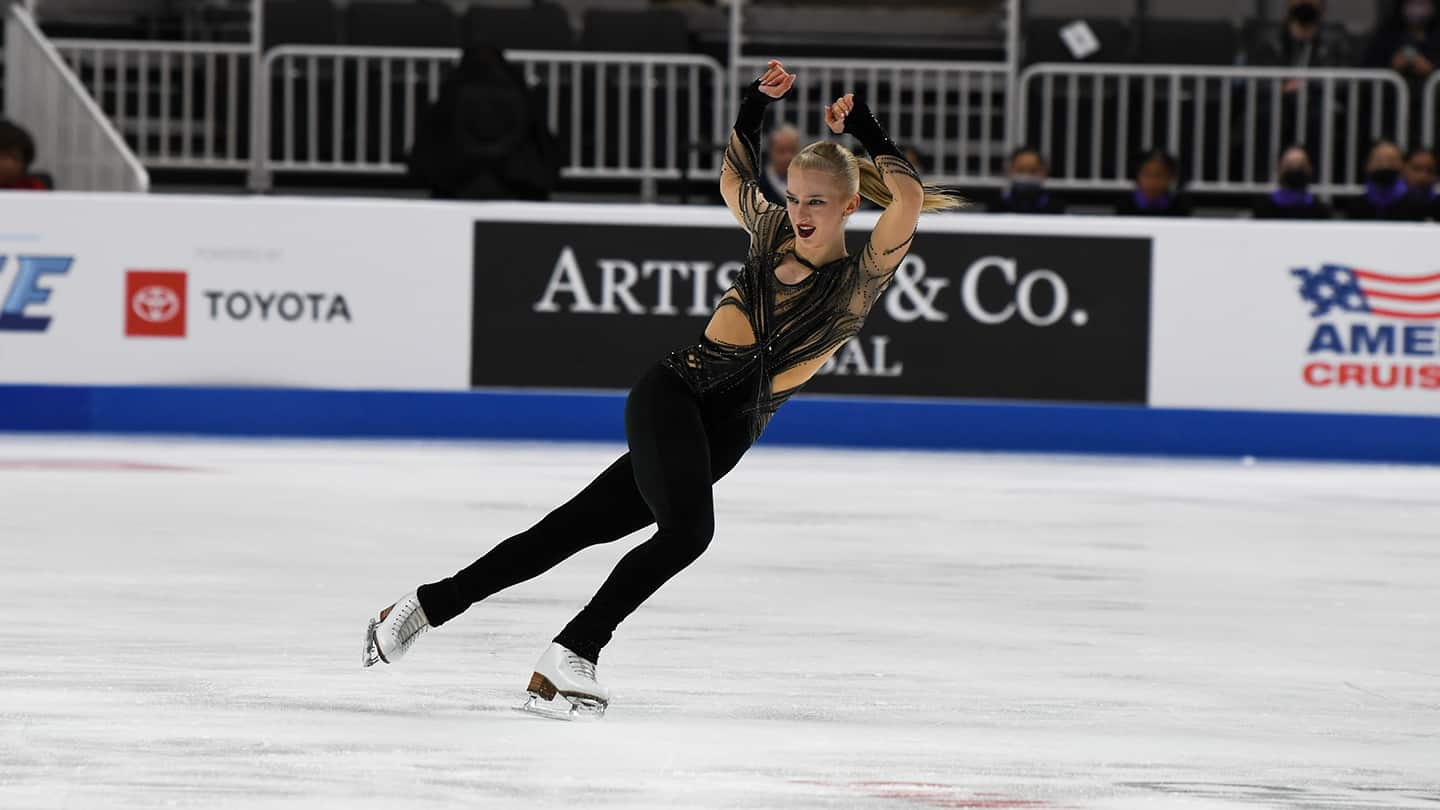 Amber Glenn competes in the women's short program at the 2023 Toyota U.S. Figure Skating Championships on Jan. 26, 2023 in San Jose, Calif.
"There's More Than One Recipe For
Success"
A few days before leaving for San Jose, Camden Pulkinen appeared on a Zoom screen, coffee cup in hand, stifling a yawn.
"Sorry if I'm seeming a bit tired," he said. "I am tired. I'm doing great. Yeah."
Minutes later, after relating his schedule, he doesn't look so tired. Instead, a reporter can't help but wonder how he carved out time for an interview.
Pulkinen, 22, is taking a page out of Nathan Chen's playbook, combining an Ivy League education with elite figure skating competition. This summer, he moved from his training home in Colorado Springs, Colorado, to New York City to enroll full-time at Columbia University. He previously attended University of Colorado-Colorado Springs.
The Scottsdale, Arizona, native travels the six or so miles from Columbia's Morningside Heights neighborhood to Chelsea Piers' ice rink the way most New Yorkers would, via subway — in his case, the 1-2-3 line.
"I'll wake up around 6 a.m., I'll get to the rink at about 7:15-ish, and then I'll hop on the ice at 7:30," Pulkinen said. "I'll be done by 9:30 and rush myself back up here to school."
From there, he has three classes in rapid succession, starting at 10:10 a.m. By mid-afternoon, he breaks for some food and studying, before attending a statistics class at 6 p.m.
"I'm actually taking more credits than I was last semester," Pulkinen, who hopes to graduate sometime in 2024, said. "I'm taking 18 instead of 12. That's two extra courses, so six classes."
When he arrived at Columbia last fall, his plan was to major in financial economics. That has changed.
"I'm deliberating between psychology or neuroscience, which is kind of a stark contrast to financial economics," he said. "I wanted to transform my education (to) provide the right framework for critical thinking, and to make educated decisions to tackle life's problems."
The men's competition in San Jose begins today with the short program, followed by the free skate on Sunday. Notably missing from the competition is Chen, the three-time world champion and reigning Olympic champion, though few expect the men's event to be as wide-open as the women's.
Ilia Malinin, the teenaged "quad god" and defending junior world champion, is the overwhelming favorite to win the men's title. Pulkinen, who is nearly five years older than Malinin, is at a very different stage in life. Competing this season required a constant balancing act.
After he won Golden Spin in early December, the skater and his New York-based coach, former U.S. competitor Alexander Johnson, flew to Irvine, California, to train with Rafael Arutunian, the renowned technician who led Chen to Olympic gold. When Columbia's academic break ended the middle of this month, he returned to New York for a week or so of classes before heading out to San Jose.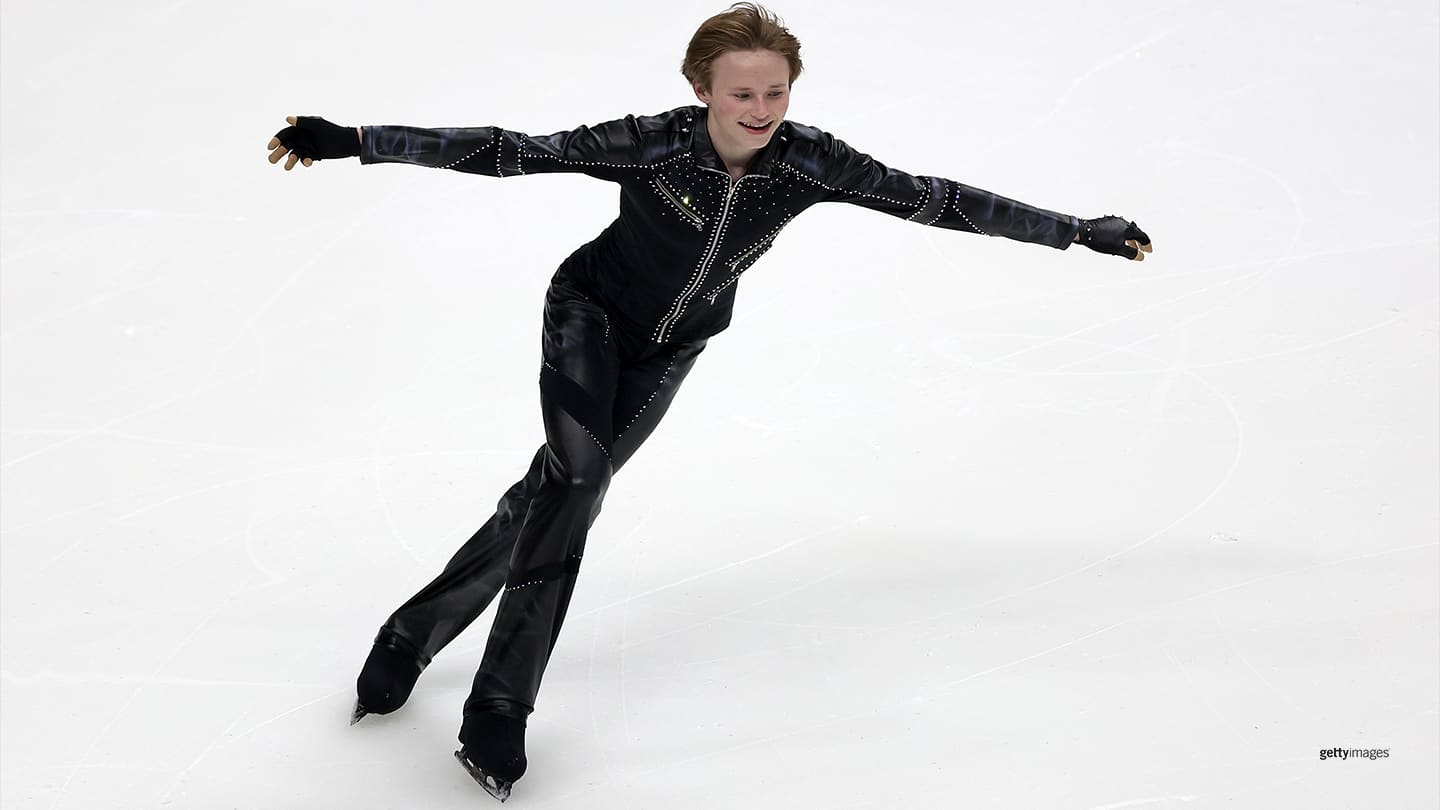 Ilia Malinin competes in the men's short program during the 2022 U.S. Figure Skating Championships on Jan. 8, 2022 in Nashville, Tenn.
"Where Rafael really shines is (teaching) that technique that I want to develop these next four years, leading up into the (2026) Olympics," Pulkinen said. "It's really important not just for the season but looking ahead, for getting a second quad (jump) and developing a little more reliable and consistent technique."
Pulkinen admits his schedule is tough — "It's more than I had to do, when I was 18" — but quickly adds it is worth it, to broaden his horizons and help him write the next chapter in his life.
"I get to meet and engage with people that are part of the Columbia community, people that are a part of New York City," he said. "I can look beyond the ice rink and say, 'I also identify as the figure skater, the son, the student,' all these different things that, if I just stayed solely focused on skating, I wouldn't be able to find."
Still, it's a risky strategy for the stylish, musical skater, who built momentum with a fifth-place finish at the 2022 world championships. As a last-minute substitute for the injured Chen, Pulkinen placed third in the free skate after landing two clean quad toe loops and two triple axels. He finished fifth at both of his fall Grand Prix events earlier this season.
"There's not just one recipe for success," Pulkinen said of the hybrid life he has chosen. "My pursuit of (both) school and skating, it comes at the expense of one thing, for the pursuit of the other. I had to sacrifice my training in Irvine to come (to New York) for school, and I have to sacrifice my ability to be in classes sometimes to skate. So it's always finding that trade-off."
Brown Competes On His Own
Terms
This U.S. Championships will make an even dozen for Jason Brown, the 2015 U.S. champion and two-time Olympian who first rose to fame when his "Riverdance" program went viral in 2014.
Like Pulkinen, Brown competes in San Jose on his own terms. The 28-year-old from Highland Park, Illinois, didn't take part in the Grand Prix circuit this season; his last full competition was the Beijing Games, where he skated personal best programs to place sixth. Since then, he has kept up a busy show schedule, and tried his hand at choreography, creating a short program for European silver medalist Daniel Grassl of Italy.
Brown, who moved to Toronto in 2018 to train under Tracy Wilson and Brian Orser, shuttled between his family home and Toronto's Cricket Skating and Curling Club last fall, but he spent much of his time on the road. He announced his plans to return to competition via Instagram on Nov. 2.
"Jason is living his best life," Rohene Ward, Brown's longtime choreographer, said. "He just got back from (doing shows in) Japan about two weeks ago. He has been training while traveling and working on five different numbers, for competitions and shows. He's trying to keep his options open and continue to grow and love skating, and not feel like he has to do it a certain type of way."
On Friday, Brown will skate his short to "Melancholy," a piano piece by Alexey Kosenko, choreographed by Ward in 2020 but never before used in competition. His free skate on Sunday, set to Josh Groban's rendition of "The Impossible Dream," was also created with Ward.
"For me, ("The Impossible Dream") spoke to his voice," Ward said. "It's just a pure skating song — pure joy, pure love, and who does that better than Jason? It was made to be an exhibition piece for the Stars on Ice tour last year, and it never got used, so we turned it into a free skate."
Lynn Rutherford has covered five Olympic Games, including the 2022 Winter Games in Beijing for TeamUSA.org. Based in New York, she is a freelance contributor to TeamUSA.org on behalf of
Red Line Editorial, Inc.