Meet Kelly Curtis: USA Skeleton's First Black Olympian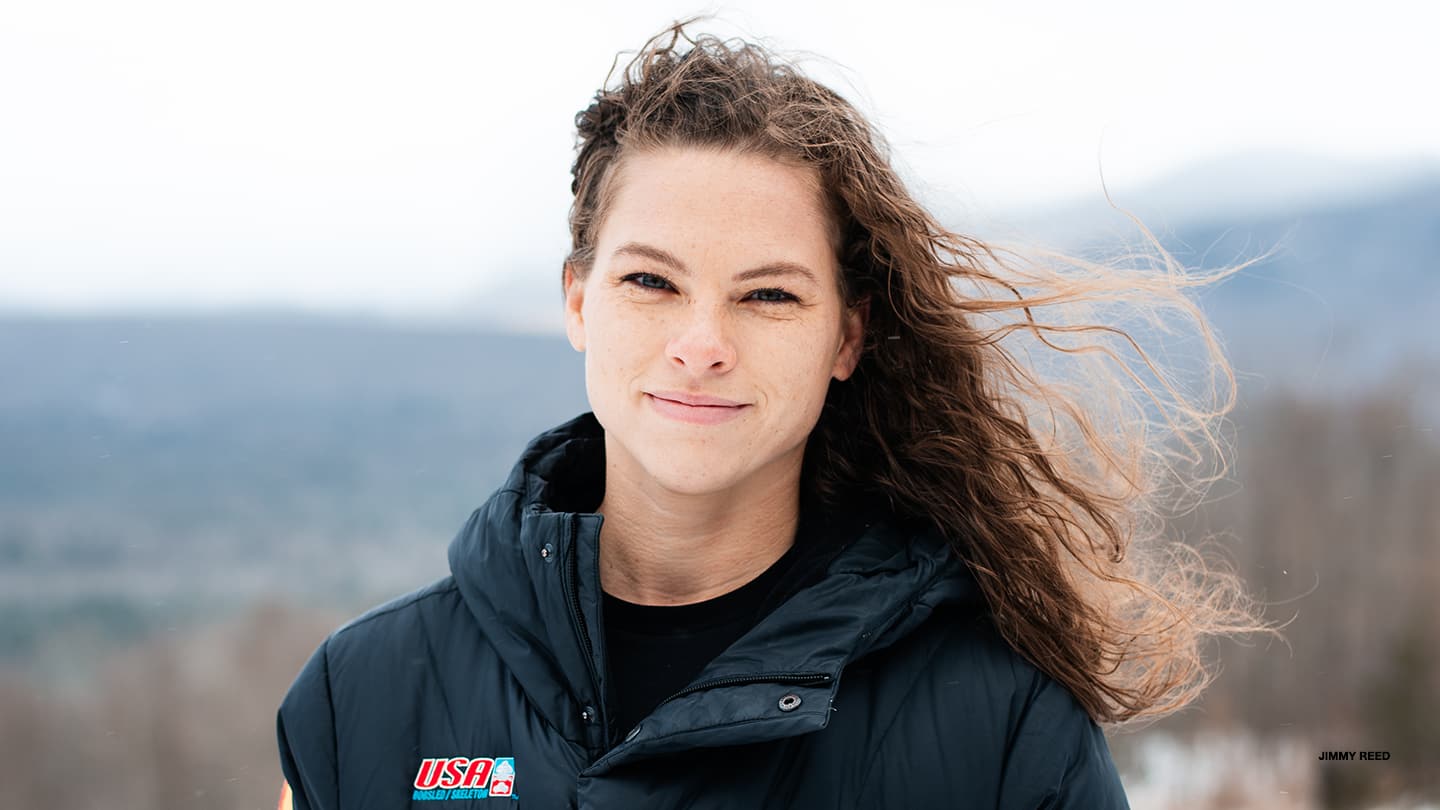 Kelly Curtis poses for a USA Bobsled and Skeleton photo shoot.
BEIJING — As a kid, Kelly Curtis never imagined herself as a Winter Olympian. She grew up in Princeton, New Jersey, and her sports were track and field and in the winter, basketball.

"I never really watched the Winter Olympics growing up, I never thought that that was something that I would do," said Curtis by phone from the Yanqing Olympic Village.

She didn't even like the cold. Still doesn't.

Moreover, she "didn't really see too many people that look like me or had a similar background," Curtis added. "So it just never seemed like a door that would be open."

Now in Beijing, Curtis, 33, is the first Black athlete to represent Team USA in the sport of skeleton. And she hopes her story will show other Black athletes that competing in the Winter Olympic Games is possible.

And how much fun skeleton is.


Curtis was born in New Jersey the youngest of four in a family of athletes. Her dad, John, played in the NFL, then spent most of his career as the athletic director at Princeton High School. By the time she was at Princeton High, Curtis was excelling in track and field and basketball.
For college, she first went to Tulane University, then transferred to her dad's alma mater, Springfield College. Her sport? Heptathlon.
"I just really liked the overall challenge of it," she said. "Just completing it is a feat."
One of her proudest moments: winning the heptathlon at the 2011 Penn Relays.
When Curtis graduated from Springfield with a degree in sport management in 2012, she figured her days as a competitive athlete were behind her. That fall, she moved to upstate New York to pursue a master's degree in educational leadership at St. Lawrence University.
But her Springfield track coach had planted a seed. Curtis had transferred to Springfield the same year that Erin Pac drove a bobsled to an Olympic bronze medal at the 2010 Vancouver Games. Pac also competed in heptathlon at Springfield, and the coach saw similarities between Pac's and Curtis's athleticism. He suggested to Curtis that she too try bobsled.
"I thought it was a joke," admitted Curtis.
But when Curtis found herself in a true winter climate north of Adirondack State Park, she thought, "If I'm going to be up here in the cold, I might as well try something fun."
The summer of 2013, she decided to try bobsled's combine to see what it involved. She did so well that she was invited to a bobsled driving school program in Lake Placid that December. She was 24 at the time.

At the Mt. Van Hoevenberg Olympic Sliding Center in Lake Placid, she witnessed a skeleton sled careening down the track for the first time.

"I saw how much more fun they were having on a skeleton sled," she said. "On the last day, I was like, 'I want to try that.'"

Curtis loved it. Her immediate response: "How do I go faster?"

That winter, she remembers watching NBC's broadcast of the 2014 Olympic skeleton competition. She was struck by the emotion of it, especially for Team USA athletes Noelle Pikus-Pace and Matt Antoine, who won silver and bronze medals, respectively, and the heartbreak of Katie Uhlaender, who was sitting in bronze-medal position after two (of four) runs but fell to fourth overall, just 0.04 of a second from an Olympic medal.

"It was interesting for me to see that full spectrum [of emotion]," Curtis said. "But after seeing that, I was like yeah, I'll give it a go."
Want to follow Team USA athletes during the Olympic Games Beijing 2022? Visit TeamUSA.org/Beijing-2022-Olympic-Games to view the competition schedule, medal table and results.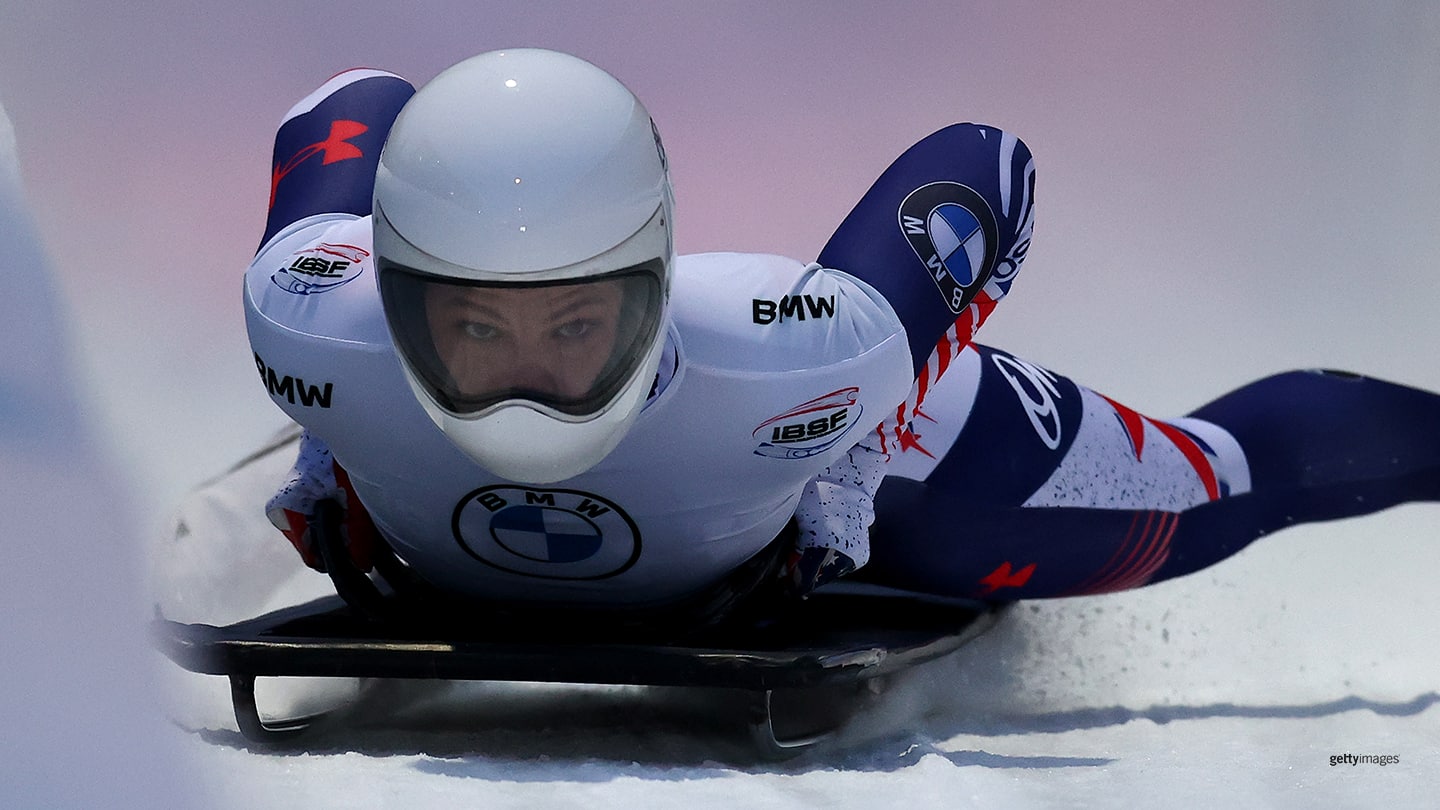 Kelly Curtis competes in the women's skeleton during the BMW IBSF World Cup Bob & Skeleton 2021/22 on Dec. 10, 2021 in Winterberg, Germany.
Soon, Curtis was finishing on the North American Cup podium in skeleton. She won the overall title twice, then moved to the Intercontinental Cup and won that as well. Last January, she made her world cup debut and the world cup team for the 2021-2022 Olympic season.

In the first world cup in November 2021, Curtis was the highest placed American woman in ninth. Making the 2022 U.S. Olympic Team was suddenly on her radar but Curtis really had her eye on the 2026 Games.
Then, in the final world cup of the season in St. Moritz on Jan. 14, 2022, Curtis finished sixth, her best finish ever on a track she had never seen before. The result put her on the U.S. Olympic team, along with Uhlaender.
Grad School and the Air
Force
Curtis's life has involved more than just sports in the past eight years. While pursuing skeleton at the highest level, Curtis also finished her master's degree at Saint Louis University and got married. Her husband-to-be, Jeff Milliron, was a coach for Princeton University's track team.
"He tried to kick me off the track one day when I was doing a bobsled workout!" joked Curtis.
The two eventually married, and Curtis pieced her skeleton career together by doing odd jobs and relying on the generosity of family and friends.
Then in 2020, she heard through teammate Uhlaender that the U.S. Air Force was accepting civilians into the World Class Athlete Program. Curtis knew bobsledders on the U.S. team who are soldier athletes, and she hoped to join them in the WCAP program. When Curtis learned of the Air Force opportunity, she jumped on it. Her older brother, Jimmy, had had a good experience with the Air Force.
Curtis completed her basic training in July 2020 and then did technical training remotely. The past two seasons, she has balanced her work with the Air Force and training.
Ten days before flying to Beijing, Curtis and Milliron moved to Italy, where she is assigned to work in knowledge operations at the Aviano Air Base. It's an ideal location for Curtis to train for the Olympic Winter Games Milano Cortina 2026.
But earlier than expected, Curtis is experiencing life as an Olympian. She made the team three weeks ago and has yet to figure out how she can best inspire other Black athletes.
She knows that images of her competing at these Winter Games are a start but in the long run, will not be enough. To develop more world-class skeleton athletes, she would like to help build a better system to support them financially.
She would also like to see the national team cast a wider net in recruiting new sliders.
"I'm the first," Curtis said, of being the first Black skeleton athlete from the U.S. to compete at the Olympic Games. "But I'm definitely not going to be the last."
An award-winning freelance writer based in Vermont, Peggy Shinn is in Beijing covering her seventh Olympic Games. She has contributed to TeamUSA.org since its inception in 2008.