U.S. Slopestyle & Big Air Snowboarders Prepare To 'Make The Most' Out Of The Winter Olympics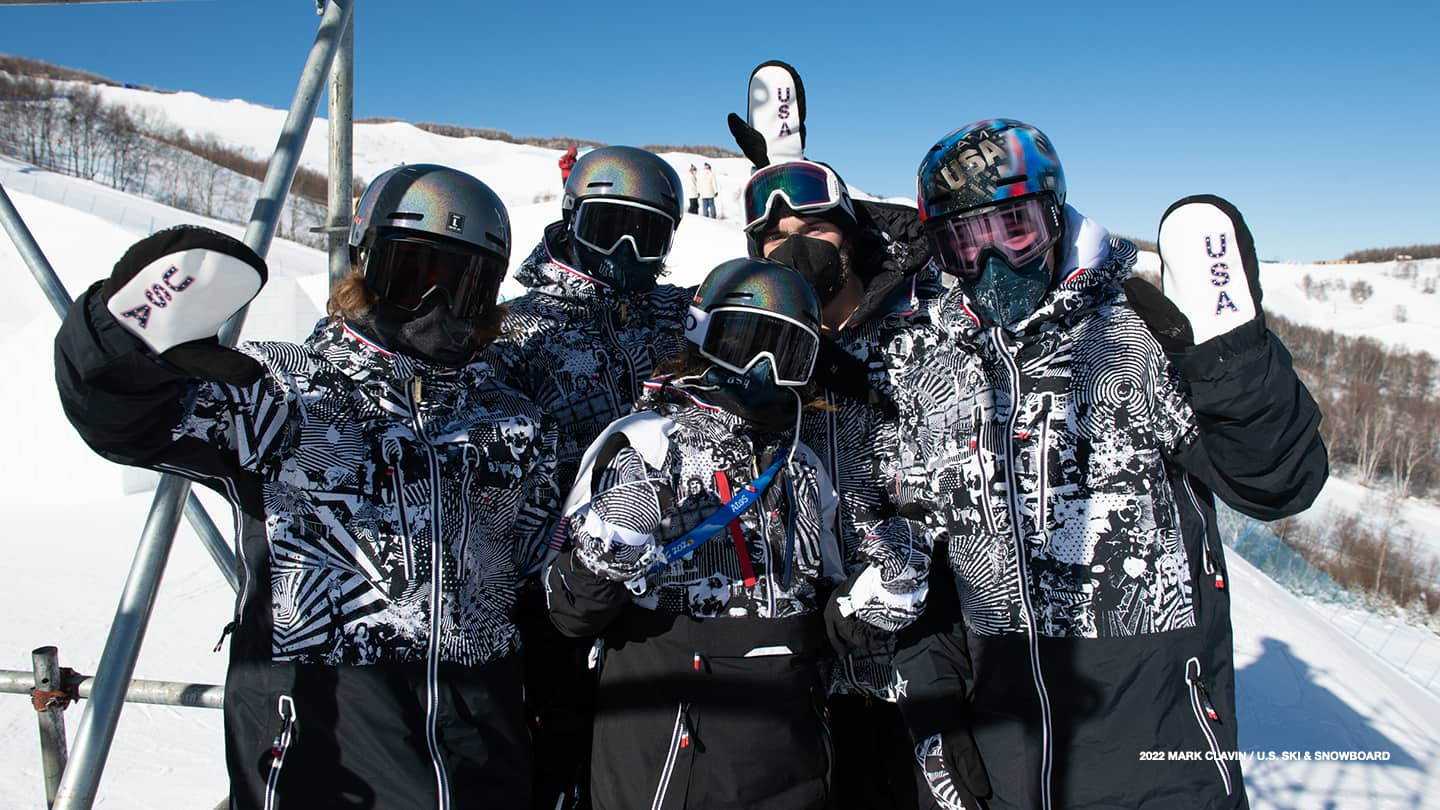 The U.S. men's snowboard slopestyle team poses for a photo during training ahead of the Olympic Winter Games Beijing 2022 on Feb. 1, 2022 in Zhangjiakou, China.
ZHANGJIAKOU, China – Making the most out of the Olympic experience is the goal for Team USA's slopestyle and big air snowboarders at the Olympic Winter Games Beijing 2022. Eight Americans – five returning Olympians and three rookies – prepare to compete for their chance at Olympic glory in the coming days.

While snowboarding at the Olympic Winter Games has been a staple since its introduction in 1998, slopestyle and big air fall into the new era of the Olympic program.

Both slopestyle and big air were introduced within the last two Winter Games (2014 and 2018) and have produced six medals total – four gold and two silver – for the U.S.

Big air is the newest snowboarding discipline, having made its debut at the Olympic Winter Games PyeongChang 2018. It makes its return alongside Team USA's two-time Olympic slopestyle gold medalist Jamie Anderson, who also won silver in big air's debut.

Slopestyle, however, made its debut at the Olympic Winter Games Sochi 2014 where the U.S. saw early success, taking home gold for both the men and women thanks to 2014 Olympian Sage Kotsenburg and Anderson.

The sport has remained in the Olympic program since then and will be hosted at the Genting Snow Park at Genting Resort Secret Garden northwest of Beijing for the 2022 Games.

Anderson, 31, returns to her third Winter Games as the defending gold medalist looking for her third straight gold in the event. She will be leading the team as a top contender along with Red Gerard, the men's slopestyle 2018 Olympic gold medalist.

"That [2018 Olympics] experience was just out of nowhere; I never predicted that happening," said Gerard, who won gold at 17, the youngest snowboarder to do so at that time. "I just kind of came there with no expectations, wanting to ride, land runs and see how I do. But it was awesome and put me in this spot to mature a little bit."

Anderson aims to be the first snowboarder to win three consecutive gold medals in slopestyle but has her work cut out for her as New Zealand youngster Zoi Sadowski-Synnott, 20, looks to battle her for the gold medal spot.

The two have been fighting for the top spot on the podium the last few years, most recently at X Games Aspen 2022 in Colorado, where Sadowski-Synnott took first in both slopestyle and big air, with Anderson following behind in second.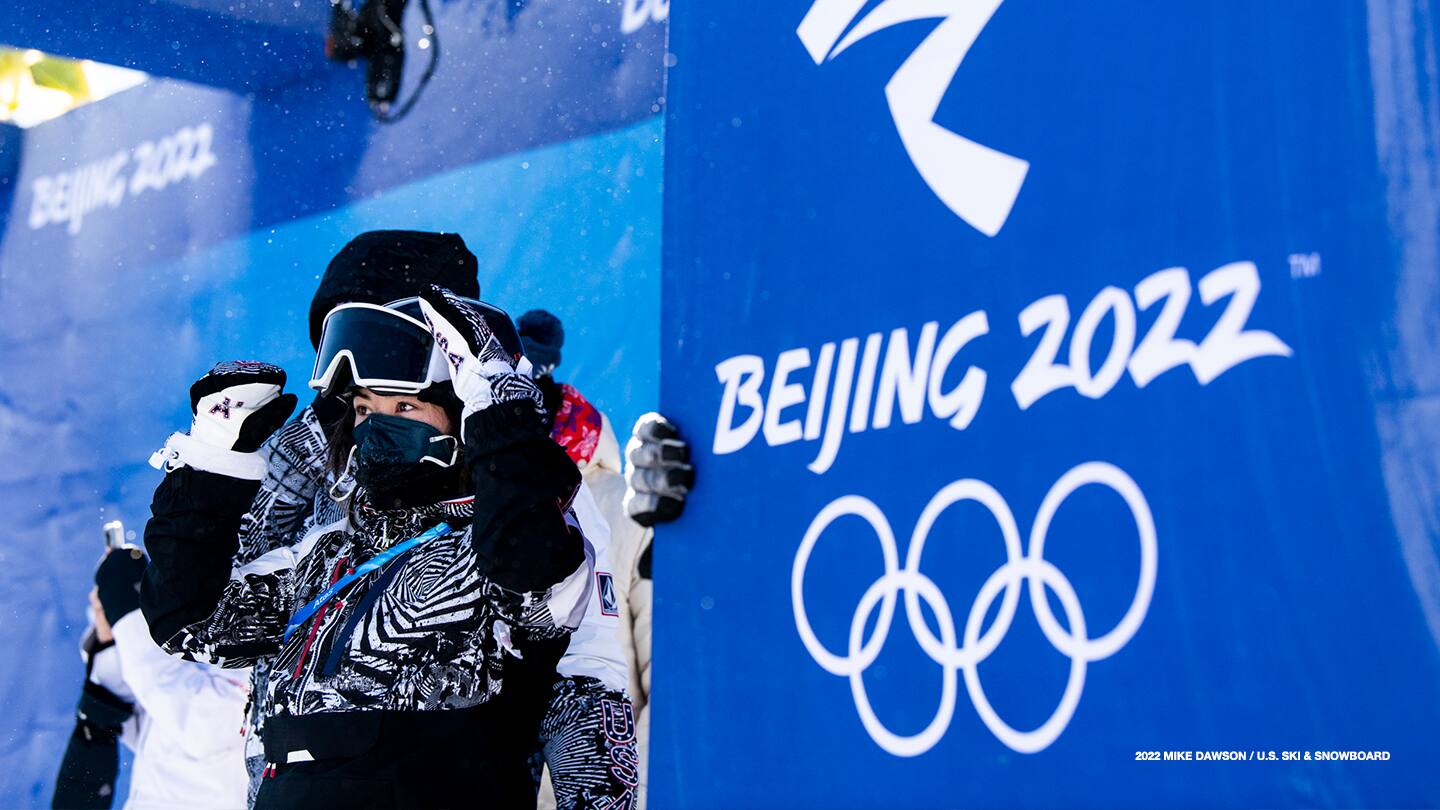 Hailey Langland during training ahead of the Olympic Winter Games Beijing 2022 on Jan. 31, 2022 in Zhangjiakou, China.
When asked about being one of the veterans on the 2022 U.S. Olympic Snowboarding Team, Anderson couldn't help but reflect on how much that meant to her and her sport.

"I would say it feels really humbling to be the veteran," said Anderson in a press conference. "I remember being the youngster back in the day. I'm so proud of all these girls and especially women's snowboarding. It's come a really long way since my first Olympics in Sochi."

The South Lake Tahoe, California, native headlines the women's team which also includes 2018 Olympians Hailey Langland and Julia Marino, and newcomer Courtney Rummel.

Langland competed in PyeongChang at 17 years old, like Gerard, returning home with a sixth-place finish in slopestyle and 14th in big air. Now 21, the still not-so-old snowboarder has enjoyed a more relaxed journey and is looking to savor every moment in Beijing.

"Getting that second-place result [at the Aspen U.S. Grand Prix] last year was pretty critical to me making it on the team," the San Clemente, California, native said. "I feel like it put me in a really good position to kind of take a backseat approach into the qualifying process this year. … I'm just trying to make the most out of experience, and that's something I wish I could have given to myself when I was 17 in a pretty crazy position in Korea."

Gerard, 21, headlines the men's team competing at the Games. The Silverthorne, Colorado, native goes into Beijing with an impressive resume from the 2021-22 season.

He most recently claimed gold at the 2022 Toyota U.S. Grand Prix at Mammoth Mountain in California, where he landed a backside 1260 and backside 1620 to highlight the finals in early January. Before that, he earned his ticket on the 2022 U.S. Olympic Team after winning the 2021 Dew Tour at Copper Mountain in Colorado.

"Last week we were at another contest and the week before that we were at another contest, and the Olympics is a bigger stage which brings a little more pressure but as far as snowboarding, the Olympics does a really good job on [being the best]," Gerard said.

In 2018, Gerard wasn't fully aware of what the Winter Olympics even were. He grew up watching competitive snowboarding through the Dew Tour, X Games and US Open.

Going into PyeongChang, he quickly found how big the Olympics truly are.

"Thinking back on [my 2018 experience] now, I just felt like I was so young and didn't really get to take a whole lot out of it," Gerard said. "So, coming into this one, the name of the game is to take a lot out of it. The Olympics is very unique where you want to do [individually] good, but you're with a country with four incredible snowboarders. Our job is to hopefully get one of us on top of that podium."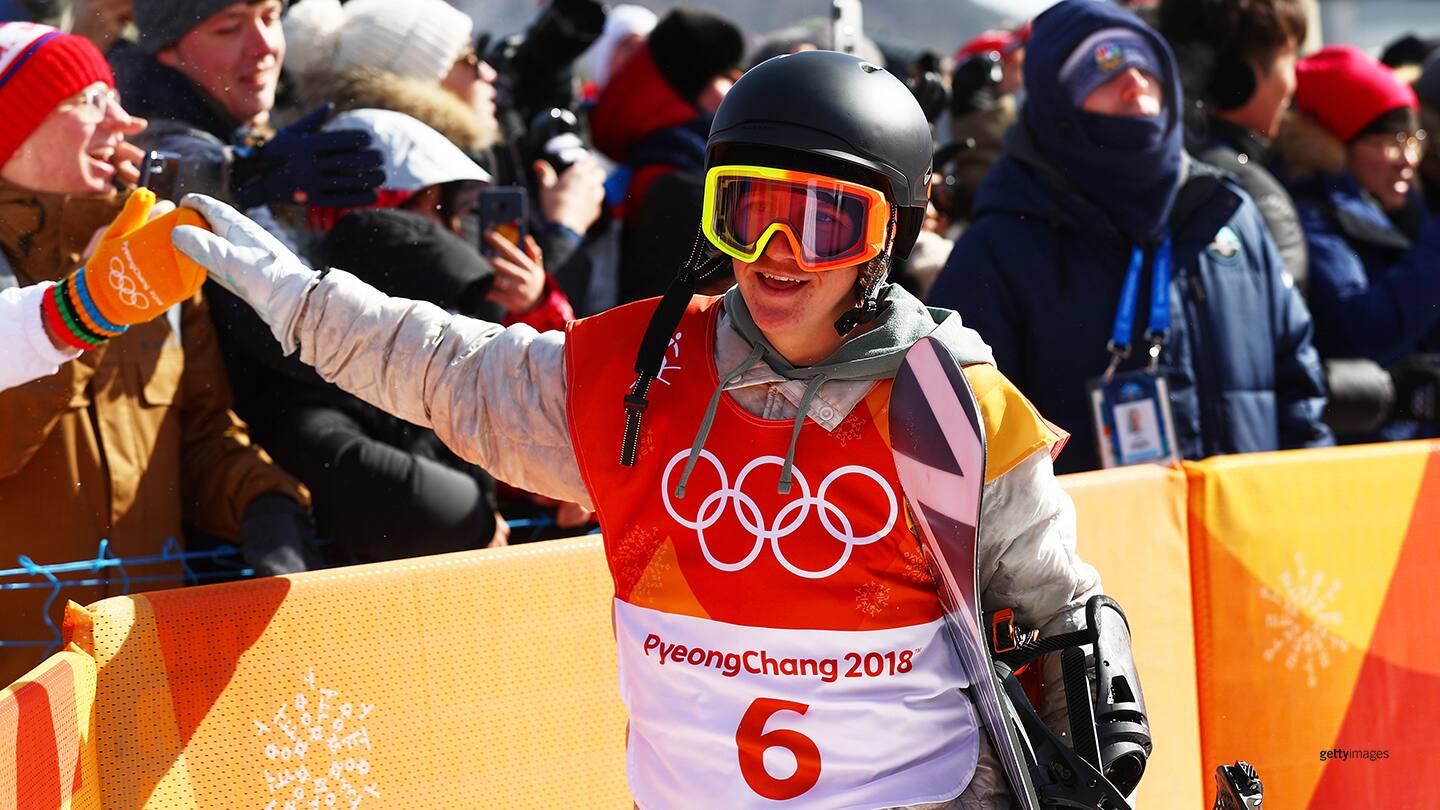 Red Gerard celebrates during the men's snowboard slopestyle final at the Olympic Winter Games PyeongChang 2018 on Feb. 11, 2018 in Pyeongchang-gun, South Korea.
Joining Gerard will be 2018 Olympian Chris Morning, and Dusty Henrickson and Sean Fitzsimons, who will both be making their Olympic debuts in Beijing.

Henrickson, who hails from Mammoth Lakes, California, just turned 19 on Wednesday and is having the time of his life up in the mountains with his fellow teammates.

"It's honestly one of the best birthday presents I could imagine," the newly turned 19-year-old said. "Getting to spend it with some of my best homies, I definitely can't complain, and I kind of treat every holiday as it's not over until you say it's over."

Both the men's and women's slopestyle and big air teams are housed together in four-person apartments for the duration of their stay. From playing cards to partaking in the coveted 126-year-old pin trading tradition, the teams have been bonding in their free time.

Competing at the Games and taking in the full Olympic experience is something truly special, even more so with the courses being on another level, according to Henrickson.

"Snowboarding is basically everything I know and I've got, so I love doing it," said the Mammoth rider. "One of the sickest courses and events that you can kind of imagine as a snowboarder and any athlete for that matter, so I'm super stoked to be here."

Anderson also gave a shoutout to the Beijing Organizing Committee and grounds crew for their execution of the slopestyle course by noting how the "Olympics always goes all out with the courses" and how it "looks like a video game … [and is] pretty gnarly."

Marino, who finished 11th in slopestyle and 10th in big air in PyeongChang, had nothing but praise for the big air course, which is the world's first permanent venue for big air. (Big air competitions are typically hosted on temporary scaffolding structures.)

"It's not like a traditional scaffolding like with the medal poles," the 2018 Olympian said. "It's all done in a concrete structure, so it's actually like one of the smoothest big airs I've ever hit. So that's really reassuring – coming into a smooth jump."

With three days of training leading up to the upcoming qualifiers, Team USA's snowboarders are ready to start competing.

Slopestyle action kicks off for the U.S. women's team with qualifiers Friday at 9:45 p.m. ET and finals following Saturday at 8:30 p.m. ET. The men's qualifiers start Saturday at 11:30 p.m. ET, with finals concluding snowboard slopestyle competition Sunday at 11 p.m. ET.
Want to follow Team USA athletes during the Olympic Winter Games Beijing 2022? Visit TeamUSA.org/Beijing-2022-Olympic-Games to view the medal table and results.
Justin Limoges is a 2020 sports communication graduate from Bradley University, originating from Newport, Vermont. He is a digital media assistant for Team USA.