Olympians Jamie Anderson, Red Gerard Land On Top In Slopestyle Finals At Mammoth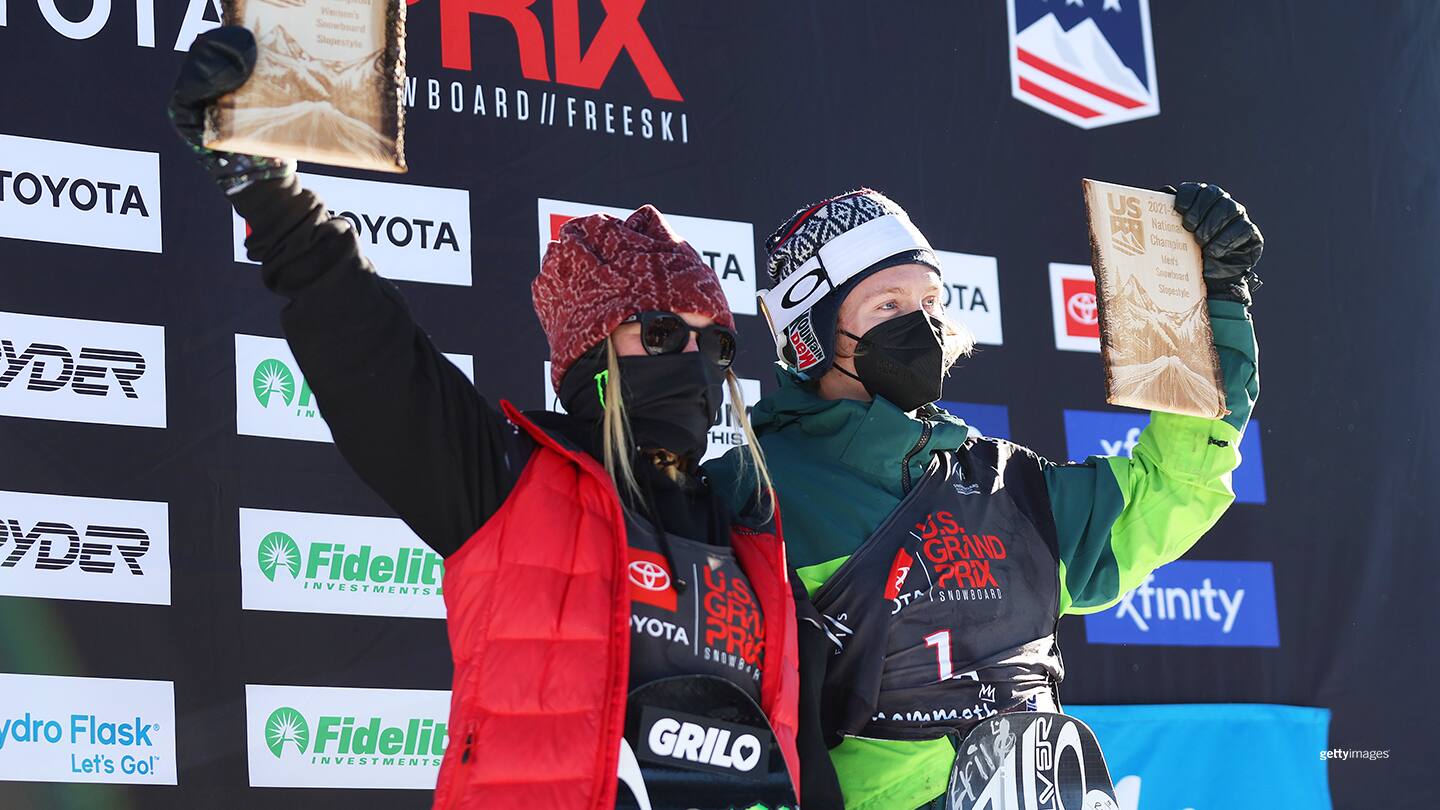 (L-R) Jamie Anderson and Red Gerard pose on the podium after the snowboard slopestyle finals at the Toyota U.S. Grand Prix at Mammoth Mountain on Jan. 8, 2022 in Mammoth, California.
MAMMOTH, Calif. – Snowboarders Jamie Anderson and Red Gerard took home gold in the slopestyle finals, while freeskiers David Wise, Aaron Blunck and Brita Sigourney earned medals in the freeski halfpipe at the Toyota U.S. Grand Prix at Mammoth Mountain on Saturday afternoon.

Anderson, the two-time Olympic gold medalist from South Lake Tahoe, California, secured her first slopestyle win of the season in style, scoring an 86.32 in her final run on the course. The 31-year-old Olympian landed a backside rodeo melon grab and cab double cork 1080 mute grab in her final jumps to leap ahead Zoe Sadowski-Synnott, the 2021 world champion from New Zealand.

Anderson landed a low-scoring 54.70 in her first-of-two runs, requiring her to go big or go home, as she sat outside of the top three. While there was no need for her to push for the podium as she had already met the requirements to qualify for the Olympic Winter Games Beijing 2022, she still wanted to finish strong in Mammoth.

"I was looking to go all-out [in my second run]," Anderson told Team USA. "It wasn't the most technically, but the best I could pull together."

Competing at the Olympics is nothing new to Anderson, who is the defending back-to-back Olympic champion in slopestyle and the 2018 silver medalist in big air. As a longtime veteran and champion in her sport, she's been trying to stay "in the moment" this time heading into next month's Games.

"[My nerves] are still kind of medium, still kind of average," the Olympic snowboarder said. "I try to stay in the moment and not get too excited. It's definitely a bit stressful going back as the two-time defending champ, but I know I have nothing to prove, so I'm just trying to enjoy the whole process and be grateful for this opportunity."

Fellow U.S. snowboarder Hailey Langland, 21, just missed outside of the podium, finishing in fifth (71.02). Team USA's Jade Thurgood, 19, and Courtney Rummel, 18, also competed in the finals, finishing in eighth (50.52) and ninth (44.20), respectively.

On the men's side, 2018 Olympic champion Gerard took home slopestyle gold in a similar fashion to Anderson, having made a comeback from the lower half of the field to finish as the all-out winner.

The 21-year-old Silverthorne, Colorado, native scored an 82.88 on his last run after dropping in with multiple 270s on the rails, and a backside 1260 and backside 1620 on the jumps.

Gerard had already punched his ticket to the Beijing Games after winning the 2021 Dew Tour at Copper Mountain in December 2021. Like Mammoth, he finished with a strong final run to earn a spot on the 2022 U.S. Olympic Team. He now has the chance to defend his 2018 gold medal.

"It means everything [to have the chance to defend my 2018 gold medal]," Gerard said. "Just to go back to the Olympics is really what I'm looking for. Once I get there, it's all about just trying to land runs and staying on top of it."

Unlike the Olympic Winter Games PyeongChang 2018, where he felt "oblivious to it all," Gerard is going into Beijing with more focus on competing the best he can.

"Going into South Korea, I was just like, 'Okay, I'm going to Mammoth and I'm going to Aspen, and just kind of doing all these things," Gerard said. "And now, it's kind of like I've grown up a little bit more, and I have my mind set on different things. It's just a lot more about snowboarding, landing runs and just trying to prepare yourself the best you can."

U.S. snowboarder Dusty Henrickson, 18, who has also already earned a quota spot onto the Olympic team, had a difficult performance after scoring a high-54.64 to finish 10th. Chris Corning, 22, landed eighth (66.88) followed by 2018 Olympic silver medalist Kyle Mack in 11th (53.14).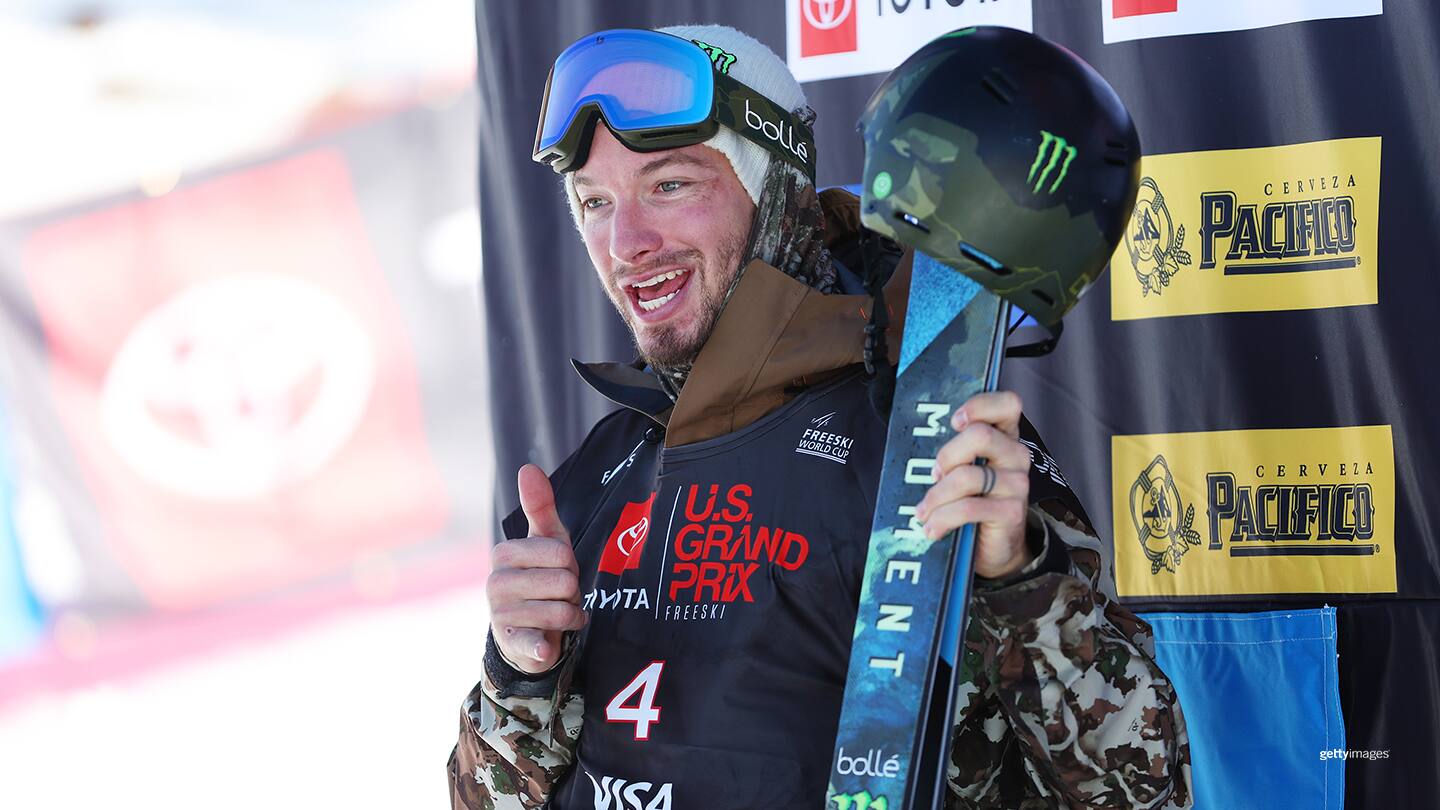 David Wise celebrates on the podium after the men's freeski halfpipe finals at the Toyota U.S. Grand Prix at Mammoth Mountain on Jan. 8, 2022 in Mammoth, Cali.
Wise, Blunck and Sigourney Podium at Halfpipe
Finals
Halfpipe skiers Wise and Blunck each collected a medal after going 2-3 in the men's halfpipe finals Saturday morning after leading the field through both runs.

Two-time Olympic gold medalist Wise finished with an impressive 95.25 in his first run, pushing him above the rest of the field. He landed a series of double corks – switch left 1080 Japan grab and two 1260 mute grabs – along with a switch right-side 900 blunt and alley-oop flatspin 540.

Blunck, a two-time Olympian (2014, 2018) also landed in the top three during the first round, with a run highlighted by a double cork 1440 and two right-side 1080s.

The reigning world champion from New Zealand, Nico Porteous, hit a 97.00 in the pipe to push the Americans down, however, which they ultimately failed to top.

"I have some bigger tricks to throw in there," Wise said. "I wasn't ready to throw them in today, but I'm hopefully going to be ready to throw them in for Beijing."

While Wise had not had the strongest start this season, he looks to defend his gold medal in the upcoming Winter Olympics.

"I am exactly where I want to be; I've always done well as the dark horse," Wise mentioned. "And I think that people watching me struggle this year – watching me have good practice runs and good qualifier runs, but not great finals results – has helped them to count me out a little bit, and that's exactly what I want.

Blunck, who had already qualified for the Olympic team, still wanted to push for the first-place spot but failed on his second and final run.

"Yeah, I definitely [wanted to go out hot]," the 25-year-old freeskier said. "It just kind of gives you a little bit of confidence going forward, but in all reality, I just wanted to come out and ski for fun. When I'm having fun, I typically do well."

Four other Americans competed in the finals: Birk Irving, who narrowly missed out, finishing in fourth (92.00), Eugene Morris in 10th (49.25), Samson Schuiling in 11th (19.25) and 2014 Olympian Lyman Currier, who did not compete in the finals after a bad fall during qualifiers.

2018 Olympic bronze medalist Brita Sigourney highlighted the women's freeski halfpipe finals with a bronze-medal performance.

Sigourney, 31, earned an 87.75 from her first run to finish third behind China's Eilleen Gu (97.50) and Estonia's Kelly Sildaru (92.50). Sigourney performed the same run both times, featuring a left-side 900 into an alley-oop and multiple 720s.

Sigourney, who was in contention for an Olympic qualification spot, was happy with her performances today, believing it further solidified her position for Team USA in Beijing.

"It solidified my spot today, so it's kind of a feel-good moment," the Olympian said. "I think my spot would have been alright without it, but it's definitely nice to lock it in by the rules."

Hannah Faulhaber, 17, finished in fourth behind Sigourney, scoring an 87.25, while Devin Logan secured ninth (81.50) and Svea Irving finished in 10th (81.00).

The U.S. Grand Prix at Mammoth continues Saturday, as three-time Olympic gold medalist Shaun White pushes for Olympic qualification during the halfpipe finals at 10 p.m. ET.
Justin Limoges is a 2020 sports communication graduate from Bradley University, originating from Newport, Vermont. He is a digital media assistant for Team USA.