Meet The 2022 U.S. Olympic Snowboard Team
The 1998 arrival of snowboarding at the Olympic Winter Games ushered in a new era of success for Team USA. Over the six Winter Games to include the sport, American snowboarders have won a record 14 gold medals and 31 total.


U.S. Ski & Snowboard announced Friday a contingent of 26 snowboarders who will represent the U.S. next month at the Olympic Winter Games Beijing 2022. Adding to that medal count is a good bet with both defending champs in halfpipe and slopestyle on the roster, not to mention stars like five-time snowboardcross world champ Lindsey Jacobellis and reigning men's world champ Mick Dierdorff on the roster.


Here's a look at the snowboarding athletes who will compete for Team USA in February.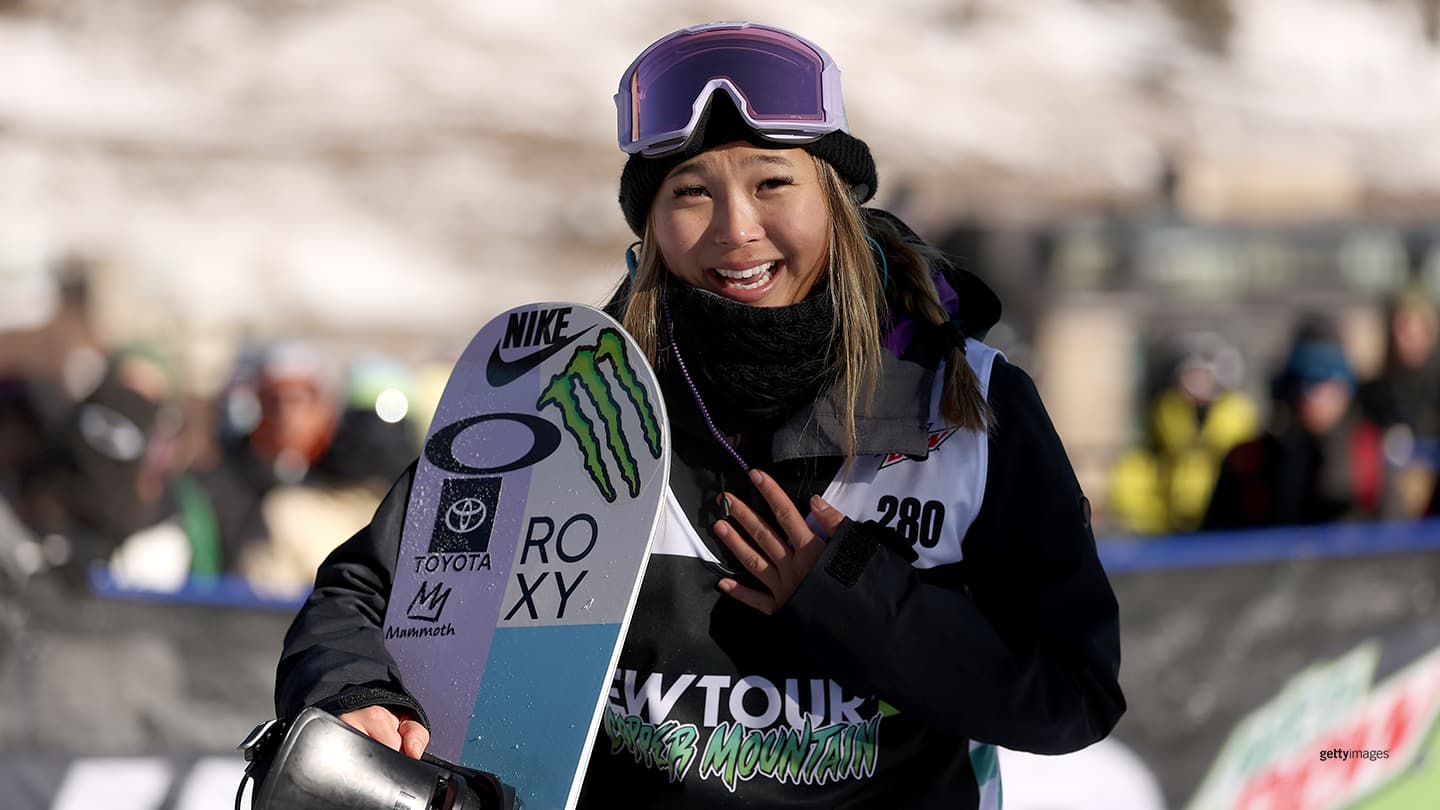 Chloe Kim reacts after the women's snowboard halfpipe final at the 2021 Dew Tour at Copper Mountain on Dec. 19, 2021 in Copper Mountain, Colo.
At 21, Chloe Kim is the dominant figure in women's snowboarding, having won gold in her Olympic debut four years ago in PyeongChang. The Torrance, California, native set the record for youngest halfpipe champion at 17. With the gold already locked up, she almost turned in a perfect score in her second run with a 98.25. Kim also became the youngest woman in the Olympics to land two 1080-degree spins in a row. Maddie Mastro has been among Kim's closest competitors. Mastro, native of Wrightwood, California, took 12th in her Olympic debut in 2018. The 21-year-old finished second at the 2021 worlds and third at the 2019 worlds, both events Kim won.


They will be joined in Beijing by two Olympic rookies in Tessa Maud and Zoe Kalapos. The 18-year-old Maud, from Carlsbad, California, is a 2020 Youth Olympian and two-time silver medalist at the junior world championships. Kalapos, 24, has twice competed at the world championships and finished among the top 15 both times. She is from Vail, Colorado.


It wouldn't be a men's halfpipe competition without Shaun White. The veteran U.S. rider is set to compete in his fifth Winter Games, which he's indicated will likely be his Olympic swansong. The 35-year-old from San Diego burst onto the scene as the "Flying Tomato" with his curly red hair at Torino 2006, where he won the first of his three Olympic gold medals. The only blemish on his Olympic career was a fourth-place finish in 2018.


Steamboat Springs, Colorado, native Taylor Gold will be in his second Olympics, but his first since 2014. The 28-year-old was 14th in Sochi, but various injuries derailed his chances for PyeongChang. In 2020, he snapped a five-year world cup podium drought. Also headed back to the Games is Chase Josey. The 26-year-old from Hailey, Idaho, took sixth in PyeongChang and was fifth at the 2021 world championships

Lucas Foster is the requisite newcomer of the group. The 22-year-old from Telluride, Colorado, has never competed at an international championship but has placed as high as fifth in a world cup event.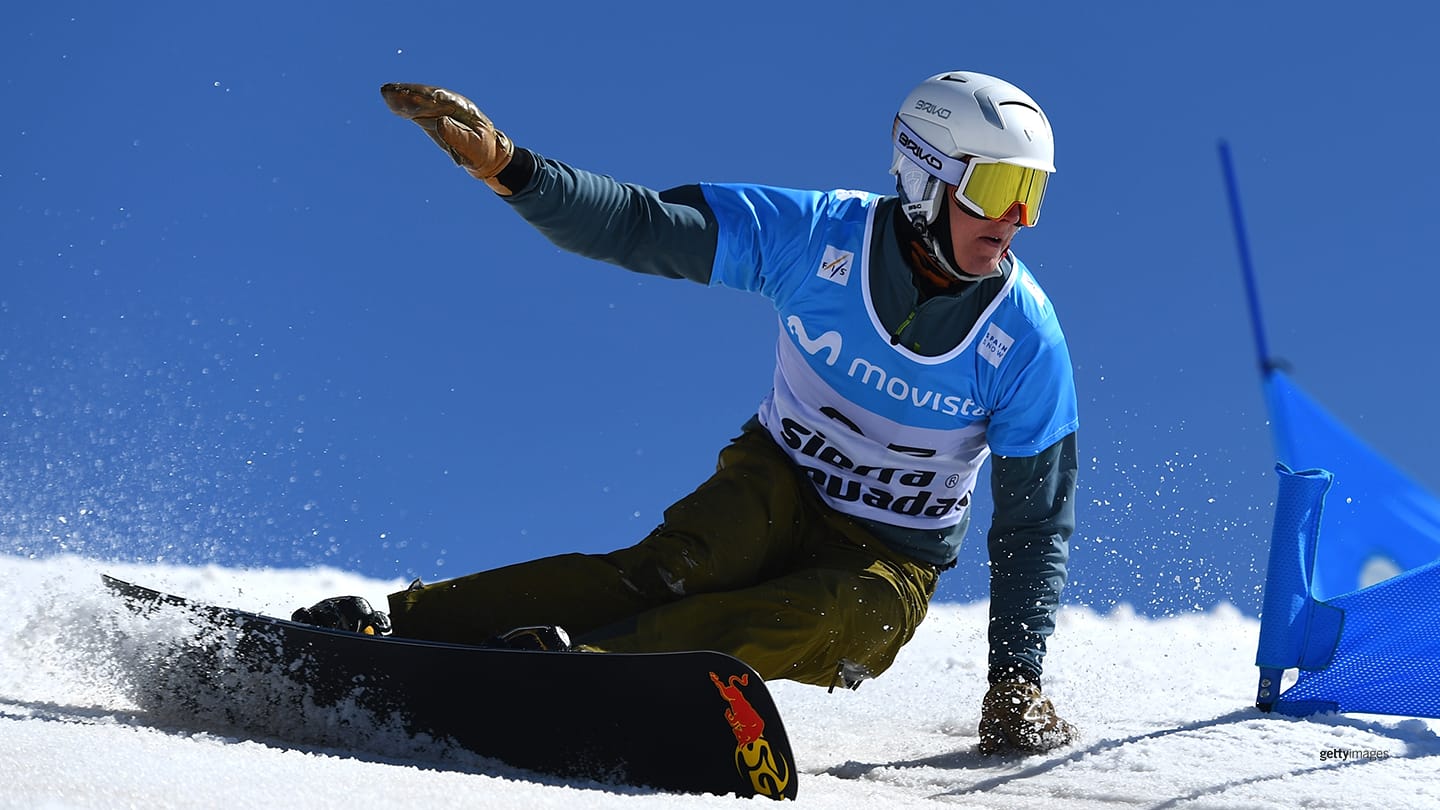 Robert Burns competes in the men's parallel slalom qualification round at the FIS Freestyle Ski & Snowboard World Championships on March 15, 2017 in Sierra Nevada, Spain.
Snowboard racing has been part of the Olympics since 1998, and since 2002 that has included the parallel giant slalom event. Two men will represent Team USA in the event in Beijing — one veteran and one relative newcomer. Robert Burns is the veteran. At 31, the Mount Shasta, California, native has participated in three world championships but never the Olympics. Cody Winters, 21, is also from Steamboat and is also making his Olympic debut. However, he's already competed in two world championships, taking 30th in parallel giant slalom in 2021.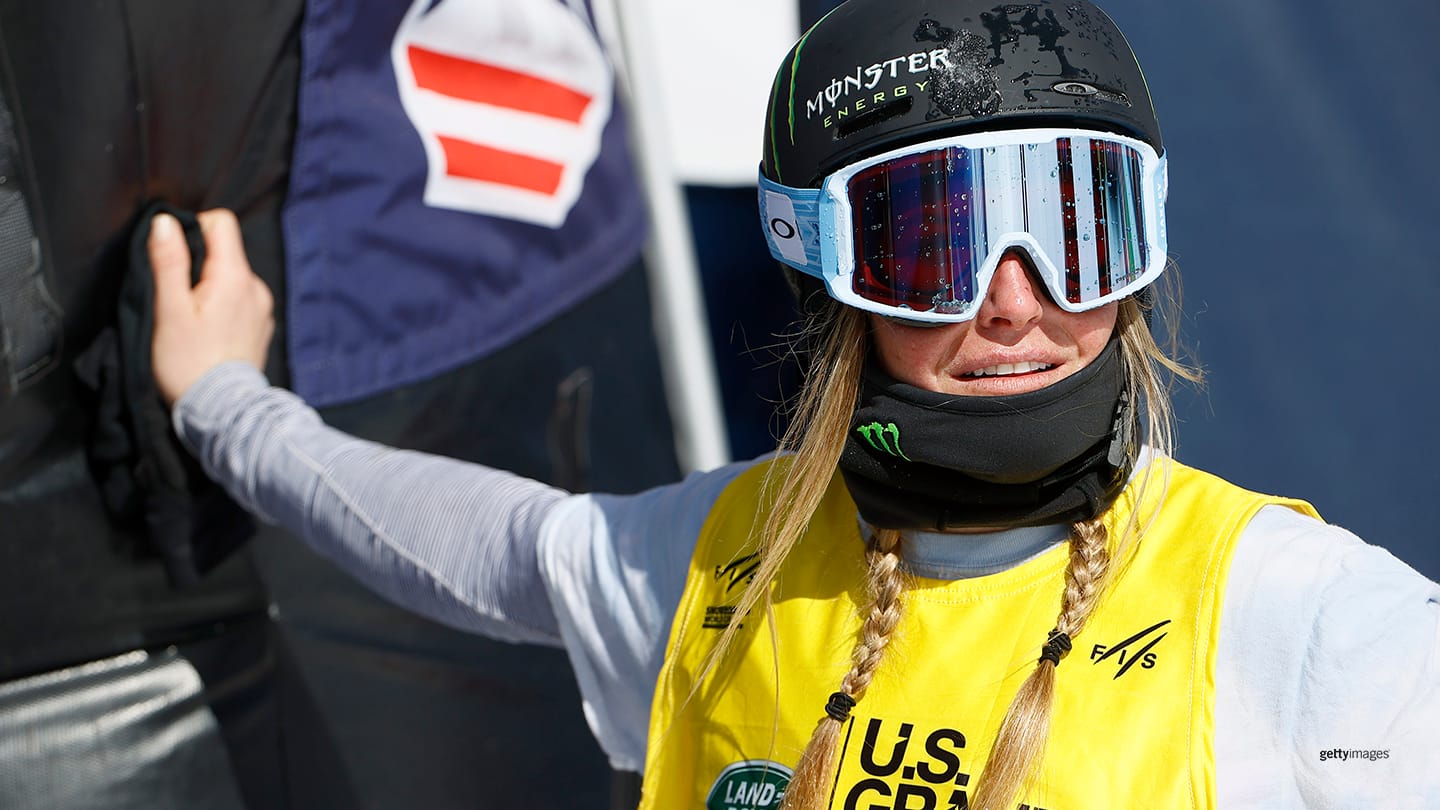 Jamie Anderson reacts after competing in the women's snowboard slopestyle final at the 2021 Land Rover U.S. Grand Prix on March 20, 2021 in Aspen, Colo.
In the history of Olympic women's slopestyle snowboarding, there is only one gold medalist. Jamie Anderson, a 31-year-old from South Lake Tahoe, California, has won both gold medals since the sport was added to the Olympics in 2014, and she'll no doubt be a favorite again in Beijing. Anderson, who also has eight X Games wins to her name, added a silver medal in big air when that sport debuted in the Olympics in 2018.


Among those trying to unseat her is 21-year-old Hailey Langland, who took sixth in slopestyle and 14th in big air at PyeongChang. The San Clemente, California, native is known for landing the first cab double cork 1080 en route to winning the 2017 X Games big air title. Westport, Connecticut's Julia Marino, 24, is appearing in her second Winter Games after finishing 10th in big air and 11th in slopestyle at PyeongChang. Courtney Rummel, an 18-year-old West Bend, Wisconsin, native, will be making her Olympic debut after a top-10 slopestyle finish this month at the world cup in Mammoth Mountain, California.

Red Gerard was a surprising slopestyle gold medalist at PyeongChang when the Silverthorne, Colorado, resident became the youngest Olympic snowboard champion at 17 and the youngest American man to win a gold medal in 90 years. Now 21, Gerard is coming off a slopestyle win at Mammoth Mountain.


Another teenager could be ready to break out in Beijing. Dusty Henricksen, who turns 19 two days before the Opening Ceremony, made waves when he won slopestyle gold at the 2020 Youth Olympic Games and then 2021 X Games. The latter made him the first U.S. winner in the men's event since Shaun White did it in 2009.


Fellow Silverthorne resident Chris Corning, 22, just missed a medal at PyeongChang with a fourth-place finish in big air while taking ninth in slopestyle in his Olympic debut. Sean Fitzsimons, a 21-year-old from Hood River, Oregon, rounds out the men's team. He is coming off his first world cup win in a slopestyle event earlier this month in Switzerland.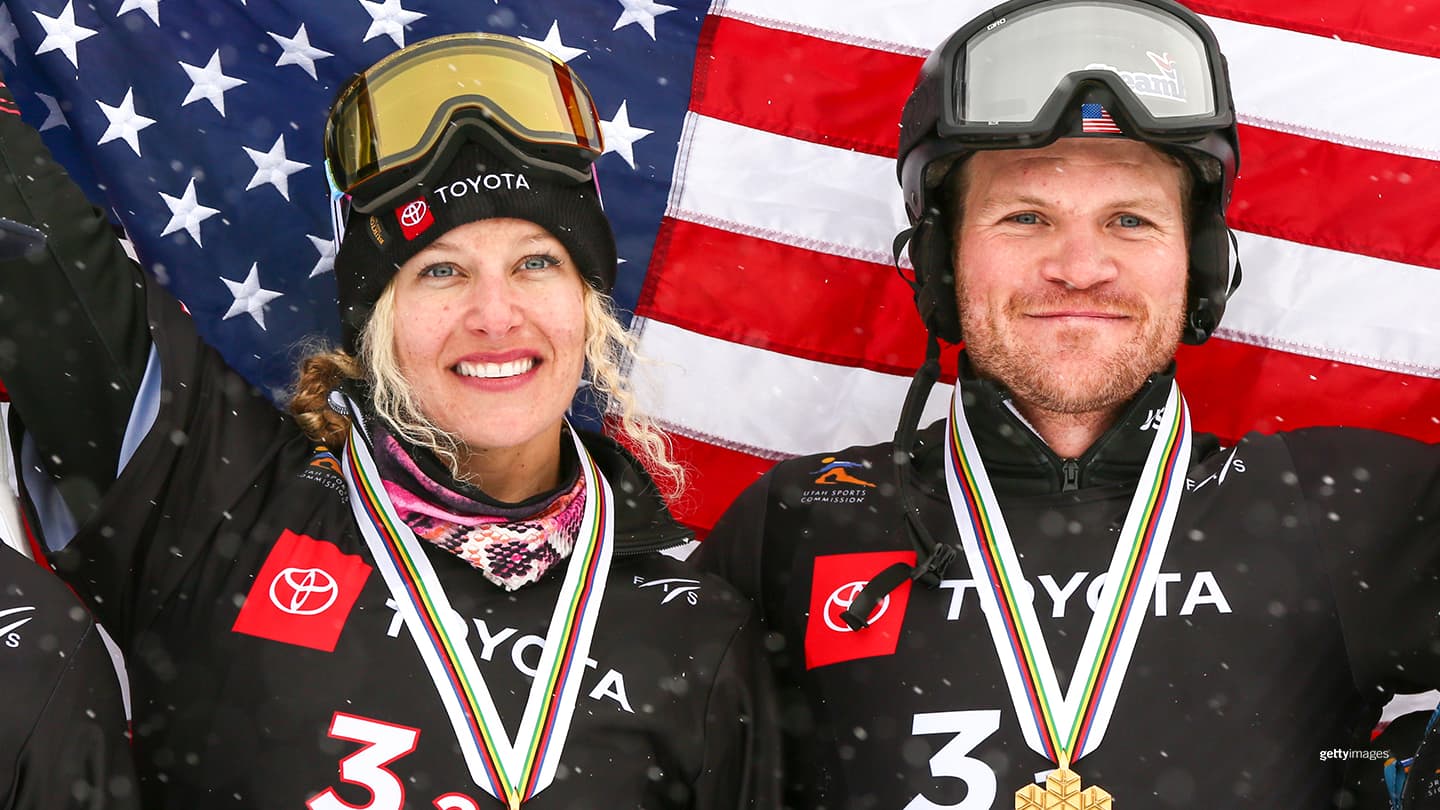 (L-R) Lindsey Jacobellis and Mick Dierdorff celebrate after the snowboardcross team event at the FIS World Snowboard Championships on Feb. 3, 2019 in Park City, Utah.
Beijing marks the fifth Winter Games for Lindsey Jacobellis, tying her for the most appearances by a U.S. woman. The 36-year-old from Roxbury, Connecticut, is the most decorated snowboardcross athlete with five world titles, but she has just one Olympic medal — a silver in 2006 at Torino. Her other trips saw her finish fifth in 2010 at Vancouver, seventh in 2014 at Sochi and fourth at PyeongChang four years ago.


Jacobellis added a sixth world title in 2021 when she teamed with Mick Dierdorff to win the mixed team event. That event will make its Olympic debut in Beijing, so there's a chance the two could team up again. Dierdorff, 30, of Steamboat Springs, also won the men's world title that year, making him the first U.S. man in 14 years to do so. He's headed to his second Olympics.

Faye Gulini of Salt Lake City is going to her fourth Olympics. The 29-year-old posted her best result in Sochi when she finished fourth. Meghan Tierney, a 25-year-old from Rumson, New Jersey, finished 17th at PyeongChang in her Olympic debut, while Stacy Gaskill, 21, of Golden, Colorado, is going to her first Olympics. She finished sixth at the 2021 world championships.


The rest of the men's team is not lacking for experience. Forty-year-old Nick Baumgartner will be at his fourth Olympics. The Iron River, Michigan, resident is coming off by far his best Olympic performance when he finished fourth in PyeongChang. Alex Deibold, a 35-year-old from Boulder, Colorado, returns for his second Winter Games after winning bronze in 2014. Norwood, Colorado, resident Hagen Kearney, 30, heads to his second Olympics after finishing 13th at PyeongChang.
Steve Drumwright is a journalist based in Murrieta, California. He is a freelance contributor to TeamUSA.org on behalf of
Red Line Editorial, Inc.