Chloe Kim, Shaun White Earn Chance To Repeat As Halfpipe Olympic Champions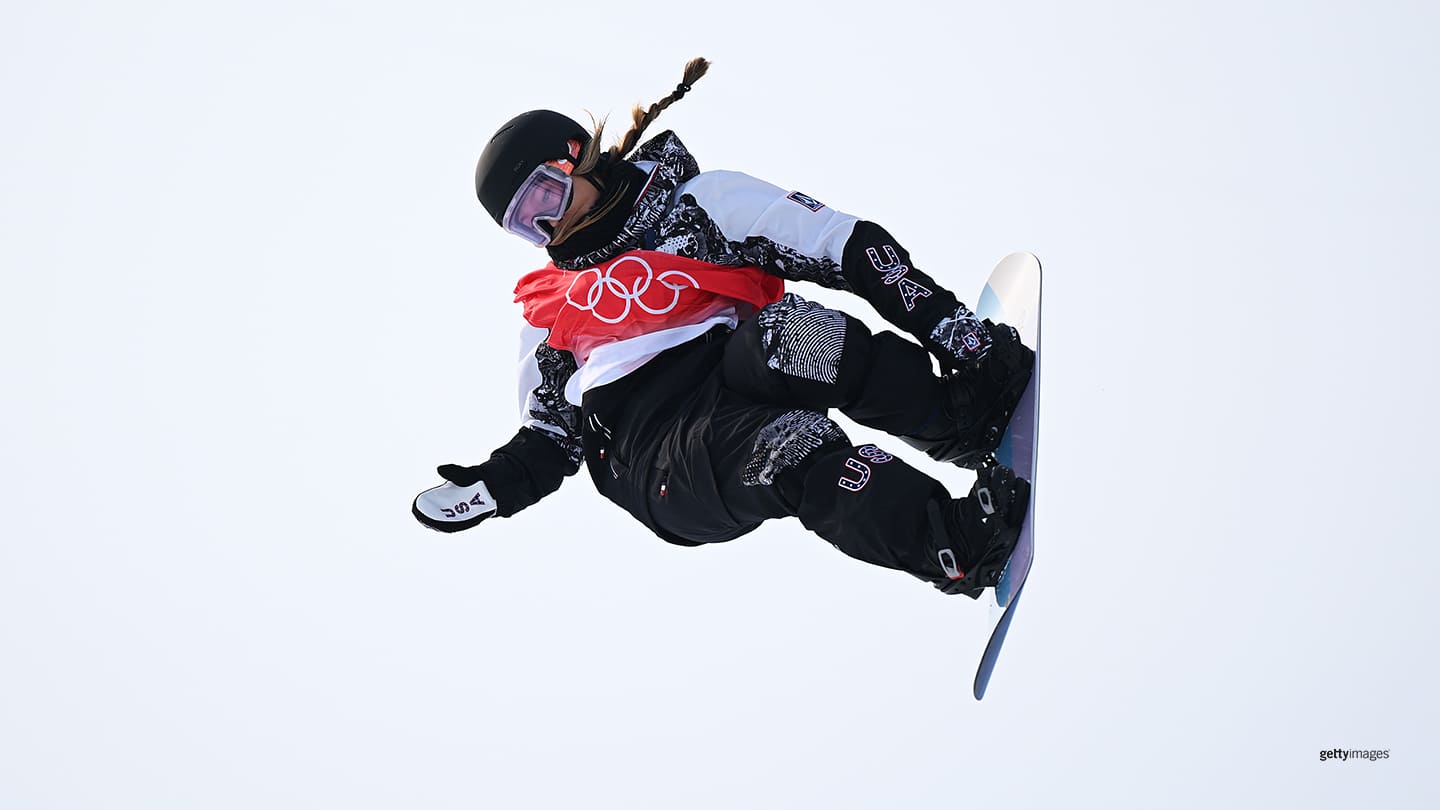 Chloe Kim competes during the women's snowboard halfpipe qualifiers at the Olympic Winter Games Beijing 2022 on Feb. 9, 2022 in Zhangjiakou, China.
ZHANGJIAKOU, China – Team USA's snowboard halfpipe golden stars showed out during the men's and women's qualifiers Wednesday at the Olympic Winter Games Beijing 2022.

Defending 2018 Olympic gold medalist Chloe Kim led the 22-woman field, finishing in first with a comfortable first-run score of 87.75. Her first-of-two runs featured a fan-favorite method grab, frontside 700, cab 900, switch backside 500 and ended with a cab 700.

The Torrance, California, native failed to land on her second and final run, attempting a new routine she's never tried in competition before. Kim's first-run score held, however, beating out Japan's Mitsuki Ono (83.75) and China's Cai Xuetong (83.25), who finished second and third, respectively. Thursday's finals will include a 12-woman field with three run attempts.

"I'm really stoked on my first run," Kim said in a post-competition interview. "I honestly wanted to take the second run and try a different line. I never practiced it before, so I'm not surprised that I fell. But I'm just having so much fun out here – the pipe is so good."

Kim entered Genting Snow Park, in the mountainous region, northwest of Beijing, with the intent of repeating as Olympic champion.

Four years ago, she became the first woman to perform back-to-back 1080s in Olympic competition, securing gold at the Olympic Winter Games PyeongChang 2018. Kim earned a 98.25 from her final run, 8.5 points clear of the field.

With five X Games gold medals, two world championship titles and a 2018 Olympic gold medal on her resume, another gold during Thursday's finals wouldn't hurt the Korean American.

"This is my second Olympics which is crazy," the 21-year-old said. "My first one was when I was 17 in Korea, where my parents immigrated from. It's awesome being back here in Asia … I can't ask for anything more, I'm just enjoying the ride. … I'm just focusing on [tomorrow's finals], the run I want to do tomorrow and visualizing it tonight, and hoping I can put it to my feet.

Two-time Olympian Maddie Mastro narrowly missed finals by one place, finishing 13th off a 65.75 first run. Fellow U.S. teammates Tessa Maud and Zoe Kalapos, who were both making their Olympic debuts, finished 16th (53.50) and 17th (51.75), respectively.
Shaun White (R) celebrates with his personal physiotherapist, Esther Lee, after the men's snowboard halfpipe qualifiers at the Olympic Winter Games Beijing 2022 on Feb. 9, 2022 in Zhangjiakou, China.
Shaun White, Taylor Gold & Chase Josey To Make Finals Appearance
Kim wasn't the only defending gold medalist from PyeongChang 2018 to earn a spot into the halfpipe finals. Legendary rider and three-time Olympic gold medalist Shaun White led the U.S. men's team with a fourth-place finish out of a highly competitive 25-man field.

The 35-year-old from San Diego, who is now the oldest athlete ever to compete in the Olympic halfpipe, was looking in deep trouble after falling on his first run.

The five-time Olympian scored a pair of double cork 1080s and a "sky hook" (which is a fancy term for a frontside 540 stalefish) before falling on his signature double McTwist 1260, which won him his halfpipe gold at the Olympic Winter Games Vancouver 2010.

Going into the start of the second run, which required a top-12 finish to qualify out, White was riding the lift back up to the top of the half pipe and was "slightly doubtful" and a little nervous he wouldn't be making his fifth-straight finals appearance at the Olympic Winter Games.

"So, a lot of those things were running through my head, but I knew I could get it done," said White in regard to failing his first run. "As I started building momentum [in my second run], you could tell a big difference between the first run's double McTwist and then the second run. I really gave it to get around. … The pressure was there, and it helped me to get it done."

He was never a doubt, though.

In his second, all-or-nothing run, White successfully finished down the halfpipe with an 86.25 score, performing an almost identical routine, which featured frontside and cab double cork 1080s, another sky hook and a frontside double cork 1260.

"It would have been nice to just cruise in and have a great easy first run, but I had to fight for it," White said. "I had to work for it. And that's been this entire season: Me just grinding it out, working for it. Flying to Switzerland, getting it done [at the 2022 Laax Open], and it wasn't going to be easy. …

"Every time I go to the Olympics, it's its own path, its own journey. And it's kind of like who I have to become to get to that place. Sometimes it's easier than others, sometimes it's harder. This one's definitely been more challenging."

The Japanese trident of Ayumu Hirano, who won bronze in PyeongChang 2018, Ruka Hirano and Yuto Totsuka finished first (93.25, third (87.00) and sixth (84.50), respectively.

Scotty James, the 2018 Olympic silver medalist from Australia, finished qualifying in second with 91.25.

Taylor Gold, a 2014 Olympian, was next in line for the Americans after White, finishing in seventh place off his second run with an 83.50 score. Gold's run was highlighted by a frontside 1260 tail grab and a cab double cork 1080.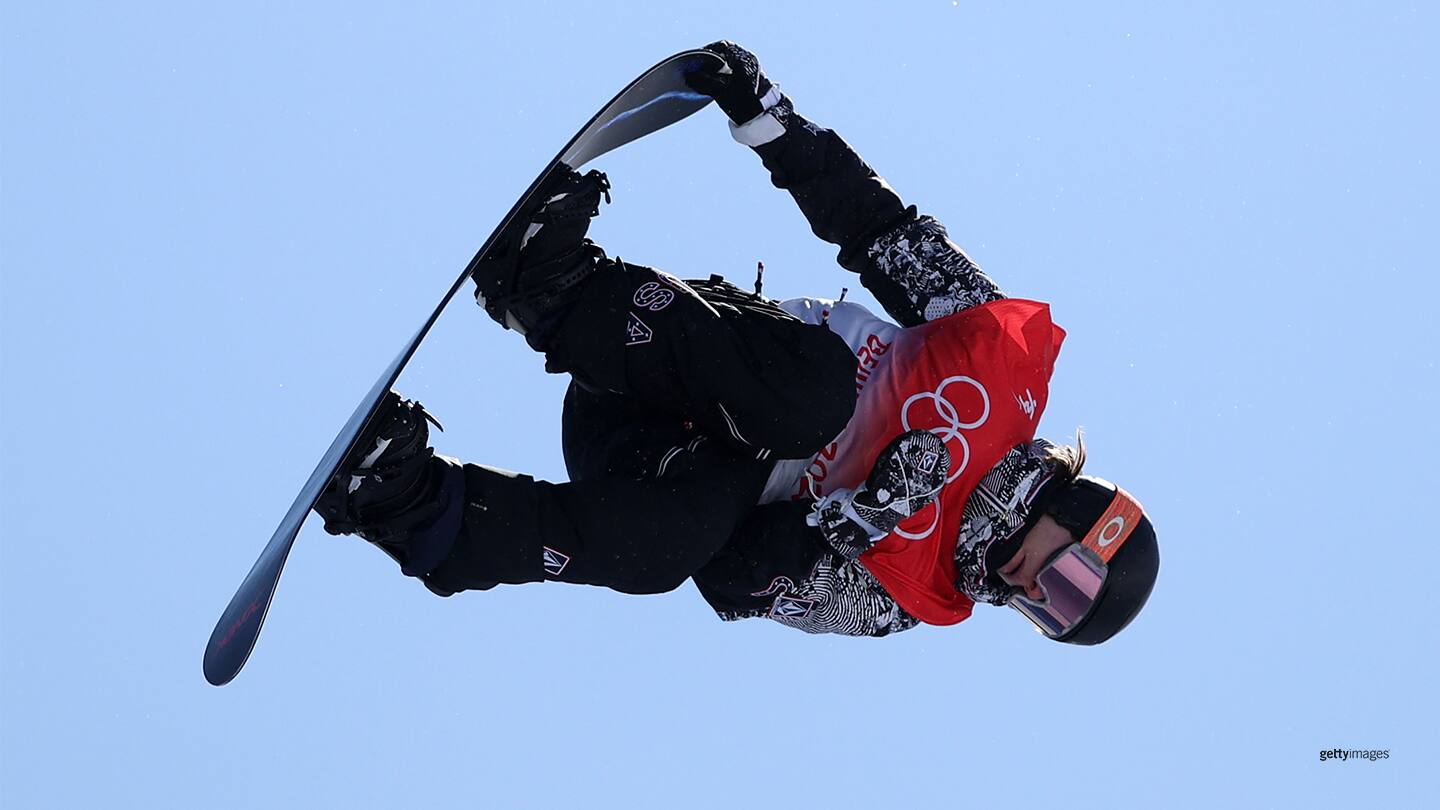 Taylor Gold competes during the men's snowboard halfpipe qualifiers at the Olympic Winter Games Beijing 2022 on Feb. 9, 2022 in Zhangjiakou, China.
Gold, 28, who missed out on PyeongChang 2018 due to a severe knee injury, is known for his retro style on the halfpipe – he pushes for creativity in a sport that has mainly focused on awarding the number of spins and complexity in a run.

"I think that [the creativity] of halfpipe is what drew me to it initially, and I think that that's super valuable for people watching that want to get into snowboarding, wanting to get into halfpipe, keeping it relatable," Gold said. "And it has something else to offer as far as technicality goes. So, I really admire guys that came before me that really focused on style."

At the Olympic Winter Games Sochi 2014, Gold finished 14th and is looking at making a comeback, having missed out on the last Winter Olympics.

"My goal coming into this was just to make the team this year," said Gold, who is looking to medal in Beijing. "And to be able to do that again after the knee injury I had was amazing and definitely feels like a little bit of a comeback for me."

Team USA's Chase Josey edged into the finals as well after finishing 12th with 69.50.

The 26-year-old Hailey, Idaho, native fell on his first run resulting in some pressure that he was used to and even comforted by.

"Something about the first run feels more nerve-racking," said Josey, who finished sixth in halfpipe in PyeongChang. "And even after falling, I was even more relaxed going into the second one. I was like whatever happens is going to happen. I was going to be alright with whatever that run unfolded as, but to land it is definitely a great feeling. Not landing that run would have been a bummer."

Lucas Foster, the only Olympic rookie on the men's halfpipe squad, failed to make the top-12 cut after finishing with a high-42.00 from his first run. The 22-year-old was hoping to make the finals but fell on his second run (21.50) following a frontside 1260 tail grab.

The U.S. snowboarder was happy he got his first Winter Olympics under his belt, hopes to compete in more and felt it was something he "never really knew would happen."

Kim looks to retain her gold-medal title at Thursday's finals starting at 8:30 p.m. ET, while Shaun White and the rest of the U.S. men's snowboard halfpipe team push for history during the men's finals Friday at 8:30 p.m. ET as well.
Justin Limoges is a 2020 sports communication graduate from Bradley University, originating from Newport, Vermont. He is a digital media assistant for Team USA.