Chloe Kim Becomes First Woman To Win Back-To-Back Golds In Olympic Snowboard Halfpipe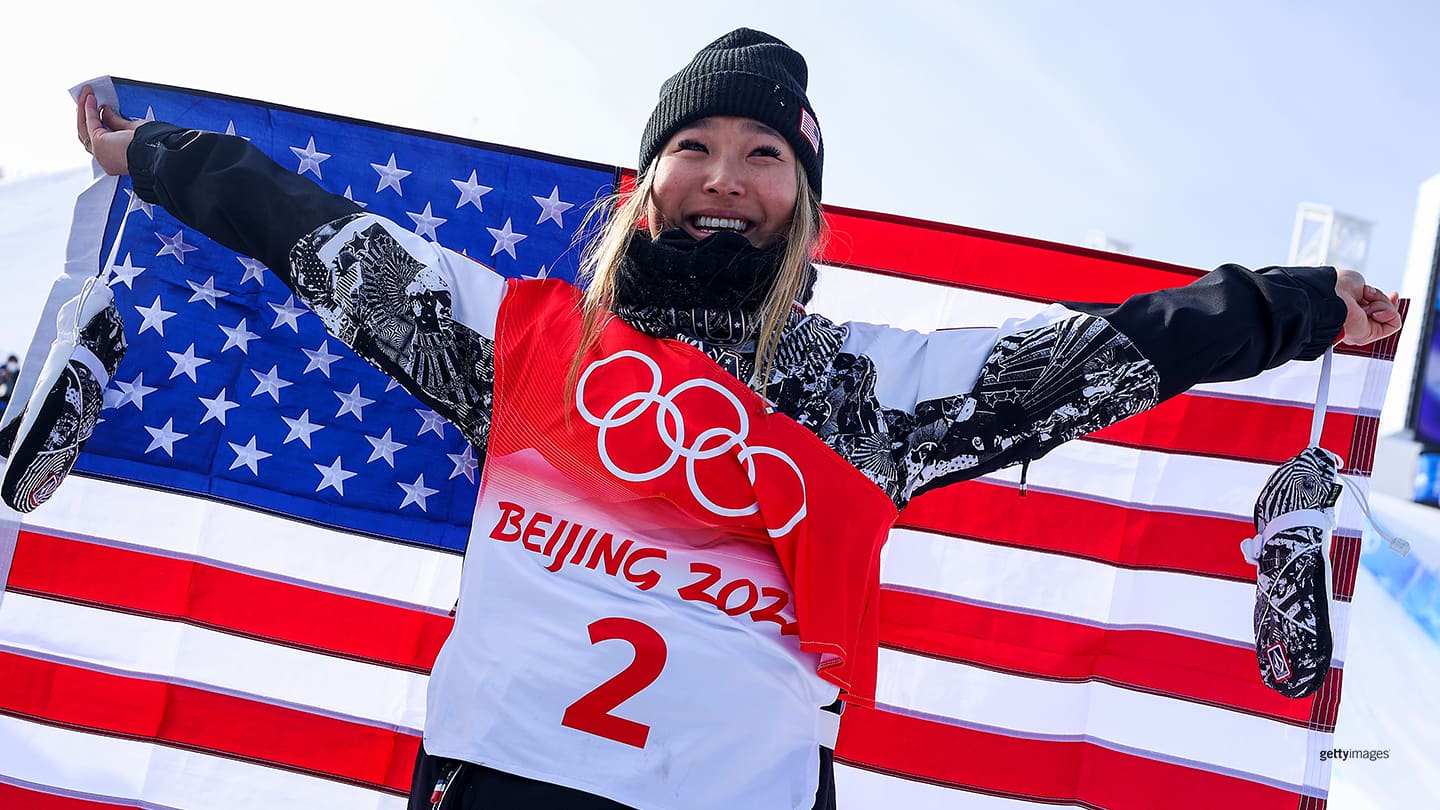 Chloe Kim celebrates winning the gold medal after the women's snowboard halfpipe finals at the Olympic Winter Games Beijing 2022 on Feb. 10, 2022 in Zhangjiakou, China.
ZHANGJIAKOU, China – All hail the snowboard halfpipe queen: Chloe Kim.

The two-time Olympian scored a 94.00 first run to take home gold at Genting Snow Park on Thursday at the Olympic Winter Games Beijing 2022.

This becomes the Torrance, California, native's second consecutive Olympic gold in her discipline, the first woman to ever do so.

Kim had a long wait before dropping down into the halfpipe during Thursday's Olympic finals. The 21-year-old finished first during the qualifiers with an 87.25 on Wednesday, placing her at the end of the 12-woman field's start list due to the reverse seeding.

Starting last in all three runs wasn't a bother for the Olympic gold medalist. What was a bother for her, however, was not performing well in her practice runs leading up to the event.

This created more pressure than she would have liked.

"I just was so proud of myself," said Kim following the halfpipe finals. "I had the worst practice ever. I probably landed my run twice when I'm used to landing it eight times, normally. So that kind of puts you in a weird headspace, and it was just felt so inconsistent. I don't want to feel all this pressure of not being able to land my first safety run.

"I've been here before, and I just kind of reset and reminded myself that it's just another run. I have a brand-new opportunity to go land it and that kind of calms me down a lot."


. @ChloeKim is a wizard!✨#WinterOlympics
pic.twitter.com/XJj3eqdsoa


— Team USA (@TeamUSA) February 10, 2022
Upon landing her first run, Kim came into the corral falling to her knees overcome with the emotion of landing her routine that troubled her in training. Her run featured a method air, frontside 1080 tail grab, cab 900, switch backside 540 and cab 1080.
"I was just overflowed with emotion when I was able to land it on the first go, and then it opened up a lot of opportunity for me to go try something new," Kim said.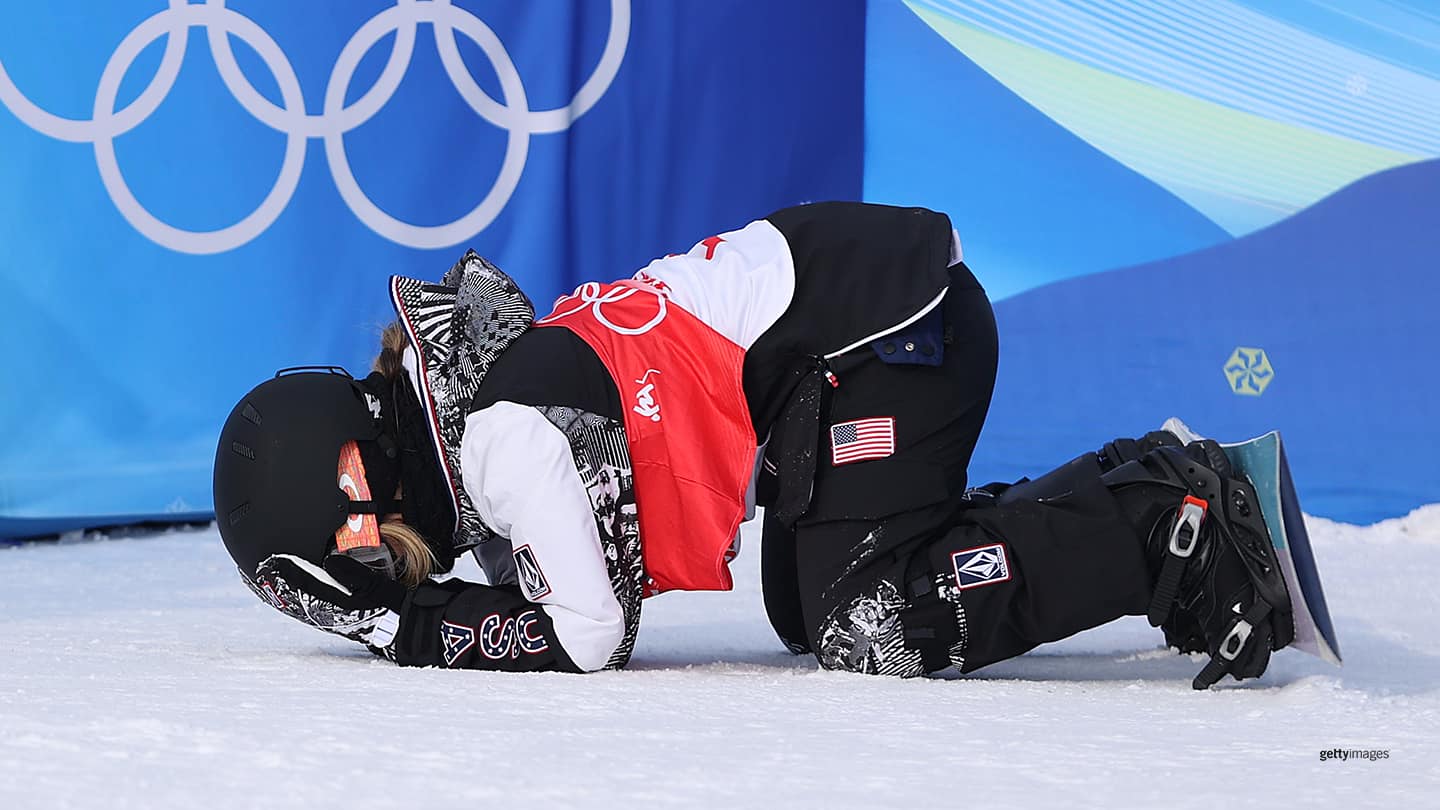 Chloe Kim reacts after landing her first run during the women's snowboard halfpipe finals at the Olympic Winter Games Beijing 2022 on Feb. 10, 2022 in Zhangjiakou, China.
And try something new she did.

Kim attempted a new line in her second and third runs knowing that her 94.00 score separated her from the rest of the field. The snowboarder started both runs the same, going for a method air and frontside 1080 tail grab for her first two tricks, similar to the first run.

She then followed those up with a cab 1260 attempt, trying to become the first woman to land one in halfpipe competition, but fell on the landing both times.

"I'm really excited I did it, wish I landed it but next time," said Kim about the failed cab 1260 attempts. "I just learned those pretty recently and I've been doing quite a bit of them, but I haven't really done them in this halfpipe [yet], so I was curious to see what would happen. Definitely didn't go my way but that's okay."

Kim's second- and third-run falls did not matter. Her score ultimately held on, making her the second athlete to take home gold at the Winter Games for Team USA. (The other one being won by Lindsey Jacobellis in the women's snowboard cross finals.) The U.S. women have now won gold in five of the last six Winter Games.

Spain's Queralt Castellet landed a 90.25 in her second run trying to close the gap but was still out of gold-medal contention by 3.75 points, placing her in silver. Japan's Sena Tomita would round out the podium with bronze following a score of 88.25.

Kim was the lone competitor from Team USA in the finals as U.S. teammates Maddie Mastro (13th), Tessa Maud (16th) and Zoe Kalapos (17th) failed to qualify Wednesday.

Kim came back into Beijing 2022 as the defending snowboard halfpipe gold medalist from the Olympic Winter Games PyeongChang 2018. She then took almost a two-year break from snowboarding following a broken ankle injury. Kim took the time to heal and enrolled at Princeton University.

She returned to competition like she never left in January 2021, winning a series of events leading up until the Beijing Games: The Laax Open in Switzerland, and X Games Aspen and Dew Tour in Colorado. Her form continued into early 2022, where she repeated as halfpipe champion at the 2022 Laax Open.

Now, she's returned more prepared than ever, reclaiming her Olympic halfpipe crown.

I [was] more prepared this time," said Kim in response to how this Games experience has been compared to 2018. "Luckily, it was a learning experience the last time. … I mean we're at the Olympics, a lot of nerves here. And the fact that everyone was able to overcome that and land the runs of their lives is just so impressive. I'm so proud of everyone, and I'm honestly so honored to be a part of women's halfpipe snowboarding."

Continue to follow the snowboard halfpipe action as Shaun White, Taylor Gold and Chase Josey take on their finals Friday at 8:30 p.m. ET.
Justin Limoges is a 2020 sports communication graduate from Bradley University, originating from Newport, Vermont. He is a digital media assistant for Team USA.