Chloe Kim Shows Golden Form, Wins Snowboard Halfpipe At Laax Open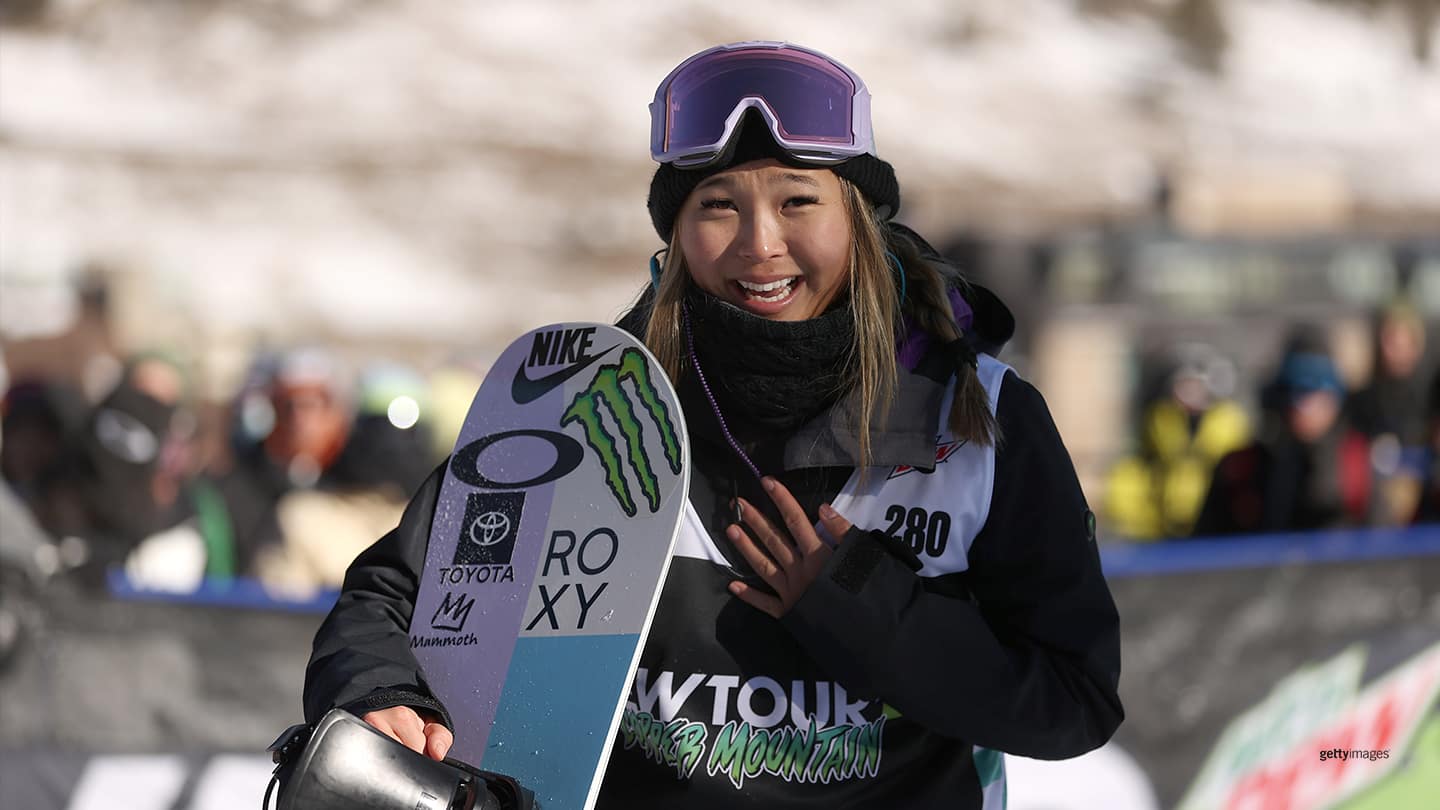 Chloe Kim reacts after her final run of the women's snowboard superpipe final during the Dew Tour on Dec. 19, 2021 in Copper Mountain, Colo.
By now, the world is used to seeing Olympic gold medalist Chloe Kim throw down huge airs and dominate in the halfpipe.

That doesn't mean it still isn't impressive every single time she does it.

Kim won the women's FIS World Cup halfpipe event at Laax, Switzerland, on Saturday. Fellow reigning Olympic gold medalist Shaun White took third in the men's event, as both get closer and closer to defending their titles next month at the Beijing Games.

Kim did everything she needed to win on her first run. Only needing to beat an 89 from Japan's Mitsuki Ono to take the top spot, Kim scored a 90.25 on a run that included a massive method air followed by a big 1080 switch, a 900 switch, backside 540 and a second 1080. She let out a big cheer and was laughing at the end of the run, clearly enjoying her return to competition. Kim took a 22-month break before winning the halfpipe at the Dew Tour in December and has been in Switzerland training and practicing ever since. Along with Maddie Mastro, Kim has already met the necessary qualifications to go to Beijing.

Now 21, Kim hasn't lost a world cup halfpipe event since 2018 and was the only woman to score higher than 90 at Laax.

This was White's first podium since winning his third Olympic gold medal in PyeongChang four years ago. The four-time Olympian, seeking his fifth appearance at the Games this year, threw down tricks including back-to-back 1080s and the double McTwist 1260 for which he's known and scored 84.00 on the first run of what could be his last World Cup event.
Throughout the course of the season the 35-year-old has run into issues that have kept him off the podium during finals, including equipment problems and lingering COVID symptoms, but snagging the No. 3 spot put him in strong position to earn his place on the Olympic team with three of four spots still open. He came into the event as the No. 4 American in the rankings.
Japan's Ayumu Hirano won with a score of 93.25 and Switzerland's Jan Scherrer was second with a 90. Josh Bowman of the U.S. was fourth with a score of 81.75 and Lucas Foster was seventh with a 73.75.
Karen Price is a reporter from Pittsburgh who has covered Olympic and Paralympic sports for various publications. She is a freelance contributor to TeamUSA.org on behalf of
Red Line Editorial, Inc.