Santos-Griswold Captures Bronze Medal In Short Track World Cup Opener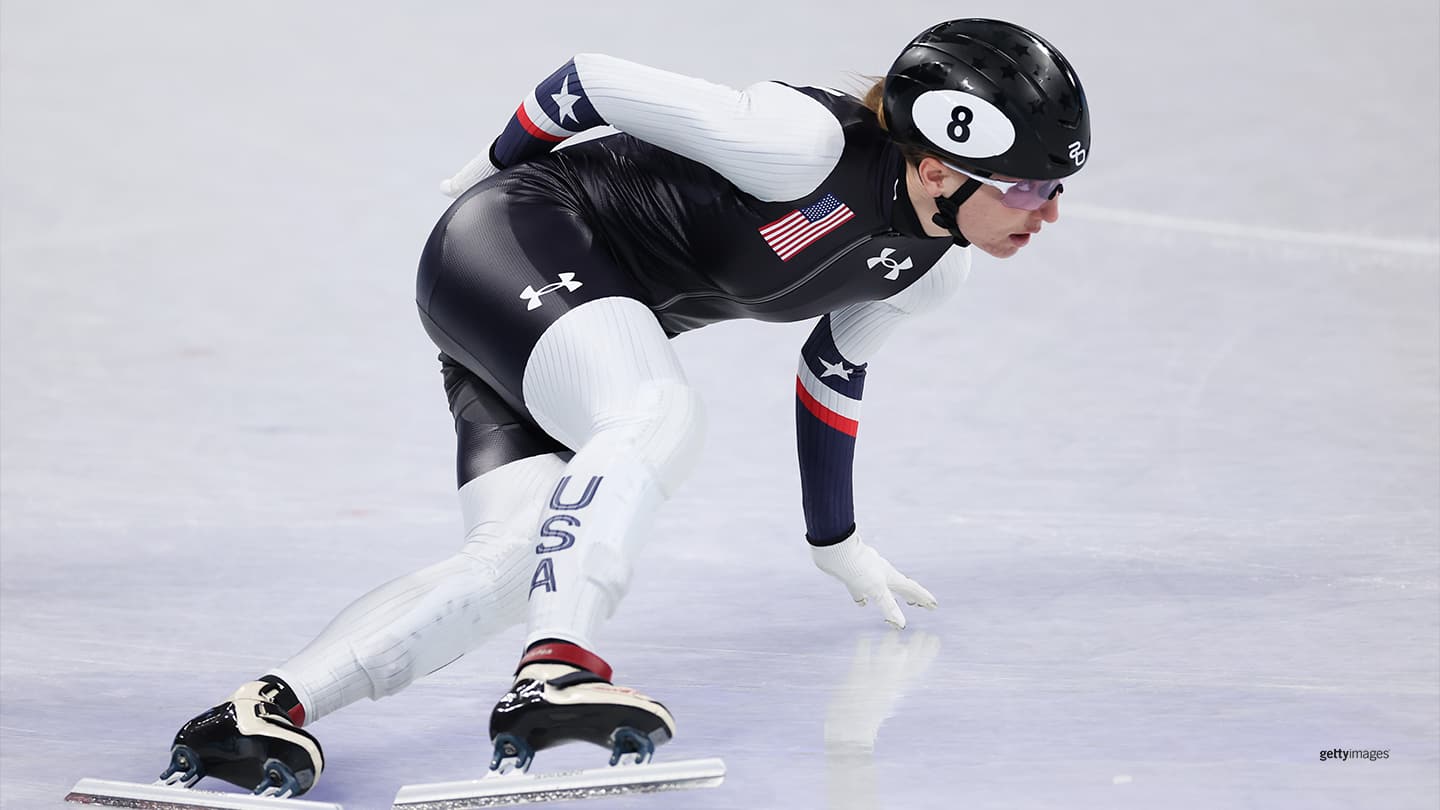 Kristen Santos-Griswold skates during the women's 1,500-meter quarterfinals at the Olympic Winter Games Beijing 2022 on Feb. 16, 2022 in Beijing.
Just days before her 28th birthday, Kristen Santos-Griswold gave herself an early present Saturday.
Santos-Griswold, a 2022 Olympian who will celebrate a birthday Wednesday, won a bronze medal in the women's 1,500-meter race and nearly won a second medal in the relay in the season-opening ISU Short Track Speed Skating World Cup at Maurice Richard Arena in Montreal.
Santos-Griswold collected the only American medal of the weekend. It represented the ninth world cup medal, and the seventh bronze, of her career. She also has won gold and silver medals.
Santos-Griswold finished third behind Suzanne Schulting of the Netherlands, a two-time Olympic medalist, and Kim Gilli of South Korea. She finished in 2 minutes, 31.572 seconds, edging out the defending 1,500 world champion, Choi Min-jeong of South Korea. Choi finished just 0.025 seconds behind Santos-Griswold.
The Connecticut native led early but then slipped back into seventh place. She charged back on the final lap to earn the podium finish. She reached the final by skating to a second-place finish in her semifinal heat after two other competitors crashed in front of her.
The event was the first major international competition for Santos-Griswold since finishing fourth in the 1,000 at the Olympic Winter Games Beijing 2022.
Corinne Stoddard, a 2022 Olympian, narrowly missed a podium finish, placing fourth in the women's 1,000. Santos-Griswold and Stoddard teamed up with Eunice Lee and Julie Letai for a fourth-place finish in the 3,000 relay.
The Utah Olympic Oval in Kearns will host the second world cup event on Nov. 4-6.
Bob Reinert spent 17 years writing sports for The Boston Globe. He also served as a sports information director at Saint Anselm College and Phillips Exeter Academy. He is a contributor to TeamUSA.org on behalf of
Red Line Editorial, Inc.