Six Short Track Speedskaters Qualify For 2022 Winter Olympics On Final Day Of Trials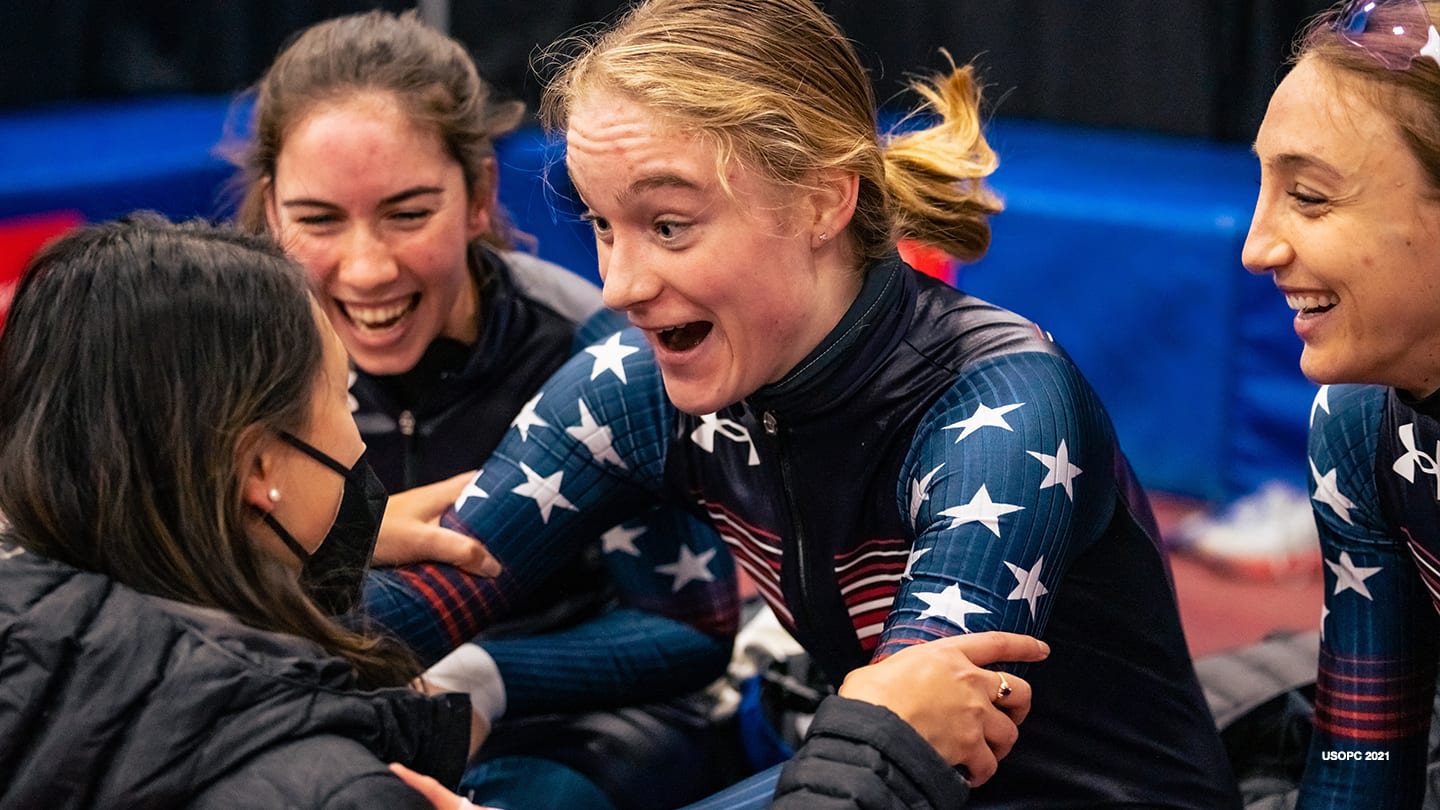 Corinne Stoddard celebrates qualifying for the Olympics at the 2022 U.S. Olympic Team Trials - Short Track Speedskating on Dec. 19, 2021 in Salt Lake City, Utah.
SALT LAKE CITY – Excitement and tears filled the Utah Olympic Oval on Sunday as the final six short track speedskaters qualified for the Olympic team at the 2022 U.S. Olympic Team Trials – Short Track Speedskating.

Heading into Sunday, four women's and two men's Olympic roster spots were up for grabs as skaters took the ice in the 500- and 1,000-meter finals.

The women's team added three additional qualifiers after the 500-meter final: Corinne Stoddard, Julie Letai and Maame Biney. Eunice Lee then rounded out the women's team after her skate in the 1,000-meter finals. They joined U.S. teammate Kristen Stoddard, who punched her ticket to the Olympic Winter Games Beijing 2022 in Saturday's 1,500-meter final, on the women's short track Olympic team.

While the women could celebrate after the first finals of the day, the men's field came down to the wire. The 'anything can happen' nature of short track speedskating was on full display throughout the qualifying rounds of the men's 1,000 meters with Ryan Pivirotto and Andrew Heo ultimately taking the two Beijing 2022 roster spots.

Going into Sunday's finals, three men – Pivirotto, Heo and Brandon Kim – were in the mix for the two spots. Kim fell in the finals of the 1,000, costing him a spot on the Olympic roster.

"I'm feeling a lot of bittersweetness actually because we were in a tight spot with only two spots and three eligible people," Pivirotto said. "I hugged Brandon as soon as he came off the 1000 because it's a terrible position to go in, but I'm super happy for Andrew who made it and myself obviously so trying to control my emotions right now."

Because there were only two spots on the men's roster, the athletes with the two highest cumulative point totals across the Trials competition qualified for the 2022 Games.

Pivirotto, the veteran of men's short track, will be returning to the Olympic stage after representing Team USA as an alternate at the Olympic Winter Games PyeongChang 2018.

"I'm going and I'm skating," Pivirotto said of qualifying for his second trip to an Olympic Games.

Heo, 20, joined the national team training program in 2018 and has been representing Team USA internationally on the world cup circuit ever since. He started skating in 2008 and shares a love of the sport with his brother Andrew, who competed for Team USA at the Youth Olympic Winter Games Lillehammer 2016.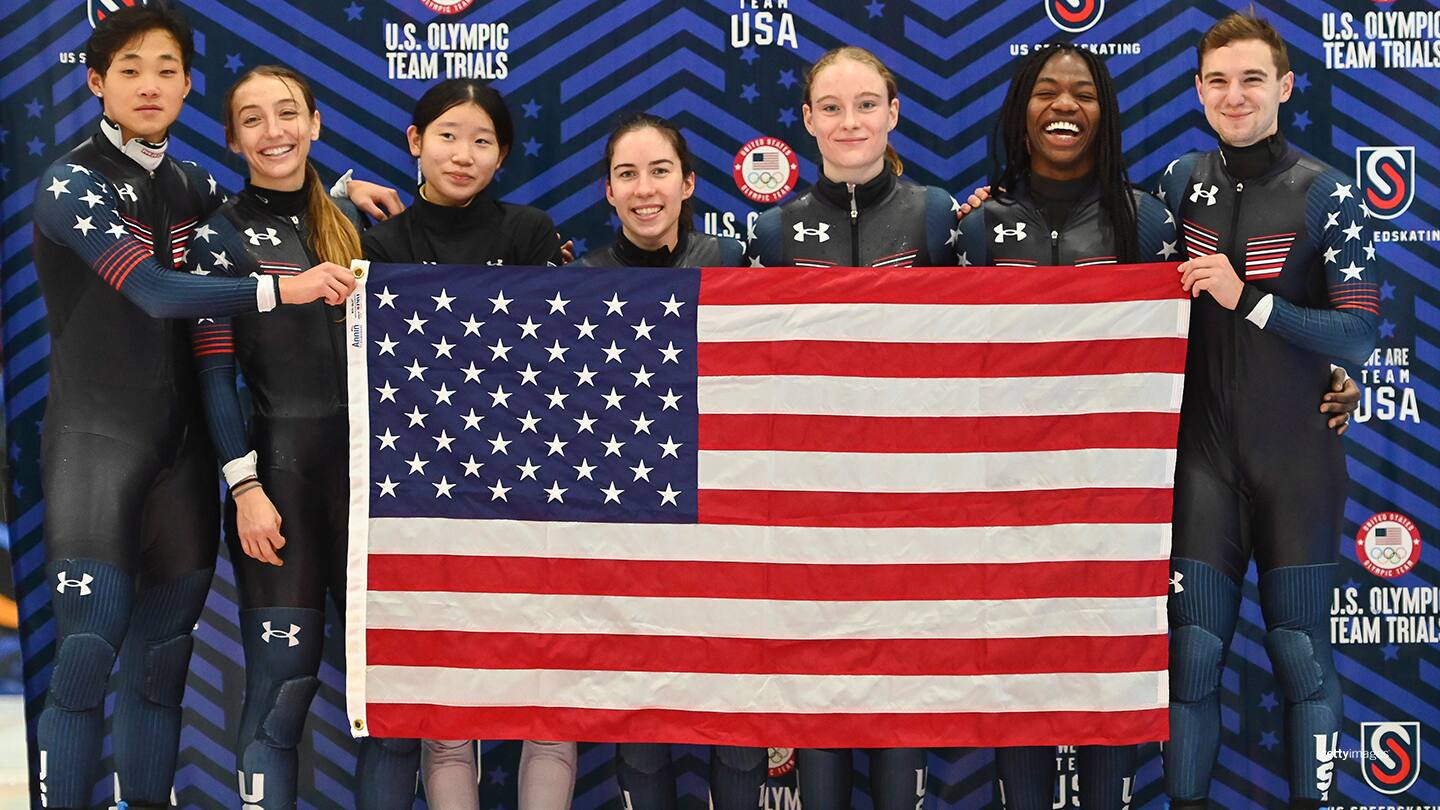 Andrew Heo, Kristen Santos, Eunice Lee, Julie Letai, Corinne Stoddard, Maame Biney and Ryan Pivirotto pose for photos after making the 2022 Olympic team at the 2022 U.S. Olympic Team Trials - Short Track Speedskating on Dec. 19, 2021 in Salt Lake City, Utah.
While the men's side brought drama to the very last race, the pressure was off for the women going into the 1,000-meter finals. The top U.S. women's contenders – Letai, Biney, Santos and Stoddard – were soaking up the moments of their Olympic dreams coming true.
Biney, the 500-meter winner and only returning Olympian out of the squad, said she can't really explain the feeling of qualifying for her second Games.
"It's definitely different than the first one because I've been through a lot and my dad's not here for this one so [I wanted to be] able to prove to myself and prove to everyone that I still got it," Biney said. "I'm ready to go back to training and ready to do really well at the Games. And be happy, satisfied and proud of myself."
Stoddard and Letai were in shock after learning they qualified from the 500-meter race results. The four women rushed to embrace after they left the ice, filling the ready room with cheers and tears of joy.
"I have been thinking about this since I was seven years old so I can't believe that it's finally happening," Letai said. "[Qualifying for the Olympics] has always been a dream of mine. The fact that it's a reality – i t's a dream come true. Not everybody gets to have that in their life. I'm so grateful."
Both Letai and Stoddard made their debuts on the senior world cup team in the 2018-19 season after successful stints on the world junior circuit. Stoddard, a 20-year-old Tacoma, Washington native, competed internationally in roller sports prior to making the switch to short track speedskating.
"It means the world to me [to qualify for the Olympics]," Stoddard said. "It's been my goal for a very long time to represent Team USA at the Olympics, and it's finally come true."
Stoddard, Biney, Santo and Letai have been living and training together in Salt Lake City since 2018. They've also been traveling together representing Team USA on the world cup circuit, where they qualified Team USA's first women's short track Olympic relay since 2010 and lowered the American record in the process.
Letai credited some of her success to her teammates, saying she's grown as a skater being surrounded by them every day.
"It's making sure that we can all best the best we can be in our individual distances and the relay too," Letai said. "I feel like we have something to prove and have a lot of potential there so its just working hard [until the Games]."
"I see them every single day," Stoddard said. "We've been training together for the last four years. They're some of my closest friends so to make an Olympic team with your best friends is truly an amazing feeling."
Biney said that closeness has been the key to their success internationally. They're focused on the 3,000-meter relay in training and hope to bring home Team USA's first Olympic medal in the event since bronze in 2010.
"I think we have a really good chance of doing extremely well in the relay because we all have something to offer," Biney said.
While the short track athletes will be busy preparing for Beijing, Team USA's long track speedskaters are set to take the ice Jan. 5-9 to compete for their spot on the Olympic Team in Milwaukee, Wisc.
Katie Grunik is a digital content creator for TeamUSA.org. She covered the Paralympic Games Tokyo 2020 and currently serves as the digital content coordinator for the U.S. Olympic & Paralympic Committee.