Chase For 2026 Olympics Begins Now For Santos-Griswold, U.S. Short Track Team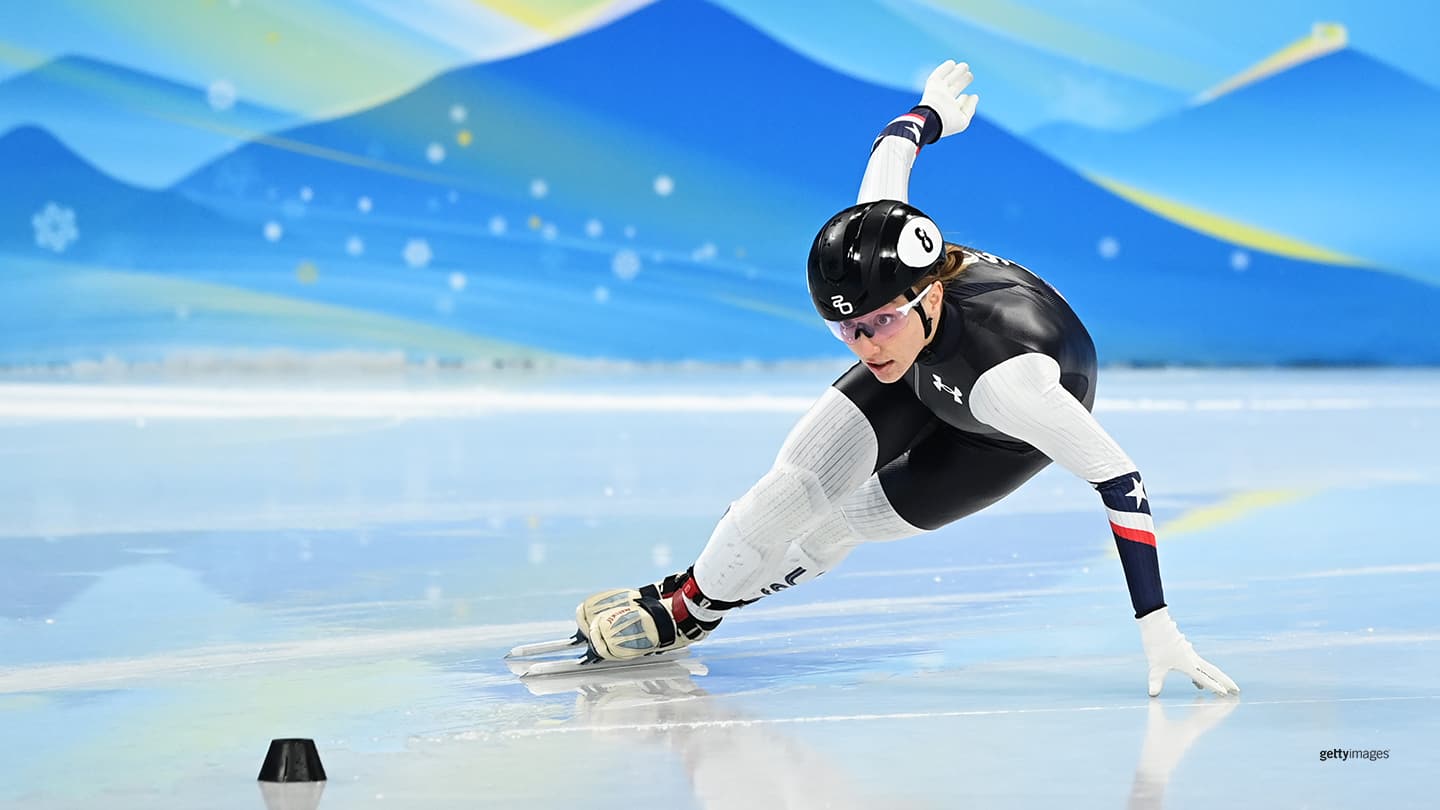 Kristen Santos-Griswold competes in the women's 1000-meter semifinals during the Olympic Winter Games Beijing 2022 on Feb. 11, 2022 in Beijing.
More than eight months have passed since U.S. short track speedskater Kristen Santos' dream of an Olympic medal disappeared in an instant.
Racing in the women's 1,000-meter event in the Olympic Winter Games Beijing 2022, she appeared to be in medal position with a lap to go before being bumped by another skater, sending both to the ice. A bona fide medal contender going into the Games, Santos finished fourth, the closest she would get to a medal in her five events.
Until a week ago, she hadn't raced internationally since those Beijing Games.
She wasn't even sure there would be a 2022-23 season.
Now, Beijing is in the rearview mirror. Santos-Griswold is ready for the bounce back.
"I'm definitely excited to go into the season," the native of Fairfield, Connecticut, said last week ahead of the season opener in Montreal. "I'm still a little bit nervous, of course, because I think this is kind of the longest amount of time I've taken without a real international race in I don't even know how long."
Those nerves didn't show in Canada. Santos-Griswold, now 27, won a bronze medal in the women's 1,500 and nearly added another medal in the women's 3,000 relay. She finished fourth with teammates Corinne Stoddard, Eunice Lee and Julie Letai.
She'll be back at the Utah Olympic Oval this week for a three-day world cup event that begins Nov. 4.
And, yes, she's racing this season with an addition to her last name after getting married over the offseason to Travis Griswold. She'll also start work on a doctorate degree in the spring at the University of Utah.
But for now, it's time to skate.
Santos-Griswold was among 15 U.S. short trackers named to the fall world cup team, which has a mix of Olympians and up-and-coming skaters.
(L-R) Kristen Santos and Corinne Stoddard compete during the women's relay in the Olympic Winter Games Beijing 2022 on Feb. 11, 2022 in Beijing.
"I love the team," Santos-Griswold said. "All the newcomers are really eager to get going. I think everyone gets along really well. I think we're all really excited to build off of what we've gained in the past couple years."
And that team build clearly includes Santos-Griswold, who was within two laps of securing the only short track medal for the U.S. in Beijing. She almost retired from the sport. But she couldn't. "Unfinished business," she said.
"At that moment, it was hard to take in because I did everything right," Santos-Griswold said. "I trained so hard. I ate right. I went to bed at the right time. I skipped out going on vacations. I skipped out hanging out with friends. I made sure I got proper recovery. My mind was so focused on it."
The world cup opener began a four-year cycle toward the 2026 Olympic Winter Games in Milano and Cortina, Italy. A wiser Santos-Griswold will treat it differently.
"Each world cup for me this year is less of a focus on the actual end result and more on using them all as a learning process, and stepping stones heading to the next Olympic Games," she said.
Even during the team qualifier, Santos-Griswold approached the races in a different manner.
"Going into the last day, I had room to kind of play around a little bit," she said. "So I would just do things like waiting longer on the line or waiting longer to pass, putting myself in uncomfortable positions, trying to make it a challenge."
Her world cup teammates on the women's squad include 2022 Olympians Stoddard, Letai and Eunice Lee, along with Grace Lee and Kamryn Lute.
In addition to finishing fourth with Santos-Griswold in the 3,000 relay at Montreal, Stoddard finished fourth in the 1,000 and came within 1.3 seconds of her first world cup individual podium. Stoddard finished seventh in the 1,000 at the Olympics.
Letai helped the U.S. to an eighth-place finish in the 3,000 relay at the Olympics, along with Stoddard, Santos-Griswold and Maame Biney, and posted six podium finishes at the world cup qualifier.
Andrew Heo is the only 2022 Olympian on the men's squad. He finished seventh in the men's 1,000 in Beijing after winning the 1,000 and 1,500 at the U.S. Olympic Team Trials.
Daniel Yoon finished second in the 1,500 B final in Montreal in his world cup debut. Marcus Howard, who won the 1,000 at the world cup qualifier, and Brandon Kim, who won at 500 meters and finished second in the 1,000, also lead the men's team.
Others on the men's squad are Clayton DeClemente, Justin Liu, Seung-Min Kwon, Wesley Park and Ryan Shane. DeClemente posted second- and third-place finishes in the 1,500 at the fall qualifier.
After hosting a world cup stop this week, the U.S. squad remains home for the ISU Four Continents Championships, set for Nov. 10-12 at the Utah Olympic Oval.
"That'll be really nice to race in front of a home crowd," Santos-Griswold said.
After the Four Continents Championships, the world cup circuit then moves overseas for four stops, beginning Dec. 9-11 in Almaty, Kazakhstan. The world championships are set for March 10-12, 2023, in Seoul, South Korea.
.
Paul D. Bowker has been writing about Olympic sports since 1996, when he was an assistant bureau chief in Atlanta. He is a freelance contributor to TeamUSA.org on behalf of
Red Line Editorial, Inc.