It's "Teamwork, Dreamwork" For Women's Short Track Relay Team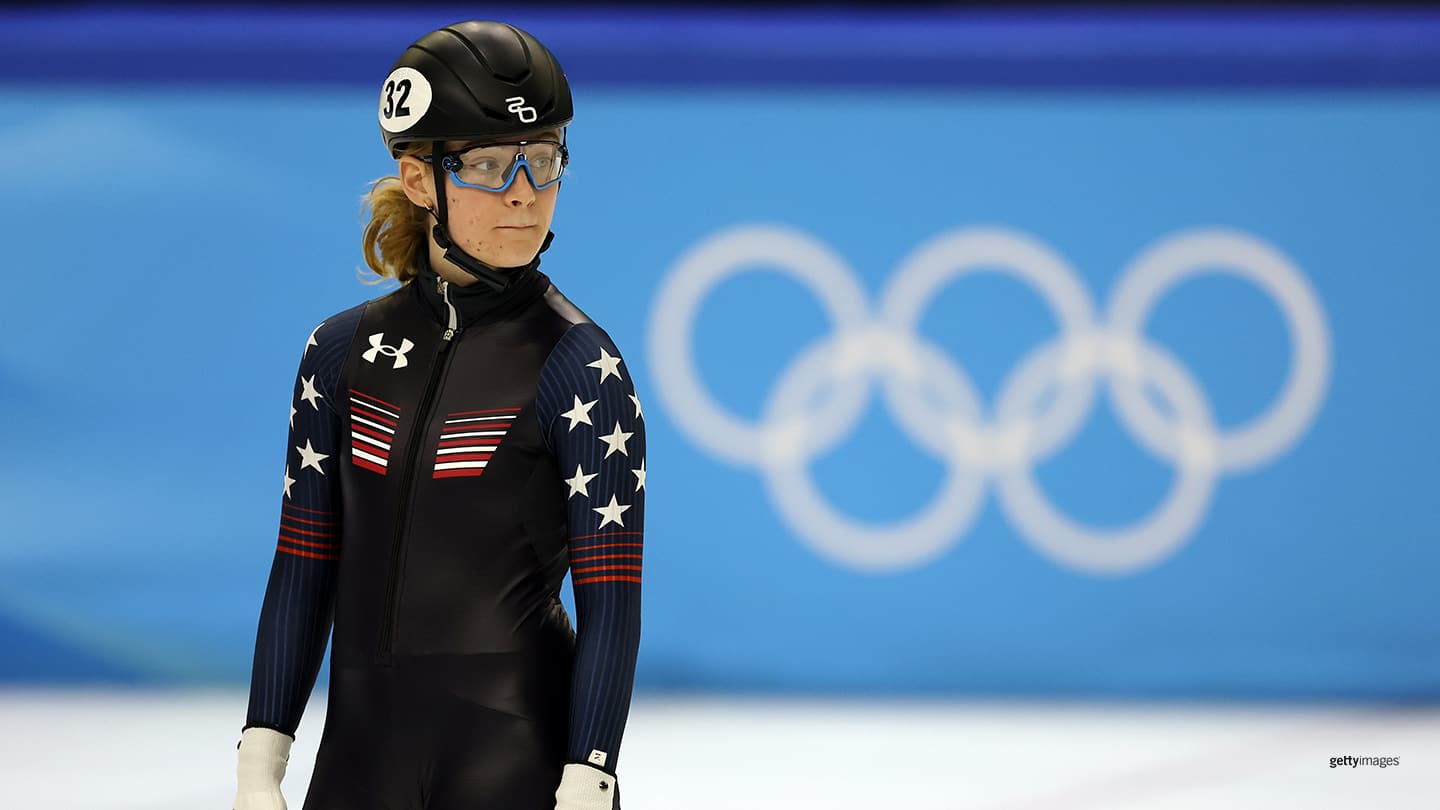 Corinne Stoddard looks on during a short track speed skating practice session ahead of the Olympic Winter Games Beijing 2022 on Jan. 31, 2022 in Beijing.
BEIJING — When short track speedskater Corinne Stoddard broke her nose in a 500-meter heat three days ago, medical staff gave her two choices: she could stay in Beijing, or she could go home.

"I said, 'Well, I'm not going home,'" Stoddard, 20, said in the mixed zone on Wednesday, to cheers from her teammates.

The Tacoma, Washington, native, along with teammates Kristen Santos, Maame Biney and Julie Letai, had just placed fourth in their semifinal of the women's 3,000-meter relay at the Olympic Winter Games Beijing 2022. They advance to the B final on Feb. 13, along with teams from Russian Olympic Committee (ROC), Poland and Italy. The Netherlands, China, Canada and South Korea will race for gold.

Biney, for one, was encouraged by the result.

"We did not expect to have a team here at the Games, so I think that during world cups, we came together and said, 'We have literally nothing to lose,'" the 22-year-old from Reston, Virginia, said. "We all worked super hard individually and also as a team, and I think the fact we worked hard, to my perspective, made our teamwork a lot better."

The relay is one of the most adrenaline-pumping events at the Winter Games. Twenty seven laps around the track. Daring passes and dangerous curves. Four skaters subbing each other in and out, every lap and a half, via gentle (and not-so-gentle) shoves.

No wonder Team USA's squad of Santos, Biney, Letai and Stoddard are ride or die.

"They are the reason I want to show up at practice every day, improve and be my best," Letai, 21 and from Medfield, Massachusetts, said. "Especially as a relay specialist here, no skating at the Olympics is just for me, it's for them. Our only expectation is to do our best at every race we do. They make it easy to want to do that."

The strong team bond played into Stoddard's decision to push through pain and keep competing.

"I just went into the boards wrong," she said. "I slipped coming out of the corner, so I didn't have a lot of time to react, so my focus was to not cut myself or break my leg. I stuck my feet out, but when I stuck my feet out, my knees came into my face. So basically, I broke my own nose."

She competed on Wednesday with a numbing patch applied to the area.

"This helps a lot; I really can't feel my nose," she said. "As soon as I get back (home), I'm going to see a nose specialist to find out the next steps to get it back to normal."
Want to follow Team USA athletes during the Olympic Games Beijing 2022? Visit TeamUSA.org/Beijing-2022-Olympic-Games to view the competition schedule, medal table and results.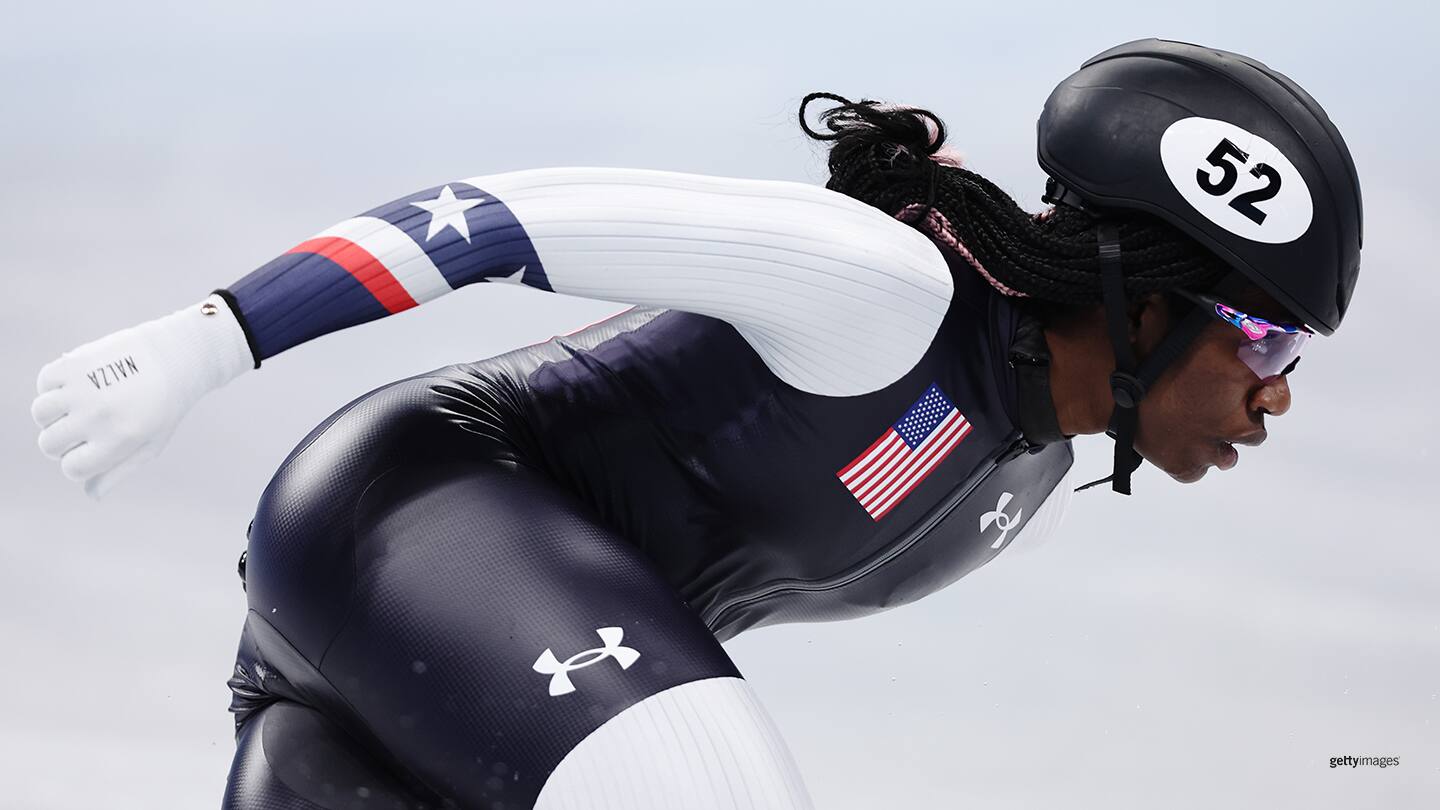 Maame Biney competes during the women's 3000-meter relay semifinals during the Olympic Winter Games Beijing 2022 on Feb. 9, 2022 in Beijing.
Stoddard's determination to stand with her teammates, no matter what, is shared by the other three skaters.

"I think that we've all been through a lot of really high highs together and a lot of lows," Santos, 27, said. "I think that's part of what makes our relationship with each other so strong. We've been through so much together, and I know that we can get through anything together."

"We have so much trust in each other because of that," the Fairfield, Connecticut, native added. "We know that no matter what, we all have our best intentions in mind, and that really helps."

Santos thinks Team USA might have qualified for the A final, save for one mishap.

"Going into the last two laps, I was feeling really good; I feel like we were right on to the pack, and I was able to save a lot of energy," she said. "And then unfortunately I think I hit blades with Choi Min-jeong (of South Korea). I kind of got caught up in that and had to rebuild speed."

Biney sees A finals — and podiums — in the team's future.

"If I made a mistake, I know these three girls will be (saying), 'Maame, this is what you need to work on,' and vice versa," she said. "I think that definitely makes the teamwork, dreamwork."


Heo, Pivirotto Fall Short Of 1,500
Semifinals
In other action on Wednesday, Team USA's Andrew Heo and Ryan Pivirotto competed in the second and third quarterfinal heats, respectively, of the men's 1,500-meter. Neither skater qualified through to the semifinals, with Heo placing fifth in his heat and Pivirotto taking a penalty.

Heo, a 20-year-old from Warrington, Pennsylvania, finished seventh in the men's 1,000-meter on Monday.

"My strong suit is obviously the 1,500, because I had my best results there (previously)," he said. "But I think as a skater in the past few years I grew and obviously gained different strengths and abilities, and it's all coming together. I'm more all around, rather than solely 1,500."

Pivirotto, 26 and from Ann Arbor, Michigan, left the track a bit frustrated.

"I just made a really bad pass," he said. "I could have waited to the end to make a pass and used the Latvian (racer) as cover. And then, unfortunately, in the last lap I got passed. I couldn't do anything about it, my legs were dead."

Hwang Daeheon of South Korea won gold. Canada's Steven Dubois took silver, and Semen Elistratov of ROC, bronze.
Lynn Rutherford is a sportswriter based out of New York. She is a freelance contributor to TeamUSA.org on behalf of
Red Line Editorial, Inc.