Olympic Speedskater Jordan Stolz Strikes For Two Victories In World Cup Opener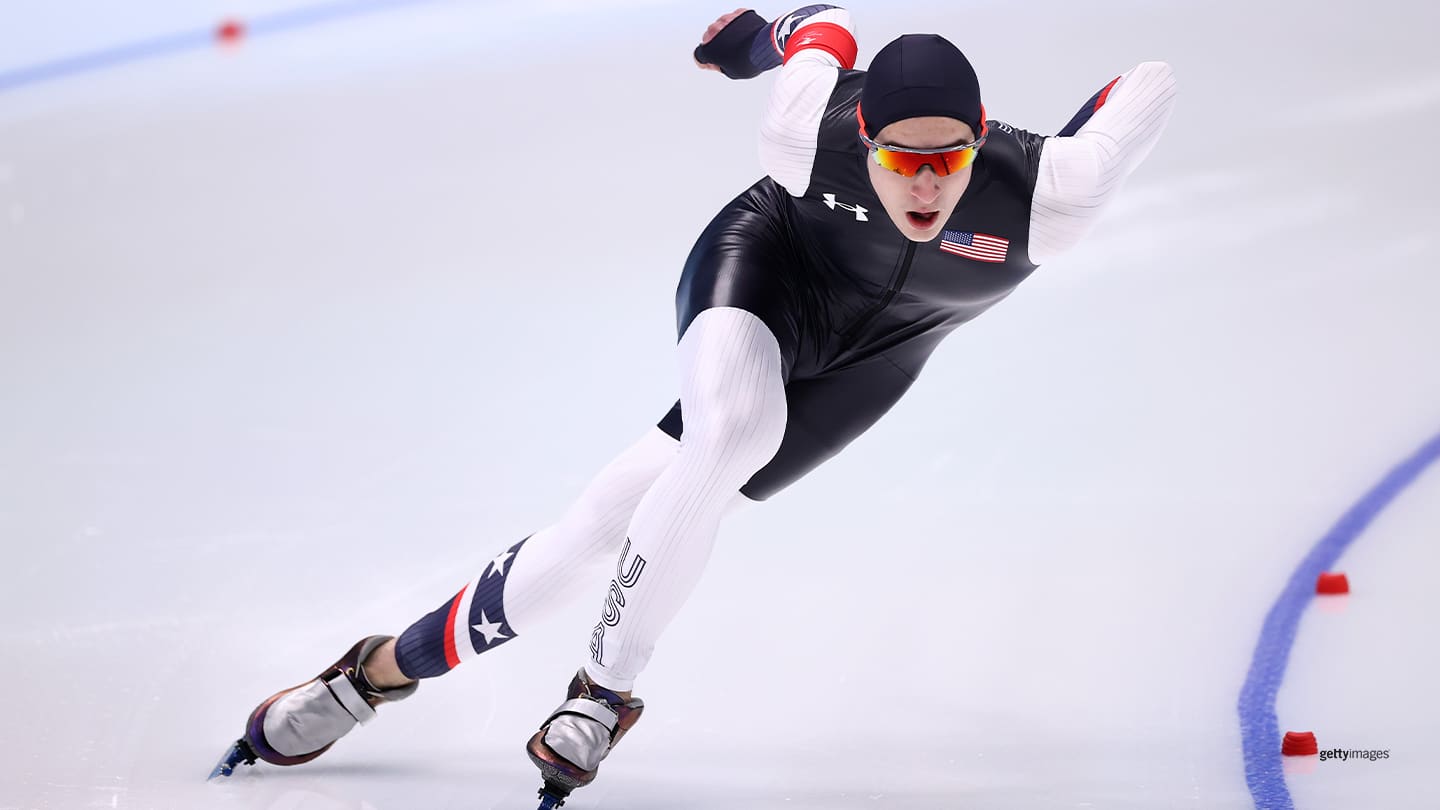 Jordan Stolz skates in the men's 500m during the Olympic Winter Games Beijing 2022 on Feb. 12, 2022 in Beijing.
Jordan Stolz wasn't looking to make history at the ISU World Cup Speed Skating season opener in Stavanger, Norway. However, that's exactly what happened.
The 2022 Olympian won the men's 1,500-meter race Friday in a track record time of 1 minute, 44.891 seconds. The 18-year-old from Kewaskum, Wisconsin, became the youngest man to win a world cup speedskating race.
"I didn't really have any expectations for the 1,500," Stolz said after that race. "I just went out here to do a good race. I had no idea what the time would be. I felt strong and good."
Connor Howe of Canada took the silver medal but finished a stunning 1.76 seconds behind Stolz.
Stolz added a second gold medal — and the Americans' third of the weekend — in the 1,000 on Sunday, winning in a time of 1:08.73.
"I'd like to think that my fitness is pretty good," said Stolz, who finished fourth overall in last season's World Sprint Championships. "I wouldn't say it's better than everyone. I don't know what's going to happen at the end of the season. People can still get stronger. I feel like I built up a pretty good base."
The second U.S. gold medal came in the men's team pursuit on Friday. Olympic bronze medalists Casey Dawson, Emery Lehman and Ethan Cepuran turned a time of 3:44.018 for the victory, beating the Netherlands (3:44.616) and Olympic champion Norway (3:45.428).
That outcome reversed the 2022 Olympic result, when Norway won the gold medal and the U.S. settled for third place.
"That was definitely fresh in our minds," Cepuran said. "Obviously last season our goal was to win gold in Beijing, and we came up in bronze. We were definitely motivated coming in today's race."
Mia Manganello Kilburg, a two-time Olympian, finished fifth in the women's mass start.
Bob Reinert spent 17 years writing sports for The Boston Globe. He also served as a sports information director at Saint Anselm College and Phillips Exeter Academy. He is a contributor to TeamUSA.org on behalf of
Red Line Editorial, Inc.