Jen Lee Is Ready For His Moment In The Spotlight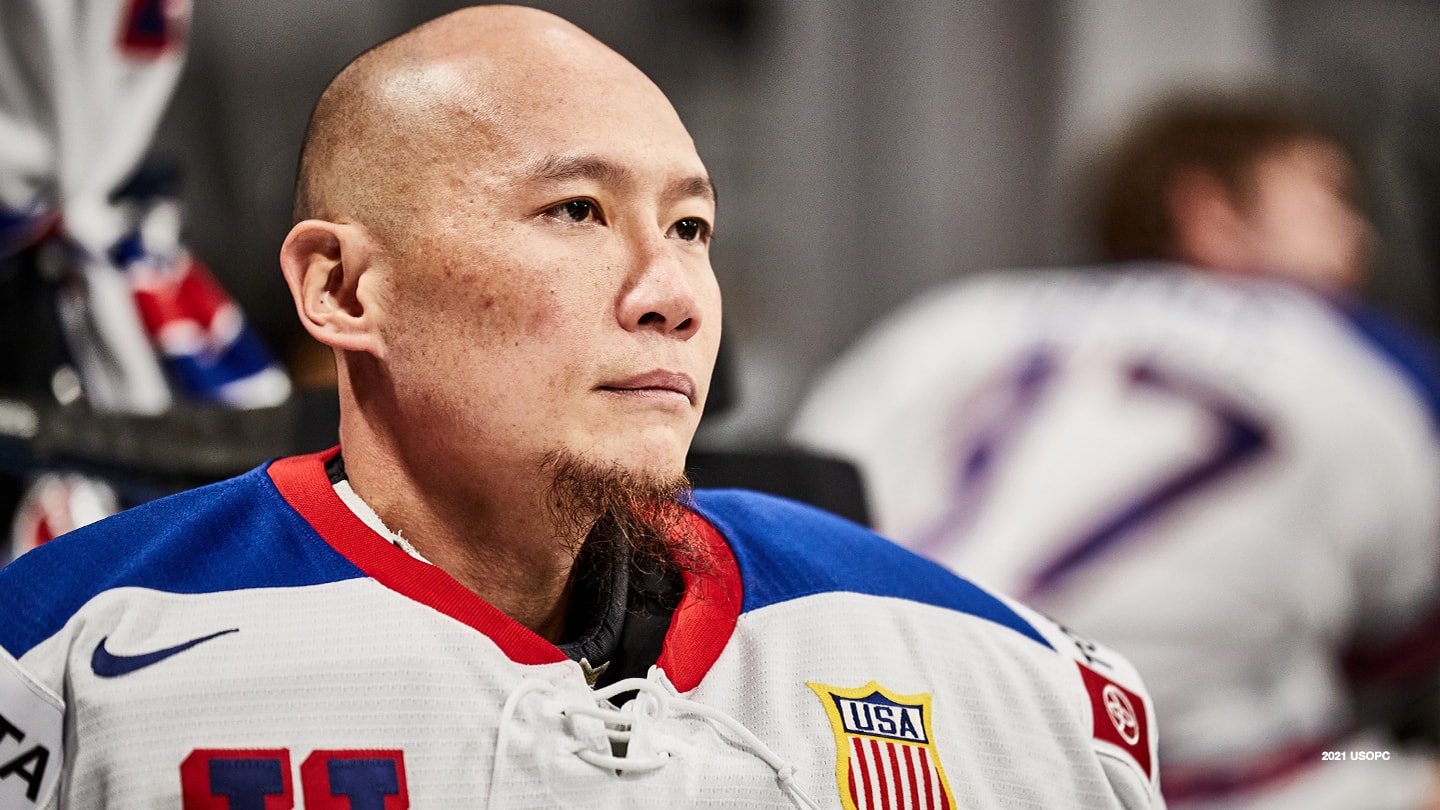 Jen Lee looks on during an exhibition game against Team Canada on Oct. 29, 2021 in St. Louis.
BEIJING – With his 6-foot-2 frame, you can easily look up and spot Jen Lee's discernable grin from across the hockey rink at the National Indoor Stadium in the Chinese capital.

Behind that smile lies years of resiliency that has brought him to this point.

The 35-year-old from San Francisco, who will be the U.S. sled hockey team's new starting goaltender at the Paralympic Winter Games Beijing 2022, immigrated to the U.S. with his parents and two sisters when he was 8. His uncle wanted the children to have more American sounding names, so he dubbed Lee as Horitius.

Motivated by the Sept. 11 attacks, Lee enlisted in the U.S. Army, first working as an aircraft mechanic and then being deployed to Iraq. In 2009, prior to plans for a three-year tour of duty, his life changed after having to have his left leg amputated above the knee because of a motorcycle accident.

That ultimately led him to sled hockey. He was introduced to the sport during his rehabilitation with Operation Comfort, an organization dedicated to assisting injured U.S. service personnel at the Brooke Army Medical Center in San Antonio.

"It gave me a flashback to the fact that I used to play and watch 'The Mighty Ducks,'" Lee said.

Lee tried inline roller blading as a fifth grader but said he was no good. He decided to try goaltending and see how that went.

Lee worked his way to the top, cracking the U.S. national sled hockey team roster as the backup goaltender for the 2010-11 season. In 14 games during that Paralympic cycle, he allowed just four goals on 36 chances and saw four minutes of ice time at the Sochi Games.

But after his meteoric rise on the ice, he hit a personal low off it. Lee lost his mother to a brain tumor a few months after Sochi. Struggling with how to cope, he listened to his late mother's advice. She had always wanted him to pursue a higher education, so he took two years off from the national team to enroll at the University of Texas, where he would ultimately earn his degree in sport and fitness administration/management.

The pain and anger he felt was still substantial, though. On top of his mother's passing, it was the build-up of emotions that comes with immigrating to a new country and being teased as an ESL student, as well as losing a limb, that subsisted.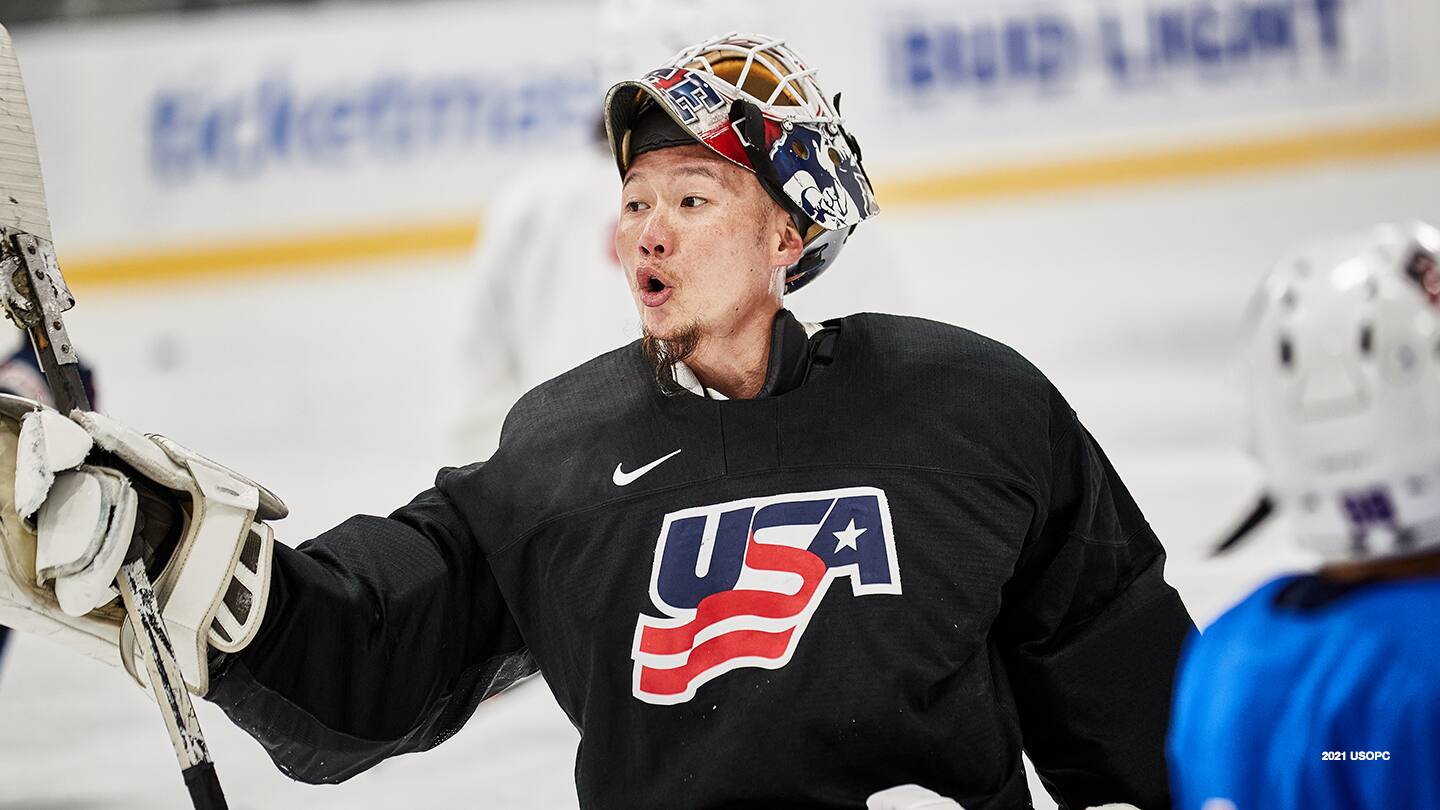 Jen Lee during a team practice before an exhibition against Team Canada on Oct. 28, 2021 in St. Louis.
That's when he looked back at his family history — they were all Buddhists — and for the first time in his life chose to practice his family's religion. After a period of self-reflection and learning to sit still for meditation, Lee slowly began to feel a years-long weight lift off his shoulders.

"There were a lot of emotional things that I had to process, and I didn't know what to do," he said. "It took some time, some years, but I'm doing really well now. It helped me spiritually in finding that balance in life. I'm now more appreciative and grateful about everything."

Now with two Paralympics and four world championships under his belt as the backup goaltender, an emotionally healed Lee will be taking over the starting spot from Steve Cash, who manned the position for 16 years before retiring in October.

"With Steve, we have our own Snapchat, group text and personal texts to let him see the rink and everything else in Beijing," Lee said. "He's been giving me personal pointers. He says go out there and play your best, but don't be too hard on yourself and have fun because your 16 brothers have your back."

When asked to weigh in on expectations for Lee from back in the States, Cash piped up immediately with praise for his successor.

"Having played alongside him for a decade, I know he will represent the team and country with pride," Cash said. "Jen is a world-class goalie with the innate drive to succeed. He will play with tenacity as he always does and leave it all on the ice. Knowing what Jen is capable of, he will have a huge Paralympic Games showing."

Lee has had the opportunity to adopt his heritage recently, spending six months during the pandemic living with his father in Taiwan, where he practiced with their national hockey team. This past week in Beijing, he has served as the U.S. sled team's translator as he's fluent in Mandarin.

The selfless and empathetic Lee that has shown up in Beijing embracing both his culture and new leadership role on the team is a man the late U.S. sled hockey coach Jeff Sauer would have been proud of.

"Coach Sauer once said that goaltending is a position whereas you become older, you become better," Lee said. "When I was younger that was something I didn't understand. But now that I'm 35 years young, I understand more about what he's talking about. I understand the game more, the playing style and how to lead your teammates so they can feed off your energy and keep positive."

Lee's coming-of-age story may have taken longer than he had hoped, yet he's living in the moment now and he can finally see himself embodying a character in a Mighty Ducks movie.

"I watched it for the first time when I was 10, and then again when I was 18, and then again in my 20s and 30s, and each time I watched the Mighty Ducks I found something different that is profound about the movie," Lee said. "I know it's a comical movie, but it teaches you the fundamentals of what teamwork is, how to be selfless, how to grow the game and understanding that it takes a whole village."
Stuart Lieberman has covered Paralympic sports for more than 10 years, including for the International Paralympic Committee at the London 2012, Sochi 2014 and PyeongChang 2018 Games. He is a freelance contributor to TeamUSA.org on behalf of
Red Line Editorial, Inc.