Three Key Questions For The U.S. Sled Hockey Team As It Looks To Make Winter Games History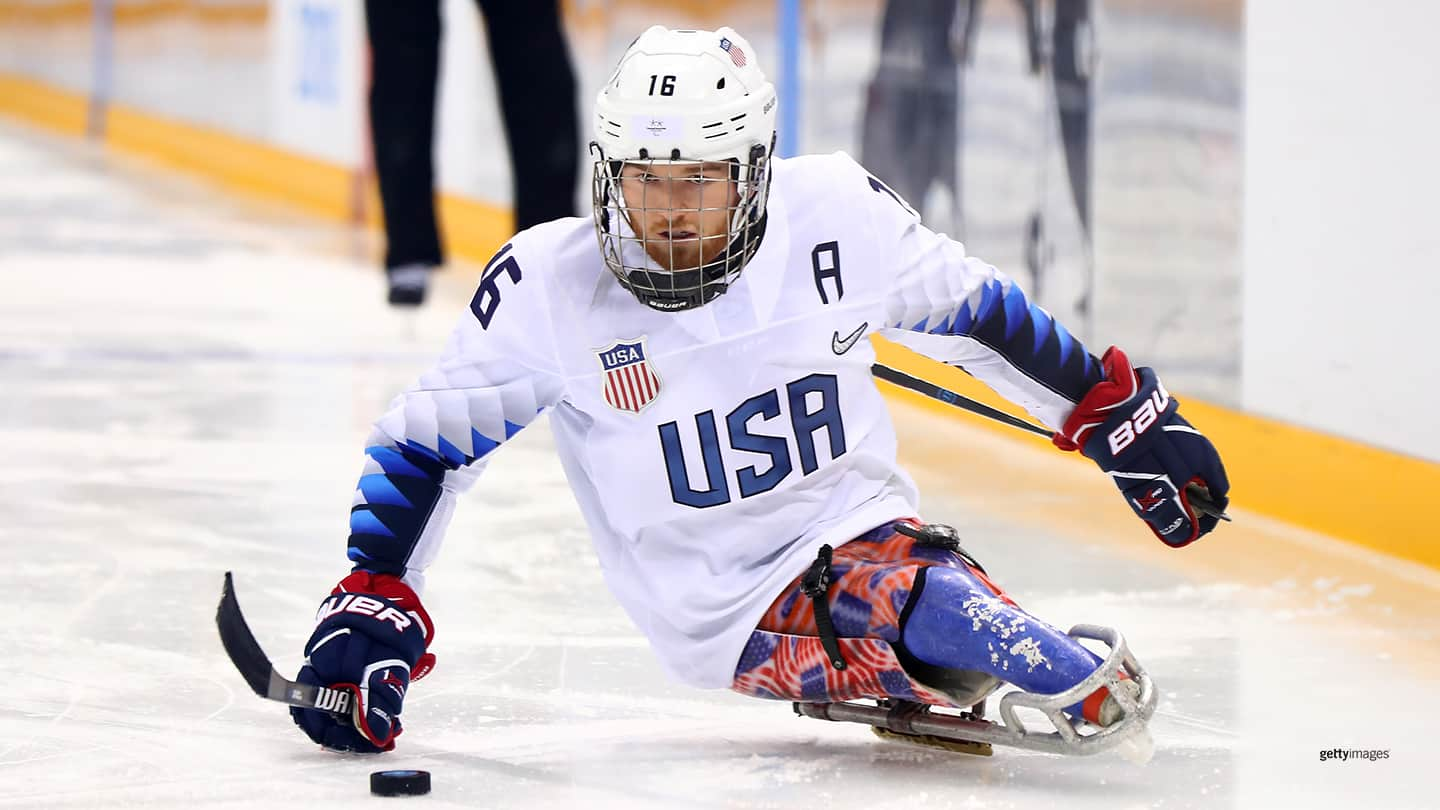 Declan Farmer competes during a preliminary game against the Czech Republic at the Paralympic Winter Games PyeongChang 2018 on March 12, 2018 in Gangneung, South Korea.
No sled hockey team in history has entered the Paralympic Winter Games with higher expectations and a bigger target on its back than Team USA leading into Beijing 2022.

The U.S. has won a record four Paralympic golds, including the last three. The world's No. 1-ranked team also owns a record five world championship golds, including the last two. Then there's its recent dominance over the world's next best team, Canada. The U.S. owns a 3-0 mark over its archrivals in the last three Paralympic and world championship gold-medal contests.

Captained by three-time Paralympic champion Josh Pauls, the U.S. has 11 returning athletes from is gold-medal winning team PyeongChang, and six of those skaters also won gold in Sochi. Pauls is the lone holdover from the Vancouver 2010 gold-medal winning squad.

Competing at the National Indoor Stadium in the heart of Beijing's venue cluster, the Americans will no doubt be tested.

In the preliminary round, the U.S. will face the next best three teams in the world: No. 2 Canada, No. 3 Russian Paralympic Committee and No. 4 South Korea. If it finishes within the top two in its group, it will automatically advance to the semifinals.

Should the U.S. reach the gold-medal game for the fourth time in a row, it would close out the tournament on Sunday, March 13, the final day of the Winter Games.

Here are three key questions that may determine if the U.S. is able to defend its Paralympic title once again.
1. What can we expect from the goalies?
Last October, U.S. goaltending legend Steve Cash retired from sled hockey after 16 years manning the net for the national team, leaving San Francisco native Jen Lee to take over the reins. Lee was born in Taiwan, is fluent in Mandarin and served as a U.S. Army sergeant. He had his left leg amputated above the knee when he was injured in a motorcycle accident in 2009.

Lee served as the backup goaltender in Sochi and PyeongChang 2018, playing in three games. Now poised to be the starter for the first time, he's hoping to make a seamless handoff from Cash. If the last two world championships are any indication — Lee didn't give up a goal in four games at those tournaments — then it may be a smooth transition. Newcomer Griffin Lamarre, who grew up playing lacrosse in Massachusetts, will be the backup goaltender in his Paralympic debut.
2. Will Declan Farmer and Brody Roybal rumble opponents again?
The power forward duo of 24-year-old Declan Farmer and 23-year-old Brody Roybal has rocked opponents since the two first paired up at Sochi 2014. Between Farmer's clutch scoring and Roybal's aggressive skating and maneuvering, they have become a lethal combination.

Together, they've put more points on the board at major tournaments than entire teams have. In PyeongChang, they combined for 21 goals and 13 assists, and at both the 2021 and 2019 world championships, they combined to score 10 goals.

What's scary to think is that both have matured even further since then and are just now entering their prime. If Farmer's aggressive pin-trading game since arriving in the Athletes' Village is any indication of his level of experience at a Paralympic Winter Games, then expect him to dominate on the ice, too, once again.
3. How will the six rookies fare?
Six of the 17 players on the U.S. roster will be making their Paralympic debuts: David Eustace, Malik Jones, Griffin LaMarre, Evan Nichols, Joseph Woodke and Kyle Zych. Three of them — Eustace, LaMarre and Zych — hail from Massachusetts and are all part of Northeast Passage, a non-profit affiliated with the University of New Hampshire that provides opportunities for individuals with a disability to enjoy sports and recreation.

For Jones, Lamarre and Nichols, the tournament will mark their first taste of international competition; the other three took part in the world championships last year in the Czech Republic. How calm their nerves are when they take the ice could be the x-factor for Team USA.
Stuart Lieberman has covered Paralympic sports for more than 10 years, including for the International Paralympic Committee at the London 2012, Sochi 2014 and PyeongChang 2018 Games. He is a freelance contributor to TeamUSA.org on behalf of
Red Line Editorial, Inc.