Three-Time Sled Hockey Gold Medalist Steve Cash Announces Retirement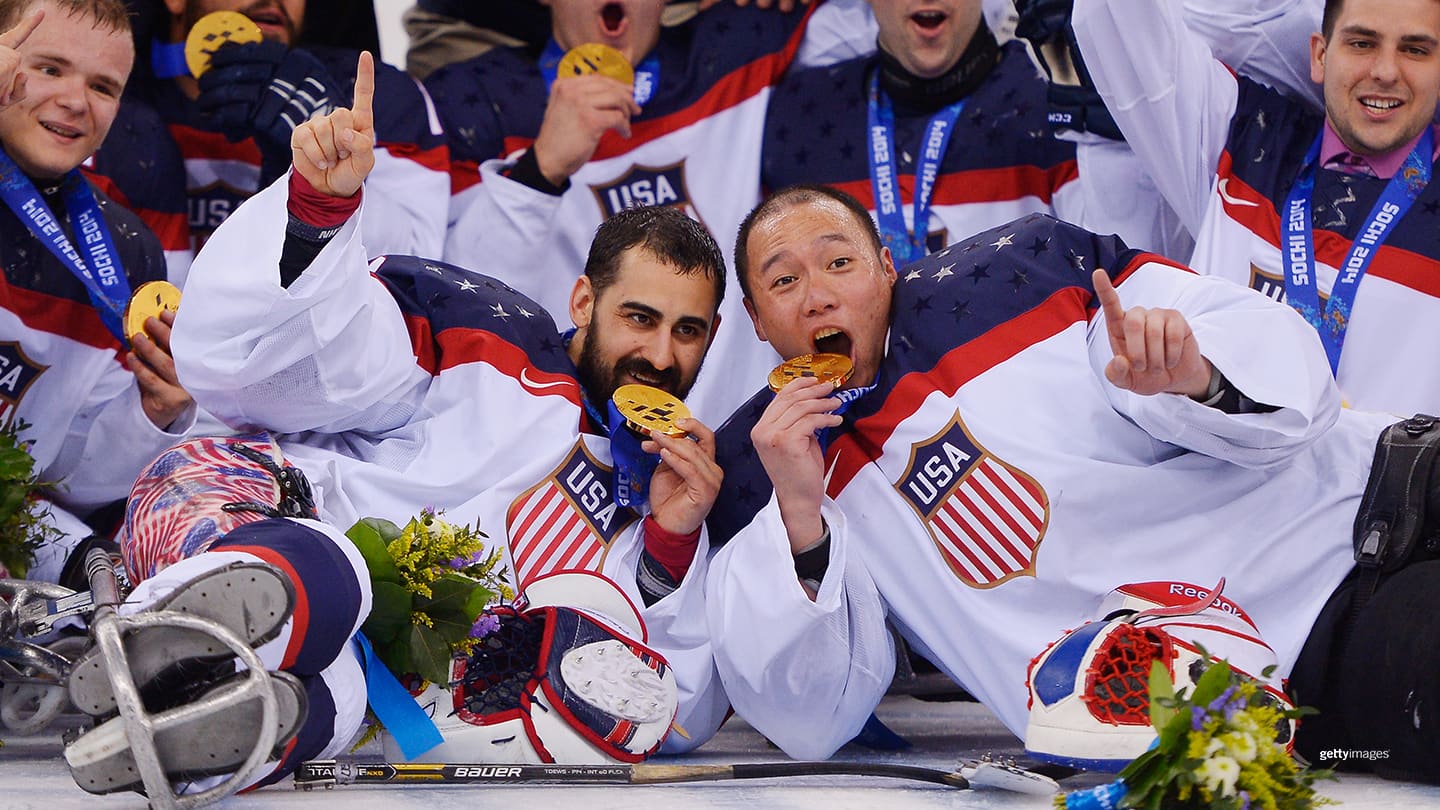 (L-R) Steve Cash and Jen Lee celebrate alongside U.S. teammates after winning the men's sled hockey gold-medal game against Russia at the Paralympic Winter Games Sochi 2014 on March 15, 2014 in Sochi, Russia.
If the U.S. sled hockey team is going to win an unprecedented fourth straight gold medal this March at the Paralympic Winter Games Beijing 2022, it's going to have to do so without the man in net for the first three.

Goalie Steve Cash announced his retirement from the team Monday after 16 seasons on the national team. Those 16 years have represented the greatest era in U.S. sled hockey history with the aforementioned three Paralympic gold medals plus a bronze in 2006, as well as five world titles and more than 100 wins. Cash, 32, was on the ice for nearly all of it.

"It has been quite the journey and an honor to represent my country," Cash said in a USA Hockey press release announcing his retirement. "I want to thank all of teammates throughout the years along with the supporters I have gained along the way. You guys have made the journey what it is."

Cash's road to the Paralympic Games began in his native Overland, Missouri. At the age of 3, Cash had his right leg amputated due to osteosarcoma, and grew up playing inline hockey with a prosthetic. Cash was captain of the inline team at Ritenour High School and also played in college at the University of Missouri-St. Louis. It was while in high school that Cash caught the attention of a local coach who encouraged him to give sled hockey a try. The sport proved to be a challenge compared to the stand-up sport he was used to.

"By far, sled hockey is the harder of the two," Cash told USA Hockey Magazine in 2009. "As a goalie, you're not only using your hands to move back-and-forth and side-to-side, but you have to use them to stop the puck. Your positioning is so much more important and something I have to be working on constantly."

Cash began playing with the Disabled Athlete Sports Association (DASA) St. Louis Blues in 2004, and a year later was made the U.S. national team for the first time. The U.S. sled team was then preparing to defend its first Paralympic gold medal in the upcoming 2006 Torino Games. Cash played just a few minutes in that tournament that resulted in a bronze medal. That proved to be one of the last times he was anything but the starter for Team USA.

Cash started every game in the 2007-08 season, including the team's run to a bronze medal at the 2008 world championships. The U.S. would win the tournament the next year, the first world championship in program history. Cash allowed just four goals in five games.

But that was nothing compared to his first Paralympic Games as a starter in 2010. Cash was simply dominant, setting a Paralympic record with five shutouts and stopping all 33 shots he faced, including a saved penalty shot in the gold-medal game against Japan. He was named best goalie of the tournament and later that year won the ESPY for Best Male Athlete with a Disability.

The legend of Cash only grew as the U.S. assembled more and more hardware, becoming the world's No. 1 team. Cash led the U.S. contingent into the Opening Ceremony at the 2014 Sochi Games as the flag bearer, then allowed just two goals in claiming another gold medal. Cash would allow just a single goal in 2018 as he upped his career record at the Paralympic Games to 14-1-0-1. Most importantly, he was 3-0 in gold-medal games.

"It's not often that you meet someone as talented and as humble as Steve Cash," Dan Brennan, director of sled national teams for USA Hockey, said in Monday's announcement. "Steve has had an amazing career with the national team. He's a great hockey player, but an even better human being. He has been the foundation of this team for 16 years now and it has been an absolute privilege to work with him all this time. I wish him nothing but the best in all of his future endeavors."

Cash had never even heard of sled hockey before taking to the ice for the first time at the age of 15, leading to an unexpected legacy as one of the greatest to ever play.

"To don that USA sweater, being able to do it in a different way ... to me sled hockey is a redeeming opportunity for myself," Cash told the St. Louis Post-Dispatch shortly after winning his third gold medal. "It means the world to me. I don't know that I could imagine life without the sport. I look back on the last 12, 13 years, while it might seem like a blur, it's something I feel is a legacy I can carry on for years to come. Personally it's been quite the adventure, to be able to soak it all in. It's truly great to be able to cherish."
Todd Kortemeier is a sportswriter, editor and children's book author from Minneapolis. He is a contributor to TeamUSA.org on behalf of
Red Line Editorial, Inc.