Take An Inside Look At Team USA's Welcome Experience With The U.S. Paralympic Team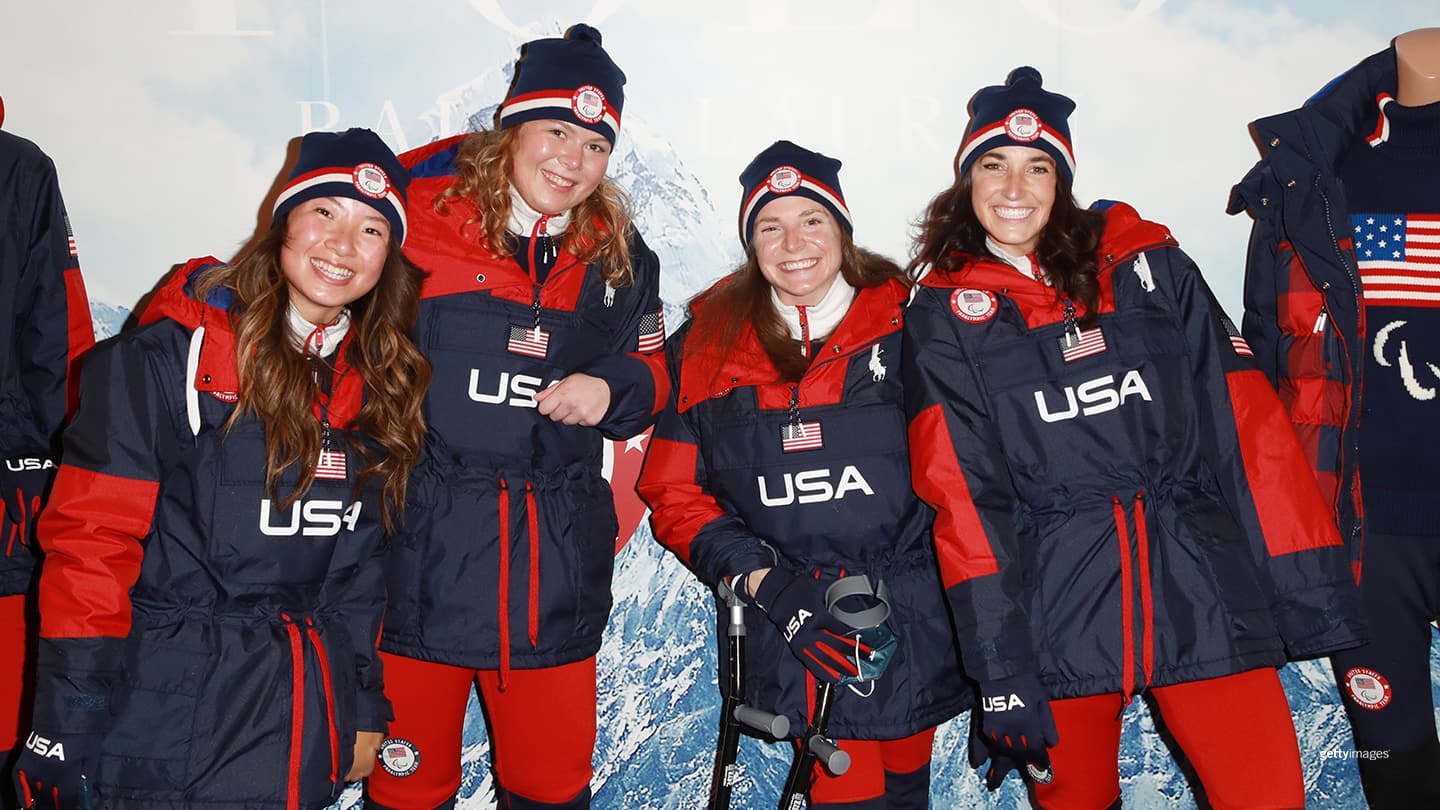 Paralympians Grace Miller, Sydney Peterson, Kendall Gretsch and Dani Aravich try on clothes during the Team USA Welcome Experience ahead of the Paralympic Winter Games Beijing 2022 on Feb. 23, 2022 in Los Angeles.
The journey to the Paralympic Games starts long before the cameras start rolling.

We all know that.

But, officially speaking, the journey to the Paralympic Winter Games Beijing 2022 actually started earlier this week for the U.S. delegation.

Before heading across the Pacific, members of the 67-person U.S. team — plus coaches and other staff members — hopped off the plane at LAX for the Team USA Welcome Experience.

If you're an athlete that means getting fitted by official outfitters Nike and Ralph Lauren with gear for the Opening and Closing Ceremonies, as well as — hopefully — the medal podium.

This is a time when the whole team comes together and really starts bonding. For many of the athletes — especially the 28 making their Paralympic debuts next month — the official gear pickup is often when it starts to feel real: I'm a Paralympian.

Following a newer addition to the team processing agenda, COVID testing, the delegation headed back to LAX for a charter flight on Delta Airlines. Wheels went up on Friday, with one week to spare before the Opening Ceremony on March 4.

The welcome experience is a special time for Team USA athletes.
Don't take our word for it, though. Rico Roman, a veteran of both the U.S. sled hockey team and the U.S. Army, shared a behind-the-scenes look at the whole welcome experience. He's headed to his third Winter Games in Beijing.
Living the life.

Go through #TeamUSA's Welcome Experience with @RicoSled23.@usahockey x #WinterParalympics pic.twitter.com/GlCOZMOApj


— Team USA (@TeamUSA) February 23, 2022
Cross-country skier Grace Miller, headed to her second Paralympic Winter Games, put together her own compilation of the experience.
And Brenna Huckaby, a two-time Paralympic champion in snowboarding in 2018, shared a short vlog showcasing all of her gear.
Here's a look at some of the other Team USA stars going through processing and getting ready to take off for Beijing: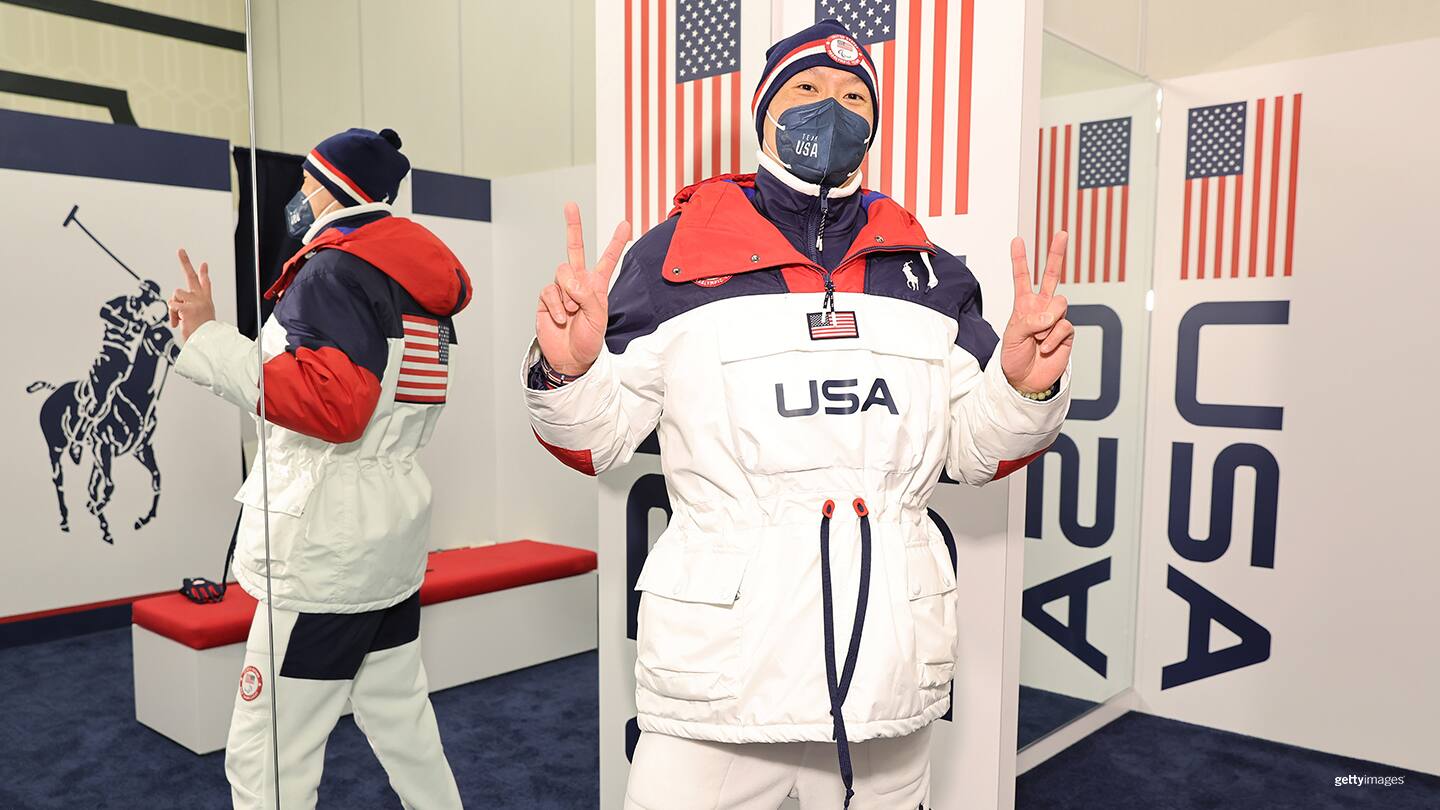 Paralympian Jen Lee gets fitted in Polo Ralph Lauren ahead of Paralympic Winter Games Beijing 2022 on Feb. 21, 2022 in Los Angeles.
Jen Lee, a goalie for the U.S. sled hockey team, shows off some of his new Ralph Lauren gear at a fitting in Los Angeles. Headed into his third Paralympic Winter Games, Lee is expected to play a major role after the retirement of longtime U.S. goalie Steve Cash.

What do you think: all white, or blue and red? Members of the U.S. Para alpine ski team show off both looks for the Opening Ceremony.
"Monster" Mike Schultz (right) and his snowboarding buddies are all ready to go in their new Nike and Ralph Lauren gear. Schultz is a defending Paralympic gold medalist in snowboardcross. He's joined by (from left) Mike Minor, Noah Elliott, Michael Spivey and Keith Gabel.
The youngest member of Team USA looks pretty grown up in his sharp Nike getup. Alpine skier Jesse Keefe is the youngest member of the U.S. Paralympic delegation at 17.
Check out those wings! Steve Emt, the only returning Paralympian on this year's wheelchair curling team, shows off a nice view of the special Team USA plane. Delta Airlines debuted the custom Team USA livery on the A330-900 aircraft in December.
The LA sun shined down on the U.S. sled hockey team, who posed for pictures and celebrated before heading off to compete for a fourth consecutive gold medal.
Our sled hockey guys are here! 🇺🇸🤘@usahockey x #WinterParalympics pic.twitter.com/JEvOYL85dR


— Team USA (@TeamUSA) February 25, 2022
Go inside Team USA's travel day as the athletes prepared to board their long flight across the world.
🇺🇸 on the way! 🛫

Go inside #TeamUSA's travel day to the #WinterParalympics. pic.twitter.com/2dYcVPdRMy


— Team USA (@TeamUSA) February 26, 2022
The Delta Airlines crew greeted the Team USA athletes with personalized letters, such as this one shared by alpine skier Andrew Kurka. The lone U.S. gold medalist in the sport in 2018, Kurka is coming off a strong performance in which he won two bronze medals at the world championships in January.
Oksana Masters certainly isn't hurting for comfort on the Team USA charter. One of two U.S. athletes headed into their sixth Paralympics, Masters is looking to build upon the two gold medals and five total medals she won as a Nordic skier in PyeongChang. She'll be competing just months after winning two gold medals as a cyclist at the recent Summer Games in Tokyo.
Delta treated sled hockey star Declan Farmer and the rest of the U.S. delegation to a special in-flight menu. Farmer was part of the U.S. teams that won gold medals in both 2014 and 2018.
Wave good-bye! Delta employees bid adieu to the Team USA stars.
Chrös McDougall has covered the Olympic and Paralympic Movement for TeamUSA.org since 2009 on behalf of
Red Line Editorial, Inc.
He is based in Minneapolis-St. Paul.