News
David Wise
Alex Ferreira
David Wise, Alex Ferreira Fight Through High Winds To Medal In Halfpipe Skiing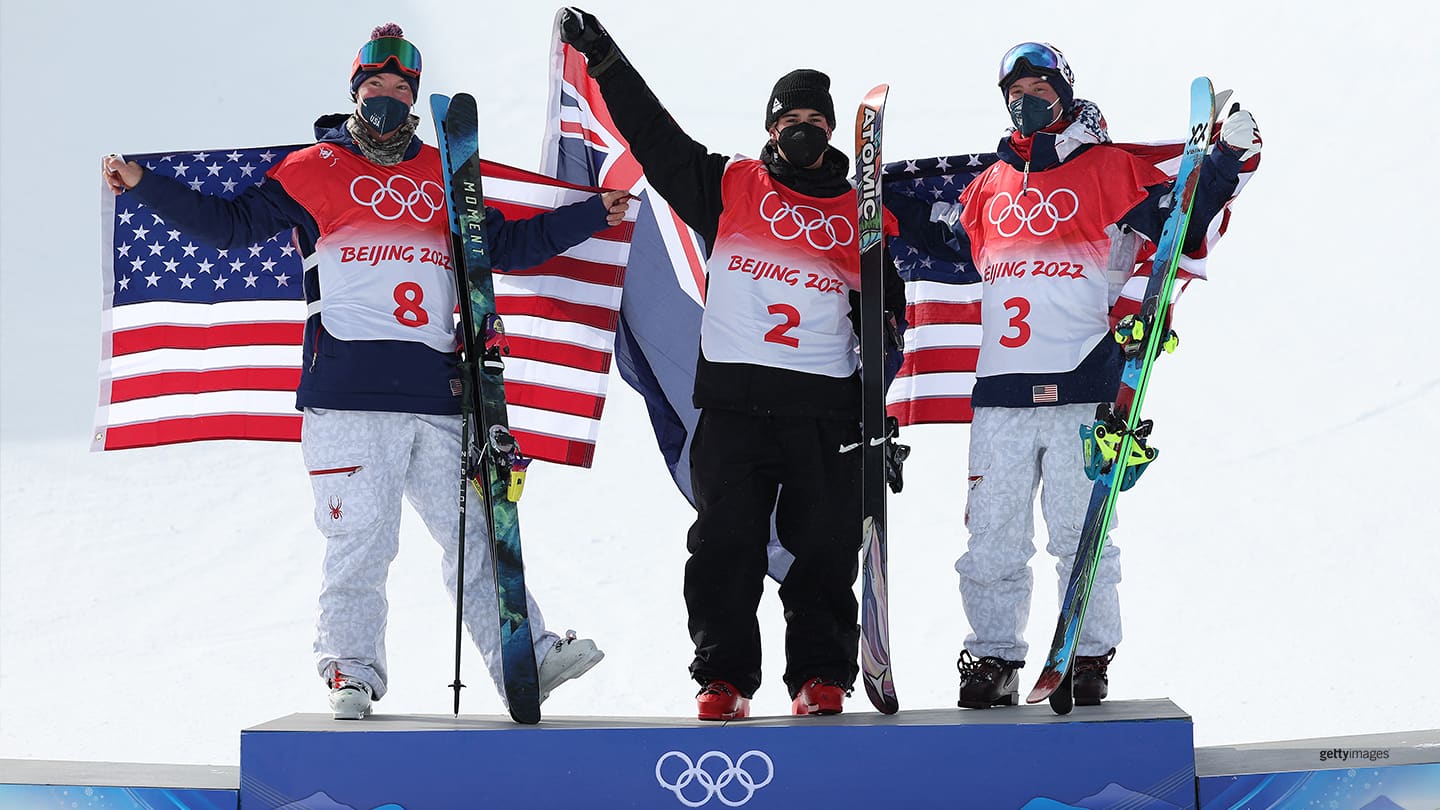 Gold medallist Nico Porteous of Team New Zealand (C), Silver medallist David Wise (L) and Bronze medallist Alex Ferreira (R) celebrates during the Men's Freestyle Skiing Halfpipe flower ceremony oat the Olympic Winter Games Beijing 2022 on Feb. 19, 2022 in Zhangjiakou, China.
BEIJING — Four years ago in PyeongChang, after failing on his first two runs, David Wise went for broke on his third and final try, producing the run of his life to win a second Olympic gold medal in men's halfpipe skiing.

There were no late heroics in the cards Saturday — for Wise, or anyone else — in a blustery Olympic final at Genting Snow Park northwest of Beijing.

The 31-year-old from Reno, Nevada, fought through the tough conditions to lay down an opening run of 90.75 that included back-to-back double cork 1260s. With the unrelenting wind and minus 12 Fahrenheit temperatures slowing the skiers as the contest went on, Wise's score held up to earn him a silver medal.
He's as cold as ice. 🥶@mrDavidWise scores a 90.75 in the men's ski halfpipe final! #WinterOlympics
pic.twitter.com/7NiEsckjIo


— Team USA (@TeamUSA) February 19, 2022
Though Wise fell just short in his quest to become the first freestyle skier to threepeat in an event at the Olympic Winter Games, he does leave Beijing as one of just five in his sport to have three medals. On a day when all four Americans competed in the finals, U.S. teammate Alex Ferreira also found his way to the podium for the second straight Olympics, finishing with the bronze medal.
Since halfpipe skiing was added to the Olympics in 2014, Wise and Ferreira have combined to win five of the nine medals in the event's history.
"It was a pretty wild day out there with the wind, but you know, that's part of our competition, you can't always schedule it on the perfect day," Wise said. "To come out and land my first run, obviously quite a bit of a different story from the last Olympics, but I'm just super proud to be out here still hanging in there with these guys."
The whipping winds and bitter cold temperatures took their toll on the skiers as the competition continued. The top five finishers all posted their best score on their opening run, while skier after skier crashed trying to perform their tricks in the progressively worsening elements.
Wise fell on his second run, then lost momentum after missing a grab on a double cork 1080 on his third run.
"I wanted so much more," he said on the course, but later acknowledged that high winds limited most of the skiers' tricks.
"If anything, when it's really windy, it's kind of a little bit of an advantage for me because I have these guys outweighed by 30 or 40 pounds," the 6-foot Wise said with a laugh. "So, you know, you just kind of embrace it and say, 'All right, this is the conditions that it is.' Certainly, we would all like it to be a little nicer, but you have to go out there and do what you can on this day."
It was the same story for Ferreira, the silver medalist in PyeongChang. After gaining 86.75 points on his first run, and 83.75 on his second, the Aspen, Colorado, native went all out on his third try but missed a grab on a 1620 trick with four-and-a-half rotations.
"I put it all on the line," Ferreira, 27, said.
Like Wise, his first run held up, sending him home with a bronze medal. Ferreira landed four consecutive double corks in his medal-winning run.
Looking sharp.

Alex Ferreira quickly takes the lead for #TeamUSA. #WinterOlympics
pic.twitter.com/L4NyVPGnBV


— Team USA (@TeamUSA) February 19, 2022
"The wind was definitely a factor," he added. "There's tough conditions and sometimes the universe has other plans for you, and you have to adapt as we do. I did my best and ended on the podium."
The Americans were chasing 20-year-old Nico Porteous of New Zealand, the bronze medalist in PyeongChang, who scored 93.00 on this first run to take the gold medal.
"Really impressed by Nico's skiing today," Wise said. "He pretty much did the run he wanted to do in spite of the wind, whereas myself and Alex, we scaled back a little bit and landed a run we thought would do well on this day. So, all in all, it was a pretty good contest. I'm stoked to be here."
"It feels unreal — we're a bunch of workhorses, I guess," Ferreira said. "The hardest workers get up on the podium and Dave's a great friend of mine. He's a good person. Nico's a good friend of mine. He inspires me. They both do every day."
Coming off a breakout year in 2021, 22-year-old Birk Irving was the lone rookie on the U.S. halfpipe team and ended up in fifth place with 80 points. Irving won a gold medal at the 2016 Winter Youth Olympic Games and more recently claimed the bronze medal at the 2021 world championships.
Expectations were high for Aaron Blunck, a two-time world champion who posted the highest qualifying score of 92.00.
Competing in his third Olympics at age 25, he put down the sixth best score in round one (70.25) of the finals and the third best run in round two (78.25). But sitting off the podium he had to go big in the final run and crashed hard midway through. A concerned Wise ran halfway up the hill to check on his teammate.
Silver medalist @mrDavidWise ran up the halfpipe in his ski boots to check on his teammate @Aaron_Blunck after a fall. ❤️ #WinterOlympics pic.twitter.com/2mdU1wxMpk


— Team USA (@TeamUSA) February 19, 2022
With the 78.25 score holding as his best, Blunck ended up in seventh place for the third consecutive Olympics.
Want to follow Team USA athletes during the Olympic Games Beijing 2022? Visit TeamUSA.org/Beijing-2022-Olympic-Games to view the competition schedule, medal table and results.
Lynn Rutherford is a sportswriter based out of New York. She is a freelance contributor to TeamUSA.org on behalf of Red Line Editorial, Inc.