Team Shuster To Play For Bronze After Dropping Men's Curling Semi To Great Britain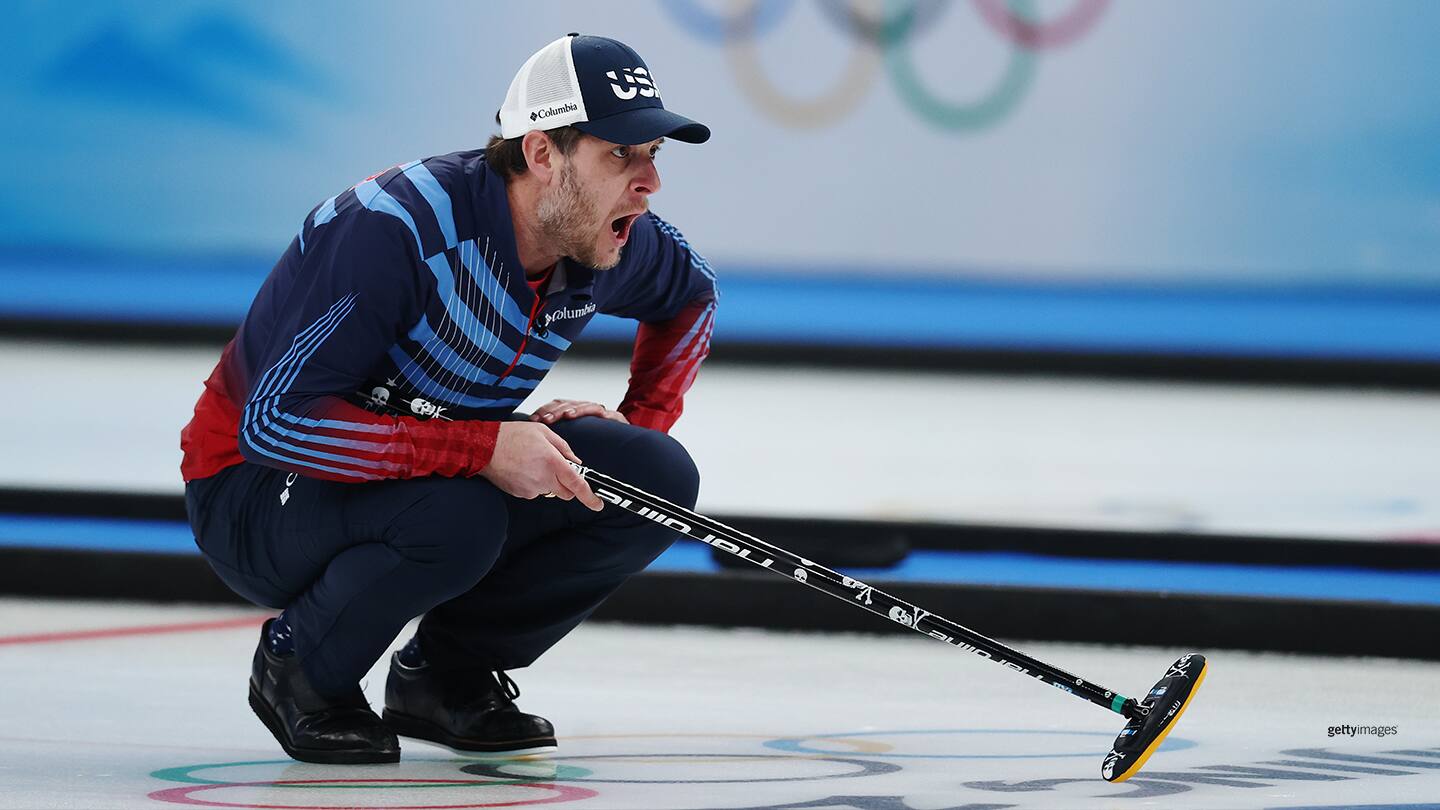 John Shuster competes against Team Great Britain during the men's semifinal Olympic Winter Games Beijing 2022 on Feb. 17, 2022 in Beijing.
BEIJING — Team Shuster played the odds, but they weren't in their favor on Thursday evening, and the team will have to battle for bronze instead of defending its gold medal triumph.

Trailing by one in the ninth end of its semifinal match with Great Britain, the U.S. men saw their plans to score two go awry. They opted to give Team GB a steal of one and try to tie or win the game in the 10th end. But their plans were thwarted there too, ultimately ending in a steal of two and a 8-4 victory for Great Britain, which gave them a gold-medal ticket. The U.S. faced a tough situation regardless in trying to come back, and chose to go with the numbers.

"We liked our chances trying to get three better than trying to steal one in the extra (end)," said U.S. second Matt Hamilton. "This game is all about analytics; the numbers say you have a 10 percent chance of winning when you're tied up without hammer. And we figured we have a better than 10 percent chance of setting up a three in the 10th end there, so we decided to give them the point, go down by two and take our chances."

Great Britain will face Sweden in the gold-medal game, the same Swedish side that Shuster beat for gold four years ago. Sweden upended Canada in its semifinal, meaning a border battle for the bronze medal. All four teams are among the best in the world and survived a difficult round robin field.

"I'm proud of this team and proud of what we've been able to do," Hamilton said. "So I'm going to go out and give it my all one more time and hopefully we come home with a medal. But at the end of the day, everyone here in this semifinal is a fantastic team."

The game was a tale of two halves; the first five ends featured only multi-point scores with lots of aggressive hits and precise shots. But things slowed down in the second half as both teams tried to set themselves up to have hammer late in the game. The sixth through eighth ends were all blanked, setting up the dramatic final strategic decisions in the ninth and 10th ends. Those decisions were also based on recent history and play tendencies, not just analytics.

"Honestly, we put up a ton of threes on those guys," said skip John Shuster. "If you look at the scoreboards from the last three or four times we've played them, we put up a ton of threes. ... So the fact that we've scored probably a three in almost every game we've played them, I think we had a better chance of scoring three than stealing and that's why we're doing something like that right there."

Indeed, Team USA did put up a three earlier in this tournament when it beat Team GB in round robin play, and they also scored a triple in their meeting at the 2021 world championships. Both were wins for Shuster. But even though the team felt good about its rationale and decision making, it didn't make the loss any easier. Bronze isn't the medal the defending champs came to Beijing for.

"Everybody dreams of coming to the Olympics and winning a gold medal," Shuster said. "You lose the semifinal, and that dream ends. You lose in the round robin, that dream ends. It sucks, but I also have been part of a team that's lost this game and had to come back and play for a bronze. And I knew exactly how we handled it to get ourselves ready to come and win that bronze and I think we'll probably draw from that experience."

That team was Shuster's first of five Olympic teams, when he was the lead on a team skipped by Pete Fenson at the 2006 Games in Torino. The U.S. lost its semifinal that year to Canada — ironically, skipped by Brad Gushue, who returned as Canada's skip for 2022 and will face Shuster in the bronze-medal game — but rebounded to beat Great Britain and win the first curling medal for the United States.

Playing for any Olympic medal is still a special opportunity and one that both Hamilton and Shuster said the team will be ready and excited for.

"It's definitely a bit of a disappointment after winning gold last time but these guys are awesome, I'd go out on the ice with these guys anytime, any day of the week." said Hamilton. "I'm excited for tomorrow."
Want to follow Team USA athletes during the Olympic Games Beijing 2022? Visit TeamUSA.org/Beijing-2022-Olympic-Games to view the competition schedule, medal table and results.
Todd Kortemeier is a sportswriter, editor, and children's book author from Minneapolis. He is a freelance contributor to TeamUSA.org on behalf of
Red Line Editorial, Inc.