Curler Chris Plys Exudes Joy In Return To Olympic Winter Games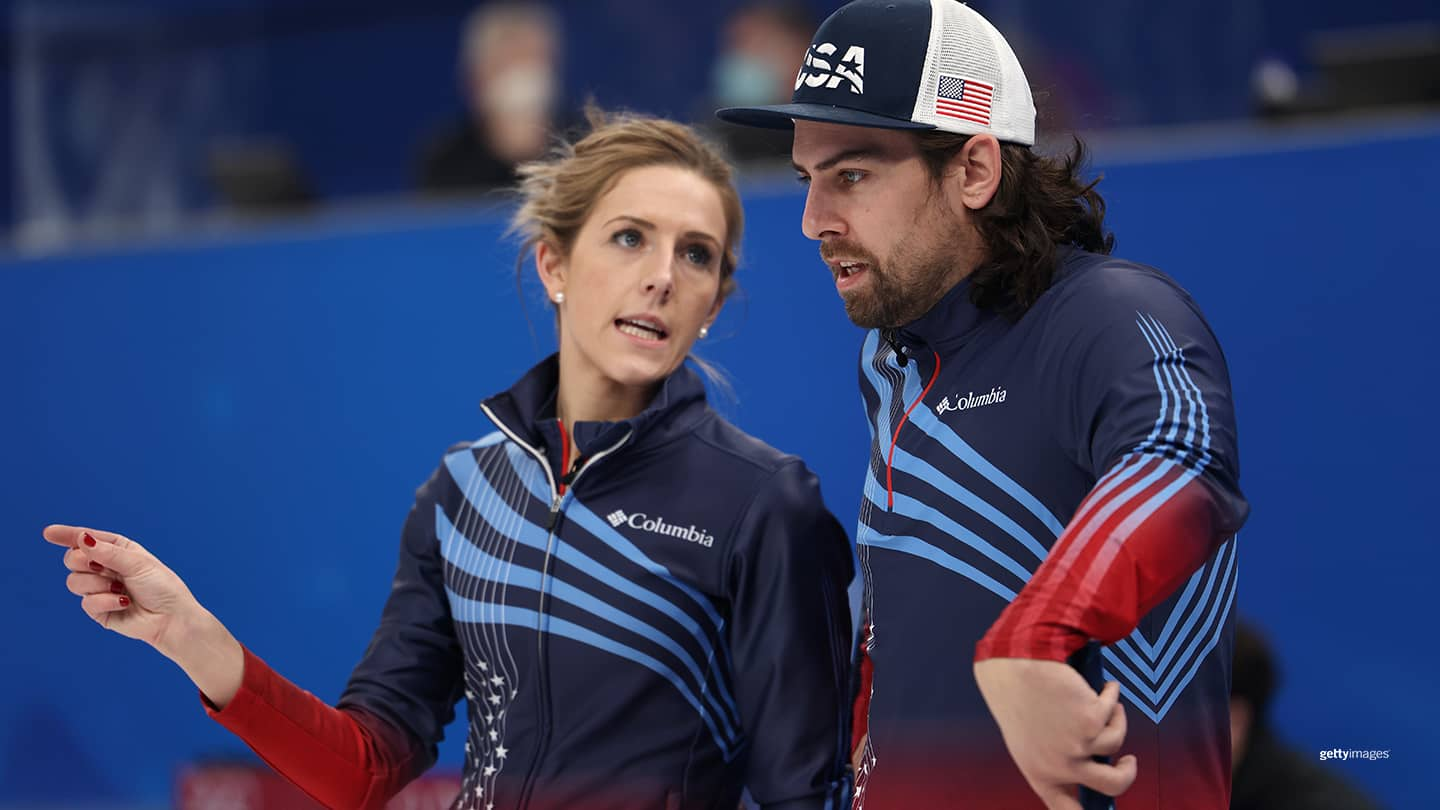 (L-R) Vicky Persinger and Chris Plys during the curling mixed doubles round robin match against the Czech Republic at the Olympic Winter Games Beijing 2022 on Feb. 6, 2022 in Beijing.
BEIJING — Back in October, Chris Plys took the first step on his return to the Olympic Winter Games when he and partner Vicky Persinger won the U.S. Olympic Team Trials for Mixed Doubles Curling.

In the afterglow of that result, the veteran curler felt relief.

"I've been grinding at this freaking game for a long time," he said that night in Eveleth, Minnesota, not far from his hometown of Duluth.

You don't get back to the Olympics after 12 years without grinding. Few curlers ever even get a second appearance, let alone after that much time. And the 34-year-old has spent more than 20 years of his life in the sport.

"Had a lot of heartbreaking losses at trials," Plys continued, "and just to finish one off feels about as good as I hoped it would."

Even back when he made his Olympic debut in 2010, Plys didn't get the satisfaction of winning the Olympic trials. Then 22 years old and skipping his own team, Plys was a multi-time junior national champ but finished eighth at the Olympic trials.

Instead, he got the call to join newly minted skip John Shuster's team as an alternate in Vancouver. Shuster was coming off a bronze medal as the lead for Team Fenson in 2006, the first curling medal of any kind for the United States. Playing time for Plys appeared unlikely.

However, the team struggled to a 10th-place finish and Plys got to come in at skip for Shuster in a game, in the process becoming the youngest Olympic curler in U.S. history.

Along the way Plys became a minor celebrity that year in Vancouver. Tattooed with shaggy hair, he picked up a reputation as the "bad boy" of curling. Entertainment Weekly dubbed him a "Stud of the Day" during the Games. Stephen Colbert called him "the cute one" on the team.

If the future looked bright for Plys, though, reaching that potential was a test of patience.

The next Olympic quad brought tragedy off the ice. Plys' father Patrick — fans may remember him as the face-painted superfan in Vancouver — died in 2012 after battling brain cancer for 17 years. One of Plys' tattoos reads, "I Choose Joy," a phrase of Patrick's from near the end of his cancer fight. The motto also inspired Project Joy, a charitable program the family created to feed hungry children.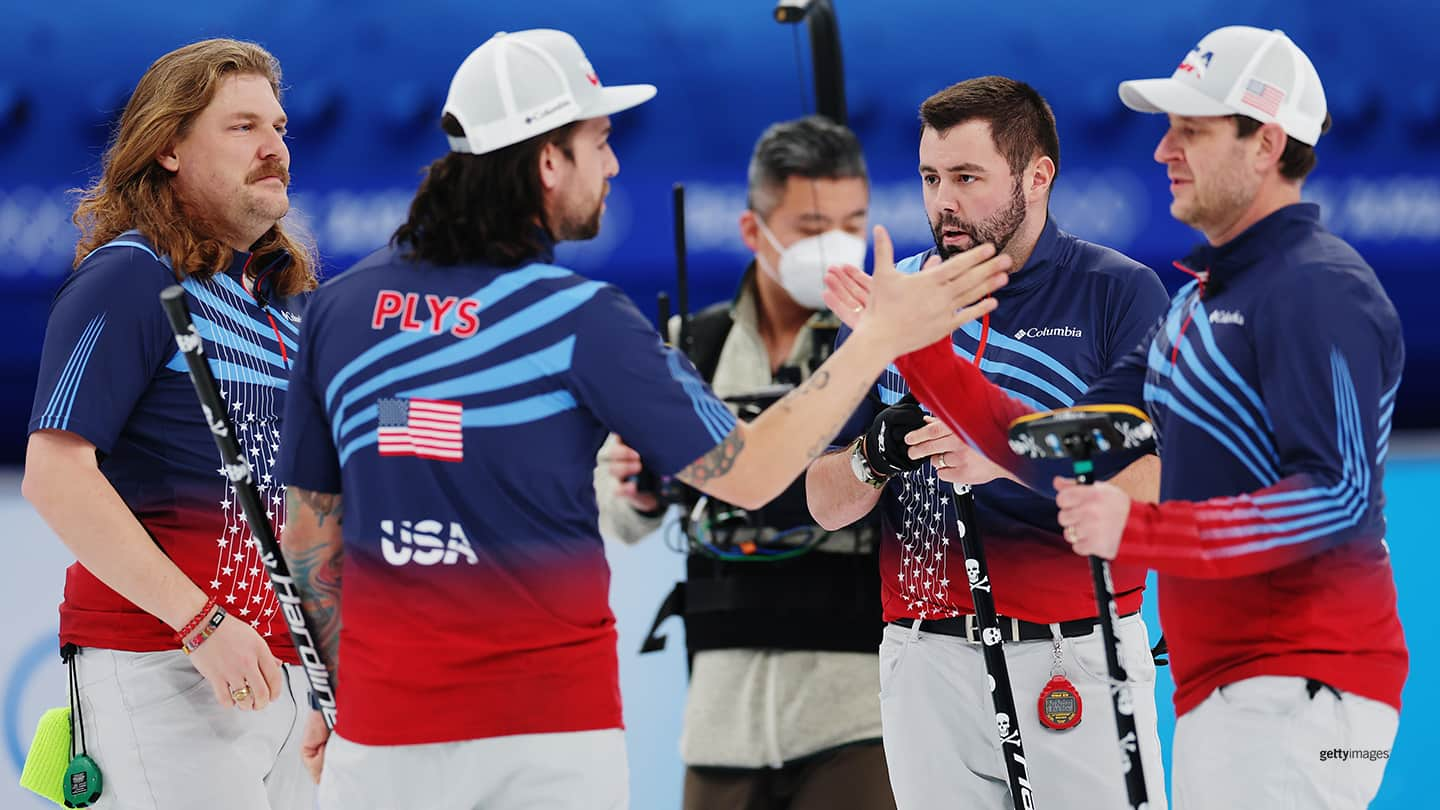 (L-R) Matt Hamilton, Chris Plys, John Landsteiner and John Shuster after the men's round robin match against Team ROC at the Olympic Winter Games Beijing 2022 on Feb. 9, 2022 in Beijing, China.
Plys joined up with Tyler George for the next Olympic trials, for Sochi, where they got a little closer to the top of the mountain with a fourth-place finish. Four years later Plys played third on Heath McCormick's team in 2017. This time they reached the best-of-three final against Team Shuster. But after the McCormick rink won Game 1, Shuster's squad came back to win the next two and earn another Olympic berth.

Shuster's team, consisting of George, Matt Hamilton and John Landsteiner, went on to win gold at the Olympic Winter Games PyeongChang 2018.

When George opted to retire as a gold medalist, Shuster and Co. needed a replacement. There was just one name the team considered: Chris Plys.

It was a natural fit; Plys had experience playing with Shuster, Hamilton and George, and Plys was from Duluth, like Shuster and Landsteiner. The players had known each other for years.

"Chris Plys is an unbelievable curler," Shuster said in November at the men's Olympic trials. "He was a pain in our butt in the finals last time, so I know he's going to be hungry to be here in the final and to go and get a win."

And win Team Shuster did, beating a team skipped by Korey Dropkin — Plys' teammate in 2017 — in three games, again in a comeback after dropping Game 1. Plys by then had already won the mixed doubles trials, but the journey wasn't quite complete. He and Persinger had to go to the Netherlands in December to qualify their Olympic spot, and they promptly went undefeated. Suddenly Plys was competing in two events at the Games.

In Beijing, Plys was again a fan favorite, bringing the Team USA faithful along with him on social media at an Olympics otherwise inaccessible to fans. Plys shared his sense of humor and personality before, during and after the Games as people again found themselves falling in love with the quirky sport of curling. And that was while he was busy pulling double duty with Persinger and with his men's team.

The full-circle, storybook ending to Plys' return to the Games would have been one of medals. Instead, Persinger and Plys were eliminated after round-robin play, and Team Shuster fell in the men's bronze-medal game. But Plys learned long ago that no athlete is guaranteed such things.

"I've worked really hard with my sports psychologist over the last handful of years," Plys said in Beijing. "My career leading up to my time with John was chock full of disappointment. I believe I developed a certain grit and a certain way of looking at things to be able to move past things that I can't control anymore."

Shortly after Persinger and Plys were eliminated from their tournament, Plys was asked how he would move on from that disappointing loss to rejoining Team Shuster to help defend a gold medal.

"The only time I've really played back-to-back major tournaments was this last year and we were fortunate enough to win both of them," Plys said. "So, I've just been riding high since May, basically."
Todd Kortemeier is a sportswriter, editor, and children's book author from Minneapolis. He is a freelance contributor to TeamUSA.org on behalf of
Red Line Editorial, Inc.