Kristen Santos On Short Track Team: "We Have More Than Proven Ourselves"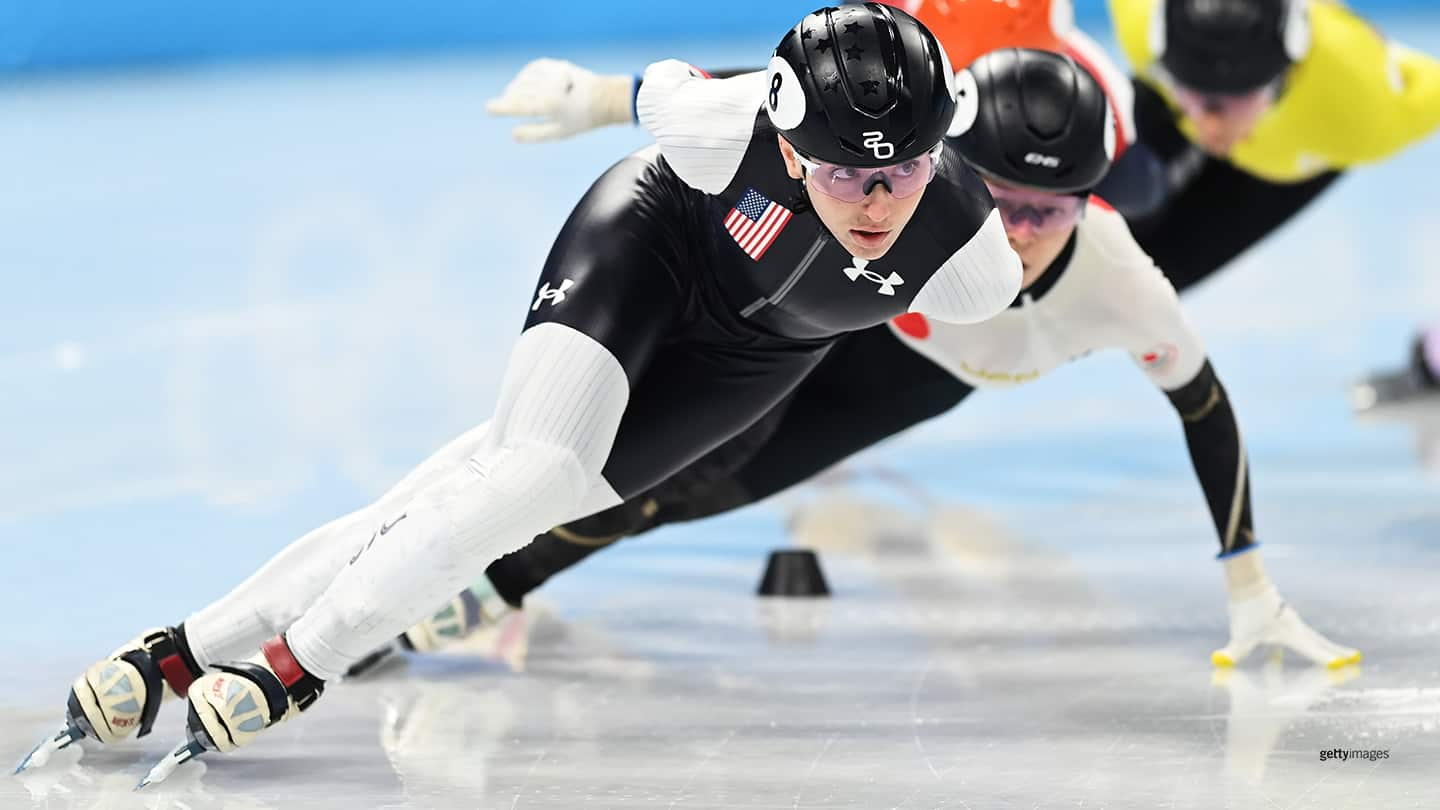 Kristen Santos skates during the women's 1500-meter semifinals during the Olympic Winter Games Beijing 2022 on Feb. 16, 2022 in Beijing.
BEIJING — Penalties, sudden crashes, random luck — to an outsider, short track can seem chaotic, occasionally even cruel.

To its athletes, well, it seems that way sometimes, too.

"There have been things out of my control at these Games that have kept me off the podium, off of what I know I am capable of, twice if not three times," Kristen Santos said after placing ninth in the women's 1,500-meter at Capital Indoor Stadium on Wednesday, the final day of short track at the Olympic Winter Games Beijing 2022.

"It's going to take a little time for me to fully reconcile with that," she added. "But while I'm disappointed with how the results turned out, I'm not disappointed in myself. Luck was not on my side this Games. I have always been someone who works in every race not to rely on luck, and that's why. I want to earn my positions."

South Korea's Choi Minjeong, winner of the 1,500 in PyeongChang, repeated as gold medalist on Wednesday, taking home her third medal of these Games. Arianna Fontana of Italy won silver, her third medal in Beijing, while Suzanne Schulting of the Netherlands took bronze, her fourth medal here.

Meanwhile, Santos, Team USA's top medal contender heading into the Games, contemplated her fourth-place finish in the 1,000 meters, when a crash with Fontana late in the race dashed her medal hopes. Also in her thoughts: the mixed relay and the penalty that took Team USA out in the semifinals; and the women's 500-meter, where Santos drew a penalty in her quarterfinal heat.

"You can't predict what's going to happen, there is a lot of uncertainty in (short track)," the 27-year-old from Fairfield, Connecticut, said. "That's what keeps it so exciting. While right now, in my shoes, that uncertainty and things out of your control keeping me off the podium is heartbreaking, it's part of the sport."

Santos won her 1,000-meter quarterfinal heat in routine fashion to advance to the semifinals with the third best time. For Team USA's Corinne Stoddard and Julie Letai, both in Quarterfinal 2, it was trickier: as they raced together, Letai was jostled by Germany's Anna Seidel, who tried a pass. Stoddard placed third in the heat while Letai advanced after Seidel earned a penalty.

"I led the whole race, and I wasn't penned until the end, so that was good," Stoddard, 20, said. "But it ended up hurting me and putting me in the very hardest semifinal possible. The odds were definitely stacked against me in that one."
Want to follow Team USA athletes during the Olympic Games Beijing 2022? Visit TeamUSA.org/Beijing-2022-Olympic-Games to view the competition schedule, medal table and results.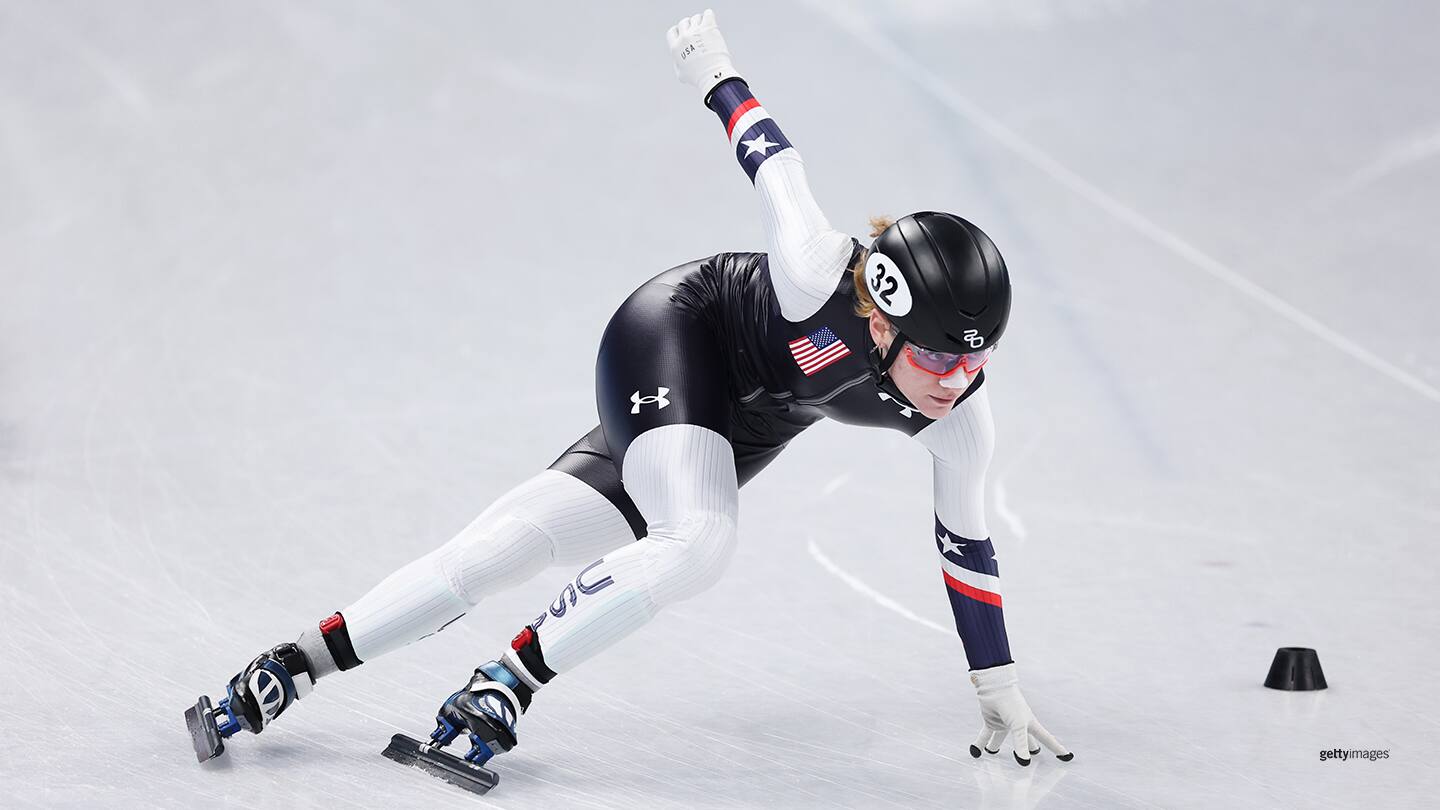 Corinne Stoddard skates during the women's 1500-meter quarterfinals during the Olympic Winter Games Beijing 2022 on Feb. 16, 2022 in Beijing.
Stoddard, who hails from Tacoma, Washington, placed sixth in her tough semifinal heat and did not advance.

"I wanted to at least make it to the B final, and it didn't happen," she said. "But I was right there with the world's best, so I can't be disappointed with that."

"Overall, I'm happy with this Olympics, it went pretty well for me," she added. "Getting seventh in the 1,000 was something I didn't expect at all. I felt really good tonight, it just didn't work out for me like I know it could have."

Letai, who also did not advance out of her semifinal, was happy to be competing in the 1,500 meters at all. Thirty-six skaters made the initial cut, but when one turned up injured, Letai got the nod.

"I got word an hour before the event I would actually be doing the 1,500," she said. "So, I was going off adrenaline. … I was an underdog. I feel really happy with the progress I showed, but obviously I have a lot more to go."

The 21-year-old from Medfield, Massachusetts, called her feelings about her sport "a love-hate relationship."

"There are times when you have breaks that go your way, and that's an amazing feeling," Letai said. "Then there are times when they don't go your way. That's something our team has been dealing with a lot, but we've shown resilience through all of that. … It can feel so frustrating when, no matter what you do, you can't get the results you want, but it always turns around."

As for Santos, she led much of the way in her semifinal heat, but collided with Hungary's Petra Jaszapati, who drew a penalty. Santos had to settle for the B final, where Japan's Sumire Kikuchi broke away from the slow-moving pack and lapped the other skaters.

With Team USA leaving Beijing without a short track medal for the first time since 1998, Santos assessed the team's performance.

"I think we have more than proved ourselves this Olympics," she said. "We have just missed the podium multiple times now, especially due to things out of our control. In the 1,000, we were the only country to have three women make it into the finals. In the 1,500, we had three women make it to the semifinals. That says something about how strong we are."
Lynn Rutherford is a sportswriter based out of New York. She is a freelance contributor to TeamUSA.org on behalf of
Red Line Editorial, Inc.