After A Tough Season, Olympic Medalist Chris Mazdzer Is Happy With Eighth In Men's Luge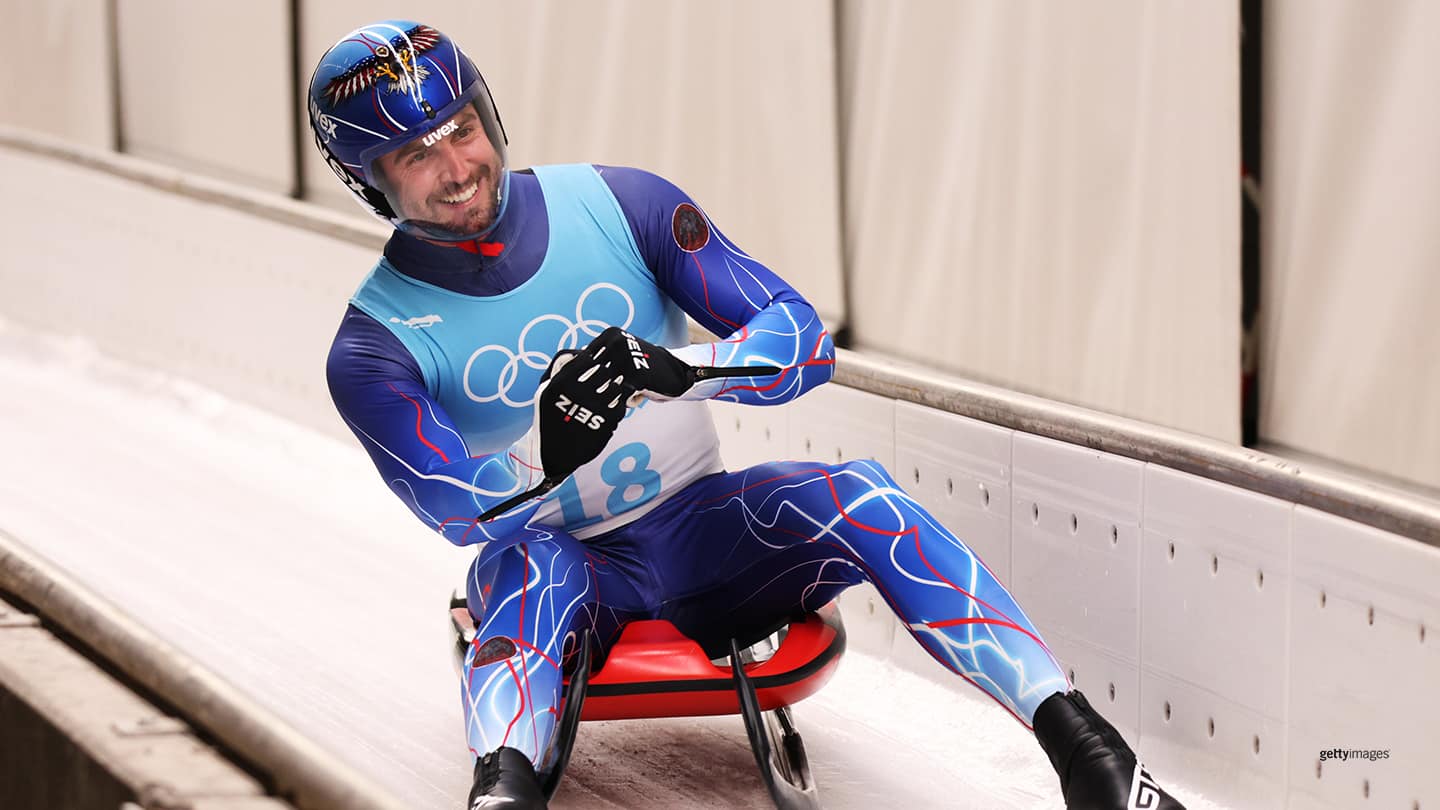 Chris Mazdzer reacts while sliding during the Men's Singles Luge at the Olympic Winter Games Beijing 2022 on Feb. 6, 2022 in Yanqing, China.
BEIJING — Chris Mazdzer did not know what to expect coming to his fourth Olympic Games. He had had a tough year. Even though he was the 2018 Olympic silver medalist, no one expected anything from him in men's luge at the Olympic Winter Games Beijing 2022.

But the 33-year-old slider put together four solid runs and ended up eighth. It was his second-best Olympic performance in men's singles in his four trips to the Games.

"I just wanted to put down a great performance, and I really felt like I did," he said, exuberant after the race. "That was pretty sweet. It's great to just to go for it and finish off with good runs."

Germany's Johannes Ludwig won his second Olympic gold medal and first in men's singles with a combined time of 3:48.735. In the cold dry air of Beijing's Yanqing zone, the 35-year-old German set the track record on his first run on Saturday, then broke it Sunday on his third run.

Austria's Wolfgang Kindl stayed in silver-medal position the entire competition and finished with a time of 3:48.895. Dominik Fischnaller from Italy held off two-time Olympic gold medalist Felix Loch for the bronze in 3:49.686.

Ludwig won a bronze at the 2018 Olympic Games behind Mazdzer. But the German was heavily favored to win the 2022 Olympic gold medal after taking the overall men's singles world cup title this year.


Mazdzer original goal for his fourth Olympic Winter Games was to win medals in men's singles, doubles (with teammate Jayson Terdiman), and the team relay.

But back in September, while training on the 2014 Olympic track in Sochi, he hit an ice fin that had built up on the track and badly broke his foot.

He flew back to Lake Placid, New York, had surgery on the foot, and lived temporarily with his parents in nearby Saranac Lake. His wife Mara held down the fort back in Salt Lake City with their infant son Nicolai, who was born in April 2021.

Unable to slide for weeks, Mazdzer finally flew to China in November to train on the Yanqing National Sliding Centre, site of the 2022 Olympic luge and bobsled competitions. The track is new, and due to the COVID-19 pandemic, none of the world cup sliders had seen the track.

And it's unique. Lugers read tracks by the pressure they feel in the curves, and the Yanqing track — with its more open curves and slower speeds — made them feel almost blind. They did not feel the same G-forces in the curves that they are accustomed to.

Yanqing hosted the season's first world cup. But Mazdzer did not qualify to compete in either singles or doubles.

His best singles result was 17th at the Altenburg World Cup in mid-December. He ended the world cup season ranked 22nd overall, two places behind teammate Jonny Gustafson and one head of Tucker West.

Mazdzer fared better in doubles with Terdiman. The two helped the U.S. claim a silver medal in the team relay at the Yanqing World Cup.

But when no U.S. doubles team met Olympic qualification criteria, it came down to a race-off in early January. Mazdzer and Terdiman were leading the race until they suddenly crashed near the bottom. Teammates Zack DiGregorio and Sean Hollander qualified for the 2022 U.S. Olympic Team instead.

To honor Terdiman, Mazdzer wore his doubles helmet with an eagle on it for the singles race.
Want to follow Team USA athletes during the Olympic Games Beijing 2022? Visit TeamUSA.org/Beijing-2022-Olympic-Games to view the competition schedule, medal table and results.

Mazdzer did meet the qualification criteria in singles and hoped that Olympic magic would strike again. In 2018, he had not had his best world cup season either.

But he struggled to learn the Yanqing track until his final training run — the night that the 2022 Games opened. In that run, however, he lost control. His sled hit the track's roof before deflecting down to the opposite wall where he took the impact with his neck and shoulder. He skipped the Opening Ceremony to receive treatment for his injuries and remarked that he was lucky to be racing at all.
After the first night of competitive sliding (the first two of four total runs), Mazdzer tried to avoid the same issue again and instead lost time after he was thrown into a skid.
"Tomorrow," he stated, "I just have to commit and not be scared to go all out."
He did just that. At the top of the track before his final run, the emotions hit him, and he cried. But he was also excited. He had had fewer runs on this new track than most of his competitors, yet he had salvaged what is likely his final Olympic Games.
"It was a terrible year for me," he admitted. "But I put it all together at the Olympics. I made some hard decisions and persevered and overcame obstacles, and it's a pretty awesome way to finish."
But he is not quite finished yet. Mazdzer will likely compete for Team USA in the relay on Wednesday.
Also Sliding For Team USA In Beijing
Tucker West, 26, who has struggled with equipment all season, finished 13th — his best finish in three Olympic Winter Games. From Connecticut, West's father famously built a luge run in the family's backyard when West was young. The Wests recently sold that house but the new owners, a young family, have reportedly kept up the homemade run.

First-time Olympian Jonny Gustafson, 24, managed to stay in the top 20 after his third run despite a tough start (only the top 20 sleds moved into the fourth and final heat). In his fourth run, he moved up to finish 19th overall.

A two-time U23 world championship bronze medalist, Gustafson was the top-ranked U.S. men's singles luger this season and has a bright future in luge.

"It could have been better, it always can be better, right?" said Gustafson. "But I was here, I was able to compete, I can't take that away from myself."
An award-winning freelance writer based in Vermont, Peggy Shinn is in Beijing covering her seventh Olympic Games. She has contributed to TeamUSA.org since its inception in 2008.