USA Luge Athletes Are Optimistically Looking Towards The Winter Games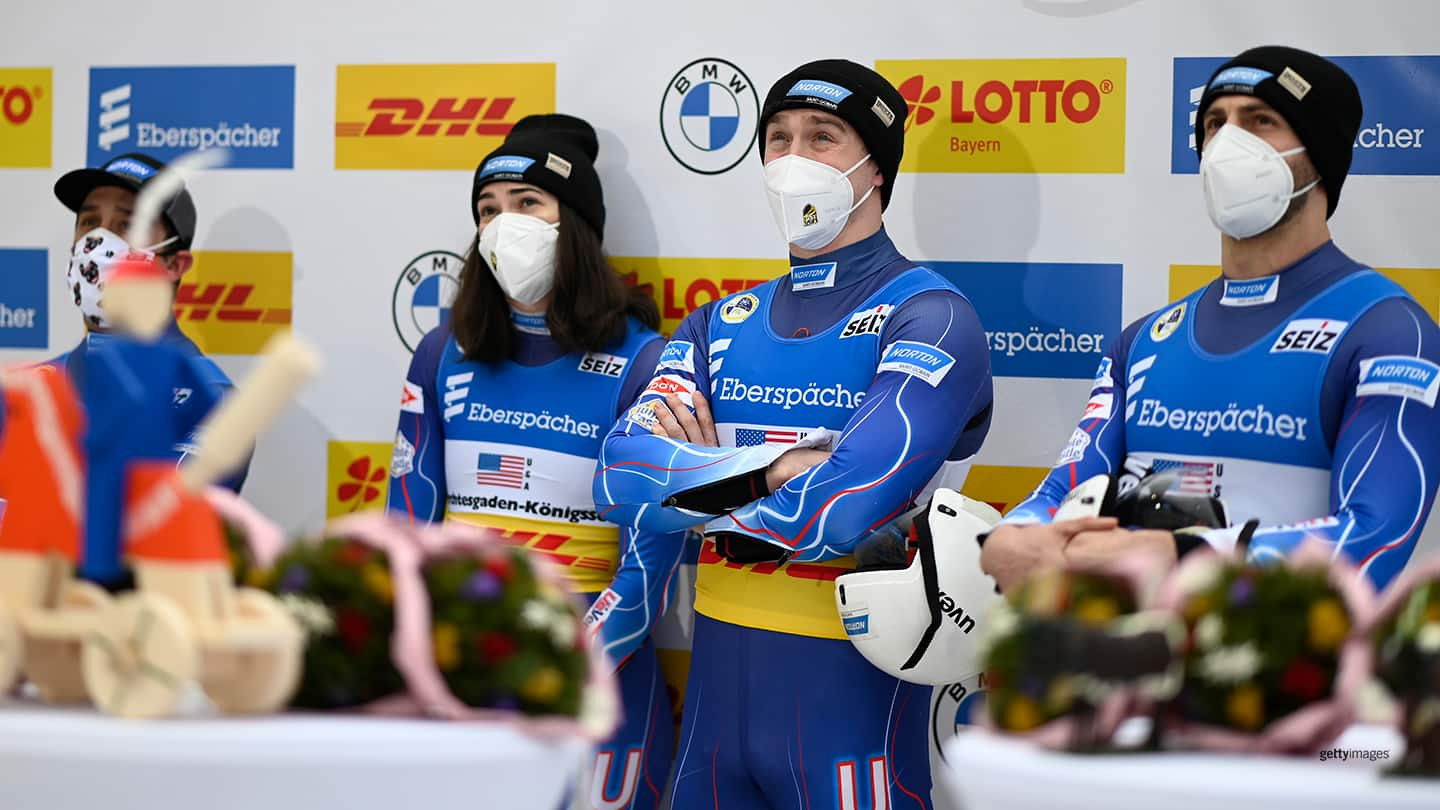 Summer Britscher, Tucker West, Chris Mazdzer and Jayson Terdiman react after the team relay competition during the 50th FIL Luge World Championships 2021 on Jan. 31, 2021 in Koenigssee, Germany.
The FIL Luge World Cup is just past its halfway point this season, and USA Luge sliders have yet to celebrate as many podium finishes as they have had in recent seasons. Most of the athletes are still striving to meet USA Luge's 2022 Olympic qualification criteria.

Despite many challenges, the program is far from a downward slide. Two-time Olympian Summer Britcher won a silver medal in the sprint race in Sochi, Russia, in early December.

And in the first team relay this season — held on the 2022 Olympic track — Ashley Farquharson, Tucker West, and the doubles team of Chris Mazdzer and Jayson Terdiman won a silver medal. It was Farquharson's first world cup medal (in only her second full season on the senior world cup tour).

It's a sign of better days to come — in both world cup racing and at the Olympic Winter Games Beijing 2022. The team relay is a particular focus this year.

Here's a glimpse of USA Luge's season to date.


As two-time Olympian Tucker West said in a Zoom press conference this week, "there's no lack of challenges [for the team] this year.
Some highlights, or rather, lowlights: Mazdzer broke his foot in training in late September. The 2018 Olympic silver medalist is the only man competing on the world cup in both singles and doubles this season, plus the team relay. But so far this season, he and Terdiman have had fewer than 50 runs together on the doubles sled, and his best singles finish to date is 17th.
"We're working every day," said Mazdzer. "It's a constant process of just trying to get a little bit better. There's no time off. It's just go go go."
Then heading to a two-week training session on the 2022 Olympic track in November, two-time Olympian Summer Britcher was isolated after a false positive Covid-19 test taken at the Beijing airport shortly after she landed. She was hustled off to an isolation facility.
"I thought right then in that moment, okay, my Olympics are essentially over, I'm not going to get a chance to train here at all," said Britcher.
She was able to finally train on the Olympic track, then race there at the season's first world cup. But the whole process sent her reeling. She is still trying to regain her mental footing — and qualify for her third Olympic team. She scored a silver medal in the Sochi World Cup sprint in early December. But her best singles results to date are a string of 10th-place finishes.
Then after that world cup on the Olympic track, 30 sleds were held in Chinese customs, meaning several USA sliders, including Olympic hopeful Jonny Gustafson, were without their equipment for the next world cup races. They slid on borrowed sleds from other countries — like driving someone else's Formula 1 car.
And the American men have had issues with the equipment that they have had.
"Clean runs and fast starts get us pretty much 20th place at this point," said West. "We're throwing Hail Marys left and right trying to figure out how to fix that."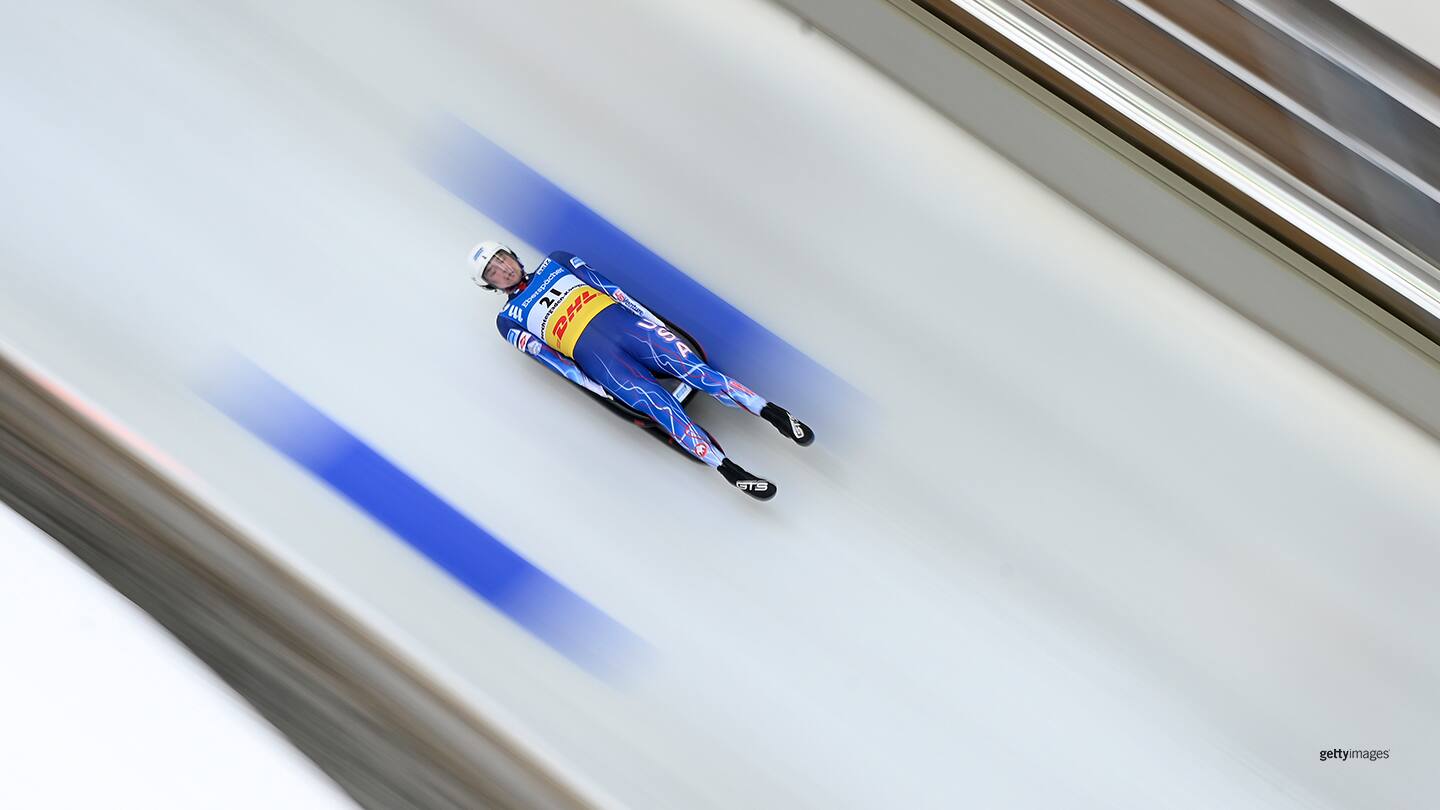 Tucker West competes in the men's singles during the 50th FIL Luge World Championships 2021 on Jan. 30, 2021 in Koenigssee, Germany.
The problems did not ease up as the season moved into December. Emily Sweeney missed two world cups in Sochi, plus a sprint, because she is a member of the U.S. Army's World Class Athlete Program and a U.S. Department of Defense mandate prevents military personnel from entering Russia. The 2018 Olympian instead trained on European tracks, but it was difficult to miss the Sochi races.

"All that kept going through my mind were zeroes, just knowing I had zero opportunity to get the qualification we need for the Olympic team," said Sweeney.

For all the problems, the team sees positives.

"The medal in the relay in China was a big plus," added West. "It showed us that the potential is there."

Then Sweeney finished fifth in women's singles at the Altenberg World Cup in mid-December.

"I was able to come back from [missing Sochi] and get my A Tier [qualification for the 2022 Olympic Games] and really have been showing some speed," Sweeney said. "So I'm excited about that looking forward."

With a sixth place finish in the Igls World Cup last weekend, Sweeney met the qualification criteria to make her second U.S. Olympic team.

Of note: USA Luge has qualified the maximum of three men and three women, plus one doubles team to compete at the Beijing Winter Games. Only Austria, Germany, Latvia, and the Russian Olympic Committee have qualified more athletes, with two doubles teams each. USA Luge athletes are trying to lock up those spots.
Now the Good News —
Relays
USA Luge's best chance for a medal at the Beijing Games is likely the relay, an event that includes a female and male slider, plus a doubles team. Teams slide serially, and the team with the fastest combined time wins.
U.S. sliders have been strong in team relays since the discipline debuted at the 2014 Olympic Winter Games. Although the team finished sixth in Sochi, they were only 0.103 of second from the podium at the 2018 Olympic Winter Games. Two years later, at the 2020 world championships, the team of Britcher, West, and Mazdzer/Terdiman captured the bronze medal.
The discipline is one of the reasons Terdiman, who turned 33 years old this week, stuck around after the 2018 Olympic Winter Games. He wanted to help his teammates win world cup, world championship, and Olympic medals in the team relay.
The 2022 Olympic track is long — about 5 seconds longer than most of the other tracks on the world cup circuit — and USA Lugers are known for their good driving skills down the world's luge tracks.
"[The long track] is going to give us an advantage for the team competition where three sleds — a woman, a man, and a doubles team — have to be perfect for almost three minutes total," explained Mazdzer. "I feel that's where our strength is going to lie on Team USA."
The American sliders proved this at the season's first world cup team relay — held on the 2022 Olympic track. It was a total surprise for Mazdzer and Terdiman, who were not even supposed to take part in that relay because they had not qualified to compete in the world cup doubles competition the previous day. The younger doubles team of Dana Kellogg/Duncan Segger had fared better. But those athletes gave the relay spot to Mazdzer/Terdiman so the duo could get more experience on the Olympic track.
"Taking [silver] at the world cup here in China in the team event was shocking to say the least," Mazdzer posted on Instagram.
"Such crazy waves of emotions this weekend from absolute despair to being on top of the world," he continued. "This definitely helped boost our confidence and is a great way to end a rough two weeks."
A few weeks later, in the second relay this season, USA Luge claimed fourth on the Altenberg, Germany, track. This time, the team consisted of Sweeney, West, and Mazdzer/Terdiman, who had moved from 23rd to 13th in the doubles competition the previous day.
"I'm very proud of the way we quickly got the sled (and ourselves — mentally) back under control and proceeded to throw down our two best runs of the week," Terdiman posted on Instagram.
"Yes, we squandered an opportunity to get our first top ten of the year, but we are working really hard on our sliding right now and I'm glad to say that we are starting to look and feel much better on the sled. We are still fighting this uphill battle to be qualified and ready for Beijing and we are facing these challenges head on."
He likely spoke for the whole U.S. team by ending his post with, "We are ready to keep attacking, GAME ON!"
The United States will nominate its 2022 Olympic team after the Sigulda, Latvia World Cup weekend, slated for Jan. 8-9. The U.S. Olympic and Paralympic Committee will officially announce all Olympic teams Jan. 22-25.
An award-winning freelance writer based in Vermont, Peggy Shinn has covered six Olympic Games. She has contributed to TeamUSA.org since its inception in 2008.