Olympic Veterans Lead USA Luge This Season, While Changes In Doubles Headline The Sport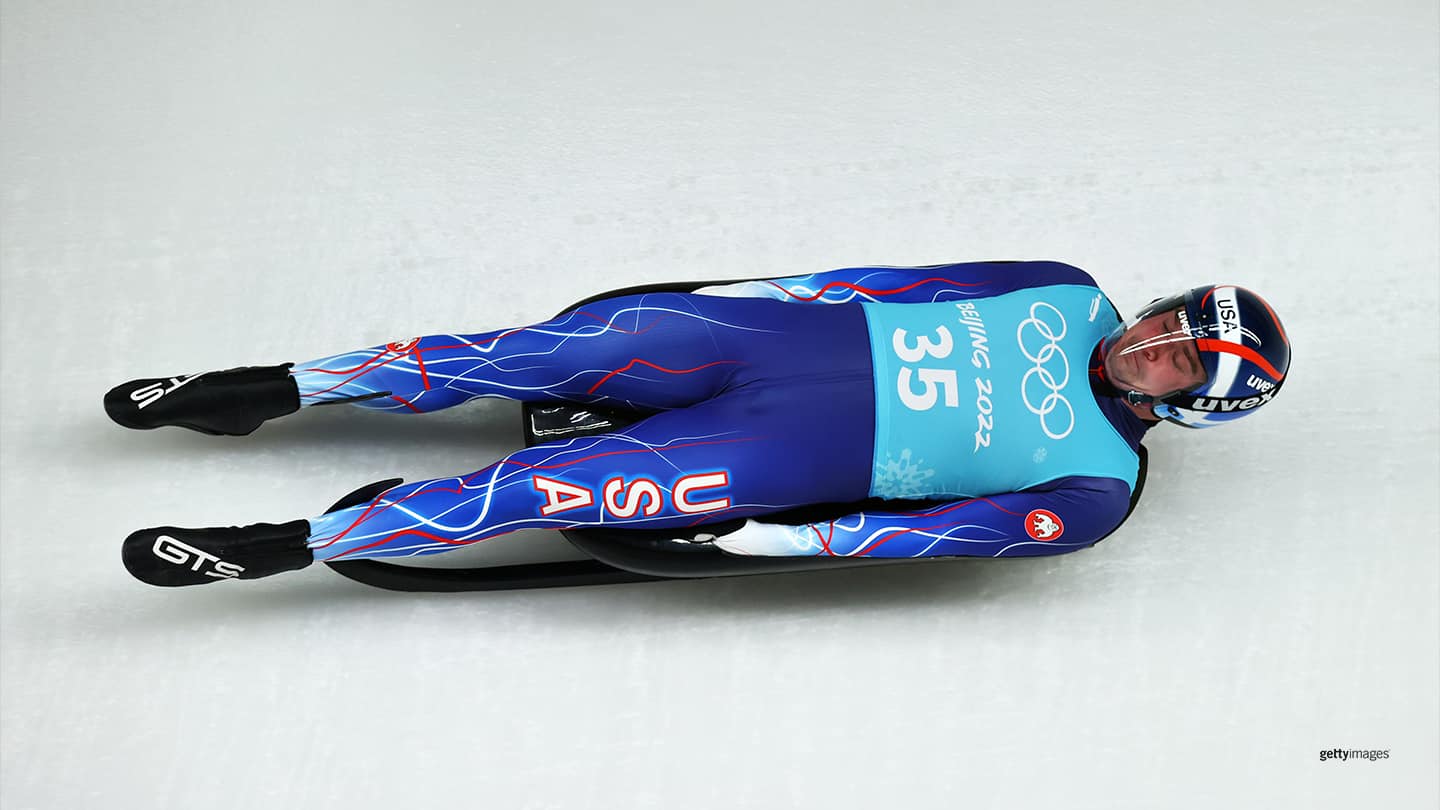 Tucker West slides during the men's singles training run ahead of the Olympic Winter Games Beijing 2022 on Feb. 02, 2022 in Yanqing, China.
The names of U.S. luge athletes on the 2022-2023 FIL World Cup tour will look familiar this year. The 2022 Olympians are all returning — Chris Mazdzer, Tucker West, Jonny Gustafson, Summer Britcher, Emily Sweeney, and Ashley Farquharson — as is world cup and world championship veteran Brittney Arndt.
There is one minor change in singles. After spending the past three seasons competing in both singles and doubles, Mazdzer — who won an Olympic silver medal in 2018 — is focusing just on singles again. His doubles teammate, Jayson Terdiman, retired and is now a development coach for USA Luge.
Mazdzer is also stepping back this season, training at home in Utah (rather than at USA Luge headquarters in Lake Placid, New York), skipping several world cups, and spending more time with his wife and 18-month-old son Nico.
In doubles luge, the big news is the addition of women's doubles to the senior world cup. And the U.S. is the only country fielding three women's doubles teams on the world cup this season.
U.S. Women's Doubles Teams Bring
Experience
While four of the six women sliding in doubles for USA Luge this season are new to the senior world cup, two have plenty of experience.
In early November, Olympic veterans Summer Britcher and Emily Sweeney announced that they would compete as a doubles team this year (in addition to sliding singles). And they are eager to see where they stack up in world cup competition.
"It's been really cool to be learning and growing when you've been in sport for 16 years, or 40 years like Emily," said Britcher, joking about her teammate's long luge career.
Sweeney is also excited about the new challenge. The doubles sled is very different than singles. But they have learned to use their experience.
"There's a reason that we've been able to be successful as singles athletes," she said. "Bringing those strengths to doubles has been really fun and challenging. It's also been fun to have someone on the sled with me, too."
Britcher and Sweeney will join Chevonne Forgan and Sophie Kirkby, and Maya Chan and Reannyn Weiler, who are making their debuts on luge's senior world cup circuit. [Last season's women's doubles world cup was wrapped into the junior world cup circuit and then tacked onto the end of the 2022 junior world championships.]
Forgan and Kirkby are 2022 world championship bronze medalists, and Chan and Weiler finished fourth overall in last season's world cup doubles standings (and fourth at 2022 world championships).
"It's super exciting for me to get in all the action and participate in what I've been seeing on TV for years," said Kirkby of luge's senior world cup tour.
In addition to their world championship bronze, Forgan, 22, and Kirkby, 21, finished on the podium in two world cups last season.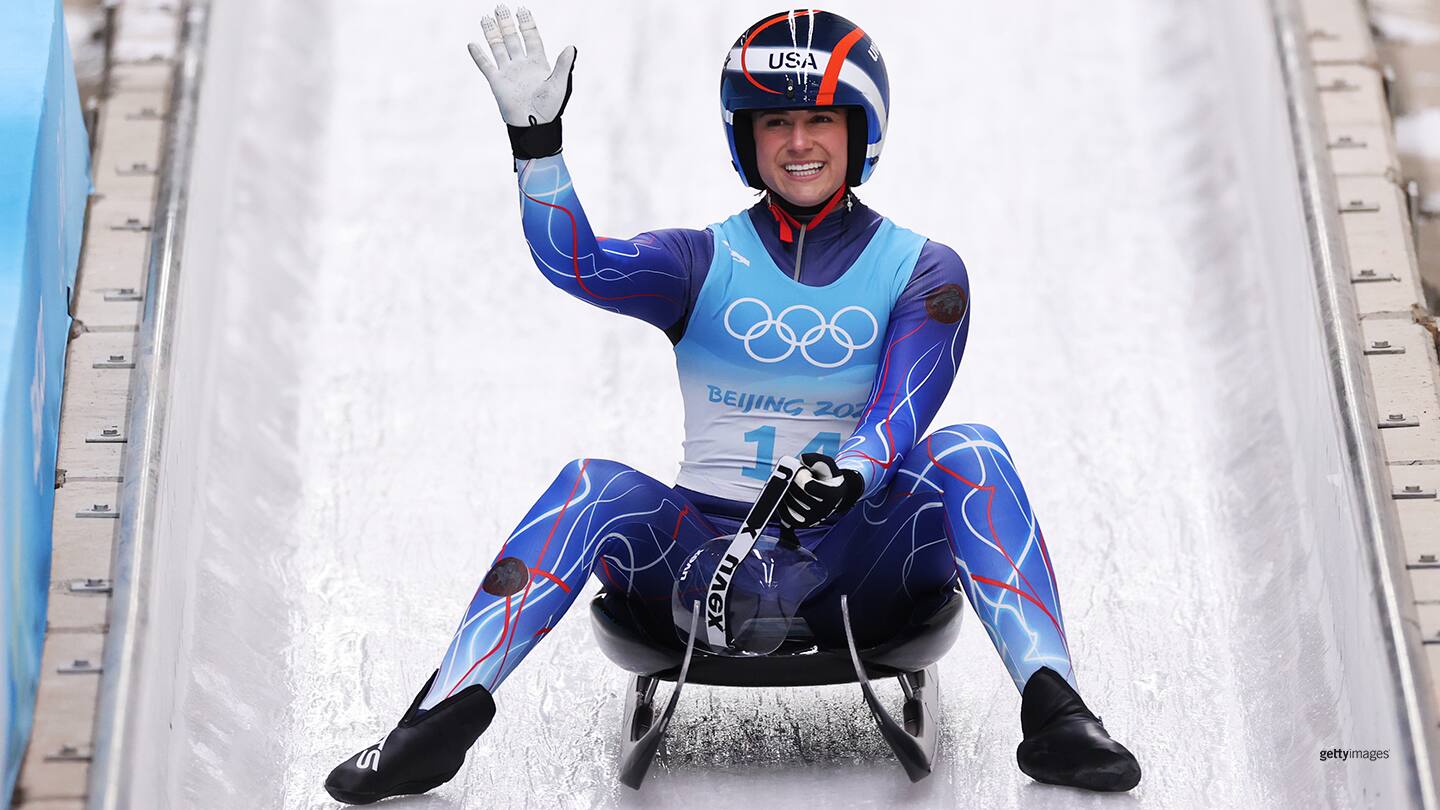 Emily Sweeney reacts after her women's singles luge run 3 during the Olympic Winter Games Beijing 2022 on Feb. 08, 2022 in Yanqing, China.
As for Chan, 19, and Weiler, 20, they recently celebrated five years sliding together as a doubles team. Last season, the duo won three bronze medals on the women's world cup circuit. They also finished fourth at the 2020 Youth Olympic Games.
"Maya and Reannyn have been training together for years, and me and Chevonne have been doing doubles the last three years, so we've had a little head start compared to the countries that are just putting girls on ice [in doubles] now," explained Kirkby.
The U.S. women hope to hold their advantage when women's doubles luge makes its Olympic debut at the 2026 Winter Games. But they know competition will become tighter as those Games approach.
"It is definitely going to be a different world this year," said Kirkby. "We have more people [sliding] now that we have that official Olympic title to this category. So it's just going to be a different playing field with all the new competitors."
Women's doubles luge will start from the men's doubles start. It will be the first time that men and women start races — other than the team relay — from the same start. In singles, the women push out of a lower start ramp than the men. And until this year, women's doubles started at the even lower junior start.
"We are very excited to be moving up starts because it's the reason we do this sport," said Forgan. "It's for the adrenaline and for the excitement, and going from these starts, we will have more speed and more pressure."
For Britcher, the world cup debut of women's doubles and the new start location are a step forward for the sport of luge. She has long advocated for men and women to push from the same start in singles, so the change in the women's doubles start is a move in the right direction.
"Seeing the push for gender equality from the IOC and the USOPC, and having women's doubles included in the 2026 Olympics," said Britcher, "it's just something that I want to be a part of."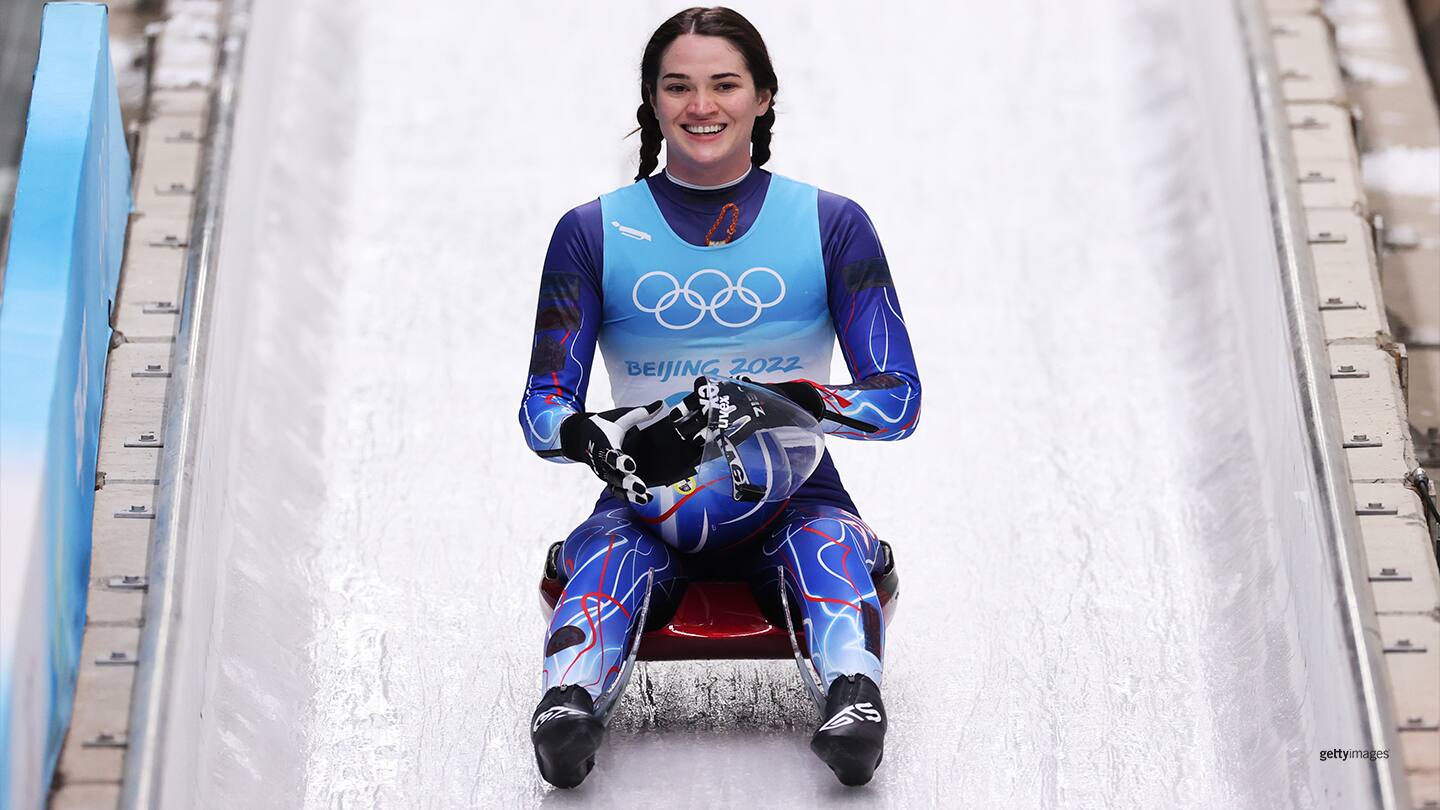 Summer Britcher reacts after her women's singles luge run 3 during the Olympic Winter Games Beijing 2022 on Feb. 08, 2022 in Yanqing, China.
Men's Doubles Gain
Experience
Women's doubles races will run with the men, so Britcher/Sweeney, Forgan/Kirkby, and Chan/Weiler will join USA Luge's two men's doubles teams in the start houses on race days.
Dana Kellogg and Duncan Segger, both in their early 20s, have been doubles teammates since 2016. Sean Hollander and Zack DiGregorio, also in their early 20s, have less doubles experience than Kellogg and Segger; they paired together in the fall of 2020. But they earned the right to compete at the Olympic Winter Games Beijing 2022 last season.
In Beijing, they finished 11th in doubles and helped the U.S. claim seventh in the team relay. The duo hopes to carry the momentum from those Games into the 2022-3023 season.
"Those were really high-pressure environments, and we learned a lot about ourselves and about our sliding," said DiGregorio. "Now it's just bringing confidence for the next four years going into 2026."
"It's not our first season anymore," added Hollander. "We actually have some runs on all the tracks. So it's going to be fun."
The other big news in doubles is the standardization of the sleds. Until this year, luge sleds were crafted individually. Now every team will order sleds and parts from one manufacturer (that has no connection to any particular team), and the sliders will not be able to modify the sleds. The idea is to level the playing field.
The standardized sleds are lower to the ice and more stable and secure, explained Segger.
"It's just a completely different game," Segger added. "The sleds feel a lot different this year, so we'll see what happens."
"It was a little bit of a scramble," added Kellogg, "but I think the sleds have shown speed so far. We're just excited to get it going to see how we stack up against the rest of the field. It's going to be very interesting."
The FIL Luge World Cup starts on December 3 in Igls, Austria, then returns to North America for a stop in Whistler, Canada, on December 9-10, then to Park City, Utah, for a world cup on December 16-17.
After the New Year, the world cup moves to Europe for six more stops and for 2023 world championships, held in Oberhof, Germany, on January 28-29.
An award-winning freelance writer based in Vermont, Peggy Shinn has covered seven Olympic Games. She has contributed to TeamUSA.org since its inception in 2008.