USA Luge Could Medal In The Team Relay Thanks To A Selfless Teammate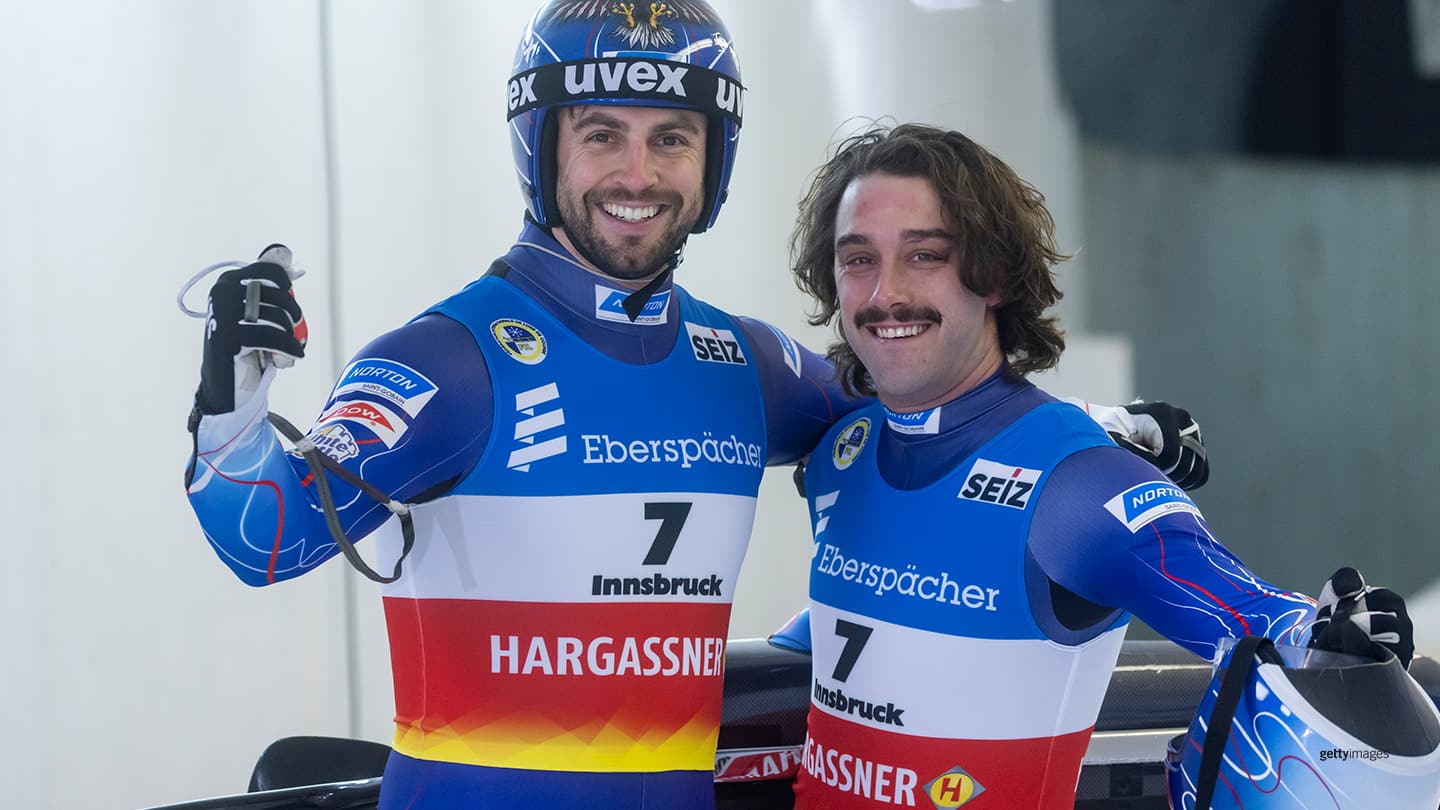 (L-R) Chris Mazdzer and Jayson Terdiman pose after the men's doubles race at the 2021 FIL Luge World Cup on Dec. 18, 2021 in Innsbruck, Austria.
BEIJING — In the past quarter century, USA Luge has brought home six Olympic medals, winning the coveted hardware at every Winter Olympic Games but two.

On a unique "flowy" track at the Olympic Winter Games Beijing 2022, Olympic veterans Chris Mazdzer (2018 Olympic silver medalist), Tucker West, Summer Britcher and Emily Sweeney all have a shot at the podium, as do the first-timers Jonny Gustafson, Ashley Farquharson, and the doubles team of Zack DiGregorio and Sean Hollander, who teamed together just 16 months ago.

But the event where the U.S. is perhaps the strongest is the team relay, scheduled for Feb. 10. In this race, each country's fastest female and male sliders and doubles team race serially down the track, slapping a paddle at the finish to "tag" their team's next sled.

At the Yanqing World Cup in November 2021, the U.S. team won a silver medal here. That team consisted of Farquharson, West, and doubles veterans Mazdzer and Jayson Terdiman.

While Farquharson and West both made the 2022 U.S. Olympic Team (along with Mazdzer in singles), Mazdzer and Terdiman did not qualify for the team. Instead, Zack DiGregorio and Sean Hollander — both age 20 — are making their Olympic debuts here at the Beijing Games.

DiGregorio and Hollander have never competed in a team relay before — although they have practiced. But they have a "secret weapon" and have had a crash course in sliding given by none other than Terdiman himself, a consummate team player who swallowed his disappointment at not making his third Olympic team to help his teammates.

Not only did Terdiman, 33, spend eight days in Park City, Utah, helping DiGregorio and Hollander improve their sliding, he is also letting them use the sled that he purchased earlier this season — the "secret weapon" that he hoped would carry him and Mazdzer to the medal stand in Beijing.

Hollander, among the entire USA Luge team, called Terdiman an "amazing teammate" and noted that adapting to a new sled went "smoother than anyone expected." And the sled, he noted, is faster than the doubles sled that they had been using.

"It meant the world to us," added DiGregorio. "It really showed us what a teammate supposed to be like."


The Olympic Team Race-Off
As the 2022 Olympic qualifying period came to an end this January, no U.S. doubles team had met the qualifying criteria to make the 2022 U.S. Olympic Team. Mazdzer had broken his foot while training in September, so he and Terdiman had missed crucial preseason training.

They were starting to come up to speed as the qualifying period ended and were the highest ranked of the three U.S. doubles teams competing on the world cup this year. But to make the team, they would have finish ahead of their teammates in the Nation's Cup race that preceded the Sigulda World Cup in Latvia in early January.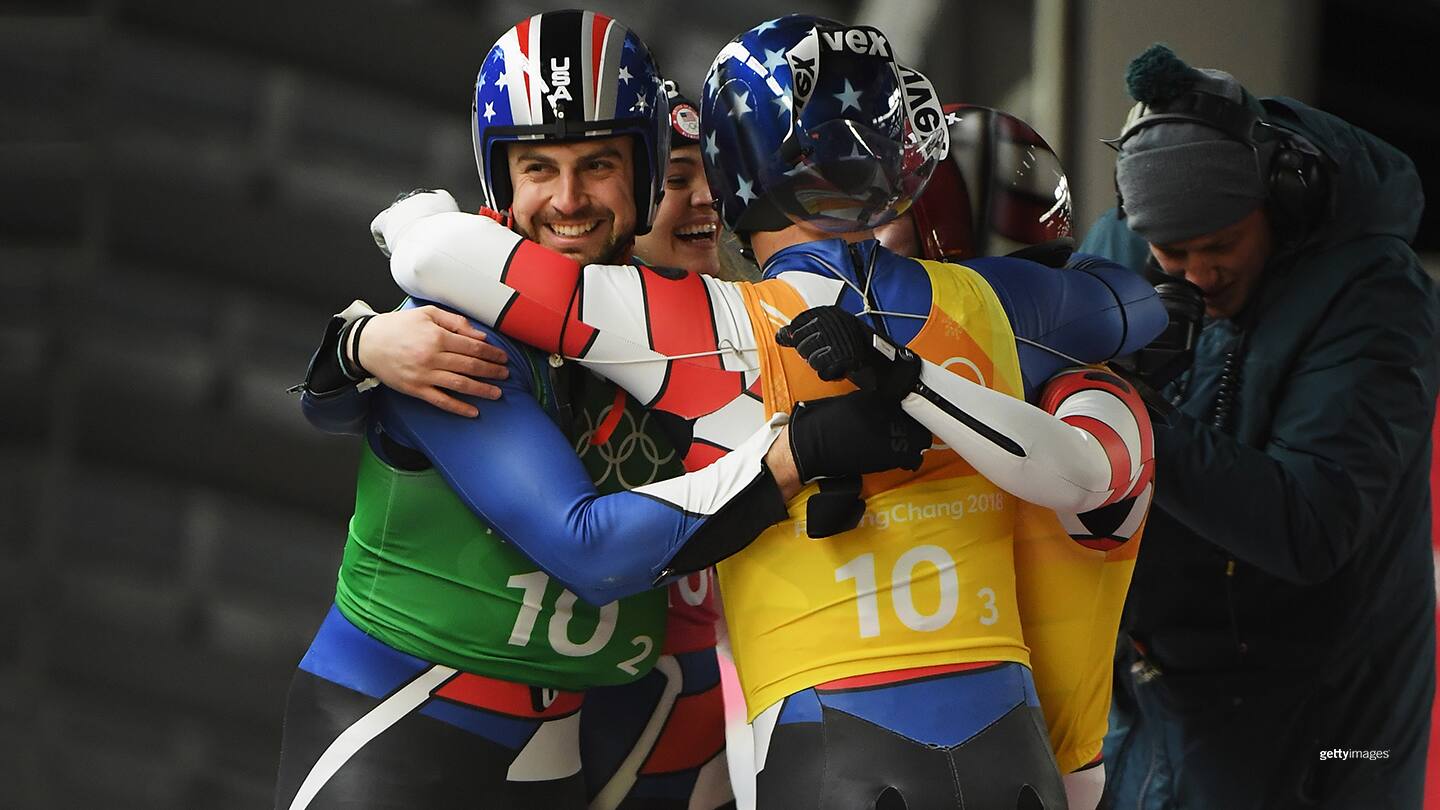 Chris Mazdzer (L) celebrates with teammates Summer Britcher, Jayson Terdiman and Matthew Mortensen after the luge team relay at the Winter Olympic Games PyeongChang 2018 on Feb. 15, 2018 in Pyeongchang-gun, South Korea.
Mazdzer and Terdiman were flying down the Sigulda track, on their way to winning the Nation's Cup race — and making their fourth and third Olympic team, respectively. But then out of character, they made a mistake. Rather than winning the race, they crashed. Mazdzer's hopes of competing in both singles and doubles at the Beijing Games were dashed, as were Terdiman's dreams of medaling in his third Olympic Games.

At the top of the track, awaiting their run, DiGregorio and Hollander heard that their teammates crashed. It had seemed a given that Mazdzer and Terdiman would make the 2022 U.S. Olympic Team. For the past three seasons, they had been Team USA's most successful doubles team. But now the door was open.

"I remember sitting on the handles before that run and just kind of smiling because for us, it was a dream a year and a half ago [to make the Olympic team]," said DiGregorio. "But it wasn't looking too realistic when we were just starting on a doubles sled a year-and-a-half before the Games."

The two put Mazdzer's and Terdiman's crash out of their heads and focused on their own run. Both former singles sliders, DiGregorio and Hollander had paired together in November 2020 because they realized it would be their best route to the world cup and the Olympic Games.

While the Olympic veterans were devastated — and Mazdzer admitted that it took him a while to recover from the disappointment — Terdiman switched his focus to his teammates.

"Within 24 hours, Jayson was like 'Alright guys, here's the sled that I purchased and that I own and I want you guys to be successful,'" said Mazdzer. "'This sled is going to give you the best chance of success, which also means it gives the team the best chance of success.'"


Back to the Sled
Terdiman's sled has changed DiGregorio's and Hollander's outlook on racing. The duo struggled with their own sled all season, finishing the 2021-2022 world cup ranked 26th. Their best finish was 16th place in the Sochi World Cup.

Now they will race on an almost brand new sled that's proven fast. Mazdzer and Terdiman earned a world cup silver medal in the Yanqing team relay in November and finished fifth in a sprint race in Sochi.

The sled has given DiGregorio and Hollander the confidence that they need to compete in the Olympic Winter Games.

"Everything involved in it has just really pushed us so much farther," said DiGregorio. "Once you're on that sled, once you know what it can do, and once you know that you're going to the Olympics, it's just so motivating to me and Sean.

"We felt like we had a pretty hard battle against our sled and everyone in the races the whole season. Now we're very proud of every single part of our sliding including our sled."
Want to follow Team USA athletes during the Olympic Winter Games Beijing 2022? Visit TeamUSA.org/Beijing-2022-Olympic-Games to view the medal table and results.
An award-winning freelance writer based in Vermont, Peggy Shinn is in Beijing covering her seventh Olympic Games. She has contributed to TeamUSA.org since its inception in 2008.