Team USA Moguls Skiers Will Tackle 'Skier's Course' At Winter Games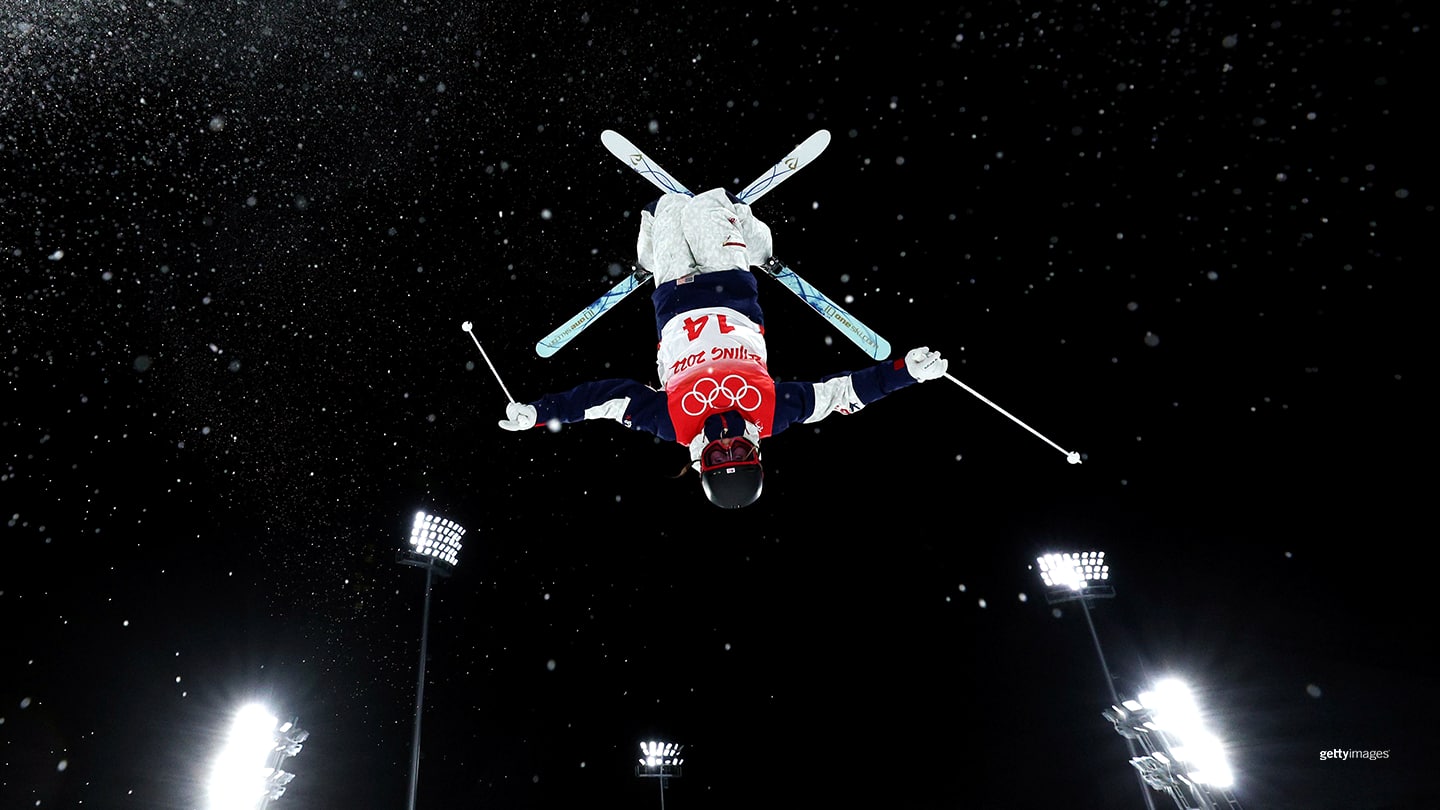 Jaelin Kauf performs a trick during the woman's freestyle skiing moguls training session ahead of Olympic Winter Games Beijing 2022 on Feb. 2, 2022 in Zhangjiakou, China.
There's one thing the U.S. moguls skiers can agree on: the Genting Snow Park course northwest of Beijing could not be better.

It's dry, consistent, firm — overall, not too different from conditions at the world cup and final Olympic qualifier held last month in Deer Valley, Utah.

"It's a challenging course that's actually easy in certain ways, because there's not a lot of odd things happening with changes in pitch throughout the course, or weird jumps," assessed Hannah Soar, who is making her Olympic debut. "It's very well put together, the way Deer Valley is."

"It's not easy to make it down," Jaelin Kauf, a 2018 Olympian, said. "It's a very tough course but similar to Deer Valley in that brings out the best skiing. As our coaches say, it's a skier's course. The best skiing is going to shine on this course, just like it does in Deer Valley."

There's just one thing: it's cold and windy, with temperatures ranging around 15 degrees Fahrenheit.

"We're wearing every layer we have," Olympics rookie Nick Page said.

"I personally have heated socks and heated boots, so I'm pretty prepared," Soar added.

She'll have a chance to use them right away. The men's and women's moguls' qualification rounds are on Thursday — one day prior to the Opening Ceremony — with the men's finals on Saturday and the women going on Sunday.

The three women and four men on the U.S. squad represent an intriguing mix of youth and experience.

At 25, Kauf is the veteran of the women's group. The Alta, Wyoming, native has competed on the world cup since 2016 and has 18 podium finishes to her credit. She finished seventh in the moguls event at her Olympic debut four years ago.

"I felt a lot of pressure from myself (in PyeongChang) that I had to have this amazing performance, or I would disappoint so many people," Kauf said. "But what I learned was everyone was so excited watching me compete at this level, the result didn't really matter to them. So, don't let that pressure affect your performance, and add on to the pressure you put on yourself."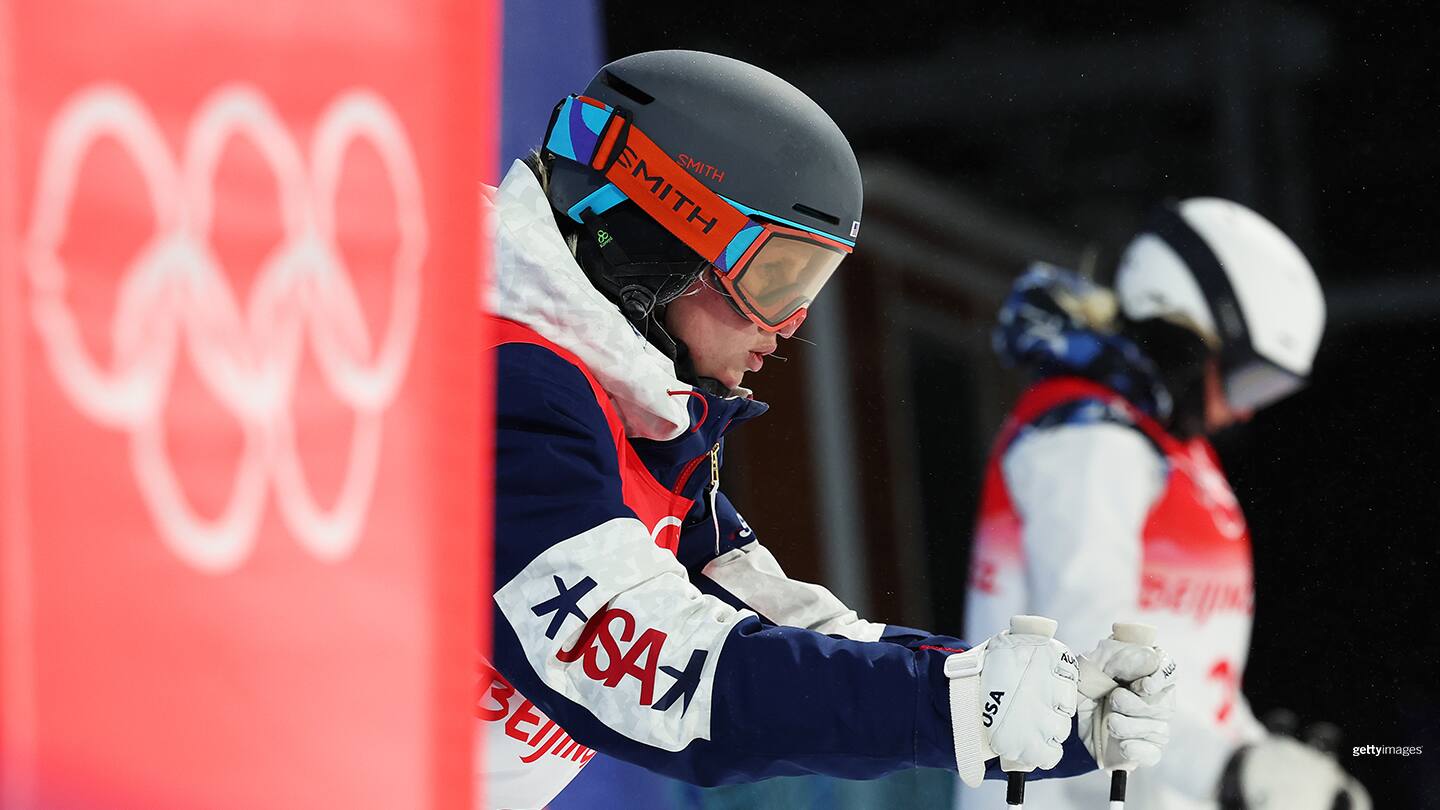 Hannah Soar prepares to ski during the women's freestyle skiing moguls training session ahead of Olympic Winter Games Beijing 2022 on Jan. 31, 2022 in Zhangjiakou, China.
Soar, who hails from Killington, Vermont, leans on advice from her longtime mentor Donna Weinbrecht, the first Olympic gold medalist in women's moguls back in 1992.

"She has talked to me about the Olympics all my life," said the 22-year-old, who has four world cup podiums to her credit. "More recently, she's really stressed just enjoying the moment, taking it all in and being very present, because these moments are fleeting. … It's a big event, obviously, and acknowledge that, but at the end of the day it's mogul skiing. We've skied millions of moguls in our lives, we know how to do it, so just embrace the moment, enjoy it, take all of it in."

The women's event in Beijing is expected to take a giant leap forward, with a far greater variety of tricks performed than even four years ago in PyeongChang. Fellow American Olivia Giaccio, 21, who debuted on the world cup in 2016, recently executed the first-ever cork 1080 by a woman in competition.

"Growing up moguls skiing with my younger brother and this group of boys that were all his age, I followed them off every jump and essentially did everything they did," the Redding, Connecticut, native remembered. "That taught me I could do anything the boys did. That was something I've always tried to live by my entire world cup career. It's been really fun to push the women's side of the sport."
First ever 1080 in women's moguls competition? Yeah that happened 🤩

Watch Olivia Giaccio make a little history in Tremblant this past weekend, pushing moguls skiing forward…🙌 pic.twitter.com/RXEKWvfO6b


— FISfreestyle (@FISfreestyle) January 10, 2022
Page and Cole McDonald bring youthful energy to their first Games. Page, 19, was the 2021 FIS Rookie of the Year, while the 18-year-old McDonald is fresh out of Team USA's developmental program. They join Bradley Wilson, 29, and 28-year-old Dylan Walczyk in Beijing. Wilson, competing in his third Winter Games, is the only U.S. man with Olympic experience.

"My goal was just to get one world cup start this season, but I won a competition at the beginning of the year and ended up competing the whole tour," McDonald said.

McDonald and Page, both of Park City, Utah, credit Wilson as their mentor.

"Brad told me, it's important not to get ahead of yourself at the top of the course," McDonald said. "Don't do more or less than you have in the past. Just trust your natural ability."

"Just understand it's not anything crazy different than what we are used to," Page said. "It's easy to get into that mindset that this is such a massive event that you need to dial all the nerves up, and it's really easy to feel real tense. But if you can just pull from all this wonderful energy the Olympics have to offer, it lends itself to something really special."

While the U.S. skiers have strong chances for high finishes, landing on the Beijing podium will be tough. The men's competition has been dominated by Canada at the past three Games, first with Alex Bilodeau and currently with Mikael Kingsbury. France's Perrine Laffont is the reigning women's moguls Olympic gold medalist and the reigning world champion.

Hannah Kearney was the last American to reach the podium in moguls, winning gold in 2010 and bronze in 2014. On the men's side Bryon Wilson, Brad's older brother, won bronze in 2010.
Want to follow Team USA athletes during the Olympic Winter Games Beijing 2022? Visit TeamUSA.org/Beijing-2022-Olympic-Games to view the medal table and results.
Lynn Rutherford is a sportswriter based out of New York. She is a freelance contributor to TeamUSA.org on behalf of
Red Line Editorial, Inc.