Jaelin Kauf, Olivia Giaccio Lead Team USA In Moguls Qualifiers At Winter Games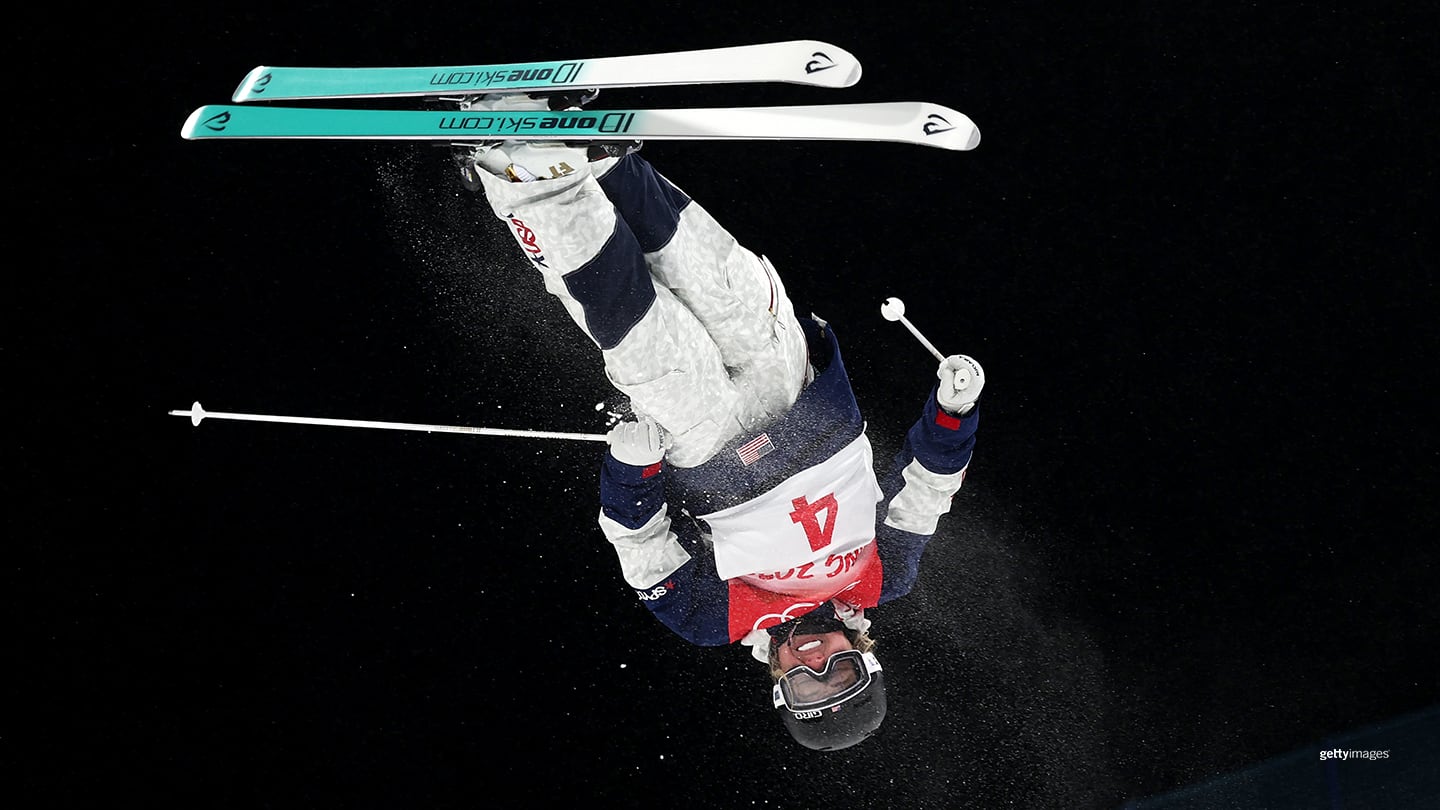 Olivia Giaccio competes during the women's freestyle skiing moguls qualifier at the Olympic Winter Games Beijing 2022 on Feb. 3, 2022 in Zhangjiakou, China.
ZHANGJIAKOU, China – U.S. moguls skiers Jaelin Kauf and Olivia Giaccio led Team USA in the qualifiers Thursday night at the Olympic Winter Games Beijing 2022.

Kauf is the only retuning Olympian on the women's side and showcased a veteran performance during the qualifying rounds at Genting Snow Park.
The 25-year-old scored a 79.15 off a controlled run featuring a backflip mute grab and backflip iron cross to finish third out of 30. This earned Kauf a top-10 finish and an automatic spot into Sunday's final.

"I'm stoked I put a solid top to bottom during the start of the Olympics," Kauf said. "This event, I really want to go out and try to win every round and leave it all out there – 100 percent."

With this being her second straight Games, Kauf is looking to approach the course differently this time, having finished seventh at the Olympic Winter Games PyeongChang 2018.

"I'm going into this Games with such a different mindset," Kauf said. "The last Olympics, I was going in ranked No. 1 and had so much pressure on myself, mostly from myself. I didn't do everything I had to there, but this time I have some familiarity with competing at the Olympics on this big of a stage and know all that pressure was put on by myself, and it didn't have to be there."

Giaccio, 21, finished right behind Kauf in fourth, scoring a 78.11 off a clean sprint with a back full at the top jump and cork 720 at the bottom.

The Redding, Connecticut, native had the honor of being the first freestyle skier to hit the slopes at the Beijing Games.

"I'm really thankful to be here, happy to be skiing and I'm just so excited," the first-time Olympian said. "It's definitely fun being the first [freestyle skiing] event. I saw in the run order today that I would be the one to kick it off for Team USA for the entire Games, so that was pretty cool, too."

U.S. teammate Hannah Soar, 22, finished in seventh, joining Kauf and Giaccio in the finals. Team USA's Kai Owens, 17, didn't compete in the first qualifier due to a face injury sustained in training Tuesday night. Depending on her medical team's evaluation, Owens may still compete in the second qualifier Sunday evening.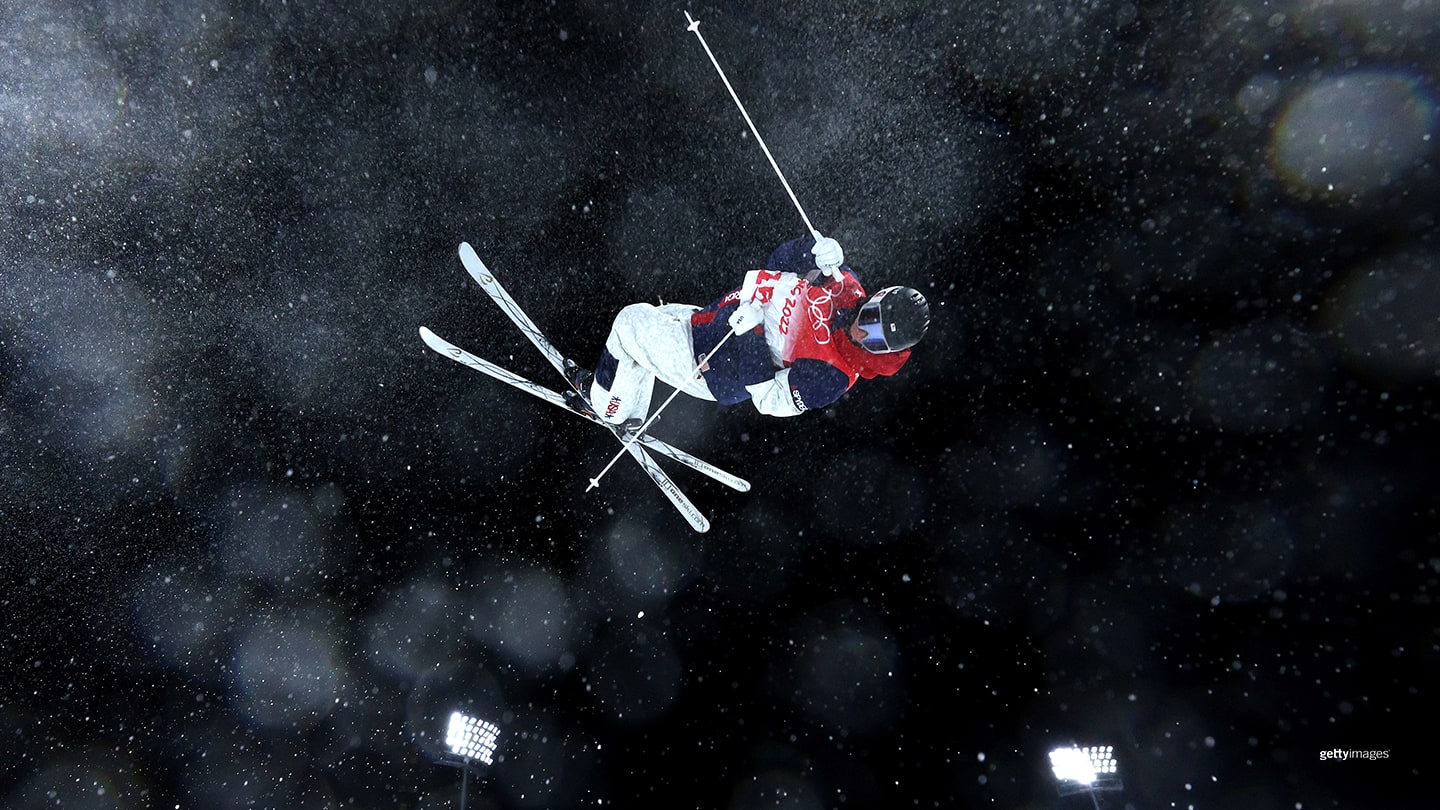 Cole McDonald performs a trick during training session ahead of Olympic Winter Games Beijing 2022 on Feb. 2, 2022 in Zhangjiakou, China.
On the men's side for Team USA, Cole McDonald and Dylan Walczyk earned their spots in the finals after finishing fifth and 10th, respectively. McDonald advanced off a 76.27 featuring a back full and 1080, while Walczyk nailed a backflip mute grab and cork 720.

McDonald noted how happy he was with his first-ever Olympic run but knows there's things to improve on heading into the final round. The 18-year-old hails from Team USA's development program and has surged to the world's biggest stage on his journey to Beijing.

"At the start gate, I felt super good up there, really calm, not too nervous," said the Park City, Utah, native. "I was really happy with that top jump, I thought I landed and skied out super well. The middle section felt great, very few breaks in there. The only flaw in that run I felt was that bottom air, [I] came by and up on the tails a little bit but overall, really happy with my first Olympic run."

And while the fifth-place finish earned McDonald a spot to the final, keeping his cool has been one of his strongest traits so far here at the Winter Games.

"I literally had dreams of me standing in that start gate before," McDonald said. "Luckily, I've been doing a bunch of sports phycology and stuff like that. It really calmed me down up there."

Fellow teammate Walczyk, who also made his Olympic debut today, expressed his nervousness as well, stating that he "didn't train that run [in the qualifiers] until today," because his original, more technical run could have resulted in a fall.

"I had my heart set on doing bigger tricks in the qualification round, so I pushed really hard to do that and it was going well," Walczyk said. "And then yesterday, it just wasn't working out and I thought, 'I know I'm going to be nervous tomorrow, and I'm going to stick with what I know, what I can do, and ski a really solid first round and then go from there.'"

Bradley Wilson, who is competing in his third consecutive Olympic Winter Games, failed to score after losing control on the moguls in the middle section of the course. He and teammate Nick Page, who finished 21st with a 70.71, will have their chance in the second qualifier.

The U.S. moguls team continue action this weekend, as the men's qualifiers continue Saturday at 5 a.m. ET with the men's finals following at 6:30 a.m. ET. The women follow the same time frame, resuming Sunday at 5 a.m. ET with second-round qualifiers and 6:30 a.m. ET finals.
Want to follow Team USA athletes during the Olympic Winter Games Beijing 2022? Visit TeamUSA.org/Beijing-2022-Olympic-Games to view the medal table and results.
Justin Limoges is a 2020 sports communication graduate from Bradley University, originating from Newport, Vermont. He is a digital media assistant for Team USA.