Kristen Santos-Griswold Scores Short Track World Cup Silver Medal In Women's 1,000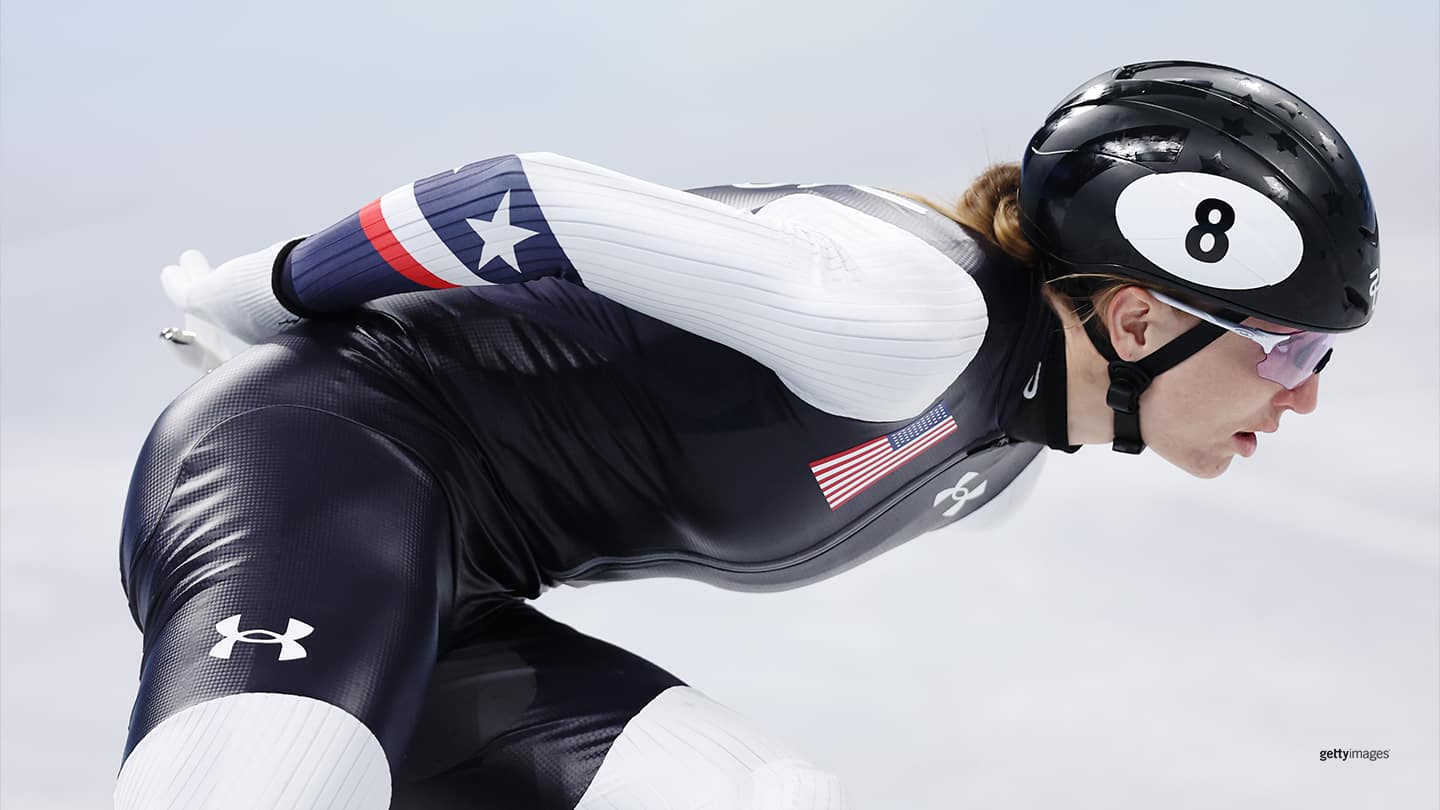 Kristen Santos-Griswold competes during the women's 3000-meter relay semifinals during the Olympic Winter Games Beijing 2022 on Feb. 09, 2022 in Beijing.
Kristen Santos-Griswold, who is the most decorated U.S. skater in short track world cup competition this season, added her first silver medal Sunday in the women's 1,000-meter race at Almaty, Kazakhstan.
Santos-Griswold turned in a time of 1 minute, 30.615 seconds to finish second behind Suzanne Schulting of the Netherlands. Schulting, the overall world cup points leader, crossed the finish line in 1:30.593.
The podium finish was the sixth of the world cup season for Santos-Griswold, who had previously won five bronze medals, including one in the 500 last week in Almaty. She also had a pair of individual second-place finishes and a first-place relay finish earlier this season at the ISU Four Continents Championships.
Santos-Griswold was the only U.S. medalist in Almaty. She nearly reached another podium in the 1,500 as well, finishing fourth with a time of 2:44.351.
She reached the 1,000 final by winning her quarterfinal heat and then placing second to Schulting in the semifinals.
Santos-Griswold had thought about retiring after making her Olympic debut last winter in Beijing. An unlucky crash late in the 1,000 left her in fourth place, just off the podium in Beijing. Instead, she is focused on skating toward the Olympic Winter Games Milano Cortina in 2026. After four world cup stops, Santos-Griswold is in fourth place in the overall women's standings with 490 points.
Corinne Stoddard, a 2022 Olympian who won her first individual world cup medal last week in Almaty with a third-place finish in the 1,000, finished fourth in the women's 500 in 43.481 seconds. Schulting took the gold medal in 43.123 seconds.
The world cup pauses until Feb. 3-5, 2023, when they compete in Dresden, Germany.
Bob Reinert spent 17 years writing sports for The Boston Globe. He also served as a sports information director at Saint Anselm College and Phillips Exeter Academy. He is a contributor to TeamUSA.org on behalf of
Red Line Editorial, Inc.