Kristen Santos-Griswold Grabs Three World Cup Medals On Home Ice In Utah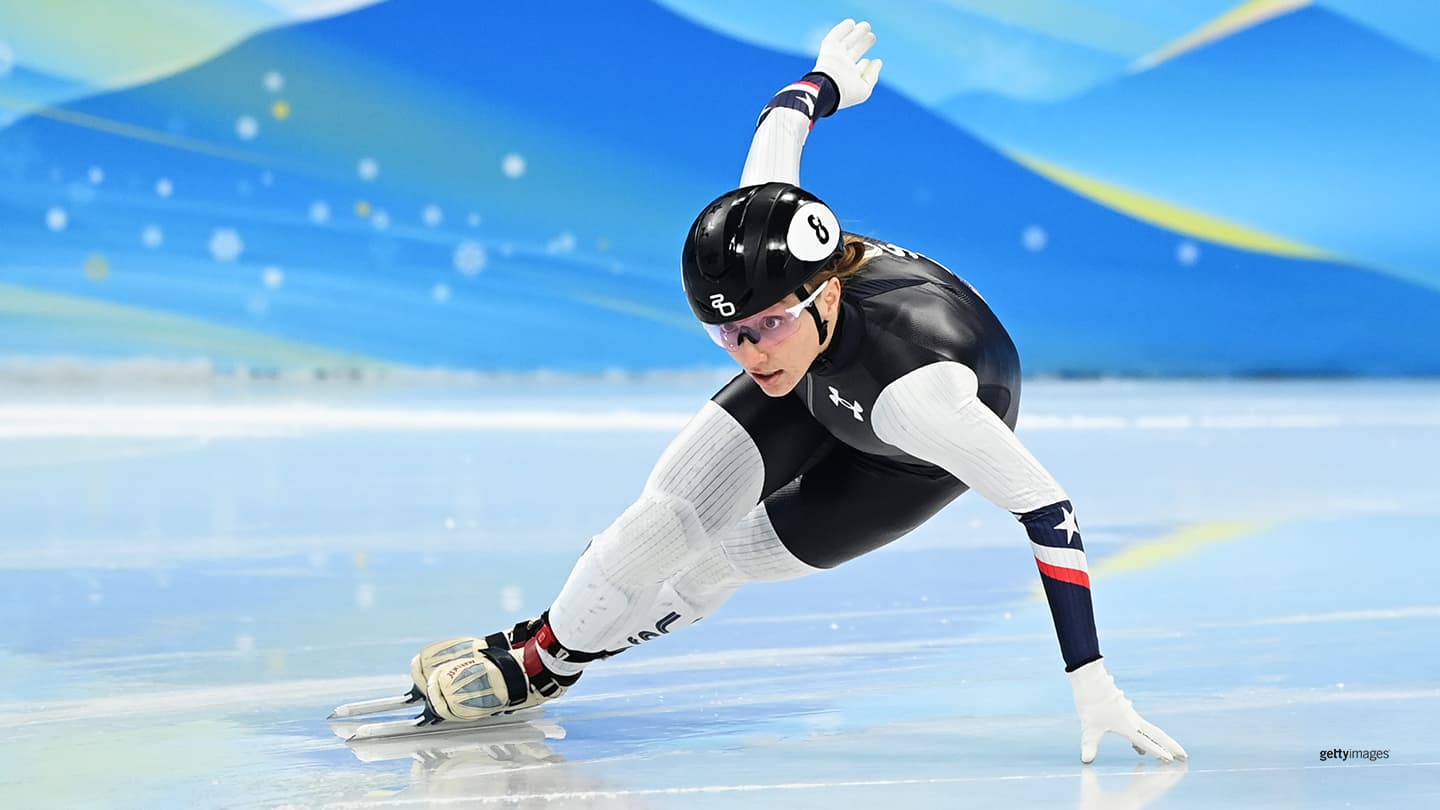 Kristen Santos-Griswold competes during the women's 1,000-meter semifinals at the Olympic Winter Games Beijing 2022 on Feb. 11, 2022 in Beijing.
Competing on home ice, U.S. short track speedskater Kristen Santos-Griswold collected three bronze medals over the weekend in an ISU World Cup event at the Utah Olympic Oval in Kearns, Utah.

One week after winning a bronze medal in the women's 1,500-meter at the season opener in Montreal, Santos-Griswold finished third in the 500, 1,000 and 2,000 mixed relay.

In the 500-meter final Saturday, Santos-Griswold, a 2022 Olympian, crossed the line in 43.170 seconds, behind only Kim Boutin of Canada and Natalia Maliszewska of Poland. American teammate Corinne Stoddard finished just off the podium in fourth place, showing in 43.243 seconds.

Santos-Griswold and Stoddard joined Andrew Heo and Brandon Kim to win a bronze medal in the mixed relay. The U.S. posted a time of 2:37.687 and finished behind China and South Korea, the current world-record holder.

The Americans capitalized when Suzanne Schulting of the powerhouse Netherlands squad fell while her team was solidly in the lead. Schulting, the two-time defending Olympic champ in the women's 1,000, had broken the world record Friday in that event.

"Winning a medal with your teammates is so much better," Santos-Griswold told the ISU after the relay race. "USA short track is on the up."

On Sunday, despite being clipped from behind and crashing short of the finish line in the 1,000 final, Santos-Griswold was awarded the bronze medal on a penalty.

The 28-year-old Santos-Griswold, a Connecticut native now living in Utah, increased her career world cup medal count to 11. Stoddard, who had a pair of fourth-place finishes in Montreal, won the second world cup medal of her career, with both coming in relays.

Heo, the only 2022 Olympian on the U.S. men's world cup team, and Kim brought home world cup hardware for the first time.

The U.S. remains on home ice next weekend for the ISU Four Continents Championships at the Utah Olympic Oval. The three-day event begins Thursday.

The world cup resumes Dec. 9-11 in Almaty, Kazakhstan.
Bob Reinert spent 17 years writing sports for The Boston Globe. He also served as a sports information director at Saint Anselm College and Phillips Exeter Academy. He is a contributor to TeamUSA.org on behalf of
Red Line Editorial, Inc.