Michael Cherry Wins 400 As Team USA Earns 8 Diamond League Crowns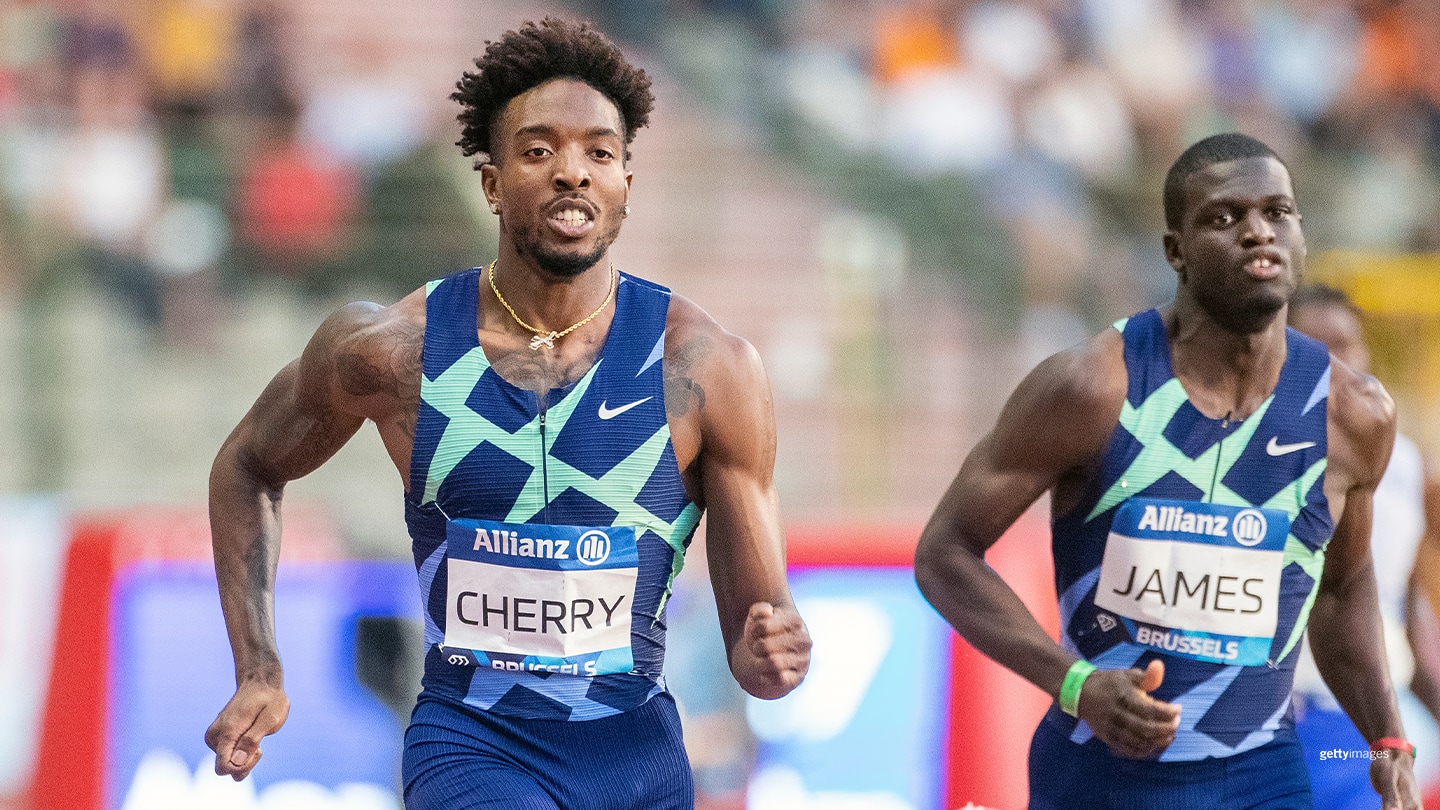 Michael Cherry competes in the Men's 400-meter during the Wanda Diamond League 2021 Memorial Van Damme Athletics competition on Sept. 3, 2021 in Brussels, Belgium.
For Team USA, the Diamond League final was the cherry on top of the 2021 season.

That would be Michael Cherry, who won the Diamond League Trophy in the men's 400, joining five other American champions Thursday in Zurich – Quanera Hayes, Devon Allen, Fred Kerley, Kenny Bednarek and Valarie Allman. Two other Team USA champs – Ryan Crouser and Maggie Ewen - were crowned a day earlier.

"This season started off wild crazy," Cherry tweeted, "but it's not how you start it's how you finish!!!"

Cherry had to dive at the finish line to edge Kirani James of Grenada, who had beaten him a month earlier to snag the Olympic bronze medal.

James had the early lead in the race, but Cherry overtook him on the final straightaway. Both were gritting their teeth at the finish, with Cherry going low to throw his torso across the line first. He then tumbled to the track while James kept his feet for two more strides before also falling down.

Cherry was already smiling before he got up. His winning time was 44.41 while James, the 2012 Olympic gold medalist and 2016 silver medalist, was clocked in 44.42.

"It was a hard race," Cherry said. "Kirani always gives me a battle."

Cherry has now run 14 of his 15 races this season under 45 seconds, with his personal best 44.03 on Sept. 3 to win the Diamond League in Brussels. "Consistency wins," he tweeted, adding, "43 I'll see you soon" with a kiss emoji.

Cherry posted a new profile picture of him kissing the giant diamond on the trophy, which isn't real, but the award comes with $30,000 in prize money.


#NewProfilePic pic.twitter.com/sCvFpoKqeO


— Michael Cherry ♨️ (@MCJR__) September 9, 2021

Cherry said after he finished fourth in Tokyo, which was the best placement by a Team USA athlete in the event, "I was a little disappointed for like four weeks. The Olympic Games gave me a lot of experience and also a confidence that I can fight with the best in the world, so I am sure I can get even better next season."

He already has a head start. As the Diamond League champion, Cherry earns an automatic berth at the 2022 World Championships in Eugene, Oregon, which means Team USA can send four athletes if they meet the qualifying standard in the race.

The same holds true in the women's 400, where Hayes held off the Olympic silver medalist Marileidy Paulino of the Dominican Republic, who lunged at the line. Hayes, looking composed and in control, ran a time of 49.88 seconds, just off her lifetime best of 49.72, while Paulino's time was 49.96.

Hayes, the U.S. Olympic Trials champion, was seventh in Tokyo, where her time of 50.88 seconds cost her a berth on the 4 x 400-meter relay team. Allyson Felix, who did not compete in Zurich, won the Olympic bronze medal in the 400 and helped the relay team win gold.

But now it's Hayes who has a bye into the world championships.

"It's like night and day here compared to Tokyo," Hayes said of the crowd at Letzigrund Stadium after the empty stands at the Olympics due to Covid-19 restrictions. "It's amazing, truly amazing. I really was not expecting to run this fast."

But she took her time leaving the track.

"I am such a sucker for kids and all the kids wanted autographs, so I honestly couldn't say no because I love kids," said Hayes, who is the mother of a toddler. "Just to see them happy and to see them smile, although I was really tired, it was really worth it."
With 25 titles on the line Thursday in Zurich, Cherry started a Team USA men's sprint sweep. After his win in the 400, Kerley won the 100 and Bednarek captured the 200 title. Both were Olympic silver medalists in those events.
Kerley, who won the 100 last week in Brussels to become the only man in history to win Diamond League races in the 100, 200 and 400, was one of four Americans in Zurich in the 100. Three years ago, he won the Diamond League Trophy in the 400.

Ronnie Baker, who was fifth in Tokyo, had a great start to move into the early lead, but Kerley and Andre De Grasse of Canada, the Olympic bronze medalist, closed the gap. Kerley powered through the final meters to take the win in 9.87 seconds, followed by De Grasse, who equaled his personal best of 9.89 seconds. Baker was third (9.91) and Trayvon Bromell, the U.S. Olympic Trials champion who did not make the final in Tokyo, was fourth (9.96).

After Kerley crossed the finish line he kept running, showing he had plenty of energy left for the 200 meters just 74 minutes later.

But this race belonged to Bednarek, known as "Kung Fu Kenny," who wore a gold head tie. From Lane 7, he got out in front and held off De Grasse, the Olympic gold medalist in the event, 19.70 seconds to 19.72. Kerley was third in 19.83 seconds.

Bednarek, who missed Usain Bolt's meet record from 2012 by .04 of a second, has now run 13 sub-20-second 200s.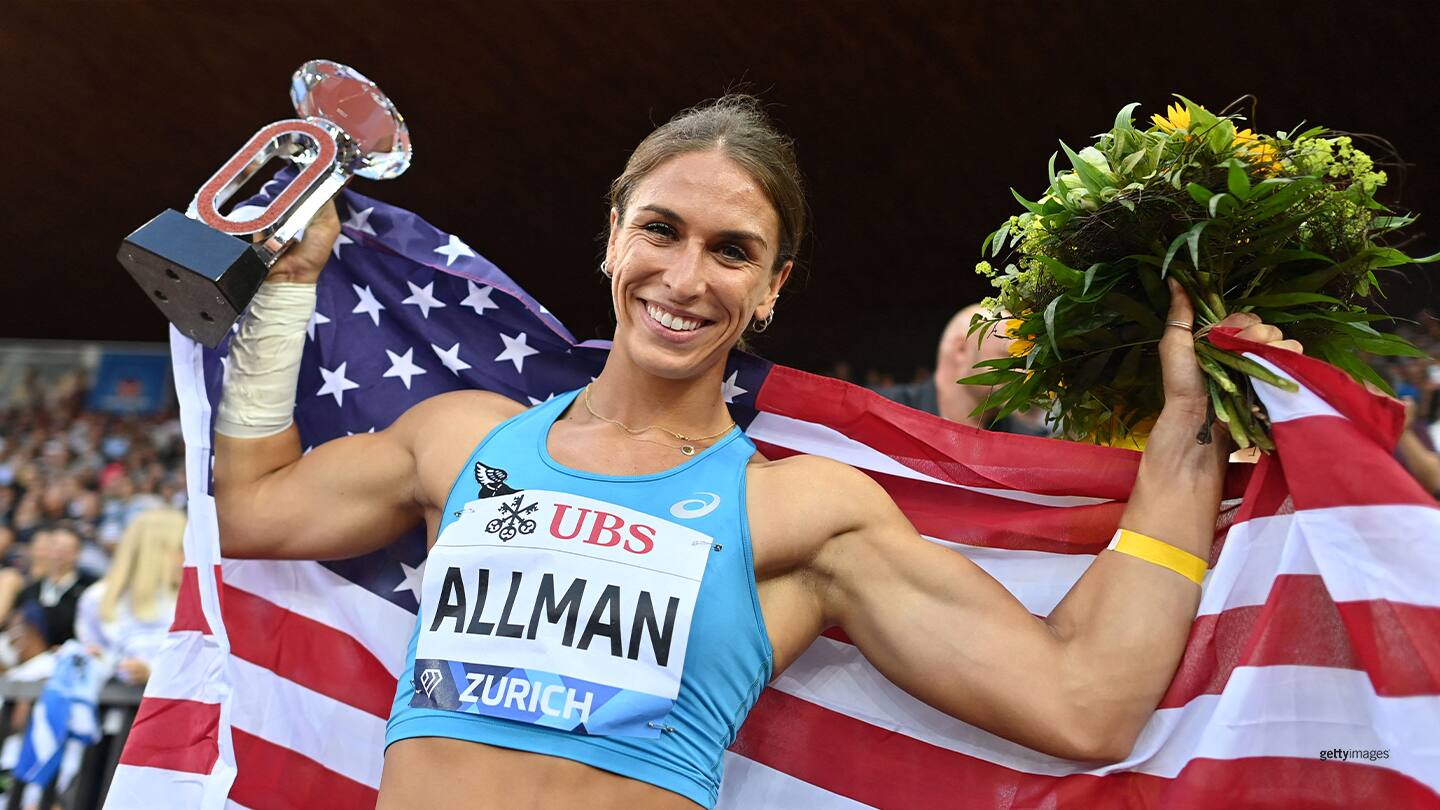 Valarie Allman celebrates after winning the women's discus throw event of the IAAF Diamond League athletics meeting "Weltklasse" on Sept. 9, 2021 in Zurich, Switzerland.
Like Cherry, Allen was a fourth-place finisher in Tokyo who broke through for a Diamond League Trophy - and his race was even closer. Allen posted a season-best time of 13.06 seconds to win the 110-meter hurdles in a photo-finish. That time was shared by Ronald Levy of Jamaica, the Olympic bronze medalist who nipped Allen in Tokyo. Hansle Parchment of Jamaica, the Olympic gold medalist, was third in 13.17.

While Allen, who led at the midpoint of the race, was dueling Parchment in the center of the track, Levy was coming up on the outside to also run a season best. Allen, however, had the better lean to get some revenge on Levy and make up for missing the Olympic podium.

"It's one race and you've kind of got to forget about it once it happens," said Allen, who was disappointed he didn't run faster at the Games. "The Diamond League final is also a huge competition for us in track and field and to come away with a win is pretty amazing."

Unlike the Olympics, the Zurich meet did not have rounds or the pressure of the world's biggest stage. Allen said that after undergoing surgery for an injury his season didn't start until April, so his legs are still relatively fresh after the Olympics. He still has meets ahead in Berlin and Zagreb.

"To be honest, this has been my best season ever," said Allen, a two-time Olympian. "I was most consistent, close to my personal best (13.03), so it was pretty good."

He also spent time signing autographs after his race. "I was a kid 10, 15 years ago, too, so I remember doing the same things," Allen said. "One of these kids will try to beat me one day, you know."

And Allen still has to beat most of his rivals next year to get to the world championships in Eugene, where he went to college. Because Team USA's Grant Holloway, who did not compete in Zurich, is the reigning world champ, he'll get the bye instead of Allen.
After winning the women's discus gold medal in Tokyo, Allman was third at the Diamond League in Paris (64.51 meters) and second in Brussels (64.25).
She marched right into the ring in Zurich and uncorked a throw of 66.48 meters. But when Sandra Perkovic of Croatia, who won the previous two Olympic gold medals, posted a throw of 66.37 on her fifth attempt, that was too close for comfort for Allman.
On her next throw, Allman began shouting in triumph while the discus was still flying. It landed at 69.20 meters, not quite a meter shy of Allman's personal best of 70.15. Perkovic improved to 67.22 on her final throw.
"I can't believe it - Olympics and Diamond League, I'm so grateful," Allman said. "I definitely reacted when Sandra Perkovic threw a distance close to my first throw. Women's discus right now is so intense and competitive and this is pushing all of us to put up good competitive results."
Allman said that she's looking forward to having the world championships next year in the United States for the first time. She said her family had already bought tickets, so it was up to her to do her part.
"The idea of representing your country and to be able to do it in front of your family is something that is going to be so special for a long time," Allman said.
In the biggest surprise of the meet, Team USA's Katie Nageotte, the women's pole vault Olympic champion, failed to clear a height with three misses at 4.47 meters.
Sam Kendricks, who missed the Games because he was in quarantine after testing positive for Covid-19, was second in the men's pole vault behind Olympic gold medalist Armand Duplantis of Sweden. Kendricks cleared a season best of 5.93 meters while Duplantis won with a height of 6.06 meters. He missed on three attempts at a new world record of 6.19.
Olympic silver medalist Courtney Frerichs was third in the women's 3,000-meter steeplechase with a time of 9:08.74 while Clayton Murphy, a Tokyo finalist, was third in the men's 800 (1:45.21).
Although Kate Grace, Shamier Little and Josette Norris did not make the U.S. Olympic team for Tokyo, they all reached the Diamond League podium. Grace was second in the women's 800 meters (1:58.34) while Little was the runner-up in the women's 400-meter hurdles (53.35) and Norris was third in the 1,500 meters (4:00.41).
Many Team USA superstars did not compete in the Diamond League final. While some did not compete in enough events to qualify, others decided to end their seasons at the Olympic Games or soon after.
Karen Rosen has covered every Summer and Winter Olympic Games since 1992 for newspapers, magazines and websites. Based in Atlanta, she has contributed to TeamUSA.org since 2009.