Team USA Takes Bronze In New Olympic Track Event – Mixed 4x400 Relay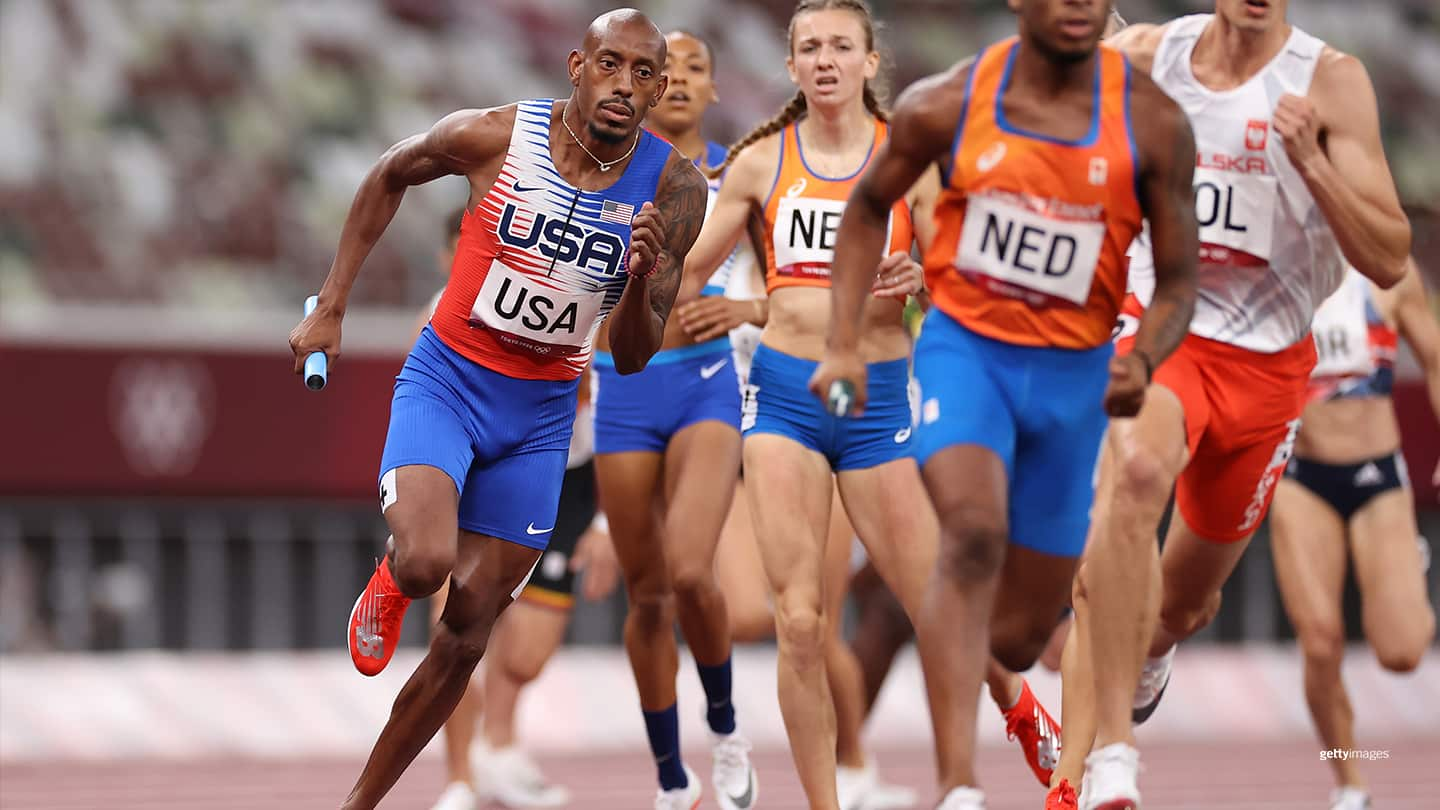 Vernon Norwood competes at the Olympic Games Tokyo 2020 on July 31, 2021 in Tokyo.
TOKYO – Team USA won its first track and field Olympic medal Saturday, a bronze in the 4x400-meter mixed relay, after a mixed-up start to the event making its Games debut the night before.

The Americans were disqualified for an illegal exchange in the preliminaries. After many anxious moments, they were reinstated after an appeal.

"We ended up getting our joy back and we walked away with some hardware," said Vernon Norwood, who anchored the relay in the final.

He was part of a new quartet that also included Trevor Stewart leading off, followed by Kendall Ellis and Kaylin Whitney. All of the teams in the final chose to run the two women on the middle legs.

Norwood got the baton in fourth place and appeared ready to claim the silver medal behind Poland. But the Dominican Republic's Alexander Ogando dove past him as he was striding toward the finish line, relegating Team USA to bronze by one-hundredth of a second. The Dominicans had also been DQed in the prelims and reinstated.

Poland set an Olympic record – improving on its own time from the preliminaries – of 3 minutes, 9.87 seconds, followed by the Dominican Republic at 3:10.21 and Team USA at 3:10.22.

In the preliminaries, the handoff from Elija Godwin — whose previous claim to fame was being impaled by a javelin and recovering from it — to Lynna Irby on the first exchange was ruled outside the zone. Taylor Manson and Bryce Deadmon were the other two runners as Team USA clocked 3:11.39.

Team USA argued that an official told Irby to stand in the wrong place for the handoff.

Runners in the preliminaries also receive medals, although they do not stand on the podium for the ceremony.

"They got us here into the final, so it's just as much their medal as it is ours," Ellis said. "It's a group of eight; we all earned this medal together, so I'm thankful for them going out and setting the tone yesterday."

Ellis and Stewart placed fourth in the men's and women's 400s at the U.S. Olympic Team Trials – Track and Field while Whitney and Norwood each finished fifth.

"Honestly, I can say yesterday I was nervous, just because of the whole ordeal that happened the night before," said Stewart. "But coming in today, I had a few talks with people, family included, and I knew what I had to do."

Some people had hoped to see Allyson Felix in this relay, which was seen as a great chance for her to win her 10th Olympic medal, but Felix will presumably concentrate on the women's 4 x 400 and the individual 400 race.

At the 2019 World Championships in Doha, when the event appeared at its first major international meet, Felix ran a leg on the gold-medal winning relay, which set the world record of 3:09.34.

"It's just a lot of fun," Ellis said. "It's great to represent our country in yet another event, an event that's so different from the standard track and field (that) is separated into men and women. It's nice that we get to come together and put the best of the best from each gender and see what we've got."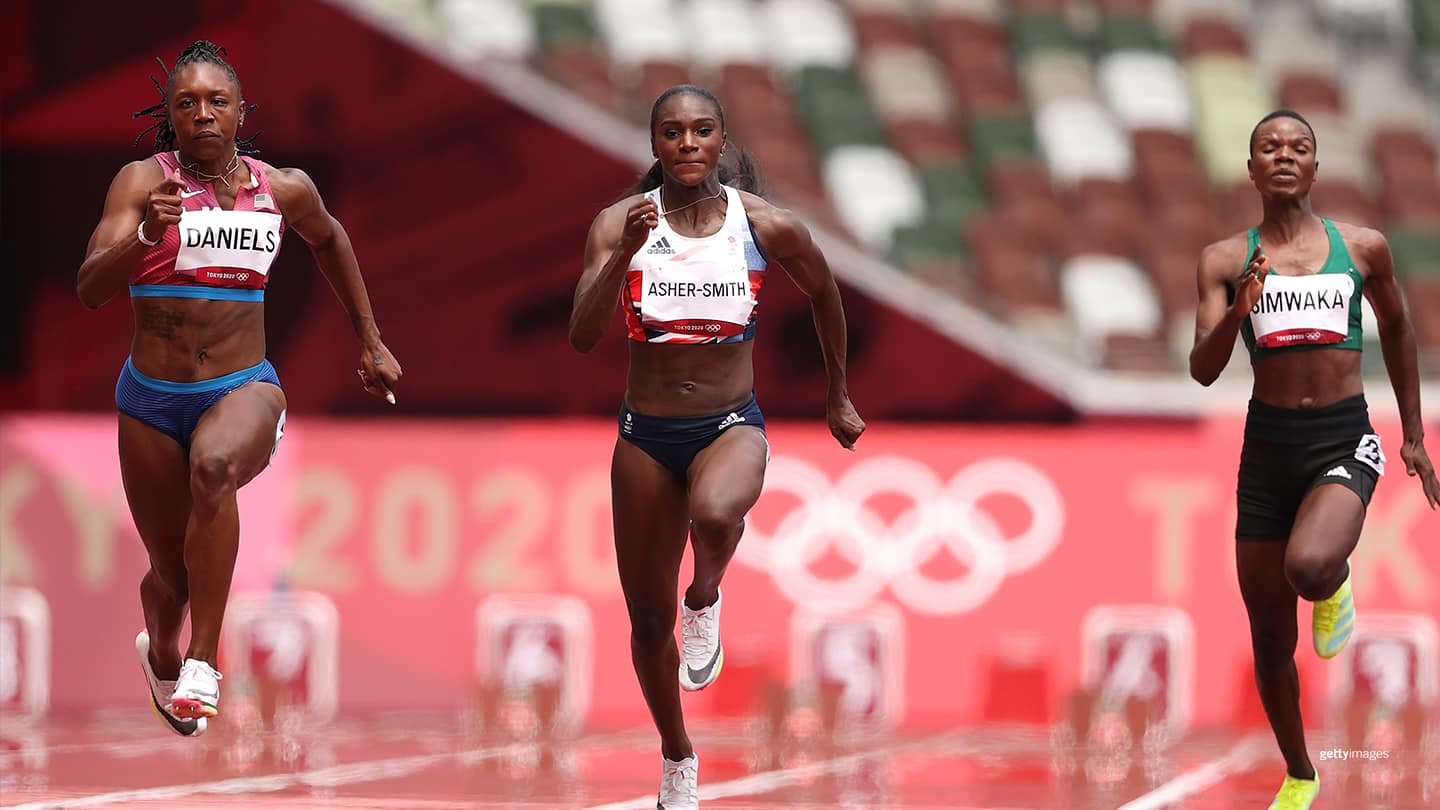 Teahna Daniels competes at the Olympic Games Tokyo 2020 on July 30, 2021 in Tokyo.
The event that was literally in the spotlight Saturday night was the women's 100-meter dash. In a dazzling display of showmanship, the lights in Olympic Stadium went out for the introductions, then the entire 100-meter straightaway was filled with the face of each runner, her name, country and the Olympic rings.

Jamaica swept the medals, with Elaine Thompson-Herah winning her second straight gold medal and also sweeping away Florence Griffith Joyner's Olympic record of 10.62 seconds set 33 years ago in Seoul.

Thompson-Herah pulled away from Shelly-Ann Fraser-Pryce as they ran neck-and-neck to finish in 10.61 seconds, the second-fastest time in history behind Flo Jo's world record of 10.49.

Fraser-Pryce, who ran 10.63 in June, was next at 10.74 seconds and Shericka Jackson won the bronze with a personal best of 10.76 seconds. Fraser-Pryce, the 34-year-old known as the "Pocket Rocket" won the gold medal in 2008 and 2012 and took the bronze in 2016, when Tori Bowie of Team USA won the silver.

Teahna Daniels was the only Team USA sprinter in the final after clocking a personal best of 10.98 in the semis. She ran 11.02 in the final for seventh place.

"This lineup is crazy, just to be a part of it," Daniels said. "When the light show came on, I was like, 'This is it. I'm about to run the final.'"

In the semis, Team USA's Javianne Oliver clocked 11.08 and Jenna Prandini ran a season best of 11.11 seconds, but neither advanced.

The event lacked the star power of Sha'Carri Richardson, who crossed the finish line first at the Olympic Trials, but is serving a short suspension after testing positive for a banned substance. Richardson ran 10.72 this season.

In 1988, Griffith Joyner set the Olympic record in the quarterfinals and Juliet Cuthbert of Jamaica was way back in second place at 11.03. The Seoul final had a tailwind, so Griffith Joyner's 10.54 did not count as a record. Evelyn Ashford was second in 10.83.

That makes the Tokyo 100 the fastest race run by a group of women.

"Well, I guess it means that I'm a part of history," said Daniels, who was third at the Olympic Trials. "She just ran 10.61! Even though yes, I am an American, it's kind of cool seeing Jamaica sweeping so hard these past few years.

"I would love to see an American flag on that podium, but I can't get mad at the talent and work they put in."

Fred Kerley was the top Team USA sprinter in the men's 100-meter dash prelims with a time of 9.97 seconds, finishing second in his heat behind Olympic medalist Andre de Grasse of Canada (9.91). Lamont Marcell Jacobs of Italy (9.94) was the only other runner faster than Kerley.

Ronnie Baker ran 10.03 seconds while Trayvon Bromell, the national champion and a 2016 Olympian, was a surprising fourth at 10.05.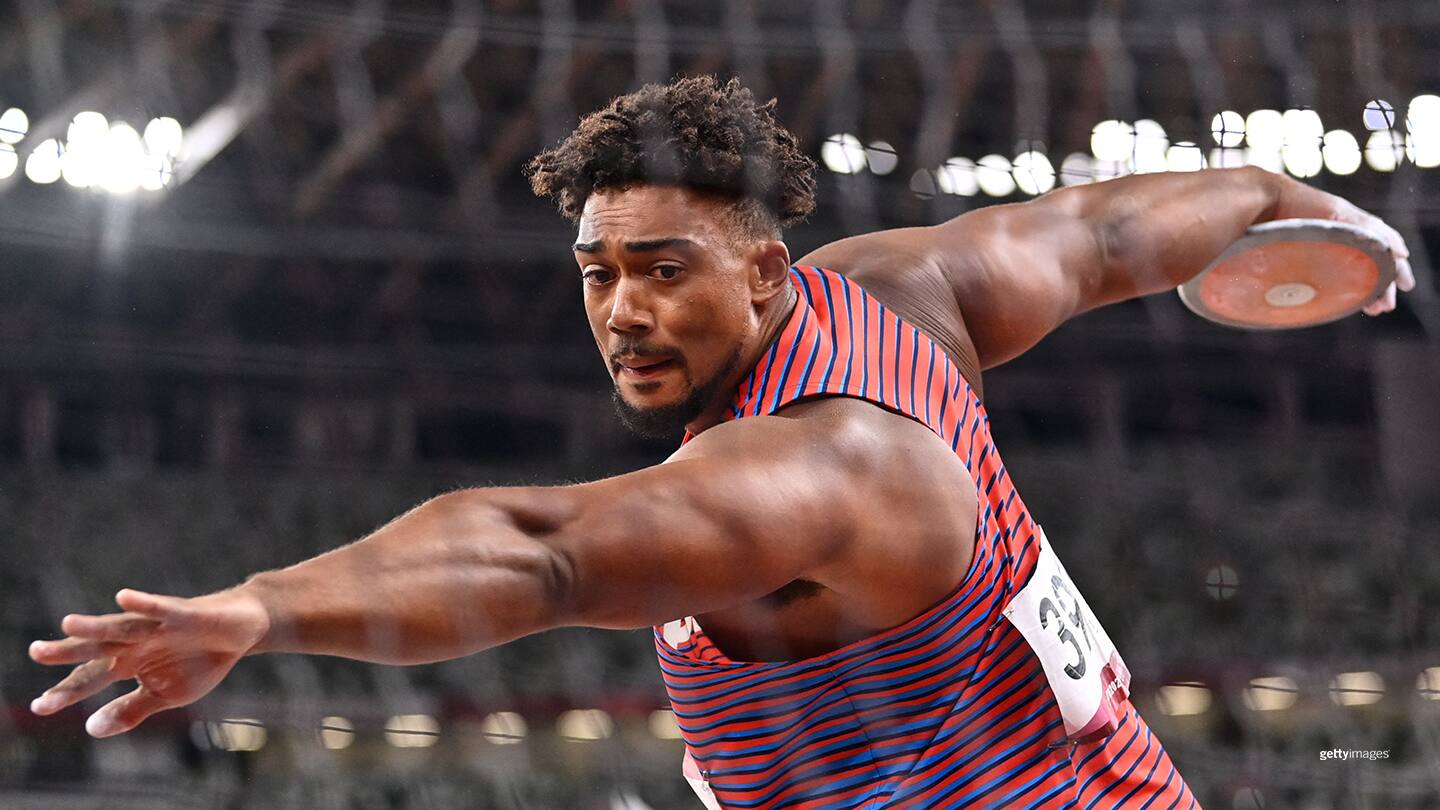 Sam Mattis competes at the Olympic Games Tokyo 2020 on July 31, 2021 in Tokyo.
In the other final on Saturday, Sam Mattis was eighth in the men's discus with a season-best throw of 63.88 meters.

Athing Mu, the 19-year-old phenom, ran from the front to dominate her 800-meter semifinal with a time of 1:58.07. Raevyn Rogers also qualified for the final with a final burst to clock 1:59.28, but Ajee Wilson did not advance, placing fourth in her semi with a time of 2:00.79.

Isaiah Jewett was in the fast heat in the men's 800, finishing fifth and posting the sixth-fastest time overall (1:45.07), while Clayton Murphy won his heat (1:45.53) and Bryce Hoppel was third in his (1:45.64).

Dalilah Muhammad led all qualifiers in the women's 400-meter hurdles into the semifinals with a time of 53.97 seconds. Sydney McLaughlin, the new world record holder, qualified fourth, clocking 54.65 seconds and Anna Cockrell was 14th at 55.37.

American record holder Valarie Allman had the best qualifying throw in the women's discus, a toss of 66.42 meters.

World record holder Keni Harrison won her heat in the 100-meter hurdles (12.74), while Gabriele Cunningham (12.83) and Christina Clemons (12.91) also advanced.
Want to follow Team USA athletes during the Olympic Games Tokyo 2020? Visit TeamUSA.org/Tokyo2020 to view the medal table, results and competition schedule.
Karen Rosen has covered every Summer and Winter Olympic Games since 1992 for newspapers, magazines and websites. Based in Atlanta, she has contributed to TeamUSA.org since 2009.