10 Events You Won't Want To Miss At The USATF Outdoor Championships
This week's USATF Outdoor Championships determine the U.S. team that competes at next month's world championships. For the athletes who qualify, the U.S. championships will also serve as a key preview.

That's because both events are being held at Hayward Field in Eugene, Oregon.

This year marks the first time in the nearly five-decade history of the world championships that the event will be held in the U.S., and the American athletes have shown throughout the season that they're plenty motivated to get there.

Some athletes already have byes into the world championships by merit of being defending world or Diamond League champions. For most of the U.S. team, though, qualifying comes down to earning a top-three spot this weekend while also having met the world A standard.

Coming off a strong performance at last year's Olympic Games Tokyo 2020, when Team USA led all countries with 26 medals and seven gold medals, the U.S. championships will feature plenty of star power. Competition begins on Thursday with finals in the women's hammer throw and long jump, as well as in men's discus, but things really ramp up the final three days.

A full schedule is available here, and below are 10 events you won't want to miss.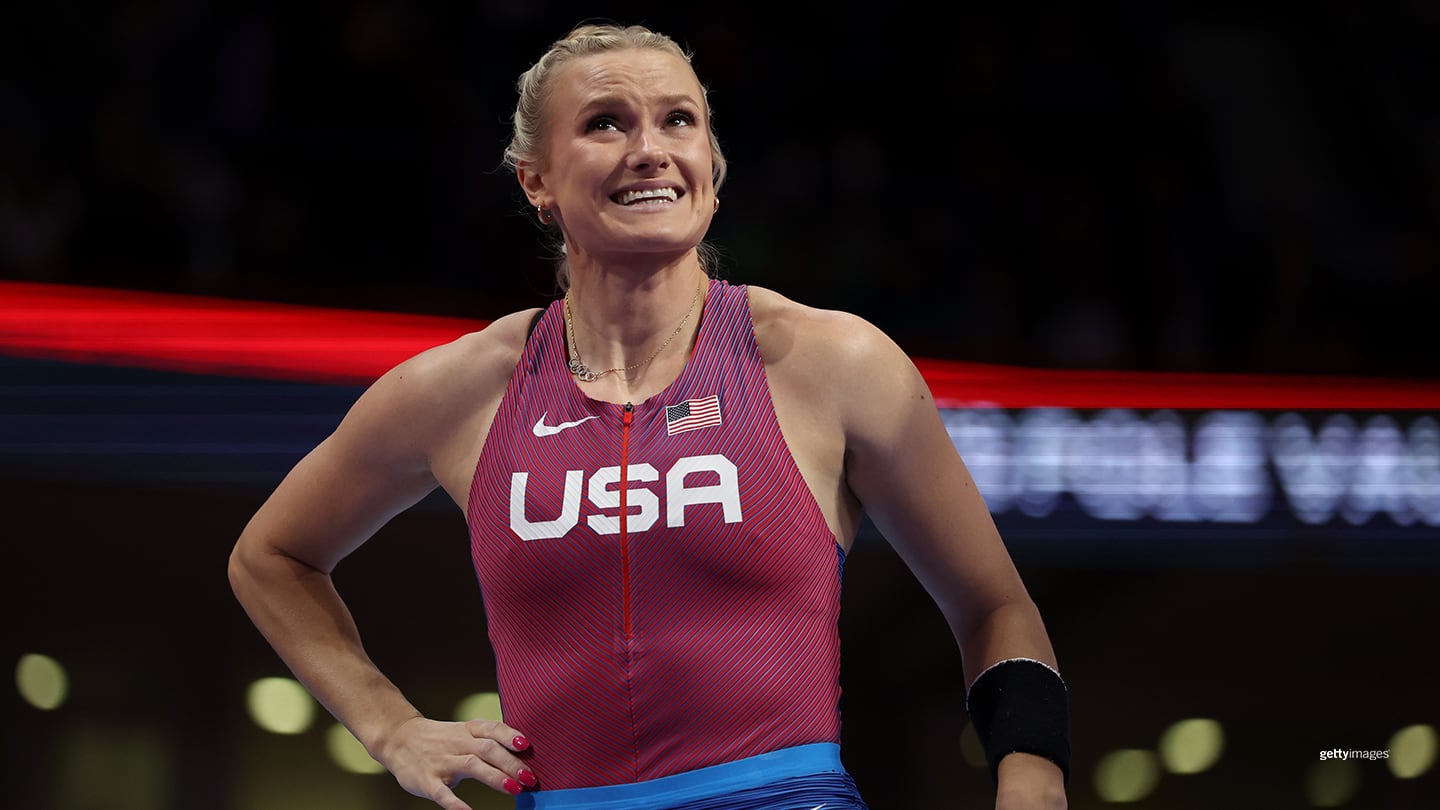 Katie Nageott competes during the women's pole vault finals at the 2022 World Athletics Indoor Championships on March 19, 2022 in Belgrade, Serbia.
Friday
Women's Pole Vault (5:55
p.m.)
Katie Nageotte rose over the bar to her first Olympic gold medal in the pole vault last year in Tokyo. One of her top challengers, fellow American Sandi Morris, surprisingly wasn't with her in the final. Morris, the 2016 Olympic silver medalist and two-time world championships silver medalist, was injured when her bar broke in the prelims. The always competitive U.S. pole vault competition is primed to stay that way in Eugene. No woman has cleared a higher height in 2022 than Morris, while two other Americans, Emily Grove and Olivia Gruver, rank Nos. 2 and 3. The 31-year-old Nageotte, meanwhile, won a silver medal at the world indoor championships in March though she has yet to find her groove in the outdoor season, ranking No. 17.


Men's Shot Put (6:42
p.m.)
The U.S. field for men's shot put includes two of the sport's all-time giants. Joe Kovacs is a two-time world champion, in 2015 and 2019, and won silver medals at the 2017 world championships as well as the last two Olympics. Those two Olympic gold medals went to fellow American Ryan Crouser, who also happens to be the world record holder. In March, Crouser had a 27-competition winning streak snapped when he finished second at the indoor world championships. He's since started a new winning streak that comes into nationals at three straight. The two are, fittingly, Nos. 1 and 2 in the world this year, while another U.S. thrower, 2016 Olympian Darrell Hill, ranks fifth.


Women's 100-meter (7:21
p.m.)
Sha'Carri Richardson's star was rising fast when she flew to victory at the U.S. Olympic Team Trials last year. Then things came crashing down when she tested positive for marijuana and the subsequent one-month suspension kept her out of Tokyo. The charismatic 22-year-old is back in a big way this season. She's one of six Americans ranked among the top 10 this year, trailing only 2020 Olympian Aleia Hobbs. Those two and Teahna Daniels, another Olympian, appear to be the favorites in Eugene, but with 12 Americans having run under 11 seconds already this year, this final could feature some fireworks.


Men's 100-meter (7:30
p.m.)
The U.S. placed two men in the top five of the 100-meter dash in Tokyo, and neither was the defending world champion. Christian Coleman missed the Games due to a suspension for missed drug tests. Now he's back, and his season-best time of 9.92 seconds is tied for fifth in the world for 2022. The only problem? Fellow Americans Trayvon Bromell and Fred Kerley, the Olympic silver medalist, have run the same time. Micah Williams has run even faster at 9.86. That means one of the top-five men in the world in the event will not qualify individually for worlds.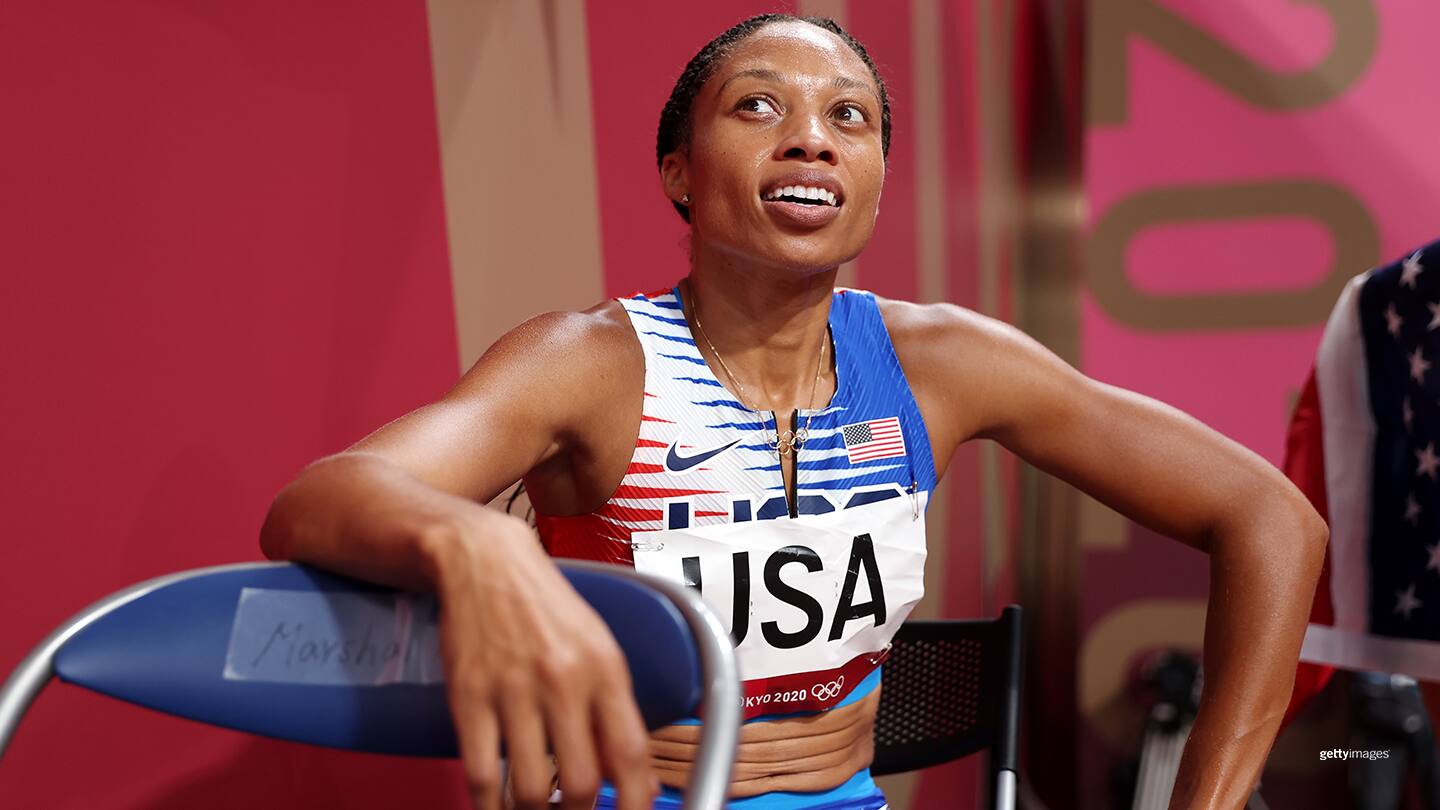 Allyson Felix reacts after winning the gold medal in the women's 4x400-meter relay final at the Olympic Games Tokyo 2020 on Aug. 7, 2021 in Tokyo.
Saturday
Women's 400-meter (2:21
p.m.)
Could this by Allyson Felix's last ride? The most decorated woman in track and field history came back for one more season so she could end her career at the world championships on home soil. She'll need a top-three finish in order to get there, at least individually. The seven-time Olympic and 13-time world champ, now 36 years old, has only raced outdoors five times so far this season, and four Americans have posted faster times. But if there's one thing Felix has shown over her long career, it's to never count her out.


Men's 400-meter (2:31
p.m.)
Michael Norman went into the Tokyo Games as a favorite to win the 400 and ended up in fifth. He looks to have put that result behind him. The 24-year-old ran a blazing time of 43.60 seconds to win the Prefontaine Classic in May in Eugene. No other man has broken 44 seconds this year. Among his biggest competition this weekend will be Michael Cherry, who finished fourth in Tokyo.


Women's 400-Meter Hurdles (2:51
p.m.)
No event in recent years has featured such top-end talent. Between Sydney McLaughlin and Dalilah Muhammad, the American duo owns six of the eight fastest times in history. Each has won an Olympic gold medal, and Muhammad is the reigning world champ. McLaughlin has edged past Muhammad of late, though, and the 22-year-old comes to nationals as the world record holder, the 2022 world leader and the defending Olympic champion. But as always, Muhammad, 32, is never far behind. Also keep an eye on Britton Wilson.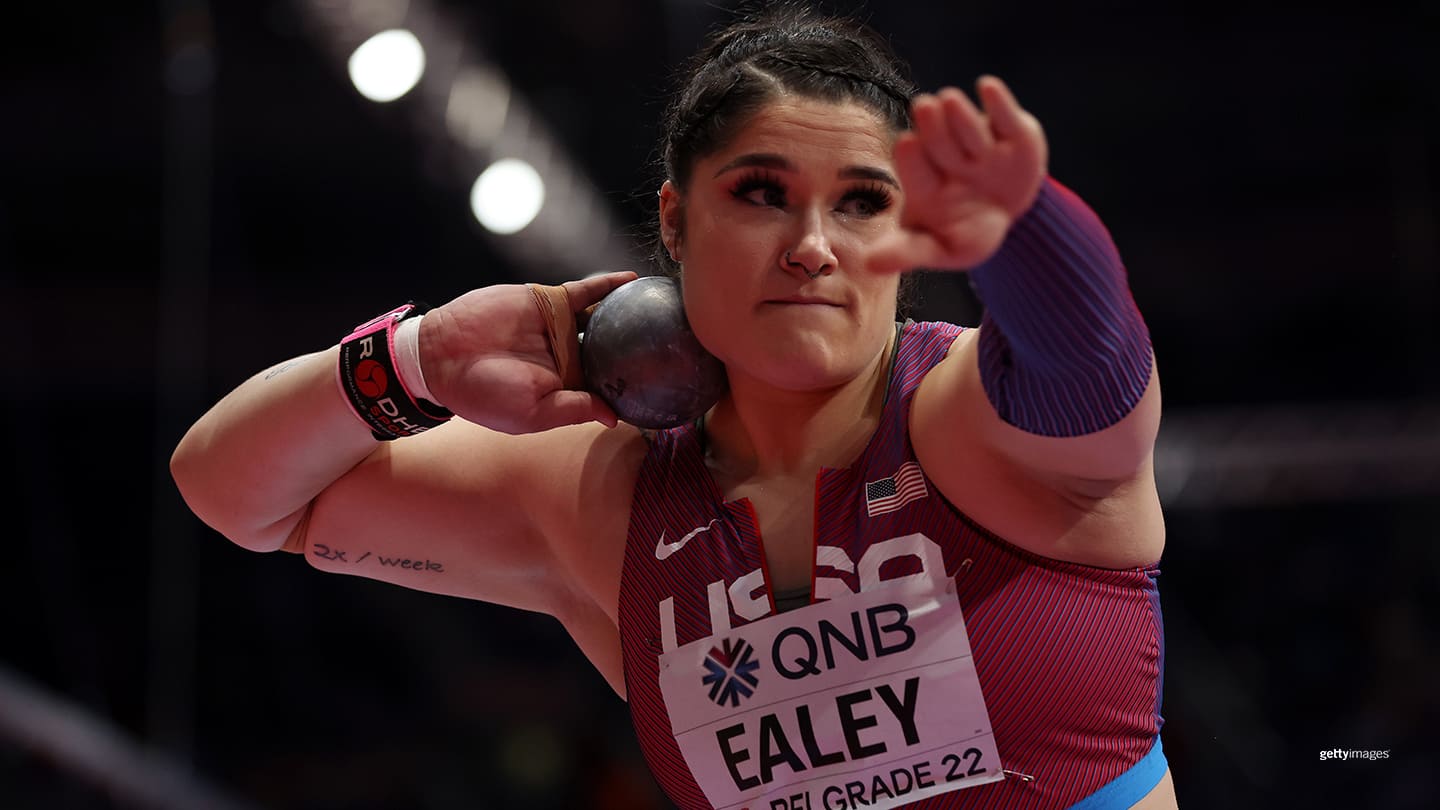 Chase Ealey competes during the women's shot put at the 2022 World Athletics Indoor Championships on March 18, 2022 in Belgrade, Serbia.
Sunday
Women's Shot Put (1
p.m.)
In one of the most competitive contests at last summer's U.S. Olympic Team Trials, Chase Ealey took fifth in the women's shot put. She's been a woman on a mission so far in 2022. After placing second in the world indoor championships in March, Ealey has won all five outdoor contests she's entered, including two Diamond League events. The 27-year-old comes into nationals with the second, third and fourth best throws of the year so far. Olympian Adelaide Aquilla, who recently wrapped up her Ohio State career, looks to be Ealey's biggest competition. The wildcard is Tokyo silver medalist Raven Saunders, who has so far eased into the outdoor season. Meanwhile, Michelle Carter, the 2016 Olympic champ, is back for her first competition in over a year after having a benign tumor removed from her right ankle.
Women's 800-meter (1:54
p.m.)
Athing Mu was the breakout star for Team USA in Tokyo. The 19-year-old set an American record while winning the women's 800. That made her the first U.S. woman to win Olympic gold in that event since 1968. Mu later added a second goal in the 4x400. Still just 20 years old, Mu has the fastest time in the world this year in the 800. She'll have competition at nationals from Ajee Wilson, the reigning 800-meter indoor world champion, and Allie Wilson, both of whom rank among the world's top five this season, as well as Tokyo bronze medalist Raevyn Rogers.


Men's 100-meter Hurdles (2:54
p.m.)
The final event of the national championships will feature one of the country's most dynamic athletes. Devon Allen, a former University of Oregon wide receiver, has signed with the Philadelphia Eagles and will join the team later this summer. In the meantime, the two-time Olympic finalist has run the fastest time in the world this season — which also happens to be the third fastest time ever. He's also won his last five races, two of them being Diamond League events. The U.S. is nothing if not deep in the high hurdles, though, and fellow Americans Trey Cunningham and 2020 Olympic silver medalist Grant Holloway rank Nos. 2 and 3, while Eric Edwards, Daniel Roberts and Jamal Britt are all among the top 10.
Chrös McDougall has covered the Olympic and Paralympic Movement for TeamUSA.org since 2009 on behalf of
Red Line Editorial, Inc.
He is based in Minneapolis-St. Paul.