What To Watch For As Allyson Felix Prepares To Ride Into The Sunset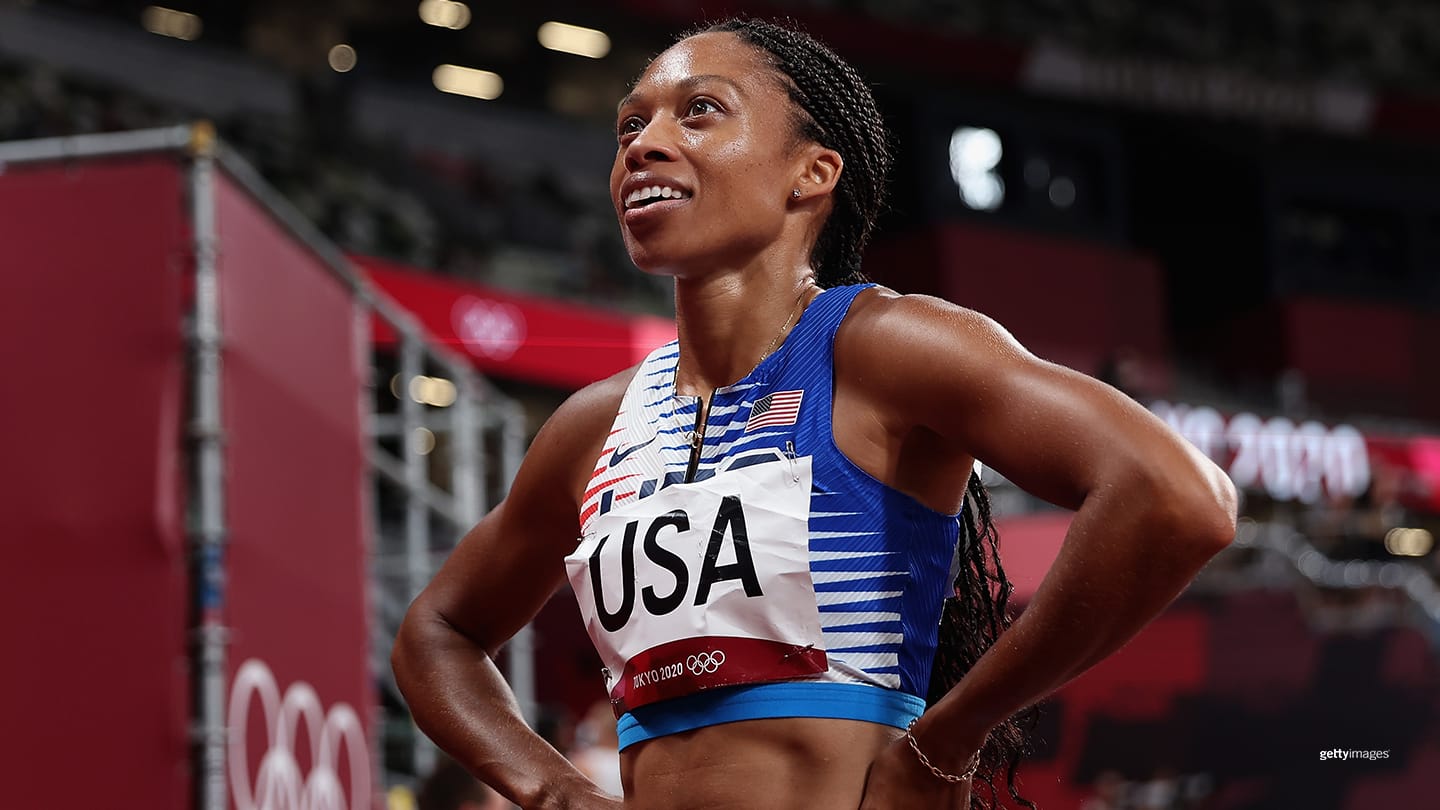 Allyson Felix reacts after winning gold in the women's 4x400-meter relay final at the Olympic Games Tokyo 2020 on Aug. 7, 2021 in Tokyo.
Allyson Felix returned to track and field for one last ride in 2022, and that begins in earnest Thursday when the seven-time Olympic champ takes to the blocks for her signature event at the Diamond League stop in Rome.

Already the most decorated woman in track and field history, Felix decided to come back for one more season to hopefully end her career on home soil in July when the world championships are held in Eugene, Oregon. That will mark the first time in the event's nearly five-decade history that it's held in the United States.

Felix, now 36, began her outdoor season in April and has raced four times so far in 2022, all in smaller competitions. Her season debut on the prestigious Diamond League circuit this week, where she'll run the 200-meter, marks the beginning of the ramp up to the world championships.

The Los Angeles native has come a long way since her Olympic debut as a shy teenager in 2004. As she embarks on the final few weeks of her storied career, here are five things to know.


Thursday Won't Be A
Cakewalk
Felix comes to Rome as an Olympic gold medalist and three-time world champion in the 200. That's not to say she's the favorite. Among the seven other women in the field, four were in the Olympic 200-meter final last year in Tokyo, including Jamaica's all-timer Elaine Thompson-Herah, who won both the 100- and 200-meter gold medals in each of the last two Olympics. Shaunae Miller-Uibo of the Bahamas is the two-time reigning Olympic champ in the 400. And don't forget Great Britain's Dina Asher-Smith. The reigning 200-meter world champion from 2019 had been right among the best in the world last year but was forced to pull out of the Olympic 200 due to injury. So, expect a competitive race.


Winning on Thursday would be great, of course. In the world of track and field, it's not essential. Athletes are playing the long game, with everything building up to the championship meets to come later in the summer. For Felix, the key upcoming event is the USATF Outdoor Championships that take place June 23-26 in Eugene, Oregon. Besides being an opportunity for her to add to her six U.S. titles, this year's meet also crucially serves as the qualifier for the world championships, which take place three weeks later on the same Hayward Field track. The top three individuals in each event move on to compete individually at worlds, while other top finishers will qualify as part of the relay pool.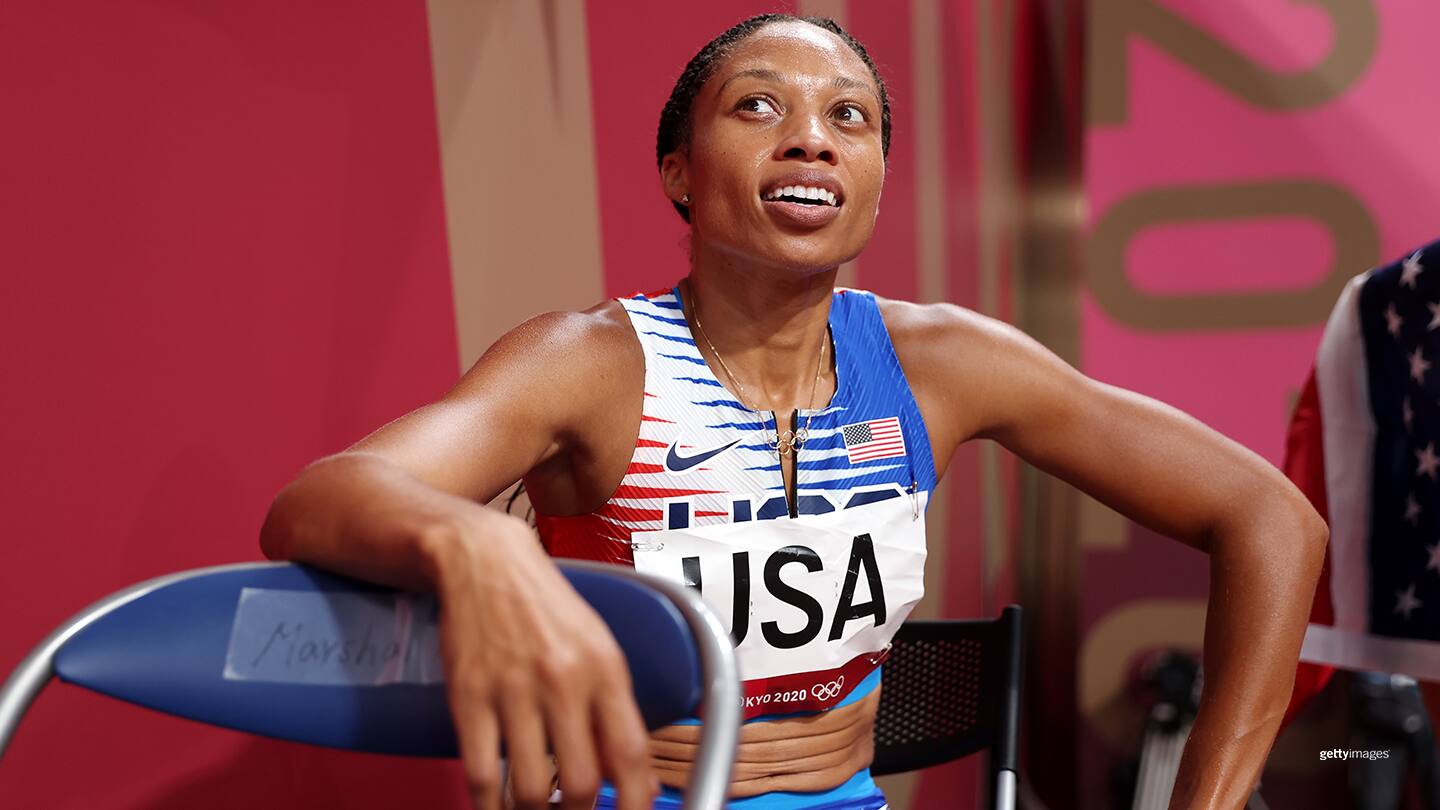 Allyson Felix competes during the women's 4x400-meter relay final at the Olympic Games Tokyo 2020 on Aug. 7, 2021 in Tokyo.
It's All About The 400
Now
This week's 200-meter is a throwback for Felix. For her first several years as a pro, the half-lap sprint was her specialty. Felix won world titles at the distance in 2005, 2007 and 2009, to go with Olympic silver medals in 2004 and 2008. She finally broke through on the Olympic level in 2012, when she outsprinted the field to claim the gold medal. In the years since, Felix has gradually shifted her focus to the 400. She won the world title in that event in 2015, then added Olympic silver in 2016 and Olympic bronze last year in Tokyo.


For much of Felix's career, podium finishes at major championships were almost an inevitability. That wasn't the case in Tokyo. By the time she raced in Rio in 2016, where she won three medals, Felix was already 30 years old. The five years that followed brought a lifetime of new challenges. In November 2018, while pregnant with her first child, Felix was diagnosed with severe preeclampsia. Daughter Camryn was born at 32 weeks via emergency C-section and weighing just 3 pounds, 7 ounces. After spending her first month in the NICU, Camryn grew into a healthy baby girl. Mom came through stronger, too. In the years since, she's become a vocal advocate for maternal health and women's empowerment. She also was back at the world championships in 2019, where she won two relay gold medals just 10 months after giving birth.

Still, the cards were stacked against her going into the Olympic Games Tokyo 2020 — especially after they were postponed a year due to COVID-19. Yet at 35 years old, Felix ran her fastest 400-meter time in six years in Tokyo to claim the bronze medal. One day later, she won her seventh Olympic gold medal, and 11th total medal, as part of the women's 4x400 team. "I'm a fighter," she said afterward. "The last couple of years, it's what I've done, so I knew I just needed a chance."


The storybook ending for Felix comes with a swansong at Hayward Field for the world championships. Track and field isn't always so accommodating. Felix, like everyone else, will have to earn her spot in Eugene with her results. Regardless of what happens in these next several weeks, though, Felix's legacy in the sport is intact. By any definition, she's already in a class among the very greatest in track and field history. In Tokyo, she tied and then surpassed compatriot Carl Lewis to become the second most decorated athlete in Olympic track and field. Only Paavo Nurmi, the great Finnish distance runner from the 1920s, has more medals with 12. No woman has won more than Felix's seven Olympic track gold medals either, while only four men do so. Meanwhile, in 2019, Felix took over as the most decorated athlete period at the world championships, upping her tallies to 13 golds and 18 total medals.

After her final race in Tokyo, Felix said she'd "given my all to the sport and there's nothing left on this Olympic stage that I feel like I need to do." There's nothing more she needs to accomplish at the world championships either. And yet she's back for one more go, giving fans a few more opportunities to witness one of the all-time greats.
Chrös McDougall has covered the Olympic and Paralympic Movement for TeamUSA.org since 2009 on behalf of
Red Line Editorial, Inc.
He is based in Minneapolis-St. Paul.