Athing Mu, Courtney Frerichs Set American Records At Prefontaine Classic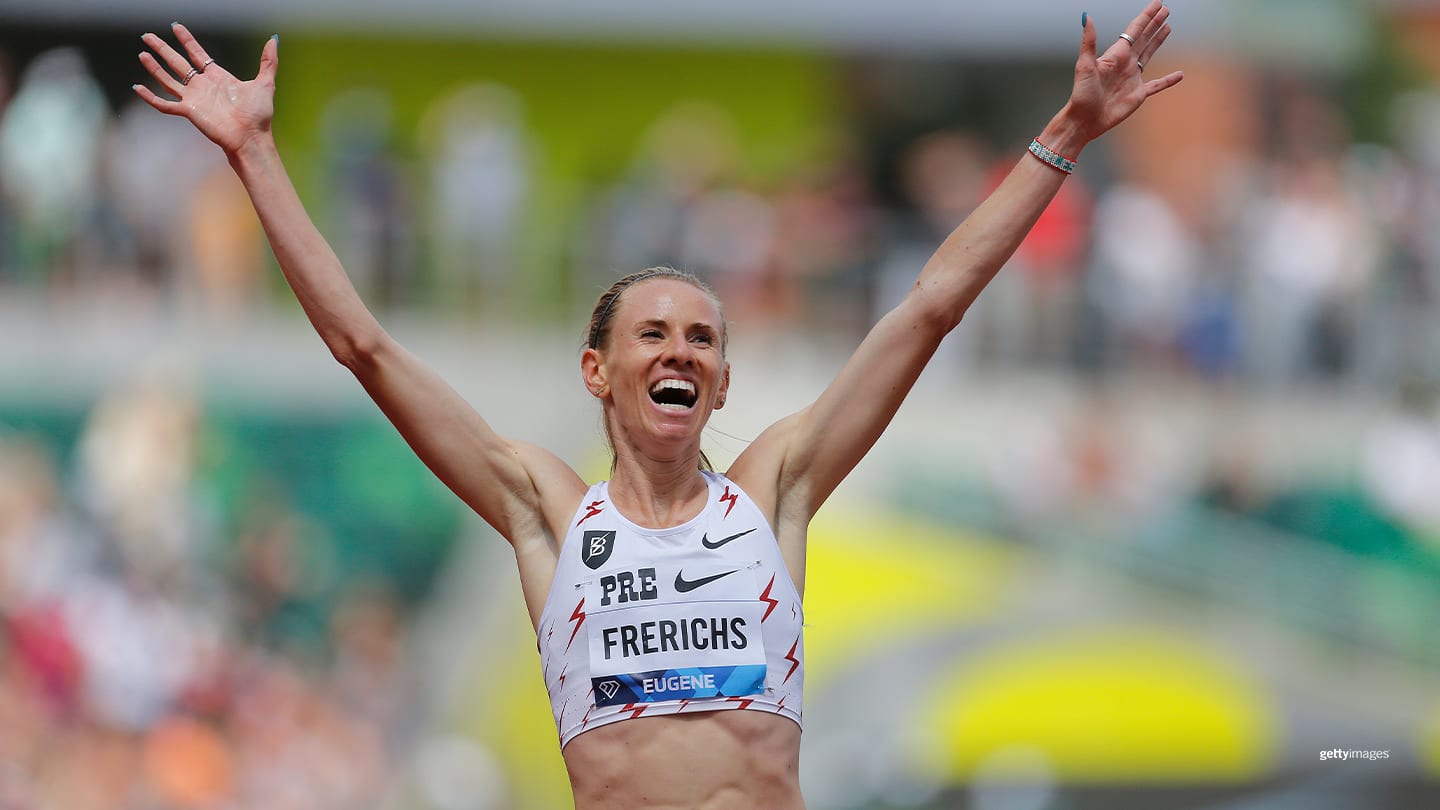 Courtney Frerichs reacts to setting an American record in the 300m steeplechase during the Wanda Diamond League Prefontaine Classic on Aug. 21, 2021 in Eugene, Oregon.
Olympic gold medalist Athing Mu and silver medalist Courtney Frerichs set American records while bronze medalist Noah Lyles ran his best race of the year Saturday at the Prefontaine Classic.

Oh, did you think the track and field season ended with the Olympic Games Tokyo 2020? While the Games were unquestionably the pinnacle of the track and field season, they were not the conclusion.

With the Games two weeks in the rear-view mirror, Olympians who won 62 medals were back in action on the Diamond League circuit at Hayward Field in Eugene, Oregon. They had a chance to duplicate – or even improve -- their Tokyo performances while athletes who didn't make it to the Olympics had the opportunity to take on those who did.

Frerichs said she wanted to "carry the confidence" from her podium performance in the 3,000-meter steeplechase into Eugene and "just stay on the cloud nine from Tokyo."

She broke her own American record, posting a time of 8 minutes, 57.77 seconds to become the first American woman to go under 9 minutes. After watching Emma Coburn go under 9:10 five years ago, Frerichs said reaching this milestone "has me dreaming about even more now."

However, she still finished second behind Norah Jeruto of Kenya, who set a meet record of 8:53.65, the fastest time in the world this year.

"I knew physically I was really fit, based off of my training going into Tokyo and how Tokyo went," Frerichs said. "The harder part was mentally. It can be really difficult getting back into things after championships. Particularly with the Olympic Games, we've been thinking about that race for five years, so it definitely was a bit of a struggle to embrace putting yourself back into training and getting ready."

However, she said she couldn't let the opportunity pass her by. "I wanted to have another day where I left it all out there to see what happened," Frerichs said. "I'm excited it all paid off."
An Exclamation Mark on
2021
Although the Diamond League continues with meets in Lausanne and Paris later this month and Brussels and Zurich in September, Mu said she was ending her season.

She definitely went out on a high note, breaking the American record she set in winning the 800-meter gold medal in Tokyo. Mu, whose running usually appears effortless, actually looked fatigued as she crossed the finish line with a world-leading time of 1:55.04 seconds.

She is now the seventh-fastest performer of all time, moving ahead of fellow Olympic champions Doina Melinte of Romania (1984) and Maria Mutola of Mozambique (2000), and no woman has ever run faster on American soil.

Kate Grace of the United States, who did not compete in Tokyo, was second in 1:57.60 while Raevyn Rogers, the Olympic bronze medalist finished fourth (1:58.01) just ahead of Olympic silver medalist Keely Hodgkinson of Great Britain (1:58.30).

Mu said when she saw the field, "I knew it was going to be kind of like another Olympic race."

Now she plans to take a beach vacation with friends and her brother. "I need a little bit of time to sit down and relax, take in every moment and really look back at it and realize what it is exactly that I did," Mu said. "I feel like I've just been running on a high."
Feeling Like Himself
Again
Lyles set a Diamond League record of 19.52 seconds in the 200 meters, just .02 off his personal best. As the reigning world champion, he has a wild card to return to Eugene next year for the 2022 World Championships.

Lyles' time would have won the Olympic 200 and is the fastest in the world this year. Kenny Bednarek, the Olympic silver medalist, was second in 19.80 and Lyles' brother Josephus was third with a personal best of 20.03. Andre de Grasse of Canada, the Olympic champion, opted to run the 100, which he won in a wind-aided 9.74 seconds while Fred Kerley, the Olympic silver medalist was second in a wind-aided 9.78.

Lyles said he was thinking of shutting down after his disappointment in Tokyo, where he went in as the favorite.

"It's a nice tight little bow on the end of a season," said Lyles. "Of course, I had to convince myself to come up here. I didn't feel like my mindset was really right for today. After at least five sessions of therapy, I finally was able to let go of what happened in Tokyo, convince myself that I'm upset, and I know I'm in great shape to run and come out here and put it down on the track."

Lyles said his therapist told him, "This isn't Tokyo, you're going out there and you're running for you."

Lyles also said he was invigorated by the crowd, which was larger than the one at Hayward Field during the Olympic Trials. The Tokyo Games did not have spectators besides media and volunteers.

"I don't think you can understand how utterly lifeless it was to be in Tokyo and have no crowd there," Lyles said. "It'd be dead silent, and then to come here and see a whole bunch of people who love track was amazing to see."
Sha'Carri Shut Down By Jamaican
Trio
The most anticipated race of the Prefontaine Classic was billed as the Olympic race you didn't get to see.

It featured the return of Sha'Carri Richardson, who built a world-wide following with her win in the 100 meters at the U.S. Olympic Trials. Richardson, who likes to say "I'm that girl," was suspended for a month after testing positive for a banned substance found in marijuana and missed the Games.

Up against the three Olympic 100-meter medalists – Jamaica's Elaine Thompson-Herah, Shelly-Ann Fraser-Pryce and Shericka Jackson – Richardson said at the pre-meet press conference, "I'm honored to be on the stage with them, but I'm not starstruck."

But while the Jamaicans sizzled -- finishing in the same order as they did at the Olympic Games with Thompson-Herah running the second-fastest time in history -- Richardson fizzled out. Sandwiched between Thompson-Herah and Fraser-Pryce, she got out well but faded and placed ninth and last in 11.14 seconds. That was considerably slower than her winning time of 10.86 at the Olympic Trials and would not have earned her a spot on the Olympic team in the 100.

Thompson-Herah's time of 10.54 was only .05 off the world record of 10.49 set by Florence Griffith Joyner in 1988. Some track and field experts believe Griffith Joyner's was actually wind-aided, but the gauge didn't work correctly.

Fraser-Pryce clocked 10.73 while Jackson equalled her personal best of 10.76 and Teahna Daniels of Team USA was fourth in a personal best of 10.83. Daniels was the only American woman to make the final in Tokyo, finishing seventh.

Richardson, who is known for her unrelenting belief in herself, was unfazed by her performance.

"It was a great return back to the sport," Richardson told NBC on the broadcast. "I wanted to be able to come and perform. Having a month off dealing with all I was dealing with, I'm not upset at myself at all."

Richardson, who clocked 10.72 seconds earlier this season, added, "This is one race, I'm not done. You know what I'm capable of. Count me out if you want to...because I'm here to stay. I'm not done. I'm the sixth-fastest woman in this game ever, and can't nobody ever take that from me. Congratulations to the winners, but they're not done seeing me yet."

However, Richardson did pull out of the 200 meters, a race in which she had been expected to compete. Mujinga Kambundji of Switzerland won with a time of 22.06 seconds, followed by Gabby Thomas, the Olympic bronze medalist, in 22.11. Allyson Felix, who won the bronze in the 400 meters in Tokyo in her Olympic swan song, returned to the race she has called "her baby" and was eighth in 22.60


Shot put gold medalist Ryan Crouser extended his winning streak to 21 meets, setting a Diamond League record of 23.15 meters (75 feet, 11 ½ inches) while pole vault gold medalist Katie Nageotte cleared 4.82 meters (15-9 ¾) for the win.

"I was really feeling exhausted quickly," Nageotte said. "I was just gassed. I didn't have a lot of energy today. I wasn't expecting that. I was excited to come in. I felt good in the warmups and then just crashed."

Olympic silver medalist Dalilah Muhammad ran alone in front in the 400-meter hurdles without being pushed by gold medalist and world record holder Sydney McLaughlin, who wasn't entered in the meet. Muhammad posted a meet-record time of 52.77 seconds.

"You never know what that first race after a big championship is going to be like," said Muhammad, who said she wanted to "show I still can keep going."

Rai Benjamin, who won the silver medal at the Olympics in the men's 400-meter hurdles, entered the 200, a race he hadn't run in three years. He finished fifth with a respectable time of 20.16 seconds.

"I was trying to break some hearts, but I had my heart broken instead," Benjamin said with a laugh. "I just wanted to come out and get a good one in and just have some fun."

Benjamin added that he wanted to switch it up to end the season, but for others, the season goes on.
Karen Rosen has covered every Summer and Winter Olympic Games since 1992 for newspapers, magazines and websites. Based in Atlanta, she has contributed to TeamUSA.org since 2009.