Olympian Daryl Homer Says "Fencing Has Shown Me What I'm Made Of"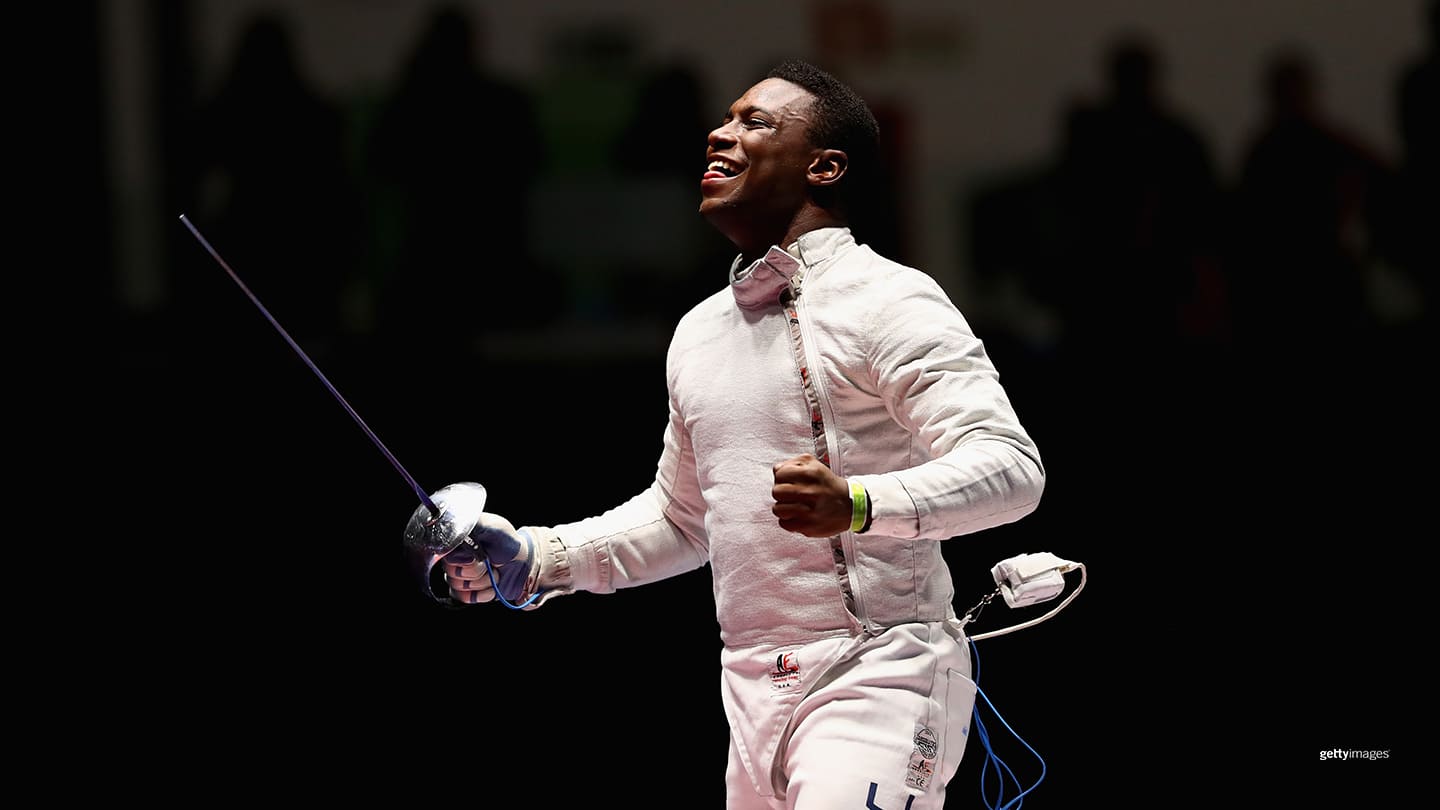 Daryl Homer of the United States celebrates victory at the Rio 2016 Olympic Games on August 10, 2016 in Rio de Janeiro, Brazil.
What's Your Why presented by DeVry highlights athlete's individual motivations that drive them to pursue greatness on their journey to achieve their Olympic & Paralympic dreams.
En Guarde! Pret? Allez! These words have been the starting line for me since I was a child.

For most kids it was "Ready, Set, Go"? For me, these three French commands held the key to my destiny. I learned to obey these words before I learned what they meant (funny I know), and these words have since been guiding principles in my life.

As I prepare for my third Olympic Games, I've been spending time thinking back to where my passion in this sport came from. Is it something I felt immediately or something that grew upon me?

I remember being a kid and picking up a fencing weapon for the first time. It was a foil, similar to what I'd seen in the parent trap. I felt free, powerful, engaged.

I lost that first match, but I remember sitting down and smiling. This from a kid who hated losing and threw fits whenever things did not go his way.

I also think back to my first tournament. I was a Sabre fencer by then. I shared equipment with the other athletes and didn't know how to hook up to the electric system. I'd only fenced non-electric at that point.

I remember borrowing equipment from the fencing club and the older fencers, testing it to ensure it worked for us. I finished in last place at that competition in both under 12 and under 14. I threw a fit, but I still can't put my finger on why I didn't leave and why I wasn't discouraged.

Why do I do what I do? I guess it's because there's no other place that I've been able to challenge myself so much. Nothing else in my life that's showed me how much I'm made of.

I've overcome so many obstacles in this sport, the hardest being my own self-doubt. Fencing has filled me with a deep understanding of myself and others. It's shown me how to pick myself up after down days and to never let my head get too big when I'm up.

Most importantly, it's filled me with a strong sense of character and of self. I guess what drives me is seeing how far I can take it - exploring the deepest parts of human potential, the deepest parts of myself.

So when will enough be enough? I really don't have an answer to that. I just know that fencing is my first love.

I love the fact that I have to equally use my mind, body and spirit. Every training is an exercise in problem solving, patience and control.

I have been able to travel the world in a way I wouldn't have without this sport. And in the meantime, I've created incredible friendships with people from cultures and upbringings far different than mine.