U.S. Fencers Back In Action This Month As Prep For Tokyo Ramps Up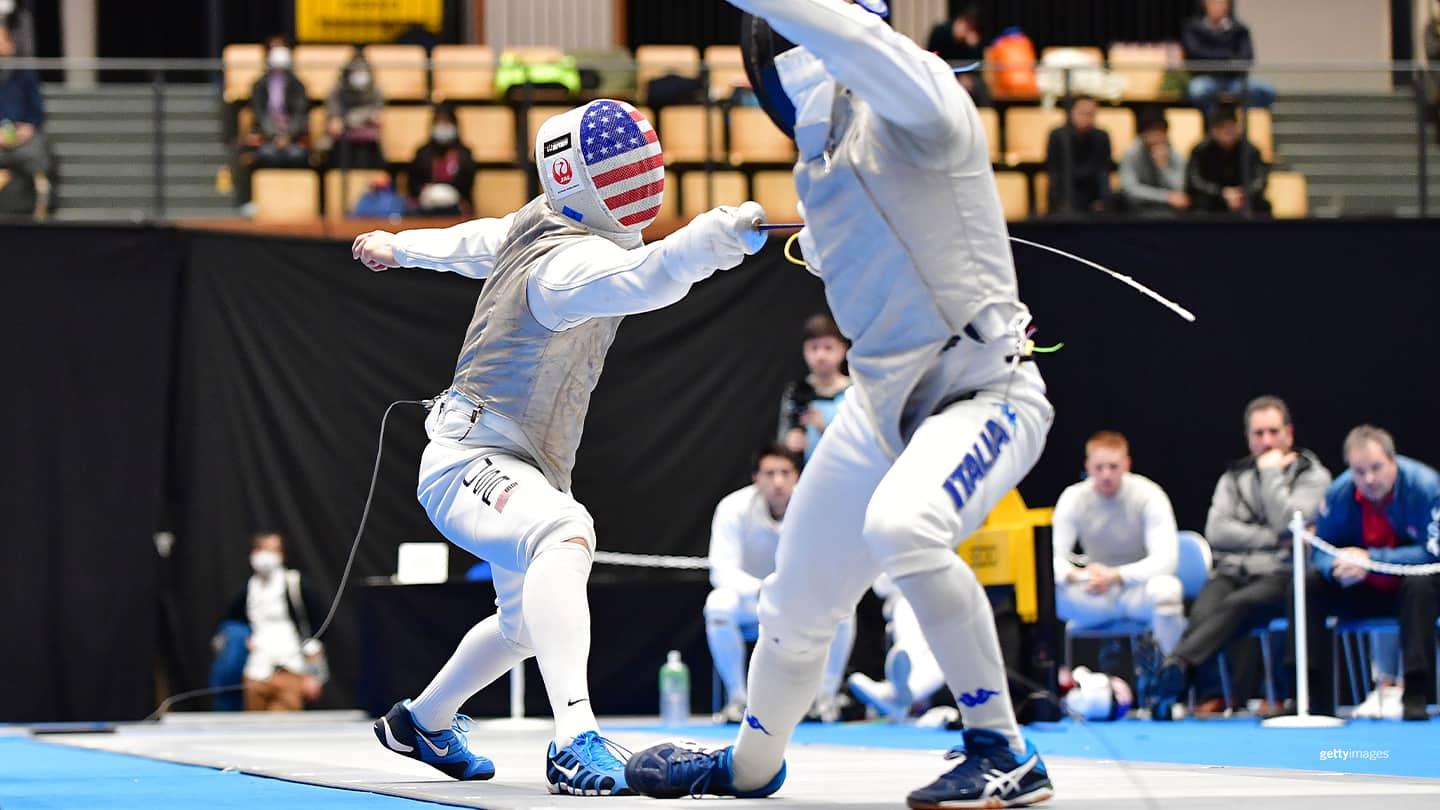 Alex Massialas (left) competes against Alessio Foconi of Italy at the Prince Takamado Trophy Fencing World Cup on Jan. 27, 2019 in Tokyo.
It was a year ago when the sports world came to a screeching halt due to the COVID-19 pandemic. So it is almost fitting that 12 months later, international competitions are slowly starting up again.

Fencing is the latest Olympic sport to resume competition, with USA Fencing sending its men's and women's saber teams to the FIE World Cup in Budapest. It is the first of three big weekends for USA Fencing, as the epee and foil teams also are back in action.

All three disciplines pick up where they left off regarding Olympic qualifications, even with the lapse in competition.



Saber in Budapest
Two Americans have already qualified for this summer's Olympic Games Tokyo 2020: Eli Dershwitz and Mariel Zagunis. So the battle internally for the U.S. is for the two other individual positions and one alternate and in the final two qualifying events, beginning in Budapest. The U.S. has already qualified both teams for Tokyo.

Dershwitz, who finished 19th at the 2016 Rio Games, is ranked No. 3 among the men and Zagunis, a four-time Olympic medalist including golds in 2004 and 2008, is No. 7 on the women's side.

Daryl Homer, ranked 17th, could lock up one of the men's spots this weekend. The third and final spot is a four-way battle between Andrew Mackiewicz, Khalil Thompson, Grant Williams and Jonah Shainberg, with one becoming an alternate.

Eliza Stone, ranked just ahead of Zagunis at No. 4, is a virtual lock for the Games. The U.S. will be without two top athletes. Dagmara Wozniak, a two-time Olympian who won a team bronze in Rio, and Nora Burke withdrew from the competition. They are ranked third and sixth, respectively, in the nation.

That leaves Kamali Thompson and Francesca Russo with a chance to accumulate much-needed points this weekend to boost their Olympic hopes.



Epee in Russia
Both the U.S. men's and women's epee teams had quota spots in Tokyo clinched before last year's shutdown. The FIE World Cup event March 19-23 in Kazan, Russia, is the final chance for individuals to improve their standing.

On the men's side, Curtis McDowald and Yeisser Ramirez would seem to have the other two spots locked up, with Soren Thompson as the alternate, barring something dramatic happening on the team, ranked 10th in the world. Tokyo will be the first Olympic appearance for the U.S. since 2004 and its only medal came in 1932 in Los Angeles.

The women, ranked fifth in the world, are a much different story. The top three positions are locked in with the Hurley sisters, Courtney and Kelley, and Kat Holmes having all but clinched a return trip to the Olympic Games. Anna Van Brummen is likely to have the alternate spot.

The Hurleys have a combined five Olympic appearances, winning the team bronze in 2012 in London, while Holmes made her Olympic debut in 2016. But the hopes for this team are higher after the U.S. won the 2018 world championships, the first team medal of any kind at that level.

"It's not that we didn't know that we could do it, I think we always knew, but there's a subtle dichotomy between knowing and believing and now we really believe," Holmes said. "We've been on top of that podium, we know what it feels like and we know what it takes to get there."

Holmes, who lives in Princeton, New Jersey, where she went to college, bounced around a few different places to train during the pandemic. One was a narrow basement that forced her to be more precise with her actions. She also lifted weights in her living room and got stronger, which she hopes benefits her pursuit of individual and team Olympic medals.

Just getting back into international competition after such a long layoff has Holmes pumped.

"It's funny like, I've always loved competing," said Holmes, who put off med school for another year to continue her Olympic pursuit. "I think probably much more than the average athlete. I love competing. I just like the whole process. But I started packing like two weeks ago. I'm just so excited to finally hit the strip and be out there again."



Foil in Doha
The foil team presents the best opportunity for medals in Tokyo, with the men No. 1 and the women No. 4 in the world. The U.S. has its last Olympic qualifying event March 26-28 in Doha, Qatar, which is an FIE Grand Prix.

The U.S. men count four fencers in the top eight in the world, led by Gerek Meinhardt at No. 3. Alexander Massialas is No. 5, followed by Nick Itkin at No. 7 and Race Imboden at No. 8. Imboden will be the alternate.

For the women, Lee Kiefer is the clear-cut leader, ranked fifth in the world. Nicole Ross is next at No. 13. Jacqueline Dubrovich actually is second in points, slightly ahead of Ross, but both are safely in the top three, with the alternate a battle between four athletes.

"The hardest thing, of course, is the fact that I felt we were sort of getting ready and peaking at the right time. Last time around," said Greg Massialas, the first fencing coach to win Team USA Olympic Coach of the Year. "Now we have to sort of re-create that and at the same time adjust for the fact that there were no competitions. But everybody stayed in very good physical shape No. 1. ... From the looks of things, I think we're right on schedule."

While he would love to see a podium sweep in Doha, he realizes the importance of just seeing his team back in action and getting acclimated to competition as he eyes bigger things in Tokyo.

"I really want to use this opportunity to best prepare for what we're going to have ahead of us because in more than a year, people change, people evolve," said Massialas, who feels his younger athletes have benefited from the extra time. "We will not have seen any of our competitors that we are used to seeing on a monthly basis for a year."
Steve Drumwright is a journalist based in Murrieta, California. He is a freelance contributor to TeamUSA.org on behalf of
Red Line Editorial, Inc.