Men's Foil Team Wins Second Consecutive Medal As Fencing Competition Concludes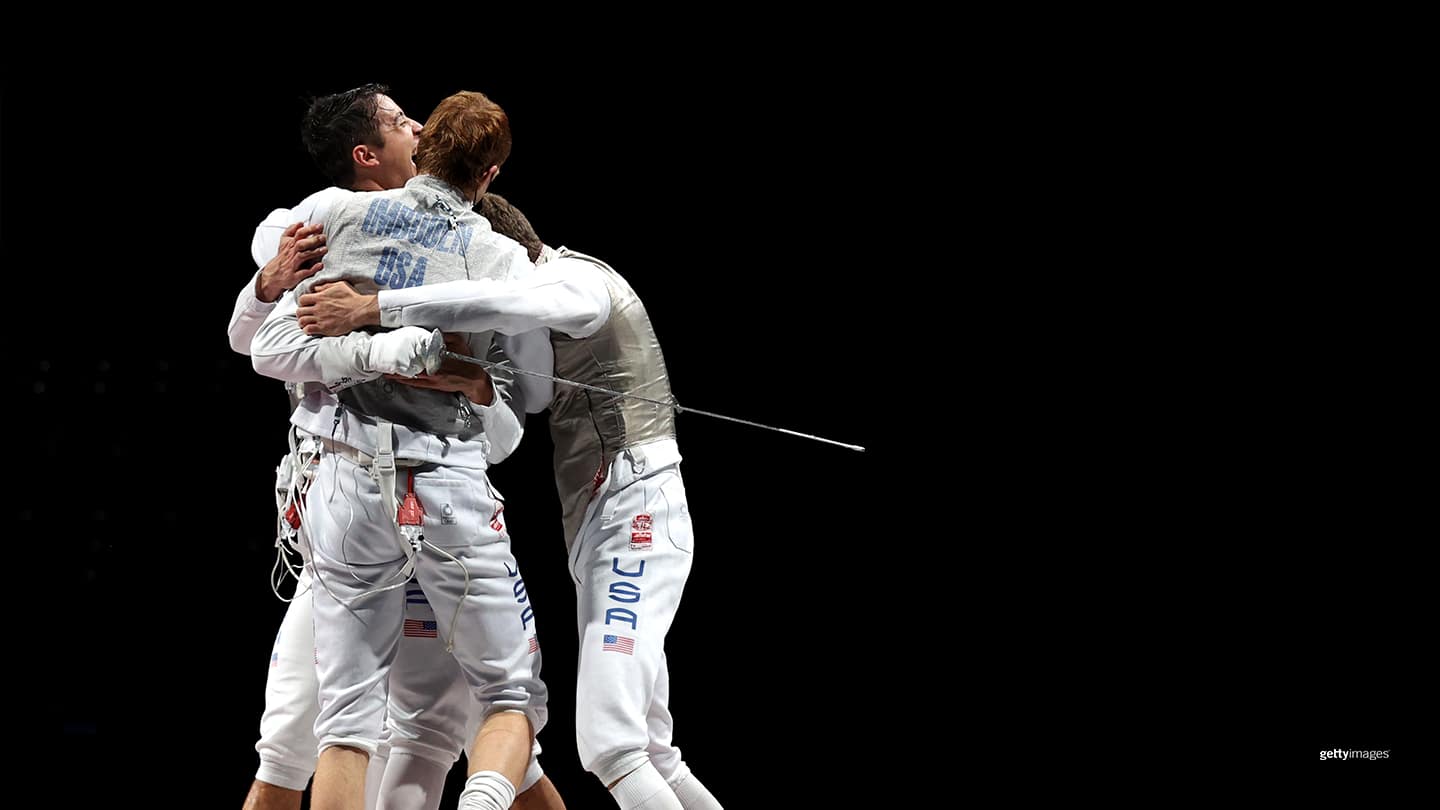 Team USA celebrate after winning the Men's Foil Team Fencing Bronze Medal at the Olympic Games Tokyo 2020 on Aug. 1, 2021 in Chiba, Japan.
The U.S. men's foil fencing team has accomplished so much in recent years, rising to the top of the world rankings and winning the first-ever senior title at the 2019 world championship following their bronze medal win at the Olympic Games Rio 2016.

They hoped to better that placement this summer in Tokyo and win the program's first-ever Olympic gold medal, but a loss to the Russian Olympic Committee in the semifinals halted the run to the top. Alex Massialas, Race Imboden, Gerek Meinhardt and Nick Itkin instead defeated Japan, 45-31, to win bronze once more. Itkin is the lone member of the team who wasn't in Rio.

The team defeated Germany, 45-36, in the quarterfinals to advance to the semifinals against the ROC. The ROC put the U.S. in a hole from the very beginning but Imboden and Massialas fought back to give the U.S. a 15-13 lead. From there it was a close, back-and-forth affair but the ROC won each of its last two matchups to come back from a 35-32 deficit and get the win, 45-41.

The U.S. never trailed against Japan.

The women's foil team of Jackie Dubrovich, Lee Kiefer, Nicole Ross and Sabrina Massialas also found itself competing for a bronze medal, but fell short. After Ross won the opening matchup against Italy, it quickly became a one-sided affair. Italy opened up a gap too great to close and won, 45-23.

Newly crowned Olympic champion Kiefer, who won the only individual fencing medal for the U.S. at these Games, said they were heartbroken but fought hard the whole way.

"We lived like a family for five months and of course we wanted that medal," she said. "We've had such a fulfilling, beautiful journey that none of us knew was possible. We've taken our fencing to places that I think are incredible. I am filled with pride for my teammates. It hurts right now but we left it all out there. We have no regrets whatsoever."

Karen Price is a reporter from Pittsburgh who has covered Olympic and Paralympic sports for various publications. She is a freelance contributor to TeamUSA.org on behalf of Red Line Editorial, Inc.