Lee Kiefer's Gold Highlights U.S. Fencing Individual Performances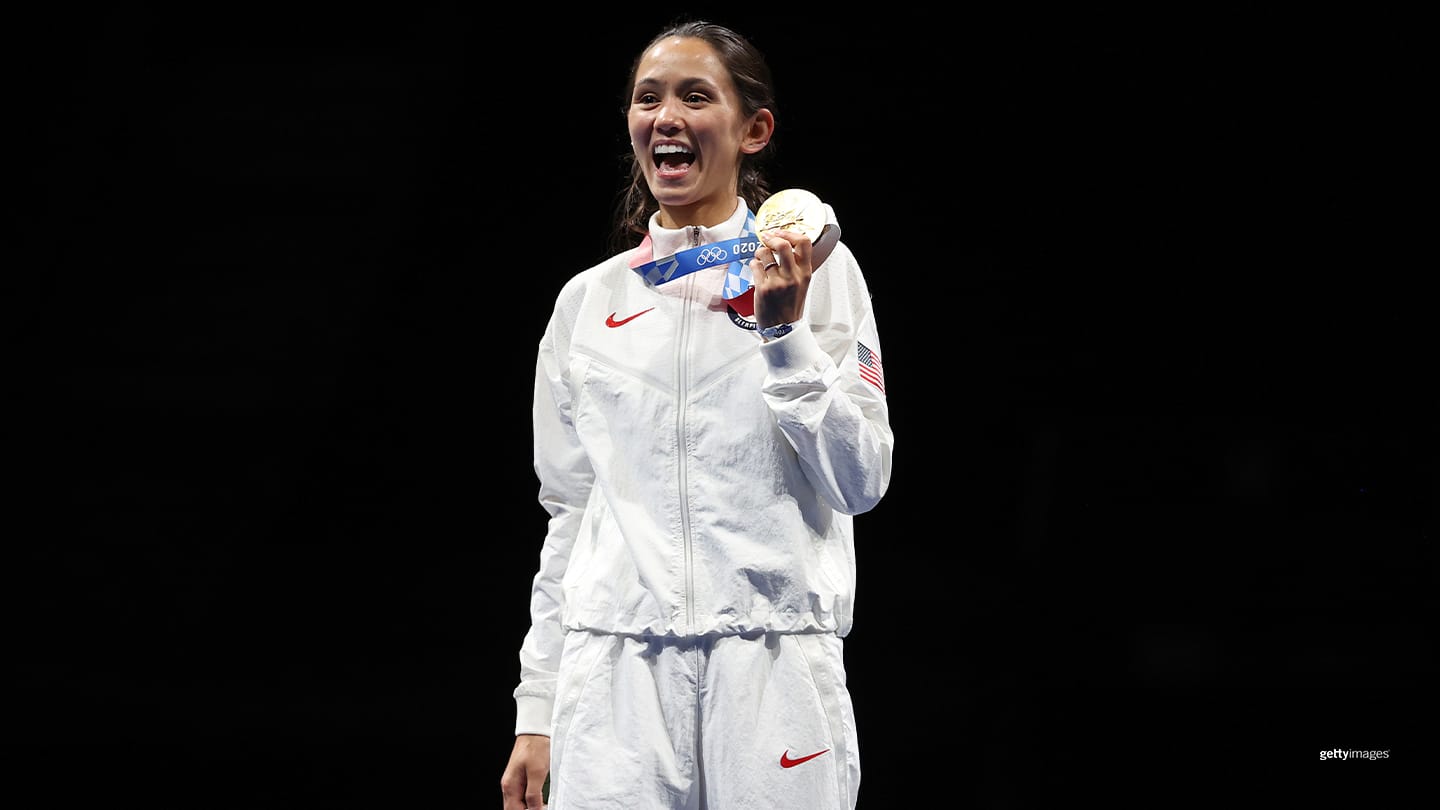 Lee Kiefer takes gold during the medal ceremony for Women's Foil Individual Fencing on July 25, 2021 in in Chiba, Japan.
As Savannah Guthrie introduced Lee Kiefer and Anastasija Zolotic on NBC's "Today Show" on Monday morning, she said, "History makers, trail blazers, pick your adjective."

Both women are Olympic gold medal winners, and the first U.S. women to become Olympic champions in their sports: Kiefer in foil fencing and Zolotic in taekwondo.

With the individual medal rounds in fencing now complete, Kiefer will be the only U.S. athlete returning home with a medal in that category. Team competitions begin on Tuesday.

Kiefer, 27, from Lexington, Kentucky, is competing in her third Olympic Games. This is her first medal.

"I still don't feel like it's real," she said during her "Today" appearance. "My happiness comes from the joy of my coach and my family at this point."

That family would include husband Gerek Meinhardt, a member of the U.S. men's foil fencing team.

Men's foil and women's saber were the last individual events to take place. Meinhardt lost in the round of 32 and finished 17th individually. This is his fourth Olympic Games.

"She made my Olympic dream come true," Meinhardt said of Kiefer. "Being able to see her go out and fight her nerves and come out with the gold medal was something really special."

Nick Itkin finished 12th in his Olympic debut and Alex Massialas 18th in his third trip to the Games. Rounding out the women's foil team, Nicole Ross finished 12th in her second Olympic Games and Jackie Dubrovich 21st in her debut.

Competing in women's saber, Mariel Zagunis came close to bringing home another individual medal but finished fifth. The five-time Olympian, who won individual gold in 2004 and 2008, will now look to earn her third team medal after losing in the quarterfinals to Sofya Velikaya of the Russian Olympic Committee, 15-8. Velikaya went on to win silver.

Eliza Stone finished 19th in her first Olympic appearance, and Dagmara Wozniak was 25th at her third Games.

In men's saber, Eli Dershwitz finished ninth in his second Olympic Games, Daryl Homer was 23rd in his third and Andrew Mackiewicz was 31st in his Olympic debut.

Rounding out the individual competition, Kelley Hurley had the best finish among the women's epee squad, coming in 12th in her fourth Olympic Games. Kat Holmes was 24th in her second and Courtney Hurley was 26th in her third.

On the men's side, Curtis McDowald was 24th, Jake Hoyle was 26th and Yeisser Ramirez was 30th. All three are first-time Olympians.

First up on the team schedule is women's epee on Tuesday, followed by men's sabre on Wednesday, women's foil on Thursday, men's epee on Friday, women's sabre on Saturday and men's foil on Sunday.
Want to follow Team USA athletes during the Olympic Games Tokyo 2020? Visit TeamUSA.org/Tokyo2020 to view the medal table, results and competition schedule.
Karen Price is a reporter from Pittsburgh who has covered Olympic and Paralympic sports for various publications. She is a freelance contributor to TeamUSA.org on behalf of Red Line Editorial, Inc.