A Look Inside The Numbers As The Top Track & Field Athletes In The Country Vie For A Spot In Tokyo At Olympic Trials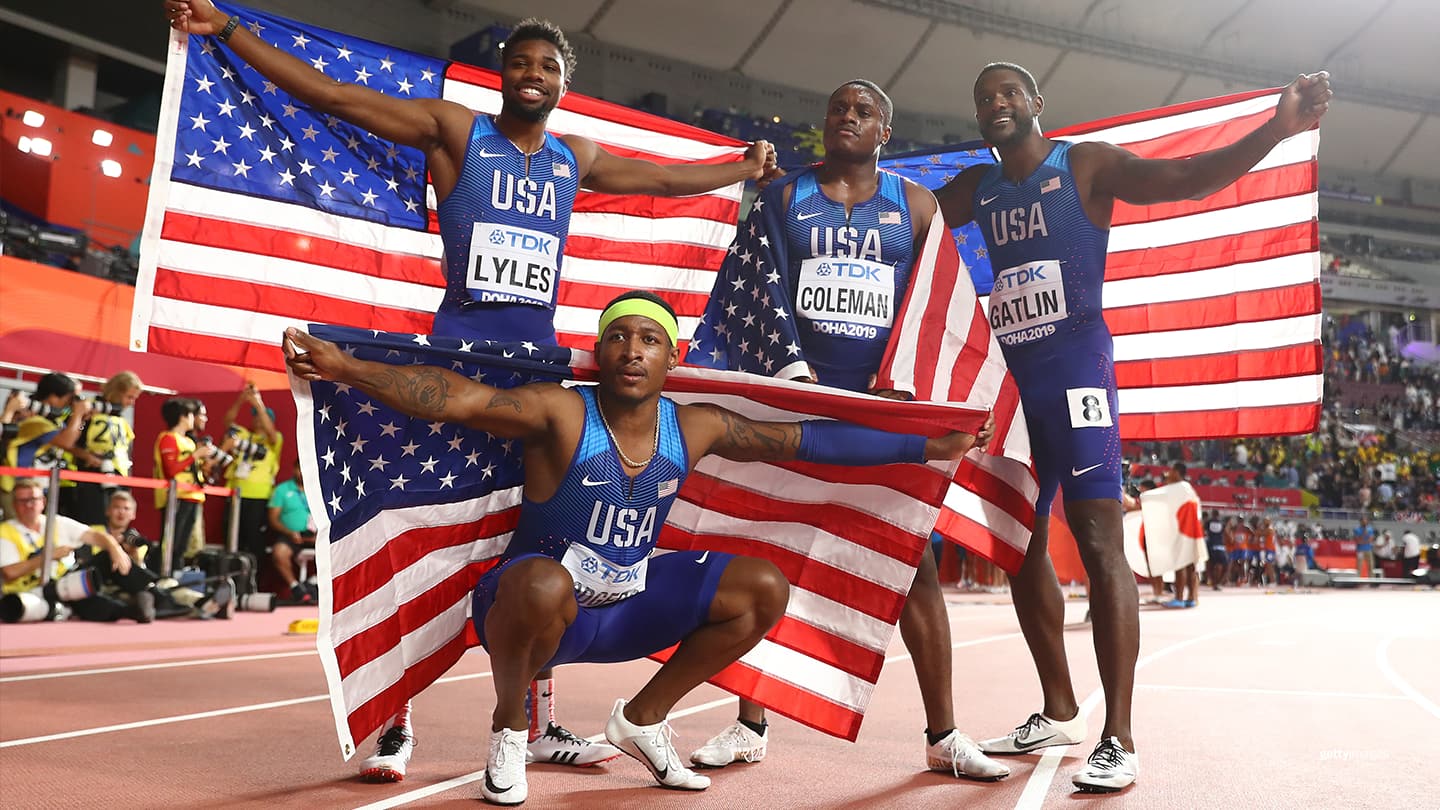 Christian Coleman, Justin Gatlin, Michael Rodgers and Noah Lyles celebrate winning the men's 4x100-meter relay at the IAAF World Athletics Championships Doha 2019 on Oct. 5, 2019 in Doha, Qatar.
Inside the Numbers presented by DeVry is a series that gives fans a peek at the numbers behind what it takes to qualify for Team USA and other incredible facts about Team USA sports.
Some Team USA track and field athletes will face tougher competition at the U.S. Olympic Team Trials – Track and Field than they will encounter at the Olympic Games Tokyo 2020.

About 1,000 athletes will be in action June 18-27 at the newly renovated Hayward Field on the University of Oregon campus in Eugene, Oregon.

There are 20 events for men and 20 for women, with two off days in the middle. Athletes will also be named to relay pools for the 4 x 100-meter relays, 4 x 400-meter relays and mixed 4 x 400-meter relay.

Team USA usually sends its largest contingent to the Olympic Games in track and field. The top three in each event will qualify based on meeting the Olympic qualifying standard and world rankings. Because of the postponement of the Olympic Games Tokyo 2020, results from 2019 are counted, but most of 2020 was a "dead zone." Athletes also have until June 29 to qualify.

With Trials just around the corner and the Games themselves not too far behind this summer, here's a closer look at track and field by the numbers.


2
There are two combined events in track and field: the 10-event decathlon for men and the seven-event heptathlon for women. Both are contested over two consecutive days and athletes receive points based on their performances. The modern decathlon first appeared in 1912 when it was won by the legendary Jim Thorpe (who also won the defunct pentathlon competition). The five events on the first day of the decathlon are the 100 meters, long jump, shot put, high jump and 400 meters. On the second day, athletes compete in the 110-meter hurdles, discus throw, pole vault, javelin throw and 1,500 meters. The heptathlon became an Olympic event for women in 1984. On the first day, athletes compete in the 100-meter hurdles, high jump, shot put and 200 meters. The second days has only three events, the long jump, javelin throw and 800 meters.

2.0
This is the allowable tailwind, which is measured in meters per second. Wind-aided marks are not eligible for records, but do not affect order of finish. The 100 meters, 200 meters, 100-meter hurdles, 110-meter hurdles, long jump and triple jump are the only events affected by wind. Of course, athletes also sometimes run or jump into a stiff headwind.

7
This is the number of times (including 2021) that Hayward Field has hosted the Olympic Trials. The other years are 1972, 1976, 1980, 2008, 2012 and 2016.

Hayward Field is also one of only seven tracks in the United States that are Class 1 certified outdoor tracks, according to World Athletics, the international governing body. The others are Hutsell-Rosen Track in Auburn, Alabama; E. B. Cushing Stadium in College Station, Texas; Icahn Stadium in New York; John McDonnell Field in Fayetteville, Arkansas;, Rock Chalk Park Stadium in Lawrence, Kansas, and UTSA Park West Athletic Complex in San Antonio, Texas.

Fun Fact: Hayward Field was in the background of the ROTC drill scene in "Animal House" and also appeared in "Without Limits," the Steve Prefontaine biopic.

8
There are eight field events, which are usually listed in the results and record books according to measurement. For example, high jump is listed first, followed by pole vault, long jump, triple jump, shot put, discus throw, hammer throw and javelin throw. Men and women compete in the same field events, although women throw lighter implements.


10
The Trials take place over 10 days so they can stretch out over two weekends and also allow athletes time between multiple events. There are two off days, June 22 and June 23, in the middle.

12
American athletes hold 12 world records in outdoor track and field events that are currently on the Olympic program.

The five world records held by Team USA men are:
Aries Merritt, 110-meter hurdles, 12.80 seconds, Brussels, Belgium, Sept. 7, 2012.
Kevin Young, 400-meter hurdles, 46.78 seconds, Barcelona, Aug. 6, 1992.
4 x 400 relay (Andrew Valmon, Quincy Watts, Butch Reynolds and Michael Johnson), 2:54.29, Stuttgart, Germany, Aug. 22, 1993.
Mike Powell, Long Jump, 8.95 meters (29-4 ½), Tokyo, Aug. 30, 1991.
Randy Barnes, Shot Put, 23.12 meters, (75-10 ¼), Westwood, California, May 20, 1990.

The six world records held by Team USA women are:
Florence Griffith Joyner, 100 meters, 10.49 seconds, Indianapolis, July 16, 1988.
Florence Griffith Joyner, 200 meters, 21.34 seconds, Sept. 29, 1988.
Keni Harrison, 100-meter hurdles, 12.20 seconds, London, July 22, 2016
Dalilah Muhammad, 400-meter hurdles, 52.16 seconds, Doha, Qatar, Oct. 4, 2019
4 x 100 relay USA 40.82, (Tianna Bartoletta, Allyson Felix, Bianca Knight, Carmelita Jeter), 40.82 seconds, London, Aug. 11, 2012.
Jackie Joyner-Kersee, Heptathlon, 7,291 points, Seoul, Sept. 23-24, 1988

Team USA also set a world record in the mixed event that will make its Olympic debut in Tokyo:
Mixed 4 x 400 relay (Wil London, Allyson Felix, Courtney Okolo, Michael Cherry), 3:09.34, Doha, Qatar, Sept. 28, 2019.

Fun fact: Watts coaches current Team USA contenders Michael Norman (400 meters) and Rai Benjamin (400-meter hurdles).

13
Team USA conducts trials in 13 running events, with 11 being held in Eugene. They are the 100 meters, 200 meters, 400 meters, 800 meters, 1,500 meters, 5,000 meters, 10,000 meters, 100-meter hurdles for women/110-meter hurdles for men, 400-meter hurdles, 3,000-meter steeplechase and 20K race walk. Trials in the marathon and 50K race walk, the only event in which women do not compete, were held early last year.
15

As of June 1, the youngest competitor qualified for the Trials was Sophia Gorriaran, a 15-year-old high school student from Rhode Island. She made the field in the women's 800 meters by running 2:02.44 in February in a professional field. However, Gorriaran will turn 16 on June 20, the minimum age for Olympic track and field competitors. The first round of the women's 800 is June 24.
32
The United States won 32 medals at the Olympic Games Rio 2016, including 13 gold, 10 silver and nine bronze medals. Kenya was second with 13 medals (six gold, six silver, one bronze).
The Team USA gold medalists were Matt Centrowitz (1,500 meters), Kerron Clement (400-meter hurdles), men's 4 x 400-meter relay team, Jeff Henderson (long jump), Christian Taylor (triple jump), Ryan Crouser (shot put), Ashton Eaton (decathlon), Brianna Rollins (100-meter hurdles), Dalilah Muhammad (400-meter hurdles), 4 x 100-meter relay, 4 x 400-meter relay, Tianna Bartoletta (long jump) and Michelle Carter (shot put).
39
This is the age of Justin Gatlin, who is attempting to make his fourth Olympic team. Gatlin was second at the Trials in 2004 with a time of 9.92 seconds behind Maurice Greene, who ran 9.91. Gatlin went on to take the gold medal in the 100, the silver in the 4 x 100-meter relay and the bronze in the 200 in Athens. At the London Games in 2012, he won the bronze in the 100 meters and captured the silver in that event in 2016. Gatlin has clocked 9.98 seconds this year.
1,000
This is number of competitors, give or take 100, expected to compete at the Olympic Trials. There were 1,069 athletes entered in 2016.
776 BC
Running, jumping and throwing are basic human activities, but track and field as a competition was formally introduced at the Ancient Olympic Games of 776 BC in Olympia, Greece. Athletes competed in a footrace of roughly 200 yards called the stade, from which we get the word "stadium." Only men were allowed to participate, and that restriction remained in 1896 when the modern Olympic Games began in Athens, Greece.
1928
Women were finally allowed to compete in track and field at the Amsterdam Games, starting with the 100, 800, 4 x 100 relay, high jump and discus. Betty Robinson, who won the gold in the 100 at age 16, was later presumed dead in the wreckage of a small plane crash. She was placed in the trunk of a car and taken to a mortician, who luckily noticed that she was just unconscious, although badly injured, Five years later, Robinson won another gold medal in the 4 x 100-meter relay in 1936.
In Amsterdam, the finish of the 800 meters was controversial when some athletes dropped to the track in exhaustion after the race. In response, track and field's international governing body did not allow the 800 to return to the program until 1960.
July 30-Aug. 8, 2021
Track and field takes center stage the second week of the Olympic Games. The sport will take place at the new Olympic Stadium in Tokyo. The 20K race walk, 50K race walk and marathons, will be held in the northern Japanese city of Sapporo, where the temperature is not expected to be as high.
802
Team USA has won 802 Olympic medals in track and field - 335 gold, 260 silver and 207 bronze - according to Olympedia, the Olympic history database. That doesn't count the 23 medals (11 gold, six silver and six bronze) won at the 1906 Intercalated Games in Athens, Greece. By comparison, Team USA has won 556 swimming medals (247, 172, 137).
The number is about 28 percent of total Team USA medals in winter and summer Olympic Games (2,847, including 1134 gold, 914 silver and 799 bronze).
Carl Lewis, with nine gold and one silver medal from 1984 to 1996 (including four straight long jump gold medals), is the most successful Team USA track and field athlete. Ray Ewry won eight gold medals in 1900, 1904 and 1908 and two gold medals in 1906. If Allyson Felix qualifies for her fifth straight Olympic team, she could break the record for most Team USA medals. Felix has nine medals – six gold and three silver from 2004 through 2016.
Karen Rosen has covered every Summer and Winter Olympic Games since 1992 for newspapers, magazines and websites. Based in Atlanta, she has contributed to
TeamUSA.org
since 2009.