Bradie Tennell's Near Perfect Free Skate Leads To Second U.S. Figure Skating Title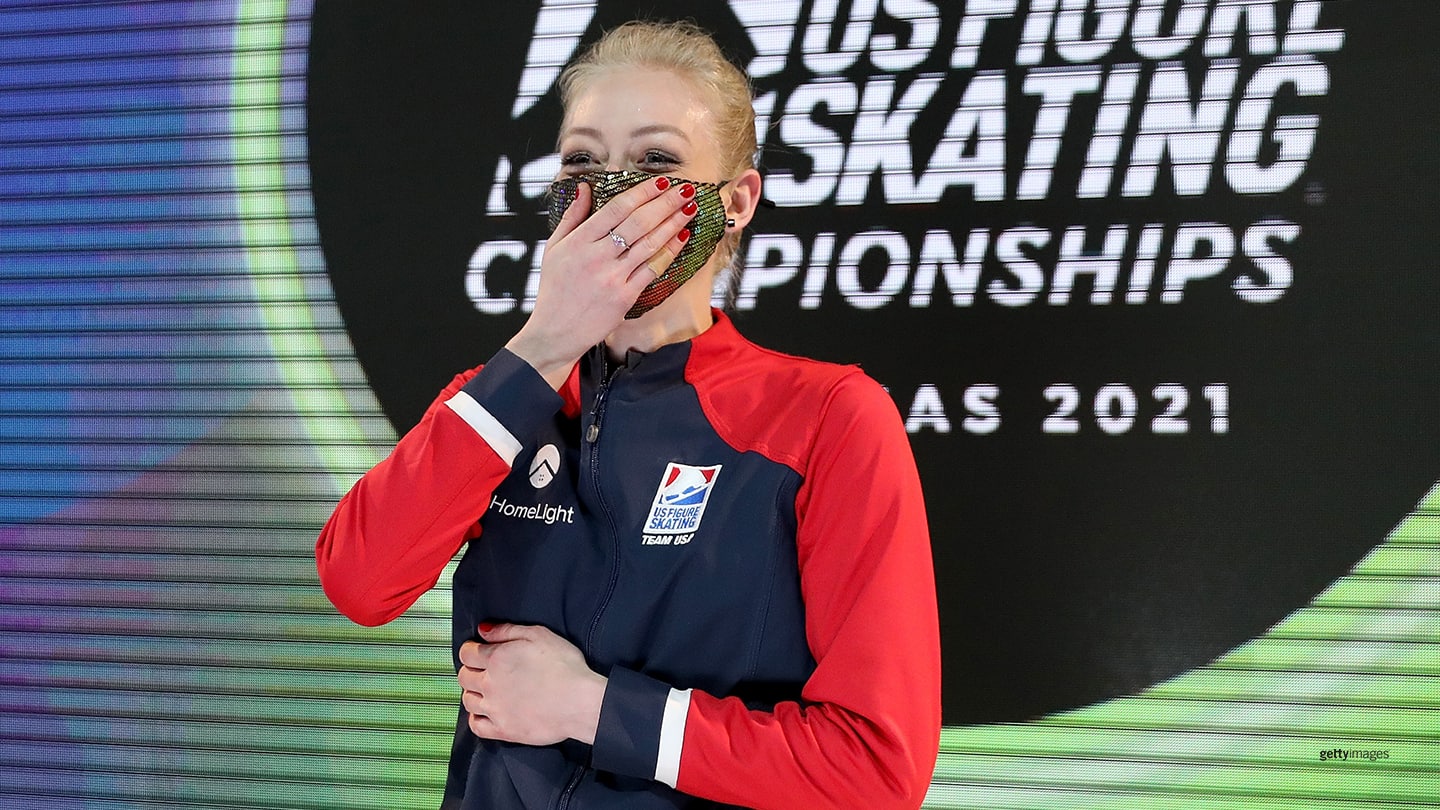 Bradie Tennell reacts in the Kiss & Cry after skating in the Ladies Free Skate during the U.S. Figure Skating Championships at Orleans Arena on Jan. 15, 2021 in Las Vegas, Nevada.
The last few years, something always kept Bradie Tennell from winning big events.

At the 2019 U.S. Figure Skating Championships she led after the short program, only to fall on a triple lutz in her free skate. Last season, she again won the short and was well on her way to a clean free before falling on one of her favorite jumps, a triple loop. At Skate America in October, a botched landing on a triple salchow cost her the title.

"She asked me, 'What is it — what's holding me back that last little bit?" her coach, Tom Zakrajsek, said.

Nothing, this time around. The 22-year-old from Carpentersville, Illinois, about 40 miles outside of Chicago, entered Friday's free skate at the 2021 U.S. Championships in Las Vegas with a 6.16 point lead. When it was over, she had won her second U.S. title by 17.28 points.

"Winning my title back means everything to me," said Tennell, a 2018 Olympian. "It was one of the driving forces to my move to Colorado this year. It's the driving force behind me waking up, going to train every day. I love training every day, too."

Tennell paused before adding, "They say it's not about the journey, it's about the destination, but the destination feels pretty good, too."

The U.S. championships are part of the Team USA Champions Series, presented by Xfinity. Performing to a dramatic medley including "Sarajevo" by Max Richter, choreographed by longtime collaborator Benoit Richaud, Tennell was nearly perfect on Friday. She performed two triple lutz-triple toe loop combinations, one in the second half of the program, and three other clean triple jumps. Her steps were sharp, her spins crisp, her attitude strong and confident.

The program earned 153.21 points; her 232.61 point total is more than 17 points over that of Amber Glenn, who climbed from fifth place after the short to win the silver medal. Karen Chen, the 2017 U.S. champion and a 2018 Olympian, claimed bronze.

"I did feel very in command," Tennell said. "Tom helped a lot with that, actually. I have a key phrase I say to myself going into that last jump, and it's made quite a big difference, because it's really funny to me but it also reminds me to stay focused until the end, so I find it very helpful."

Asked what that phrase was, Tennell coyly replied, "I'm not going to share it."

Neither would Zakrajsek, who is watching the U.S. championships from his home in Colorado Springs, Colorado, after testing positive for COVID-19 on Jan. 4. Zakrajsek's associate coach, Becky Calvin, accompanied Tennell to Las Vegas.

"It's something that's between us," Zakrajsek said, but he made it clear that hard work, and not a key phrase, was behind Tennell's win.

"It was a total performance, just like her short program," Zakrajsek said. "We have worked hard on every detail. I think it really shows that she loves skating."

After a breakout 2017-18 season that saw Tennell win a bronze medal at Skate America, the U.S. title and a team bronze medal in PyeongChang, she remained a top competitor, even qualifying for the Grand Prix Final last season. But youngster Alysa Liu used her triple axel, as well as reliable triple-triple combinations, to win the 2019 and 2020 U.S. championships. Last season, Tennell dropped to third in the U.S., behind Liu and Mariah Bell.

Feeling stagnant, Tennell left her Illinois home and longtime coach Denise Myers last August to train under Zakrajsek at the Broadmoor World Arena in Colorado Springs. Since then, according to Zakrajsek, she's worked so hard — and so smart — she's lifted the entire atmosphere of the rink.

"I don't say that to put down any of our other skaters, because they are all great workers, but Bradie took it to another level," he said. "She was absolutely ready (for the U.S. championships). Becky (Calvin) called me every day after practices and said, 'Tom, she's almost in a class by herself.'"

"I came into this competition knowing I had skated clean programs every day," Tennell said. "I knew that I was ready. So, all I had to do was go out there and skate and enjoy myself, and that is my goal for every competition. And I feel like I achieved that goal for the first time since 2018 nationals, and that is probably what I'm most proud of."

It's possible one skater enjoyed herself even more Tennell, and that is Glenn. The 21-year-old Texas native, who trains in Plano under Darlene and Peter Cain, is known for her speed, power and big — but sometimes inconsistent — jumps.

In the short program on Thursday, Glenn attempted a triple axel but faltered on the landing. She scarcely put a foot wrong in her free skate, landed six clean triple jumps including a huge triple flip, triple toe loop combination. Her 144.50 score had her gasping for air in the kiss and cry.

"I was in utter shock, to be honest," Glenn said. "It didn't feel real. That was a personal best free skate by about 15 points, and by a good, I believe, 25 points for a national championships free skate, so I was definitely in a lot of shock. I was speechless."

Glenn had the performance of her life while fighting off a right foot infection that caused her calf and shin to swell.

"After this, I'm going to the medical room and get some antibiotics," she said. "Going into my last two jumps, which are loops done off my right foot, I was like, 'Oh, my goodness.' But I pushed through it and I was really happy I was able to complete the program."

Skating to the classic Chinese melody "Butterfly Lovers," Chen also had a superb free skate, but nearly fell on a triple loop attempt. Still, her bronze medal was her highest finish since 2018, when she also won bronze.

Liu, who surprised many with her clean, maturely skated short program, was unable to sustain that level in Friday's free skate. She dropped from second after the short to fourth overall with 213.39 points.

With her training this season curtailed by the pandemic, growing pains and a hip injury in October, the 15-year-old from Richmond, California, did not attempt her triple axel or quadruple lutz. Still, she landed a triple lutz, triple toe combination and several other triples, and leaves Las Vegas optimistic that she will soon regain full form.

"This season was a really good learning experience, and I'm glad it happened now, and not another season," she said. "I'm excited and looking forward to next season, and training for it, and hopefully I can show better results."

Mariah Bell, who entered the free skate in third place, fell on her opening triple flip and faltered on several other jumps. She placed fifth with 199.95 points.

Chock And Bates' "Too Darn Hot" Grabs Slim Lead, Sets New Scoring Record
Competing for the first time in 11 months, Madison Chock and Evan Bates earned a world record 90.10 points for their rhythm dance Friday to take a 0.44 point lead over training mates and longtime rivals Madison Hubbell and Zachary Donohue. They'll go for the titles in the free dance on Saturday.

"It felt good to get on to the ice and give a strong performance, because we've been working really hard in training and putting our best selves on the ice every practice," Chock said. "We've been able to apply all the things we've been working on, and it feels really good to be back in competition."

"As far as the record goes, that's not really something we think about," Bates added. "It's a cool fact, but scoring is so relative, and rules change over the years. We are pushed so hard by our training mates and our compatriots here that it's still a really close competition. It's going to come down to the free dance tomorrow."

As usual, little separated the two teams, who have each won two U.S. titles and two world medals. Last October, Hubbell and Donohue won their third straight Skate America. Chock and Bates, who spent part of the summer off the ice due to Chock's concussion, elected to bypass the event.

On Friday in Las Vegas, both couples gained Level 4 — the highest level, worth the most points — on four of the five elements, along with a single Level 3. Chock and Bates scored a shade higher on both the technical and program components score.

That is where the similarity ends. While both teams train in Montreal under Marie-France Dubreuil, Patrice Lauzon and Romain Haguenauer, their rhythm dances are polar opposites.

Chock and Bates, who performed to Cole Porter's "It's Too Darn Hot," called to mind a high-end nightclub in a Fred Astaire and Ginger Rogers movie of the 1930s. Hubbell and Donohue had a grittier, more overtly risqué attitude in their number to music from the 2010 film "Burlesque."

Their highlights, too, were different. Chock and Bates opened their program with a spectacular lift, while Hubbell and Donohue wowed with their commanding presence and ice coverage. Both teams were solid in their twizzles and steps.

"We push them, they push us on a daily basis," Donohue said. "We both want to win."

The scoring difference may have come down to a slight slip by Hubbell towards the end of the "Burlesque" routine. While not on a scoring element, it still left an image with the judges.

"We really wanted to go all out and show our power and speed," Hubbell said. "I lost my balance in the end. It was one of those moments when you hit yourself and say, 'C'mon, couldn't you have stayed with it for 30 more seconds?' Compared to Skate America, (the program) showed our skating quality."

Hubbell has also changed costumes since Skate America, where her long, gold dress received decidedly mixed reviews from ice dance fans. Now clad in a sheer black body stocking, she is tapping into what she called her "very powerful feminine energy."

"From the very beginning, when I saw 'Burlesque' in the theaters with my mom, we both loved the number Kristen Bell does wearing this kind of unitard," Hubbell said. "I was not 100 percent sure of how to make it work within the rules. Luckily, Elite Xpression from Montreal kind of helped us make this vision come to life, and I really feel quite fabulous in it."

Chock, too, sported a new costume: a short, sheer white dress with silver sequin design. She and Bates, who used "Too Darn Hot" last season, changed the second half of the program to keep the routine fresh.

The last time they set foot on competitive ice, at the 2021 Four Continents Figure Skating Championships, they won gold to Hubbell and Donohue's bronze. To think that event was 11 months ago was "just bizarre," Bates said.

"But as the time came to step on the ice here, we really found it again — the kind of calm and the connection we have," he added. "It's the bond we share and rely on, when we go out to a high pressure situation."

Kaitlin Hawayek and Jean-Luc Baker, who train alongside the top two couples in Montreal, have won the last two U.S. bronze medals. Third in the rhythm dance with 85.28 points, they may make it three in a row.

The skaters reprised last season's popular routine to music from "Saturday Night Fever" and, like their training partners, gained four Level 4 elements.

"If there was a real audience in the arena, they would already be clapping along," NBC Universal commentator Tanith White said of the exuberant program.

Performing to cardboard cutouts instead of live people posed a challenge, though.

"We have to find ways to bring energy and personality out in each other, since there isn't an audience," Hawayek said. "It's a fun challenge. We always say, 'Be real, don't repeat the same faces, the same expressions. Make it you.'"

Caroline Green and Michael Parsons, an up-and-coming team in their second season together, sit fourth with 80.10 points.
Lynn Rutherford is a sportswriter based out of New York. She is a freelance contributor to TeamUSA.org on behalf of
Red Line Editorial, Inc.