Mariah Bell is Finally Golden at U.S. Figure Skating Championships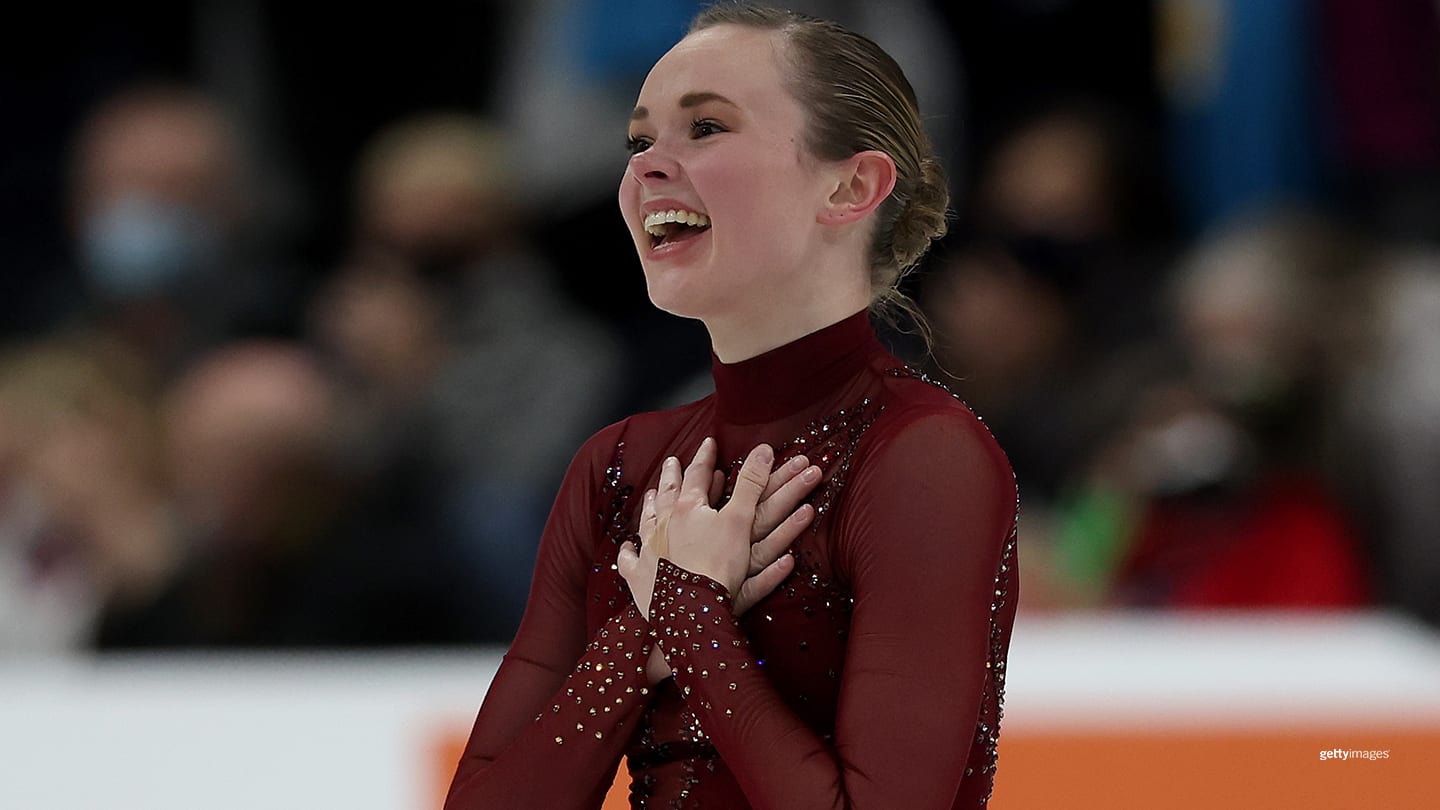 Mariah Bell reacts after skating in the Ladies Free Skate during the U.S. Figure Skating Championships on Jan. 7, 2022 in Nashville, Tennessee.
When Adam Rippon offered words of advice to Mariah Bell this week, he thought back to the 2018 U.S. Figure Skating Championships, where he made his bid for the PyeongChang Olympics.


Rippon, fourth in the U.S. that season, snagged one of the three men's spots. But he did not make it easy for himself.


"In the Olympic year, I felt everything I did was one step closer to the Games, especially at nationals," said Rippon, a team bronze medalist in 2018. "As soon as I got to a certain point in my free skate, I felt like, 'Oh, I made it.' And then suddenly, I made these two random mistakes."


Rippon has coached Bell for the past few seasons, working alongside Rafael Arutunian in Irvine, California. He wanted his pupil to learn from his missteps.


"I wasn't totally present," Rippon said. "I told Mariah to stay totally present. Give everything 100 percent. If you do, you will walk away satisfied. It's a level playing field and you just have to go out and do your stuff."


Bell took the ice in Nashville, Tennessee, on Friday, carrying Rippon's words with her: Stay the course. Never lose focus. Do not take even the simplest move for granted.


Four minutes later, she had turned in a performance that made her the U.S. women's champion.


"I was fighting through a lot of it," Bell said. "I really fought for every point. ... I'm really looking forward to taking this and figuring out how to make things a little more solid, going into what's next."


Bell's free skate, set to k.d. lang's rendition of "Hallelujah," was far from perfect. She did not try a triple-triple combination, and the second jump of an improvised triple lutz-double axel sequence was shaky. It earned 140.70 points, far less than programs from the past two U.S. champions, Bradie Tennell and Alysa Liu, garnered. Combined with her short program, her 216.25 points edged Karen Chen, who took the silver medal with 213.85.


Each of Bell's moves was polished and finished, the performance brimmed with emotion and Shae-Lynn Bourne's open, free-flowing choreography suited the skater to a tee. Bell first performed to "Hallelujah" during the 2019-20 season, so returning to it for the Olympic year was a natural decision.


"This program, I have such a connection to it, just from the moment the music starts," Bell said. "I feel like I'm able to be in my own little world. It's really something I love training, and I try to smile when I'm training it as well, so it feels natural when I'm here. But to be honest, it really is (natural). I just really love this program."


Bell and "Hallelujah" is a near-perfect marriage of skater and material that is unlikely, if not impossible, to happen with a young, teenage champion. After her victory, questions inevitably centered on Bell's age: at 25, she is the oldest U.S. women's champion since 1927.


"I personally think it's really exciting to be sort of a little bit older and showing you can do it at a young age and also an older age," Bell said, adding that landing a triple axel in competition is a big motivator. I want it to be a known fact that skating doesn't end at a certain age. I think the idea of wanting to show age is just a number is part of what keeps me going."


Skating to "Butterfly Lovers," Chen also produced a mature, polished free skate, with six clean triple jumps. But her opening double axel-triple toe loop combination had the second jump judged under-rotated, while her closing triple loop combination had a shaky landing.


The 2017 U.S. champion, who placed 11th at PyeongChang, spoke of what kept her in the sport.


"I love skating, I love being out on the ice, I love training, I love competing, whether it goes well or it doesn't go well," Chen said. "Also, that drive to continue to improve. I know I am capable of skating well and doing good jumps."


Like Bell, Chen added that landing a triple axel was high on her priority list.


"Both Mariah and I have nice, high double axels," she said. "We should be able to do triples."


Isabeau Levito, a 14-year-old from Mount Holly, New Jersey, grabbed the bronze medal with a balletic free skate to selections from Swan Lake that included two triple-triple jump combinations, as well as superb spins. She placed second to Bell in the free skate with 139.75 points and ended with 210.75 points.


Levito is too young to be considered for the Beijing Olympic team. Figure skaters must turn 15 by July 1 of the previous year to be eligible. Her next event is likely to be the 2022 World Junior Figure Skating Championships, scheduled to take place in Sofia, Bulgaria in March.


U.S. Figure Skating will announce the three-member women's team for Beijing on Saturday. It will certainly include Bell and Chen. Liu, a two-time U.S. champion, is likely to snag the third spot.


Liu, who was third in Thursday's short program, tested positive for COVID-19 prior to the free skate and could not compete Friday. Drew Meekins, her coach, said they have petitioned for Liu to make the team.
Madison Chock and Evan Bates skate in the Rhythm Dance during the U.S. Figure Skating Championships on Jan. 7, 2022 in Nashville, Tennessee.
Chock, Bates Lead after Rhythm
Dance
In the rhythm dance portion of the ice dancing competition, stronger scores for their twizzles — fast turns — and step sequences helped Madison Chock and Evan Bates take a 2.55-point lead over Madison Hubbell and Zachary Donohue heading into Saturday's free dance.
"The program was started in the beginning of September, and natural progression in a program becomes more polished as the season goes on," said Bates, 32. "Maybe more so with this program, since we had a late start with it."
The two-time U.S. champions (2015, 2020) played it sultry and romantic with their rhythm dance set to a techno-pop and hip-hop medley of Billie Eilish tunes, pulling off their difficult lift and steps without a hint of a bobble. It was a more polished and confident performance than their previous outings this season, earning a score of 91.94 points from the judges, the highest at any U.S. Championships. Hubbell and Donohue are at 89.39.
"It's just a true test to our training," said Chock, 29. "Since the Grand Prix Final was canceled (in December), we had more time to train than we normally would and we took full advantage of that, just polishing everything we wanted to."
Hubbell and Donohue, winners of three U.S. crowns (2018-19, 2021), were far less pleased with their performance to a medley from Janet Jackson.
The reigning world bronze medalists, who train alongside Chock and Bates in Montreal, lost levels on both their twizzles and step sequence due to slight missteps by Hubbell.
"Patrice (Lauzon, one of their coaches) came up at the end of the event and said, 'You are so ready. Sometimes when you are so ready, you have too much time to think. It's a fluke. Just skate tomorrow like you did in practice yesterday, and everything will be fine,'" said Hubbell, 30.
Hubbell added: "I'm very grateful that at the end of the performance. I have a partner who doesn't get upset or feel disappointed in me."
There are no elegant but staid waltzes or sensuous rumbas for the rhythm dance this Olympic season. The couples choose from a variety of street dance genres, from hip-hop to disco to reggae. Many got creative with optional moves, like splits, knee slides — even handstands. One dancer even did the worm.
In a mild surprise, Caroline Green and Michael Parsons, fourth in the U.S. Championships last season, sit third after a hard-edged and forceful performance to a Jackson medley that earned 80.85 points. It was by far their best outing of the rhythm dance this season.
"It was a culmination of all of the work we've put in so far this year, the first time everything has worked so well for us," said Parsons, 26. "We can improve on what we've done. Nothing is perfect, but we're really proud of the way we skated our short."
Green and Parsons' ascension has left Kaitlin Hawayek and Jean-Luc Baker — winners of three consecutive U.S. Championships bronze medals behind Chock and Bates, and Hubbell and Donohue — in a challenging spot. The Montreal-based team lost ground when Hawayek faltered on the opening twizzle sequence in its disco program to Donna Summer hits, remixed for a contemporary audience. Hawayek and Baker enter Saturday's free dance 1.46 points out of third place at 79.39.
"Definitely it wasn't 100 percent the program we wanted — obviously I had that slip in the beginning of the program (on the twizzles)," said Hawayek, 25. "But I was really happy with how we performed the rest of the program."
"We don't have anything to lose, we do have a realistic opportunity (for the Olympics)," said Baker, 28. "Skating safe, skating afraid is not going to get us where we want to go. We have not done that all season, we really have not done that our whole career. ... We're very excited to go into (Saturday's) free dance knowing we worked very hard."
Lynn Rutherford is a sportswriter based out of New York. She is a freelance contributor to TeamUSA.org on behalf of Red Line Editorial, Inc.