Roderick Townsend Jumps To A New Personal Best And Lands The Silver In Men's Long Jump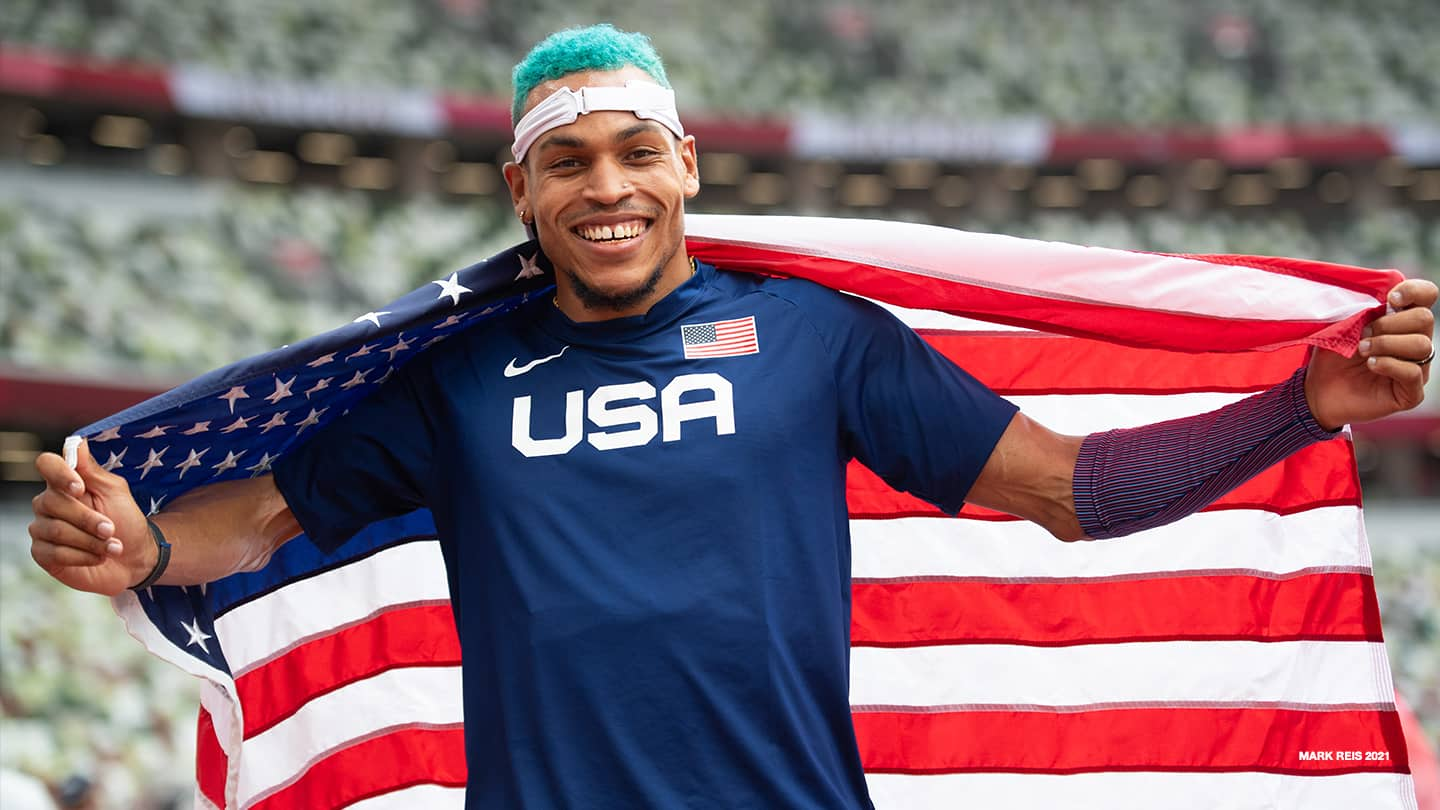 Roderick Townsend celebrates after winning the silver medal in the men's long jump T47 at the Paralympic Games Tokyo 2020 on Aug. 30, 2021 in Tokyo, Japan.
TOKYO — With Aerosmith's "Walk this way! Talk this way!" blasting over the loudspeakers at Tokyo's Olympic Stadium, it was more like the running and jumping that everyone was talking about.
Going into the men's long jump T47 on Tuesday morning, Team USA's Roderick Townsend held the Paralympic record — jumping a distance of 7.41 at the Paralympic Games Rio 2016. But after Cuba's Robiel Yankiel Sol Cervantes leaped to 7.46 on his first attempt, he would finish with the gold medal and the title of new Paralympic record holder.
Townsend, instead, chose to save his best for last. After attempt number two had him at 7.36, his final try gave him the 7.43 he needed to secure the silver. It would also be a new personal best for the 29-year-old.
"We always say 'last one, best one,'" Townsend said. "And my last one was my best one. It just wasn't the best jump out of the competition, unfortunately."
Finishing among the top three was the Russian Paralympic Committee's Nikita Kotukov, who shared a distance of 7.30 with the U.S.'s Dallas Wise on their fifth attempt. But on their sixth and final attempts, Kotukov pushed ahead (7.34), with Wise unable to follow.
"The competition as a whole was pretty amazing," Wise said afterwards. "Not medaling [in long jump] can't take away from this experience. I know how long it took me to get here, and I know the sacrifices I've made. It's just overwhelming."
Tokyo 2020 would be Wise's first Paralympic Games, but he wouldn't be leaving empty-handed.
Less than 48 hours earlier, the 20-year-old from Columbia, SC, earned his first Paralympic medal — a silver — in the men's high jump T45. The event was the first time he had to face off against his teammate and mentor, where Townsend was once again holding the Paralympic record — as well as the world record.
Wise rose to the challenge, jumping to a height of 2.06, tying with India's Kumar Nishad for second, and coming in behind his friend who topped his world record, setting a new Paralympic record in the process.
In today's long jump, three-time Paralympian Tobi Fawehinmi was looking for his first Games medal. His initial attempt down the runway was good enough for a sixth-place finish (7.09) before he scratched on his subsequent three attempts — sitting out the last two.
For many athletes, this was their first time competing in two years — thanks to the COVID-19 pandemic.
"Unfortunately, my last time on a long-jump runway was in Dubai at the world championships in 2019," Townsend revealed.
As a result of that, he said, "it didn't go how I wanted it to after five years of training. To walk away with the silver medal does sting a bit."
Fortunately, though, "Paris is not five years away. It's right around the corner. The chip on my shoulder just got a little bit bigger, and I just got a little bit hungrier," he said about the next Games in 2024.
It's a feeling he didn't have after Rio, where he crushed all the previous high jump records.
"When I wanted to quit, I did quit. I quit for three weeks, and I was done," he said.
But after giving it some thought, he realized, "Let's make the most of the opportunity while I'm young. I can work for the rest of my life. This is the only opportunity now that I get to be a Paralympian, to represent Team USA."
And if he hadn't have come back, he said, "who knows if we would have Dallas here right now."
The Paralympic Games Tokyo 2020 marks almost precisely three years ago when Townsend's coach saw a video of Wise at a race. "My coach said, 'Hey Roderick, he runs kind of like you,' and I said, 'By God, he does.' It's just crazy to think three years ago, and so much has happened."
Their connection was instant for Wise — who was born with a form of palsy that affects the nerves that supply the arm.
"I had never met someone with the same disability as me, so it was a really heartwarming moment," he remembered. "We see each other in each other."
Thinking about it, he said, "I still tear up sometimes. Man, I just love this dude. I owe him everything. For real."
For both athletes, this was their last event at the Tokyo Games. And despite it not going exactly how they planned, Townsend said he feels nothing but gratitude.
"I'm just so appreciative that everybody was able to make Tokyo happen," he said, "whether that's second place, third place, or last place. The fact that we were able to come together as a world again and compete meant so much to me."
Want to follow Team USA athletes during the Paralympic Games Tokyo 2020? Visit TeamUSA.org/Tokyo-2020-Paralympic-Games to view the medal table and results.
Lisa Costantini is a freelance writer based in Orlando. She has covered Olympic and Paralympic sports for various publications, and has contributed to TeamUSA.org since 2011.