Roderick Townsend Sets Another World Record While Daniel Romanchuck Grabs Gold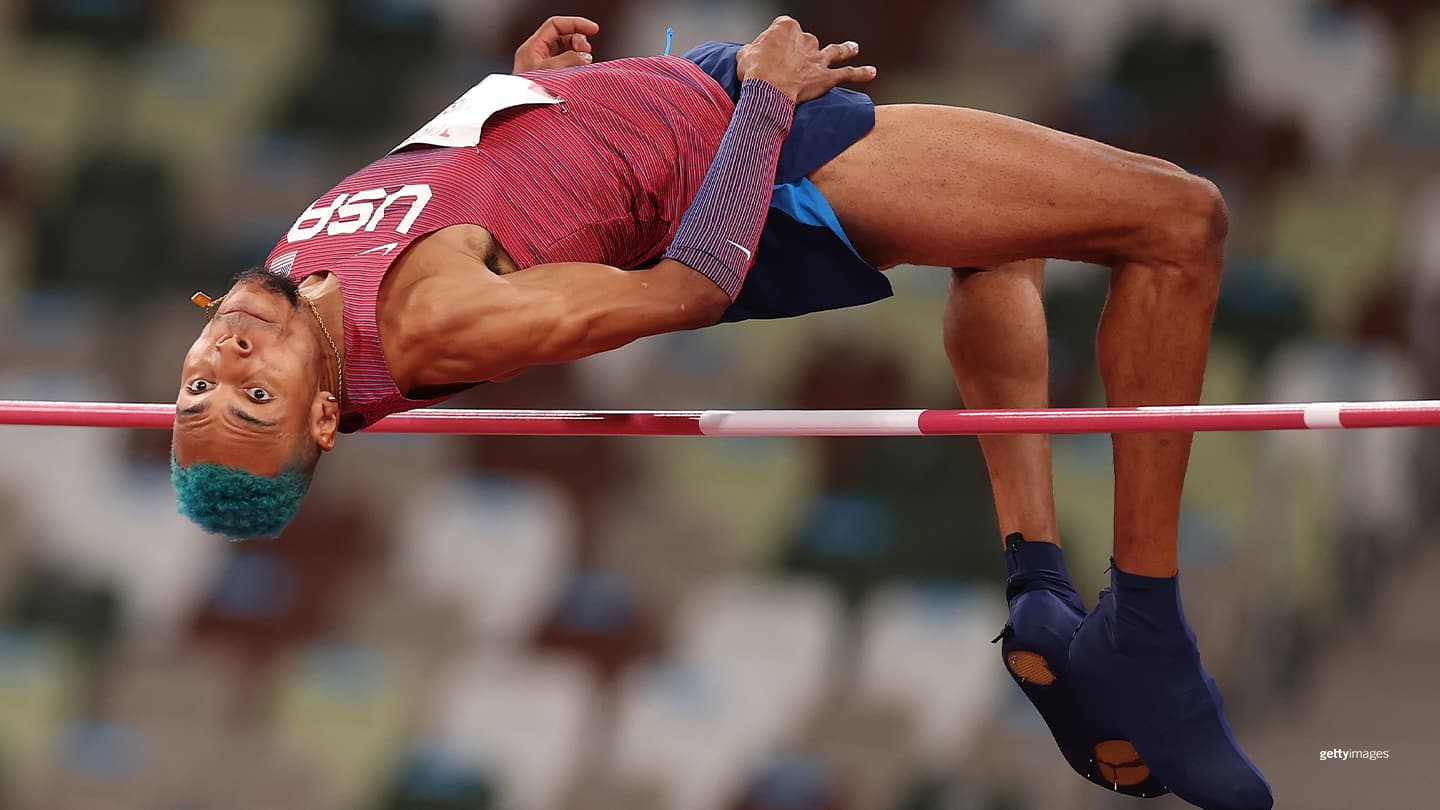 Roderick Townsend competes in men's high jump - T45 during the Paralympic Games Tokyo 2020 on Aug. 29, 2021 in Tokyo.
TOKYO — Two-time Paralympian Roderick Townsend breaks his world record while Team USA had its most prolific day in track and field yet with eight medals.

Day three at Tokyo's Olympic Stadium was a little crazy and a lot amazing — kind of like the shade of blue atop Townsend's head. The defending gold medalist in the men's high jump T47 lept over his world record on Sunday night to go 2.15-meters. That height also became a new Paralympic record after setting the last one in Rio (2.09 meters).

Equally exciting for the 29-year-old from Stockton, California, was the fact that he did it with his teammate and protégé by his side.

Newcomer Dallas Wise tied for the silver with India's Nishad Kumar at his first event in Tokyo. Their height of 2.06 meters set a new area record.

"This the best feeling in the world. Money can't pay for this," Wise said after competing in his first Paralympic Games, giving a lot of the credit to the man best known as "The Jump Addict."

"I love this guy right here," he said, patting Townsend on the shoulder. "He helped me so much. And to be under his wing is a blessing. It means a lot to me."

The feelings are mutual.

"He is a very talented young man," Townsend said about his younger teammate. "He has so much potential. I see so much of myself in him. It meant a lot to just be able to be out here with him."

The current world record and Paralympic record holder is no stranger to training others, having worked as the jumping coach at Northern Arizona University — where he was also getting his master's degree. His wife, Tynita Butts-Townsend, has also benefitted from his expertise.

"My wife just jumped a few weeks ago at the Olympics," he said. She also competed in the high jump but was unable to advance beyond the qualification round.

"She had the pink hair, so I had to come with the blue hair," he laughed. "Just having a little bit of fun."
Townsend and Wise will both go on to compete in the long jump on Tuesday; another event Townsend dominated in Rio.

"We've got less than 48 hours before we're out here long jumping," Townsend said, "so we're just trying to enjoy these moments but knowing that there's more to come."

The second gold of the night belonged to two-time Paralympian Daniel Romanchuk, who went from a 13th place finish in Rio in the 400m T54 to take tonight's top spot. Thailand's Athiwat Paeng-Nuea — who had set a new Paralympic record in the morning prelims (44.87) — looked as if he was going to secure the gold, too. But in the final 25 meters, Romanchuk pushed past — crossing just one-hundredths of a second ahead in a time of 45.72.

The 23-year-old from Baltimore, Maryland, won't get any time to rest, either. Having already raced the 5000m, he has a full schedule in Tokyo. "I'm just trying to take it one race at a time," he said about his six events in total. "I've got everything from the 100 to the marathon to go."

His fourth-place finish the night prior was his first Paralympic wheelchair final ever.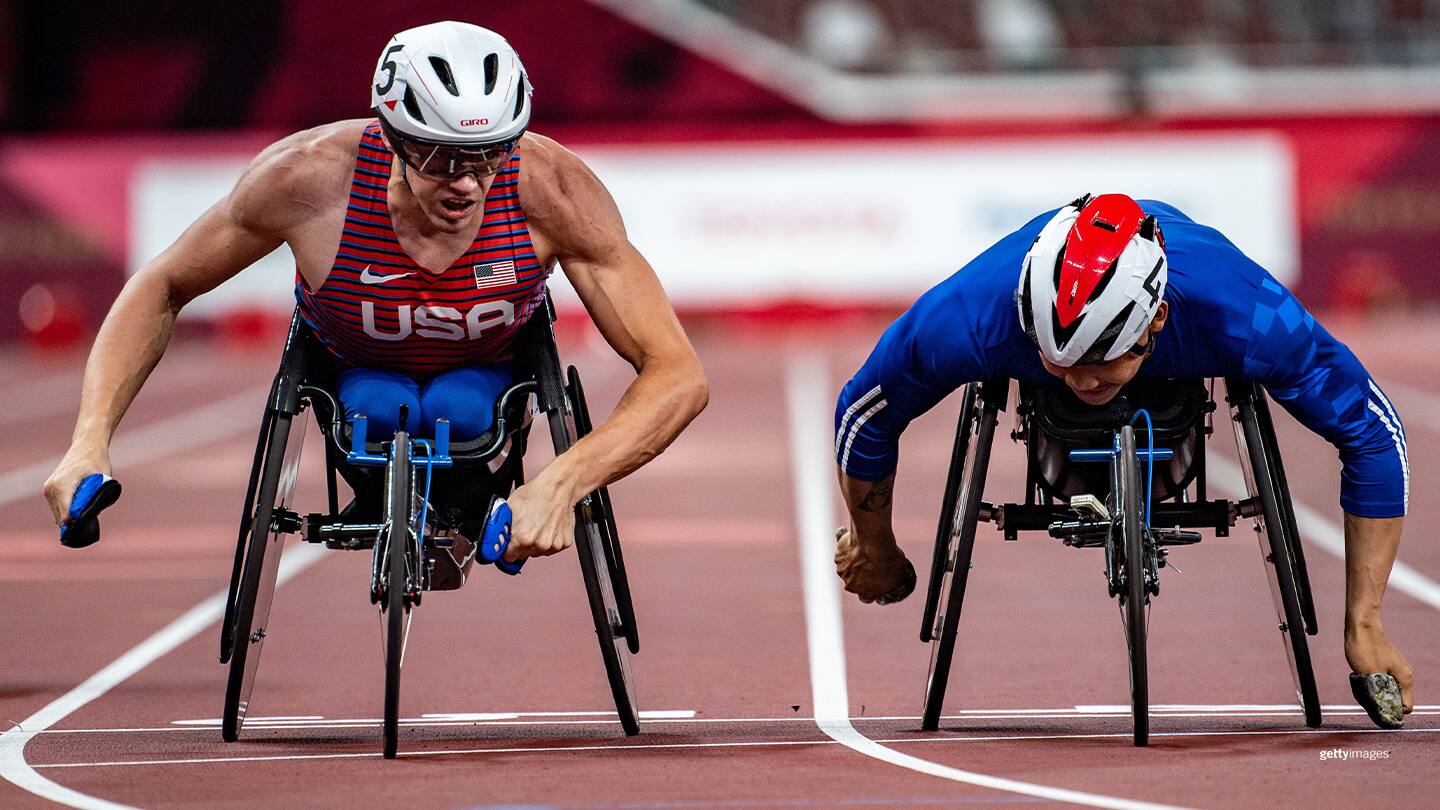 Daniel Romanchuk competes in the men's 400-meter - T54 final during the Paralympic Games Tokyo 2020 on Aug. 29, 2021 in Tokyo.
Team USA's most decorated track athlete, Tatyana McFadden, finished her second race at the Paralympic Games Tokyo 2020, the 800m in second place. It was a familiar spot for her after following Switzerland's Manuela Schaer across the finish line in the 5000m the night before to take the bronze.
Afterward, the 19-medal holder said someone else she's chasing these Tokyo Games: Canada's Chantal Petitclerc, who has 21 Paralympic medals, 14 of them gold. "I'm chasing her record," McFadden said after finishing her race at a time of 1:43.16. "She has 21, so hopefully, I can do that these Games.
Joining them on the podium was once again Susannah Scaroni, who took gold in the 5000m on Saturday — and the bronze tonight with a time of 1:44.43.
"It's invigorating to be here," Scaroni said. "To actually be racing and have everyone at home be able to see. I also feel really honored to show the work we've been putting in for the last five years."
Scaroni and McFadden — who have packed schedules over the coming days — were able to push past hiccups at the start of the race to finish with two new season-bests.
The two will compete in the 1500m and the marathon, with McFadden also tackling the 400m.
Team USA's Amanda McGrory finished in sixth with a time of 1:52.59.
In the men's 1500m T52, three-time Paralympian Ray Martin, 27, finished with a new area record and the silver medal. This was Martin's second silver at these Games after running the 400m on Friday night.
His time of 3:29.72 was just shy of Japan's Tomoki Sato 3:29.13, which was 10 seconds faster than the Paralympic record Martin had set in Rio.
Martin will race for the last time in Tokyo in the 100m T52, where he will look to add to his now nine Paralympic medals.
His teammate, Isaiah Rigo, followed behind, finishing in seventh. The 22-year-old took fifth in the event in Dubai at the 2019 world championships. He will next compete in the 100m T52 to close out his first Paralympic Games.
In the men's 100m T12, Noah Malone ran his first Paralympic race ever, landing his first medal of the Games with a time of 10.66 to grab silver. The 19-year-old still has another event to go, racing in the 400m T12 with a potential spot in the 4x100m universal relay. "Hopefully," he said.
For now, he's just excited about this opportunity. "I'm just glad to be out here," he said. "I truly cannot ask for more. It is a huge honor just being able to step foot on the track in the first place to compete."
It was only five years ago when he lost half of his vision, three months after getting diagnosed with leber's hereditary optic-neuropathy. It was right around the Rio Games.
"I was in 8th grade," he remembered about that time. "It was right when I was losing my vision. So from that, going through high school, now in college, getting involved in Para sports, it's been a rollercoaster ride."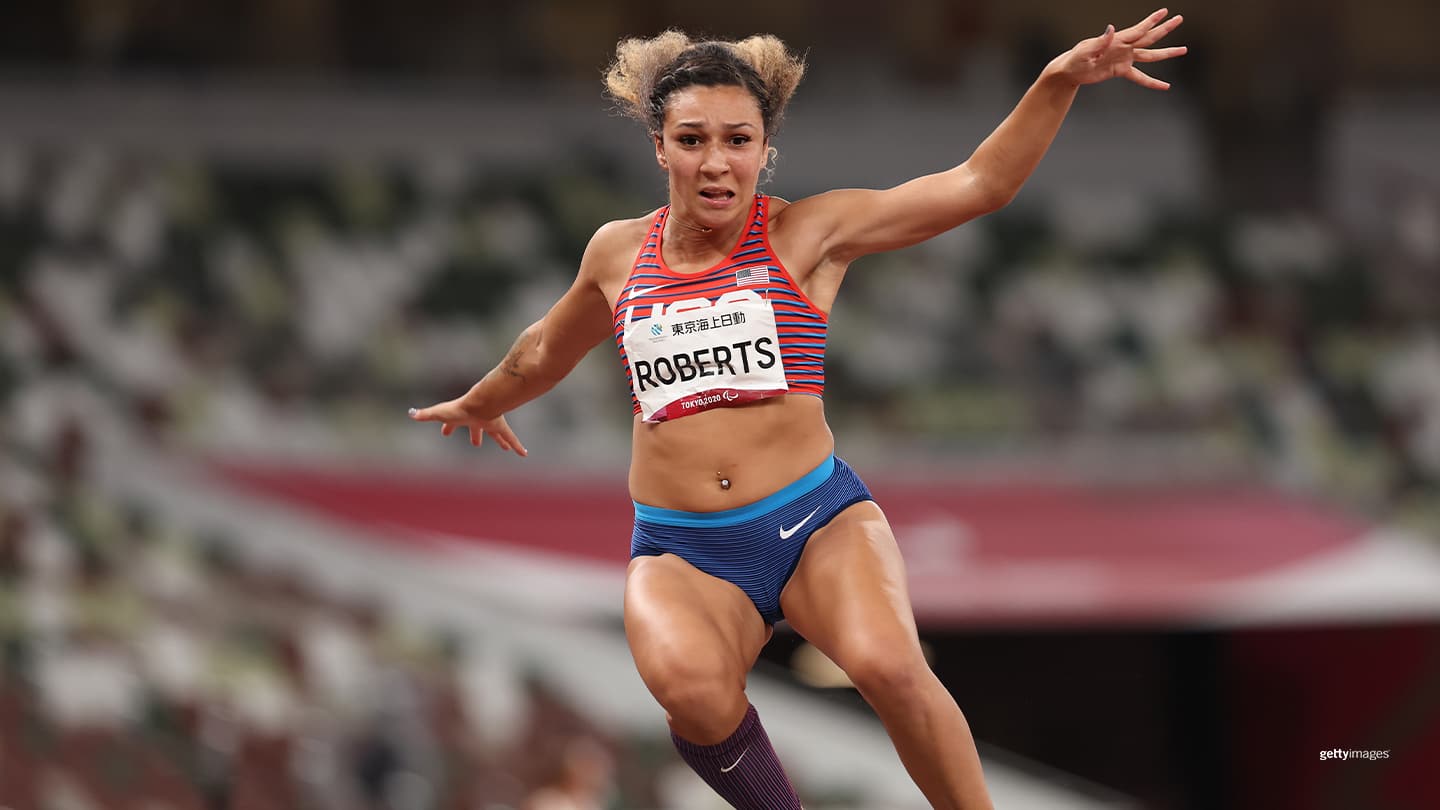 Jaleen Roberts of Team United States competes in women's long jump - T37 during the Paralympic Games Tokyo 2020 on Aug. 29, 2021 in Tokyo.
In the women's long jump T37, Jaleen Roberts matched her silver medal from the 2019 world championships in the long jump to take second in Tokyo. Finishing behind China with a distance of 4.65, the 22-year-old from Tacoma, Washington, best known as "Jumpin' Jay," will close out her first Games when she runs the 100m in a couple of days.

"My goal was to come out here, and medal and I did that, so I'm really proud of myself," she said. "My best friend passed away in May, so this Games was dedicated to her."
Want to follow Team USA athletes during the Paralympic Games Tokyo 2020? Visit TeamUSA.org/Tokyo-2020-Paralympic-Games to view the medal table and results.
Lisa Costantini is a freelance writer based in Orlando. She has covered Olympic and Paralympic sports for various publications, and has contributed to TeamUSA.org since 2011.